This website uses cookies to ensure you get the best experience while browsing it. By clicking 'Got It' you're accepting these terms.
4 Fish We're Overeating and What to Eat Instead
Jan. 15, 2016 12:59PM EST
Food
Paul Greenberg loved to fish growing up in Connecticut. But by the time he was an adult, he noticed there were far fewer varieties of fish than when he was a young boy. So, as he explained in his TED Talk below, he started going to fish markets to investigate. No matter where I went, Greenberg said, whether it was North Carolina, London or Paris, I would find the same four fish everywhere: shrimp, tuna, salmon and cod.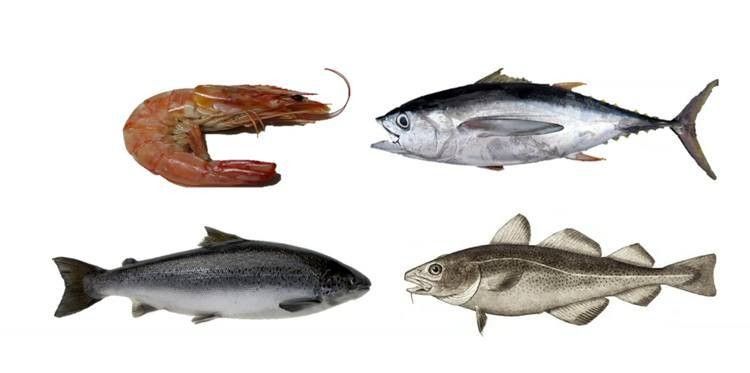 Greenberg is the author of The New York Times bestseller Four Fish and a regular contributor to The Times. His most recent book, American Catch, details how the U.S. lost and how it might regain local seafood.
Technological advances in the latter half of the 20th century allowed for a tremendous build up in fishing capacity, Greenberg explained. The number of fish caught has quadrupled from 20 million metric tons at the end of World War II to 80 million metric tons today. To put that in perspective, Greenberg said, that's the equivalent of the human weight of China taken out of the sea every year.
And now that aquaculture (raising fish and other seafood in a controlled environment) has exploded in recent years the equivalent to the human weight of two Chinas is stripped from the ocean every year, according to Greenberg.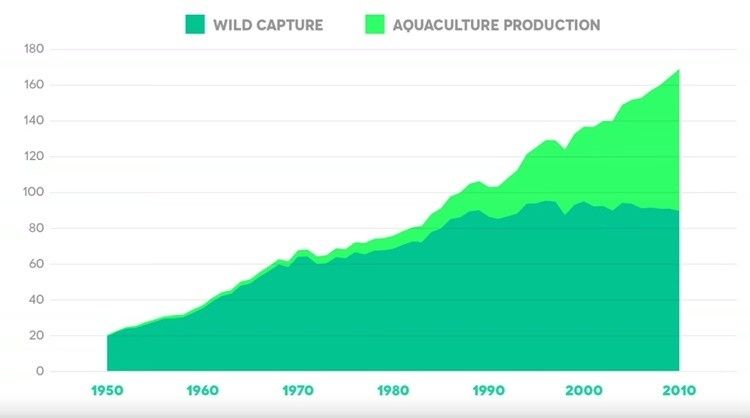 Greenberg explained in his TED Talk why fishing and farming shrimp, tuna, salmon and cod are not sustainable for the environment nor for the people working in the industry. He cited problems such as slave-like conditions for workers, bycatch, the displacement of mangrove forests and the high energy use required to harvest these fish. Lastly, Greenberg offered an alternative way forward.
Watch his TED Talk here:
YOU MIGHT ALSO LIKE
These California Nuns Grow Medical Marijuana, But Their City Wants to Shut Them Down
14 Edible Plants You Can Grow Indoors
How One Man Plans to Make Billions Selling Water From Mojave Desert to Drought-Stricken California
Outraged Republican Senator Vows to Block Appointment of FDA Commissioner Over GMO Salmon
EcoWatch Daily Newsletter
Tuna auctions are a tourist spectacle in Tokyo. Outside the city's most famous fish market, long queues of visitors hoping for a glimpse of the action begin to form at 5 a.m. The attraction is so popular that last October the Tsukiji fish market, in operation since 1935, moved out from the city center to the district of Toyosu to cope with the crowds.

gmnicholas / E+ / Getty Images
Kristan Porter grew up in a fishing family in the fishing community of Cutler, Maine, where he says all roads lead to one career path: fishing. (Porter's father was the family's lone exception. He suffered from terrible seasickness, and so became a carpenter.) The 49-year-old, who has been working on boats since he was a kid and fishing on his own since 1991, says that the recent warming of Maine's cool coastal waters has yielded unprecedented lobster landings.
Aerial view of lava flows from the eruption of volcano Kilauea on Hawaii, May 2018. Frizi / iStock / Getty Images
Hawaii's Kilauea volcano could be gearing up for an eruption after a pond of water was discovered inside its summit crater for the first time in recorded history, according to the AP.
The Eqip Sermia Glacier is seen behind a moraine left exposed by the glacier's retreat during unseasonably warm weather on Aug. 1 at Eqip Sermia, Greenland. Sean Gallup / Getty Images
hadynyah / E+ / Getty Images
By Johnny Wood
The Ganges is a lifeline for the people of India, spiritually and economically. On its journey from the Himalayas to the Bay of Bengal, it supports fishermen, farmers and an abundance of wildlife.
The river and its tributaries touch the lives of roughly 500 million people. But having flowed for millennia, today it is reaching its capacity for human and industrial waste, while simultaneously being drained for agriculture and municipal use.
Here are some of the challenges the river faces.
By Jake Johnson
As a growing number of states move to pass laws that would criminalize pipeline protests and hit demonstrators with years in prison, an audio recording obtained by The Intercept showed a representative of a powerful oil and gas lobbying group bragging about the industry's success in crafting anti-protest legislation behind closed doors.
Reposted with permission from our media associate Common Dreams.

DESIREE MARTIN / AFP / Getty Images
Wildfires raging on Gran Canaria, the second most populous of Spain's Canary Islands, have forced around 9,000 people to evacuate.