This website uses cookies to ensure you get the best experience while browsing it. By clicking 'Got It' you're accepting these terms.
4 Best Reasons to Legalize Hemp
Apr. 20, 2015 08:32AM EST
Cannabis has "blazed" a trail into the national spotlight thanks to the legalization battle and provocative new studies on its health benefits. Mounds of research and media events like Dr. Sanjay Gupta's CNN Special Report WEED have shed light on cannabis's potential to treat cancer, seizures, multiple sclerosis (MS), glaucoma, pain and other ailments. However, the entire conversation still revolves around marijuana, the high-THC strain of cannabis that makes you hungry and "high." Little attention has been paid to hemp, the low-THC, high-cannabidiol (CBD) strain that not only has substantial health benefits, but also has enormous potential to benefit our environment.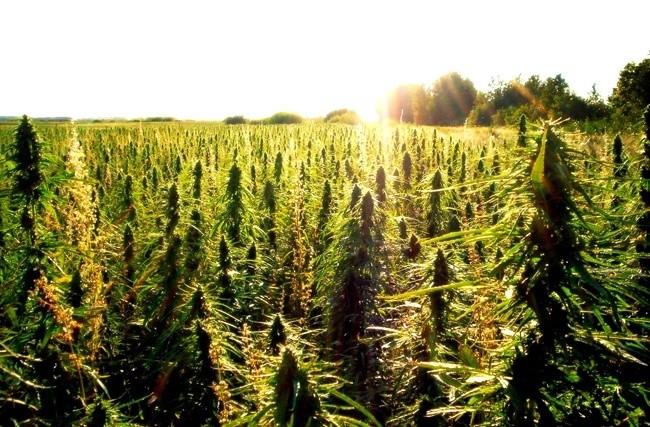 Hemp has been used for centuries to make rope, textiles, foods, personal care products, construction materials, paper and, more recently, automotive parts.
Yes, it turns out that some of the best uses of cannabis require no baking supplies or bongs. Hemp has been used for centuries to make rope, textiles, foods, personal care products, construction materials, paper and, more recently, automotive parts. Hemp only became a controversial substance in the U.S. in the 1920s and 30s, and its production was first restricted with the passage of the 1937 "Marihuana Tax Act," which defined hemp as a narcotic drug and required farmers to obtain federal permits to grow it.
Even still, Popular Mechanics dubbed hemp "the new billion dollar crop" in 1938, claiming that it "can be used to produce more than 25,000 products, ranging from dynamite to cellophane." And when World War II demanded the full industrial might of the U.S., hemp restrictions were temporarily lifted and production reached its peak in 1943 when American farmers grew 150 million pounds of hemp. It was manufactured into shoes, ropes, fire hoses and even parachute webbing for soldiers fighting the war. After 1943, production plummeted and the anti-narcotic regime kicked back into effect.
The good news is that hemp production continued throughout much of the rest the world, including Europe and East Asia. If we substitute hemp for many of the industrial materials we use and take for granted today, the environmental benefits are impressive. Here, I'll focus on four environmental benefits that are well established in academic and government research.
1. Forest Cover and Biodiversity
Although more than 95 percent of paper is made from wood pulp, hemp can play the same role. It can be recycled twice as many times as wood pulp, it can produce three to four times as much fiber per hectare as typical forests and even twice as much as a pine plantation. These abilities discussed by Dr. Ernest Small, Principal Research Scientist at the Eastern Cereal and Oilseed Research Centre in Ottawa, Canada, suggests that more reliance on industrial hemp could reduce dependence on old growth forests, which host the world's greatest concentrations of biodiversity and absorb carbon dioxide. Forests can't keep up with the pace of deforestation, but hemp could keep up with our appetite for paper products.
2. No Pesticides and Herbicides Required
The USDA reports that in 2007, roughly 877 million pounds of pesticides were applied to U.S. cropland at a cost of roughly $7.9 billion. Yet recently, the World Health Organization's cancer research wing deemed the world's most popular weed killer, glyphosate, a "probable carcinogen" linked to cancer. Yes, what a surprise that the active ingredient in Monsanto' Roundup, and other weed killers worth over $6 billion in annual sales actually aren't good for us. While genetically modified crops (GMOs) typically require pesticides, herbicide and synthetic fertilizers to survive, hemp does not. It can grow organically almost anywhere. By substituting hemp for industrial GMOs (e.g. cotton, corn, soybean, etc.), we can we reduce damage to our health and the ecosystems we depend on.
3. Lower Carbon Emissions
According to the UK Department of Business's 2010 report on low carbon construction, hemp can play a role in slashing carbon emissions. While producing one metric ton of steel emits 1.46 tons of carbon dioxide, one square meter of timber-framed, hemp-lime wall stores 35.5kg of CO2 and will not be released unless the material is composted or burned. Hemp can also be used to make "hempcrete," a concrete alternative, as well as plastic-like products that replace fiber glass and other environmentally unfriendly materials.
Using hemp as a biofuel could improve carbon efficiency, too. In testing, Richard Parnas, a professor of chemical and biomolecular engineering at the University of Connecticut, found that hemp converts to biodiesel at a 97 percent efficiency rate and can burn at lower temperatures than any other biodiesel on the market. Hemp is a far better alternative to growing GMO cash crops that make less efficient biofuels.
4. Soil Protection
Researchers at Nova Institute, an ecology R&D group based in Germany, found that hemp has a "favorable influence on the soil structure" because it curtails the presence of nematodes and fungi, and it has a high shading capacity that suppresses weed growth. In one study cited by the researchers, a hemp rotation was found to increase wheat yields by 10 to 20 percent. Hemp can also grow in the most inhospitable and otherwise useless soils, such as those polluted by heavy metals. Grown alone, used in rotation or planted on abandoned farmland, hemp is an environmental win.
For Future Generations
The internet is filled with claims about hemp that are suspicious and often impossible to substantiate. These four benefits reflect insights from academia, government and professional research firms. More than a few peer-reviewed studies support these claims.
With policy reform, hemp has the potential to preserve biodiversity, reduce pollution, cut emissions and protect cropland throughout the world. That's impressive for a crop that has been unfairly branded as a dangerous gateway drug. With hemp plants able to mature for fiber production within 60-90 days and 90-120 days for grain, it's possible to build a 'hemp economy' very quickly. By relying on renewable, clean hemp, we can grow our economies more mindfully and leave our planet in better shape for future generations.
YOU MIGHT ALSO LIKE
$620 Million Reasons to Legalize Hemp
Watch Lobbyist Eat His Words After Saying Drinking Roundup Is 'Not Dangerous to Humans'
Prince William and British naturalist David Attenborough attend converse during the World Economic Forum annual meeting, on January 22 in Davos, Switzerland. Fabrice Cofferini /AFP / Getty Images
Britain's Prince William interviewed famed broadcaster David Attenborough on Tuesday at the World Economic Forum's annual meeting in Switzerland.
During the sit-down, the 92-year-old naturalist advised the world leaders and business elite gathered in Davos this week that we must respect and protect the natural world, adding that the future of its survival—as well as humanity's survival—is in our hands.
Electric vehicle sales took off in 2018, with a record two million units sold around the world, according to a new Deloitte analysis.
What's more, the accounting firm predicts that another 21 million electric cars will be on the road globally over the next decade due to growing market demand for clean transportation, government subsidies, as well as bans on fossil fuel cars.
Teenager Alex Weber and friends collected nearly 40,000 golf balls hit into the ocean from a handful of California golf courses.
Alex Weber /
CC BY-ND
Southwest Greenland had the most consistent ice loss from 2003 to 2012. Eqalugaarsuit, Ostgronland, Greenland on Aug. 1, 2018.
Rob Oo / CC BY 2.0
Greenland is melting about four times faster than it was in 2003, a new study published Monday in the Proceedings of the National Academy of Sciences found, a discovery with frightening implications for the pace and extent of future sea level rise.
"We're going to see faster and faster sea level rise for the foreseeable future," study lead author and Ohio State University geodynamics professor Dr. Michael Bevis said in a press release. "Once you hit that tipping point, the only question is: How severe does it get?"
Finally, some good news about the otherwise terrible partial government shutdown. A federal judge ruled that the Trump administration cannot issue permits to conduct seismic testing during the government impasse.
The Justice Department sought to delay—or stay—a motion filed by a range of coastal cities, businesses and conservation organizations that are suing the Trump administration over offshore oil drilling, Reuters reported. The department argued that it did not have the resources it needed to work on the case due to the shutdown.
Most people have heard of the Amazon, South America's famed rainforest and hub of biological diversity. Less well known, though no less critical, is the Pantanal, the world's largest tropical wetland.
Like the Amazon, the Pantanal is ecologically important and imperiled. Located primarily in Brazil, it also stretches into neighboring Bolivia and Paraguay. Covering an area larger than England at more than 70,000 square miles, the massive wetland provides irreplaceable ecosystem services that include the regulation of floodwaters, nutrient renewal, river flow for navigability, groundwater recharge and carbon sequestration. The wetland also supports the economies of the four South American states it covers.
Demonstrators participate in a protest march over agricultural policy on Jan. 19 in Berlin, Germany. Carsten Koall / Getty Images Europe
By Andrea Germanos
Organizers said 35,000 people marched through the streets of the German capital on Saturday to say they're "fed up" with industrial agriculture and call for a transformation to a system that instead supports the welfare of the environment, animals and rural farmers.

The fire that erupted after a pipeline explosion in Mexico Friday. FRANCISCO VILLEDA / AFP / Getty Images
By Patrick Rogers
If you have ever considered making the switch to an environmentally friendly electric vehicle, don't drag your feet. Though EV prices are falling, and states are unveiling more and more public charging stations and plug-in-ready parking spots, the federal government is doing everything it can to slam the brakes on our progress away from gas-burning internal combustion engines. President Trump, likely pressured by his allies in the fossil fuel industry, has threatened to end the federal tax credits that have already helped put hundreds of thousands of EVs on the road—a move bound to harm not only our environment but our economy, too. After all, the manufacturing and sale of EVs, hybrids, and plug-in hybrids supported 197,000 jobs in 2017, according to the most recent U.S. Energy and Employment Report.