4 Best Places to Buy Your Seafood
Jul. 14, 2015 10:24AM EST
Food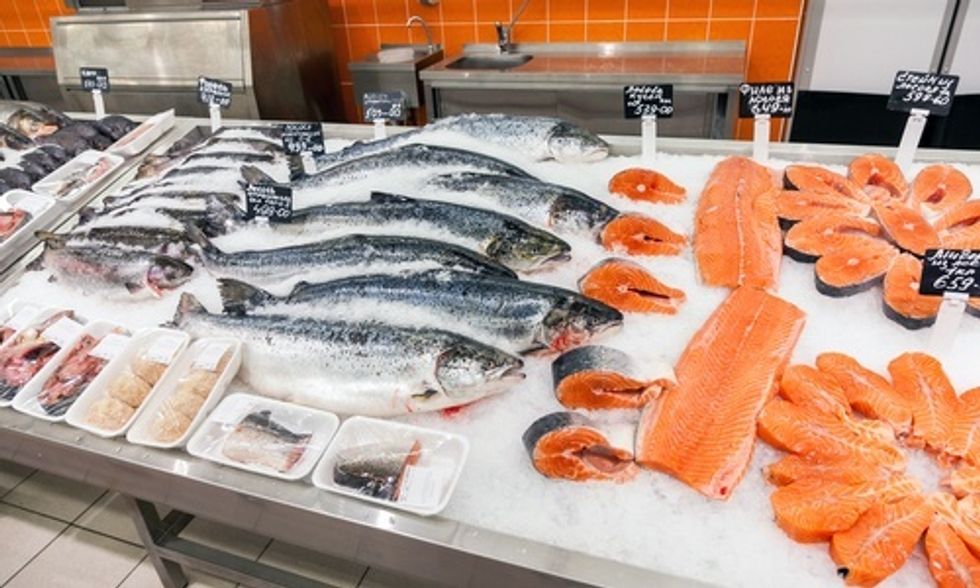 The global fishing industry can be a slimy business, and not simply for its slippery product. Commercial boats supplying fish to U.S. supermarkets often operate in international waters, away from legal scrutiny or in countries with few regulations and scant enforcement. Greenpeace's 2015 Carting Away the Oceans report, released Tuesday, finds that major seafood retailers need to do more to combat cruel working conditions and unsustainable fishing practices throughout their supply chain.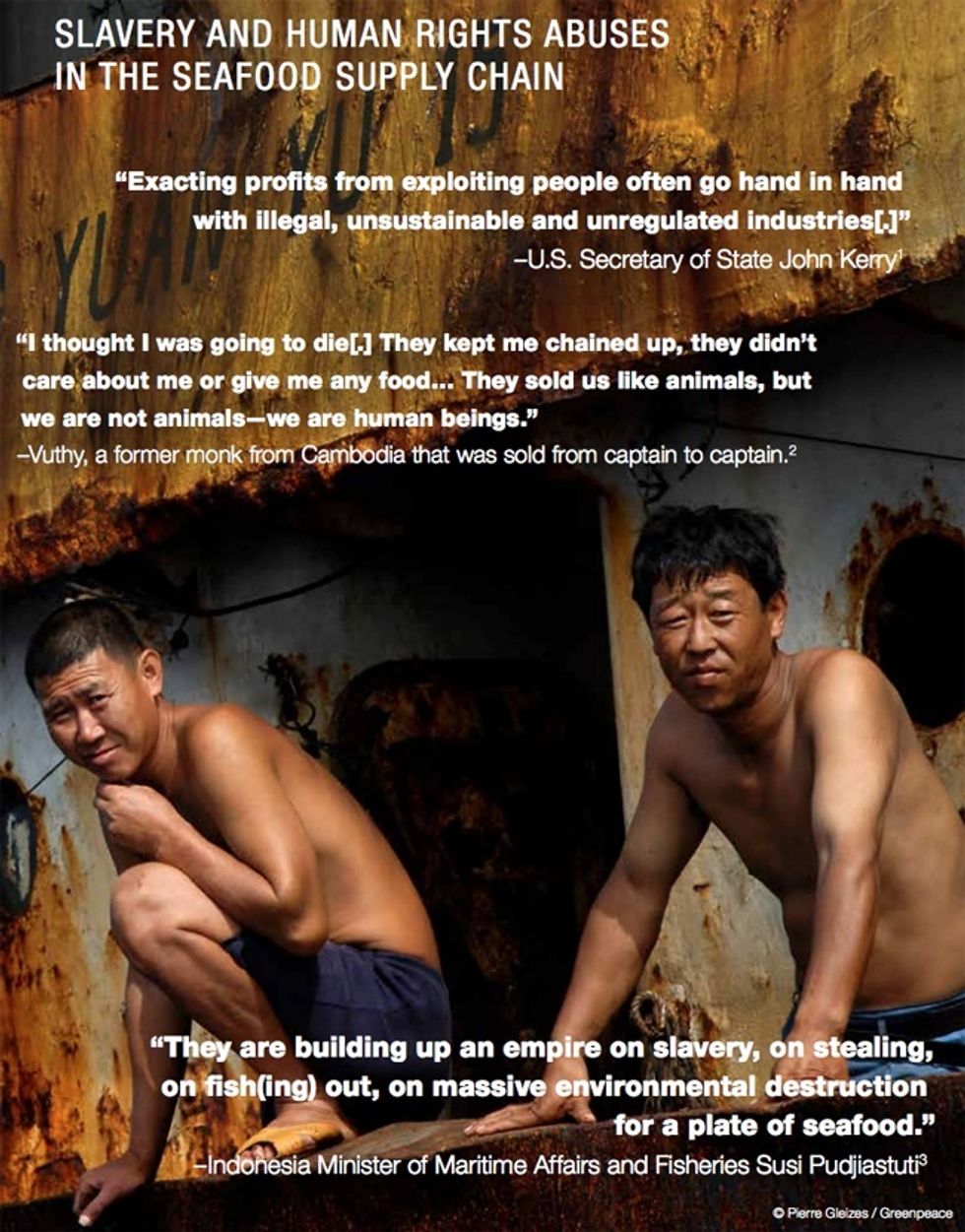 "Investigations continue to reveal that slavery and human rights abuses are widespread problems in the global seafood industry," said Greenpeace Senior Oceans Campaigner David Pinsky. "Ultimately, the buck stops with the supermarkets that sell seafood associated with forced labor or human rights abuses, and it's simply unacceptable that none have made it a priority."
In March, the Associated Press documented the plight of migrant workers from Myanmar who were trafficked through Thailand and forced to fish off the coast of Indonesia. The laborers described working up to 22 hour days, subsisting on mere spoonfuls of rice, receiving little or no pay, and incurring beatings when they complained. The news agency traced the slave-caught seafood to U.S. markets, noting, "entire supply chains are muddied, and money is trickling down the line to companies that benefit from slave labor."
Worker abuse goes hand-in-hand with unsustainable fishing, warns Greenpeace, which has singled out the canned tuna industry as culpable for the most egregious fishing practices. These include the use of large nets that capture and harm vulnerable species such as sea turtles and birds. These animals, known as bycatch, can compose as much as 35 percent of any given net. Sharks caught in tuna nets are often de-finned and thrown back in the ocean.
The Greenpeace report accesses the U.S.'s 25 most popular seafood retailers in terms of steps they have taken to ensure the products they sell are healthy for oceans and are sourced from boats where workers are treated justly. Each of the supermarkets profiled needs to do more according to the report, though Greenpeace placed Whole Foods, Wegmans, Hy-Vee and Safeway in it's "good" category this year.
The advocacy group noted that the four retailers have implemented policies to address illegal, unreported and unregulated fishing, and are working with trade associations and nongovernmental organizations to identify further solutions. Southeastern Grocers, Roundy's, Publix, A&P and Save Mart received a failing grade from Greenpeace, for refusing to ensure that slave labor and unsustainable fishing have been weeded out from the seafood products on their shelves.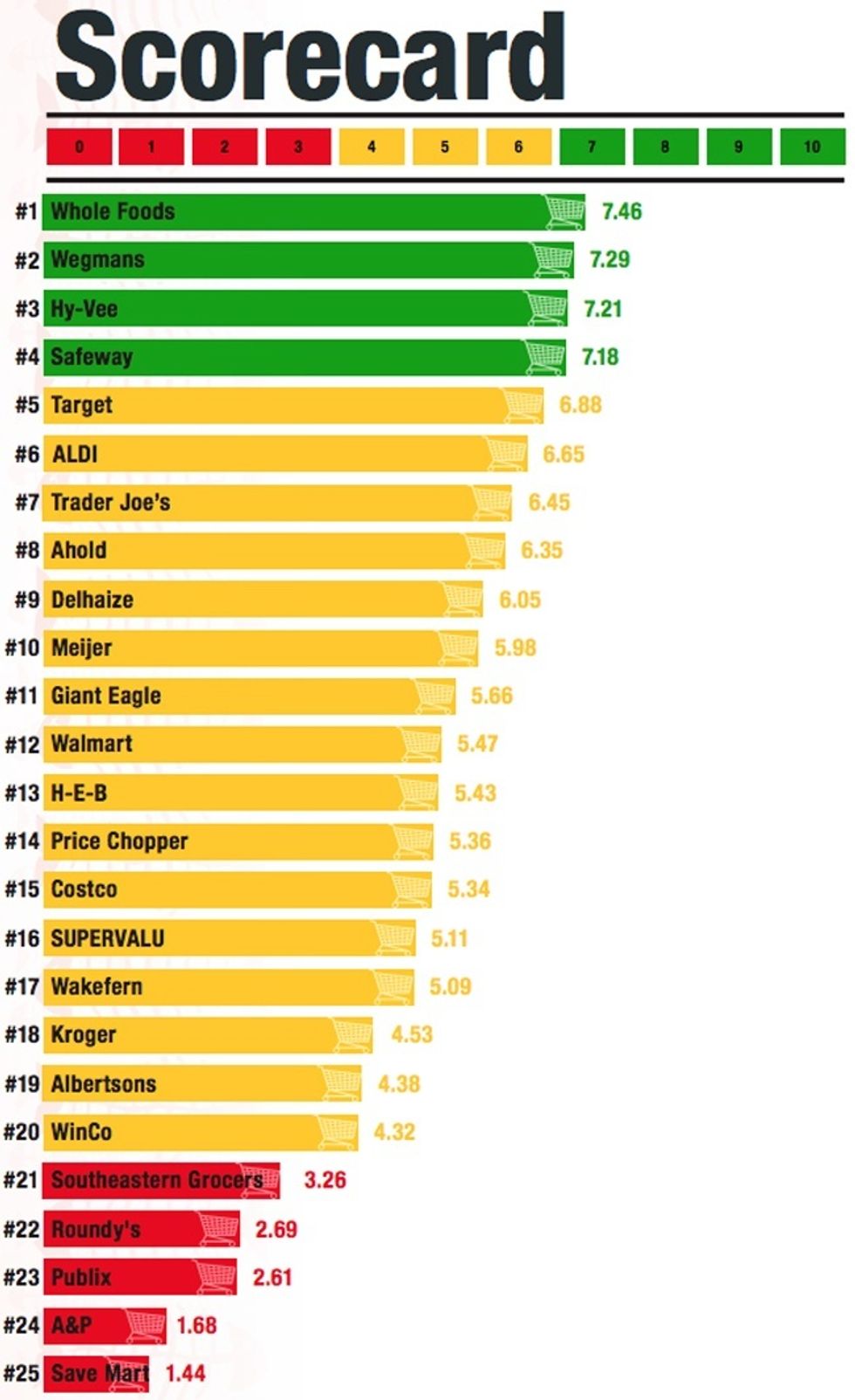 This year's Carting Away the Oceans report comes on the heels of a shoppers guide Greenpeace published in March in which it ranked the fishing practices of 14 leading canned tuna brands. Only three brands—Wild Planet, Ocean Naturals, and American Tuna—were found to be sustainable. Bumble Bee, Chicken of the Sea and Starkist were the worst environmental offenders.
Greenpeace's David Pinksy said supermarkets that carry these brands are complicit in environmentally destructive fishing practices. "Many of those same retailers sell unsustainable tuna under their own brand names, and have either no policy or an inadequate policy to solve this problem," he said.
Retailers who do not offer ocean safe tuna through their house brands include Walmart, Kroger, Albertsons-Safeway, Publix, Delhaize and Meijer. However, Greenpeace notes that since the 2014 annual edition of Carting Away the Ocean, Costco and Target have introduced ocean safe canned tuna lines, and Giant Eagle has instituted a more sustainable canned tuna sourcing policy.

Greenpeace also looked at retailers' support for preserving the Bering Sea, which supplies more than half the seafood consumed in the U.S. but where indiscriminate trawling by industrial boats has reduced populations of crab, perch and pollock to lows that threatening the biodiversity and long-term productivity of the region. Over the past year, Whole Foods, Wegmans, Giant Eagle, Costco, Roundy's and Southeastern Grocers have expressed commitments to protecting the Bering Sea.
The environmental group has called for a national day of action for seafood awareness on July 25. The group intends to target Walmarts nationwide, demanding the world's largest retailer do more to ensure its seafood products are sustainable and that workers are treated respectfully.
The National Fisheries Institute (NFI), a trade association representing about 75 percent of U.S. seafood firms, has defended the bycatch fishing method, insisting that using a pole and a line to catch the fish would increase the industry's carbon footprint by more than four times the amount of fuel per tuna caught and that it would also drive up the cost of the fish for consumers. Gavin Gibbons, the group's spokesman also expressed regret at revelations that slave-caught fish were arriving in U.S. supermarkets. "These type of things flourish in the shadows," he told the Associated Press.
"The tuna industry is particularly destructive—both for industry workers and the oceans we depend on," concluded Pinsky. "For the health of the oceans and the people that bring food to our tables, this must change."
YOU MIGHT ALSO LIKE
Will Seafood Soon Disappear From the Menu?
What's the Beef with the U.S./China Chicken Deal?
10 Foods Banned in Other Parts of the World, But Not in America
EcoWatch Daily Newsletter