Food
Jul. 02, 2014 09:45AM EST
4 Benefits of Eating Habanero Peppers
The first time I tried a habanero pepper, I was determined to show everyone in Mexico how tough I was. I wasn't just some run-of-the-mill gringa, I was completely capable of eating even the spiciest of produce options. As my friend handed me a small piece of the perilous pepper, I casually popped it in my mouth as if it were an M&M. I remember blood rushing to my face, fire sparking in my throat, and the pressing need for water. Tears began to stream down my face as I masked my painful discomfort with a smile fit for a psychotic clown. Laughter ensued as I said "delicioso" under my breath.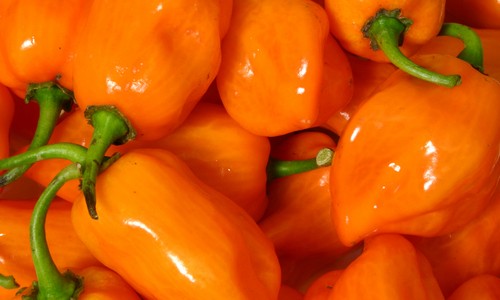 A habenero for your health? Photo courtesy of Shutterstock
The habanero pepper has a bit of a Napoleon complex. It makes up for its small size with its potent spicy flavor and even many people in Mexico fear its wrath. Many people know about the reputation for its fearful flavor but not many are aware of all the habanero health benefits. It is mainly because of a chemical contained in the peppers called capsaicin which has been shown to help with multiple ailments. Here are a few habanero health benefits to keep in mind when your throat is on fire:
1. Lower your cholesterol
Eating these terrifyingly tasty treats has been shown to lower bad cholesterol. In a 1985 study published in "Artery" it was shown that the capsaicin in habaneros reduced cholesterol in young female rabbits.
2. Reduce blood pressure
The capsaicin in habaneros also has been shown to also reduce high blood pressure. Apparently, capsaicin stimulates the increase of the insulin-like growth factor IGF-I which reduces blood pressure.
3. Fights weight gain

Can capsaicin help you control your weight? It sure can! Capsaicin increases thermogenesis throughout the body. The process of thermogenesis is what is involved in the raising and lowering of body temperature and if you increase that, you increase metabolism.
4. Cancer prevention

Because of the combinations of high content of vitamins C and A and capsaicin, this little pepper can prevent cancer in a big way by inhibiting the growth of cancer cells (particularly prostate) and by preventing the negative effects of free radicals.
Enough reasons to accept the dare of biting into a habanero pepper? Maybe you should start slow by adding a bit to your next taco. However you choose to eat the habanero, it may bring your tongue comfort to know that you are receiving multiple health benefits by eating the hot and healthy habanero.
The Santa Barbara City Council approved a resolution Tuesday opposing new drilling off the California coast and fracking in existing offshore oil and gas wells. The resolution is the first in a new statewide campaign to rally local governments against proposals to expand offshore fossil fuel extraction in federal waters.
The vote—which makes Santa Barbara the first California city to oppose both fracking and new offshore drilling—follows President Trump's April 28 executive order urging federal agencies to expand oil and gas leasing in federal waters. The order could expose the Pacific Ocean to new oil leasing for the first time in more than 30 years.
Keep reading...
Show less
www.facebook.com
Starting Wednesday, the vast majority of Americans can learn about every potentially harmful chemical in their drinking water and what scientists say are the safe levels of those contaminants. The Environmental Working Group's (EWG) new national Tap Water Database is the most complete source available on the quality of U.S. drinking water, aggregating and analyzing data from almost 50,000 public water systems in all 50 states and the District of Columbia.
The organization has earned a reputation for ambitious data-mining research projects that shake up policy debates and consumer markets. EWG's online Farm Subsidy Database, listing millions of subsidy recipients, and its Skin Deep guide to more than 70,000 personal care products, draw tens of millions of visitors every year.
Keep reading...
Show less
By Stacy Malkan
Ever since they classified the world's most widely used herbicide as "probably carcinogenic to humans," a team of international scientists at the World Health Organization's (WHO) cancer research group have been under withering attack by the agrichemical industry and its surrogates.
In a front-page series, The Monsanto Papers, the French newspaper Le Monde described the attacks as "the pesticide giant's war on science," and reported, "to save glyphosate, the firm [Monsanto] undertook to harm the United Nations agency against cancer by all means."
Keep reading...
Show less
Shutterstock
The U.S. electric utility industry recognized decades ago that burning fossil fuels would lead to increased warming, yet later opposed efforts to shift away from coal, according to a new report.
The lengthy report from the Energy and Policy Institute uses reams of archival documents to demonstrate that utility industry representatives knew as far back as 1968 that burning fossil fuels could trigger "catastrophic effects" on the climate.
Keep reading...
Show less
www.youtube.com
By Sharon Kelly
The Pennsylvania's Environmental Hearing Board ordered Sunoco Pipeline LP Tuesday to temporarily halt some types of work on a $2.5 billion pipeline project designed to carry 275,000 barrels a day of butane, propane and other liquid fossil fuels from Ohio and West Virginia, across Pennsylvania, to the Atlantic coast.
On July 19, three environmental groups presented Judge Bernard Labuskes, Jr. with documentation showing that the project had caused dozens of drilling fluid spills and other accidents between April and mid-June.
Keep reading...
Show less
www.youtube.com
By Andy Rowell
The UK has followed France in banning the sale of new petrol and diesel cars by 2040, as part of its plan to tackle chronic air pollution in cities. The government has been coming under intense pressure to act, with an estimated 40,000 people dying prematurely a year from air pollution.
Keep reading...
Show less
By Colleen Curry
People traveling across America today can, if they're lucky, pitch a tent in the same exact spot that early American explorers and map-makers Lewis and Clark did, amid the jagged rocks and sweeping plains of the Upper Missouri River Breaks in central Montana.
Brent Rose, a journalist and filmmaker who has been traveling around the U.S. in a van for two years, was one of the lucky ones.
Keep reading...
Show less
www.youtube.com
Kyara, a killer whale born at SeaWorld San Antonio just three months ago, died Monday at the park, as reported in this video from Newsy. Kyara is the last orca to be born in captivity under the SeaWorld breeding program, which shut down in 2016.
In a statement, SeaWorld said the cause of death was "likely pneumonia" and that "Kyara had faced some very serious and progressive health issues over the last week."
Keep reading...
Show less