This website uses cookies to ensure you get the best experience while browsing it. By clicking 'Got It' you're accepting these terms.
4 Arrested at Cumberland Courthouse in Protest of Cove Point Fracked Gas Export Plan
Feb. 27, 2014 01:51PM EST
Energy
A local Unitarian minister and three western Maryland residents were arrested just before Noon today outside the Allegany County Courthouse in Cumberland for peacefully protesting Virginia-based Dominion Resources' plan to build a liquefied natural gas export facility at Cove Point in southern Maryland.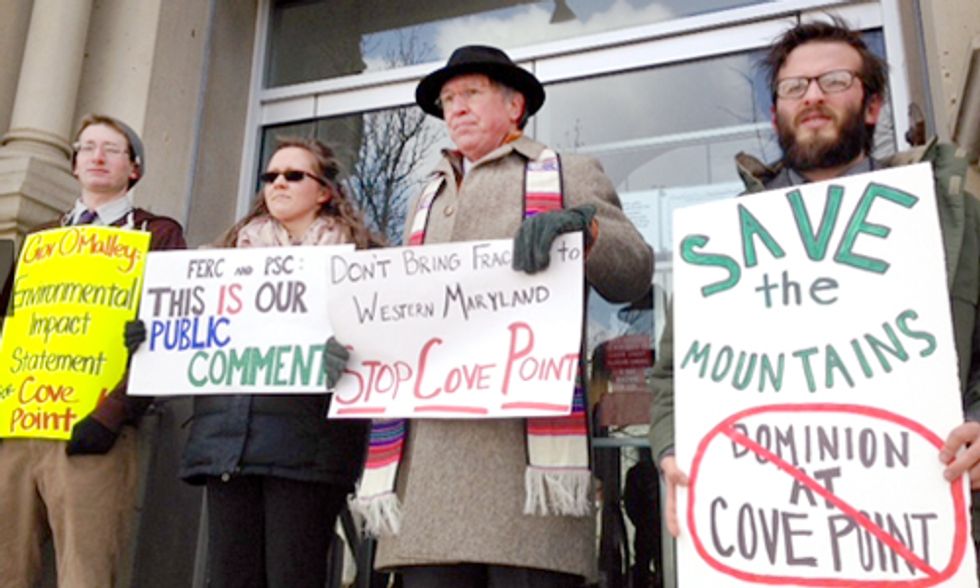 The protesters blocked the courthouse entrance to demand justice in the controversial federal handling of the massive $3.8 billion project, which would take nearly a billion cubic feet of gas per day from fracking wells across the Appalachian region, liquefy it on the Chesapeake Bay and export it to Asia.
"I am here today as both a citizen of this beautiful state and as a minister deeply concerned that the proposed Cove Point gas export facility would take us in exactly the wrong direction," said Reverend Terence Ellen, a minister at the Unitarian Universalist Fellowship of Greater Cumberland.
"It is inconceivable to me that a project so huge and so potentially harmful to our health and welfare would not even receive a full Environmental Impact Statement. We're sitting in today because the Federal Energy Regulatory Commission is failing to serve the public."
Joining Rev. Ellen were three young people, including two native residents of Cumberland who are students at Frostburg University and a local Frostburg resident who has seen the impacts of fracking elsewhere. With signs reading "Don't Bring Fracking to Western Maryland" and "This Is Our Public Comment!" they specifically called on the Federal Energy Regulatory Commission (FERC) to conduct a full and fair Environmental Impact Statement (EIS) on Cove Point. They also appealed to Gov. Martin O'Malley and members of Congress to break their silence and join them in demanding this most rigorous and participatory type of environmental review.
"I am risking arrest today in opposition to Cove Point and the pressure it would place on my home counties and on the mid-Atlantic at large to frack for gas," said Benjamin Brown, an undergraduate student at Frostburg University and native of Cumberland.
"I cannot remain idle as the places and things I love—fishing with my father, hiking with my friends, the splendor of these mountains—are exploited. I give up my temporary freedom in the hope that all leaders of our communities, including Governor Martin O'Malley, will rise to protect our collective future."
All participants expressed deep concern that Dominion's Cove Point plan would incite enormous pressure to open western Maryland to industrial fracking wells and new gas infrastructure, harming public health and transforming the rural landscape that sustains local livelihoods.
"An export facility at Cove Point would simply be another addition to a fossil fuel model that has drastically failed us," said Desiree Bullard, a Cumberland native and a graduate student at Frostburg University.
"The only way Dominion can possibly justify this plan is by hiding the truth. We can't match Dominion's money or influence, which is why we are peacefully sitting in today, appealing to our leaders for an Environmental Impact Statement that assesses the full impacts of Cove Point."
"A thorough Environmental Impact Statement would undoubtedly prove that fracking, drilling and extracting is not a sustainable path for our communities," said Gabriel Adam Echeverri of Frostburg.
"I stand in solidarity with the residents of Cove Point, with the residents of Pennsylvania, West Virginia, New York, and Ohio, and with my neighbors in opposition to any corporation that would take all for profit and leave nothing for progeny."
Dominion's Cove Point export plan has sparked growing opposition across Maryland in recent months, drawing a record crowd of environmental protesters to Baltimore last week as hearings began at the Maryland Public Service Commission. The state must sign off on Dominion's permit to build a 130-megawatt gas-fired power plant to run on-site liquefaction operations, and the Public Service Commission will hold a public hearing on the proposal this Saturday in Calvert County. 
The Federal Energy Regulatory Commission is also weighing Dominion's plan but, to date, has rejected calls for a full Environmental Impact Statement made by dozens of environmental, health and faith leaders, Maryland citizens, and Maryland's Attorney General. Advocates contend that a less thorough and less participatory "Environmental Assessment" would fail to account for the domino effect of rising gas prices, expanded fracking, new pipelines and compressor stations and, ultimately, significant new carbon pollution that the Cove Point project could trigger region-wide.
Visit EcoWatch's FRACKING page for more related news on this topic.

EcoWatch Daily Newsletter
A Starbucks barista prepares a drink at a Starbucks Coffee Shop location in New York. Ramin Talaie / Corbis via Getty Images
By Cathy Cassata
Are you getting your fill of Starbucks' new Almondmilk Honey Flat White, Oatmilk Honey Latte, and Coconutmilk Latte, but wondering just how healthy they are?
By Sharon Kelly
Back in April last year, the Trump administration's Environmental Protection Agency decided it was "not necessary" to update the rules for toxic waste from oil and gas wells. Torrents of wastewater flow daily from the nation's 1.5 million active oil and gas wells and the agency's own research has warned it may pose risks to the country's drinking water supplies.
Swedish climate activist Greta Thunberg takes part in a "Friday for Future" youth demonstration in a street of Davos on Jan. 24, 2020 on the sideline of the World Economic Forum annual meeting. FABRICE COFFRINI / AFP via Getty Images
Treasury Secretary Steven Mnuchin pretended not to know who Greta Thunberg is, and then he told her to get a degree in economics before giving world leaders advice, as The Guardian reported.
The Visible Infrared Imaging Radiometer Suite on the Suomi NPP satellite acquired this image of forest fire smoke hovering over North America on Aug. 15, 2018. NASA Earth Observatory
New York City isn't known for having the cleanest air, but researchers traced recent air pollution spikes there to two surprising sources — fires hundreds of miles away in Canada and the southeastern U.S.
If temperatures continue to rise, the world is at risk from global
sea-level rise
, which will flood many coastal cities as seen above in Bangladesh. NurPhoto / Contributor / Getty Images
The mounting climate emergency may spur the next global financial crisis and the world's central banks are woefully ill equipped to handle the consequences, according to a new book-length report by the Bank for International Settlements (BIS), as S&P Global reported. Located in Basel, Switzerland, the BIS is an umbrella organization for the world's central banks.