This website uses cookies to ensure you get the best experience while browsing it. By clicking 'Got It' you're accepting these terms.
36 Years of Three Mile Island's Lethal Lies ... and Still Counting
Mar. 27, 2015 03:46PM EST
Energy

The lies that killed people at Three Mile Island 36 years ago on March 28, 1979 are still being told at Chernobyl, Fukushima, Diablo Canyon, Davis-Besse ... and at TMI itself.
As the first major reactor accident that was made known to the public is sadly commemorated, and as the global nuclear industry collapses, let's count just 36 tip-of-the iceberg ways the nuclear industry's radioactive legacy continues to fester: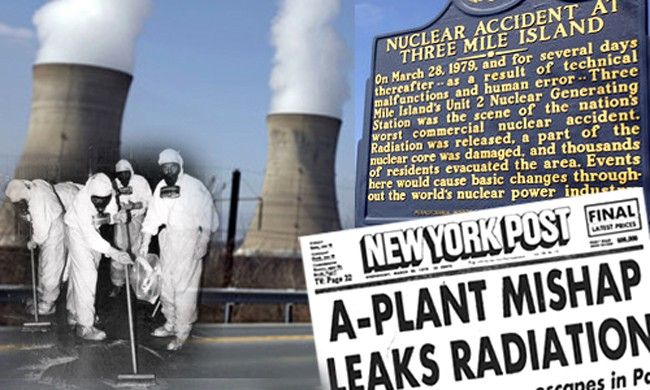 1. When about half of TMI's fuel melted on March 28, 1979, the owners, industry and regulators all denied it, and continued to deny it until robotic cameras showed otherwise.
2. Early signs that such an accident could happen had already surfaced at the Davis-Besse reactor in Ohio, which was also manufactured by Babcock & Wilcox. TMI's owners later sued Davis-Besse's owners for not warning them about what had happened.
3. When TMI's radiation poured into the atmosphere the industry had (and still has) no idea how much escaped, but denied it was of any significance even though stack monitors failed and dosimeters in the field indicated high releases (plant owners claimed they were "defective"). Only due to the work of the great Dr. Ernest Sternglass, recently departed, was public attention turned to the potential harm this radiation could do.
4. When animals nearby suffered mass mutations and death, the industry denied it. When the plague was confirmed by the Pennsylvania Department of Agriculture and the Baltimore News-American, the industry denied the damage could be related to radiation.
5. Industry "experts" assured the public radiation doses to downwinders were similar to a single x-ray, but ignored well-established findings from Dr. Alice Stewart and others that a single x-ray to a pregnant woman could double the chances of childhood leukemia among her offspring.
6. Industry "experts" ignored the reality that radioactive fallout can come down in clumps rather than spread evenly, and scoffed at findings from neighborhood surveys done by Jane Lee, Mary Osbourne and others showing major outbreaks of cancer in certain downwind neighborhoods.
7. When humans nearby were born with Down's Syndrome and other mutations, and then adults began dying, the industry denied it, then denied any connection to TMI, but then did pay at least $15 million in out-of-court settlements to affected families on condition they not speak about it in public.
8. When Chernobyl exploded in 1986, Soviet officials said nothing as massive clouds of radiation poured across Europe and into the jet stream that would carry it to the U.S. within 10 days.
9. The U.S. government did nothing of sufficient scale to monitor Chernobyl's radiation as it came here, and did nothing to warn the public to avoid milk and other foods that might concentrate that radiation, and has repeated that behavior in the wake of Fukushima.
10. A massive bird die-off at the Pt. Reyes National Seashore came with the arrival of the Chernobyl cloud and was documented by resident ornithologist Dr. Dave DeSante, whose findings were ignored by the government; soon thereafter, DeSante lost his job.
11. Chernobyl's radiation was tracked all across Europe where it continues to irradiate plants, animals and humans. The most credible study of Chernobyl's human death toll put it at 985,000 in 2010.
12. Chernobyl still seethes with radiation, but the massive, hugely expensive movable sarcophagus meant to cover it is not yet in place.
13. When fire runs through the wooded areas around Chernobyl, massive quantities of radiation are re-released into the atmosphere.
14. Fifteen Soviet-era reactors remain operable in Ukraine, much of which is now a de facto war zone, raising serious doubts about what will happen to them and the rest of the downwind human race.
15. The Japanese government was repeatedly and passionately warned by thousands of citizens for more than 40 years that putting reactors in a tsunami zone surrounded by earthquake faults was not a good idea. They were dismissed as "alarmists" and repeatedly assured that the reactors at Fukushima and elsewhere around Japan could come to no harm.
16. Despite repeated public protests, when Fukushima Dai'ichi was built an 85-foot-high bluff was taken down so units 1 through 4 could operate more cheaply at sea level; as widely predicted, they were massively flooded on March 11, 2011.
17. Critical backup batteries meant to keep the reactor cores cool in case of melt-downs were placed in basements which were thoroughly flooded when the tsunami hit Fukushima. Workers later frantically took batteries from nearby parked cars to try to power up the stricken cooling systems and other critical components.
18. The exact whereabouts of the melted cores from Fukushima Units 1, 2 and 3 remain unknown.
19. After a half-century of industry assurances that American reactors could not explode, four General Electric reactors blew up at Fukushima.
20. By estimate of Hiroaki Koide, assistant professor at Kyoto University Research Reactor Institute, some 30 times as much Cesium 137 has been released at Fukushima as was released during the bombing of Hiroshima.
21. Some 300 tons of radioactive water continues to pour into the Pacific Ocean from Fukushima every day.
22. Thousands of highly radioactive spent fuel rods remain scattered around the Fukushima site; thousands are also still suspended in damaged spent fuel pools 100 feet in the air atop weakened buildings above shattered, melted reactors.
23. A petition signed by more than 150,000 people demanding that Fukushima be taken over by the world community was submitted to the United Nations on November 7, 2013, but has yet to receive a response of any kind.
24. Fukushima is still owned and operated by Tokyo Electric Power, which built it despite massive public opposition and continues to mismanage it while turning the "clean up" into a profit center, with a labor force thoroughly infiltrated by organized crime.
25. Like Fukushima, California's Diablo Canyon reactors were built despite huge public protests, and sit in a tsunami zone surrounded by earthquake faults whose potential seismic power exceeds Diablo's structural capacities, according numerous experts, including NRC official Dr. Michael Peck, who worked at Diablo for the commission.
26. A continual stream of revelations indicate illegal collusion on safety and other issues at Diablo between its owners, Pacific Gas & Electric, and the Nuclear Regulatory Commission, as well as the California Public Utilities Commission.
27. Diablo's owners almost certainly violated regulatory requirements and the law in using components within the reactors that were not tested to meet seismic standards.
28. Earthquakes have already damaged at least two U.S. reactors, at Ohio's Perry site and at North Anna, Virginia (that quake also damaged the Washington Monument in our nation's capital).
29. Public money designated for use by PG&E to upgrade piping systems was diverted to executive bonuses, according to the Los Angeles Times. In 2010 unrepaired gas lines, which were known to have been deteriorating for a decade, blew up in San Bruno, killing eight people and doing millions of dollars in damage. Such a disaster at Diablo Canyon could kill countless thousands and do untold damage to the national economy and global ecology.
30. Diablo Canyon's once-through cooling system violates state and federal water quality regulations by dumping huge quantities of hot, radioactive liquid into the Pacific, killing billions of marine creatures while unbalancing the ocean ecology and contributing to climate chaos.
31. Like most other old U.S. reactors, Ohio's Davis-Besse is literally crumbling, with the concrete in its safety shield being pulverized by continual freezing, yielding ever-growing holes in the structure.
32. Like most other old U.S. reactors, Diablo Canyon, Davis-Besse, five reactors in Illinois and many more cannot compete in electricity markets against wind power, solar panels, other renewable sources or increased efficiency, and would shut down were it not for massive public subsidies.
33. Ohio's Public Utilities Commission is being asked by FirstEnergy, Davis-Besse's owner, for subsidies amounting to more than $3 billion to keep open that decrepit reactor, which opened in 1978, and the Sammis coal burner, which is even older.
34. Wisconsin's Kewaunee reactor has shut for purely economic reasons despite being fully amortized and having no apparent outstanding maintenance or engineering crises.
35. California's San Onofre reactors were shut in part due to violations of licensing requirements that are mirrored at both Diablo Canyon and Davis-Besse, where shut-downs could be required by law. Let's hope ...
36. As we commemorate this tragic anniversary, we must note that this list of reactor nightmares could go very very far past 36. But let's hope it doesn't take that many more years to realize the folly of this failed technology.
In honor of the many many victims of Three Mile Island, and of the great Dr. Sternglass and so many dedicated experts and activists, we must turn this sad litany into the action needed to shut down ALL the world's reactors so we don't have to experience this nightmare yet again.
The lives we save will be our own … and those of our children ... and theirs ...
Harvey Wasserman reported directly on TMI's death toll from central Pennsylvania. He co-wrote KILLING OUR OWN:  THE DISASTER OF AMERICA'S EXPERIENCE WITH ATOMIC RADIATION.
YOU MIGHT ALSO LIKE
Doomsday Clock Moves Closer to Midnight As California's Last Active Nuke Plant Puts Millions at Risk
Fukushima Radiation Found in Sample of Green Tea from Japan
Clever Interactive Video Encourages Americans to Join Renewable Energy Revolution
EcoWatch Daily Newsletter
Plateau Creek near De Beque, Colorado, where land has been leased for oil and gas production. Helen H. Richardson / The Denver Post / Getty Images
By Randi Spivak
Slashing two national monuments in Utah may have received the most attention, but Trump's Interior Department and U.S. Forest Service have been quietly, systematically ceding control of America's public lands to fossil fuel, mining, timber and livestock interests since the day he took office.
Global SO2 Emission Hotspot Database / Greenpeace
A new report by Greenpeace International pinpointed the world's worst sources of sulfur dioxide pollution, an irritant gas that harms human health. India has seized the top spot from Russia and China, contributing nearly 15 percent of global sulfur dioxide emissions.
The huge surge this year in Amazon deforestation is leading some European countries to think twice about donations to the Amazon Fund. LeoFFreitas / Moment / Getty Images
By Sue Branford and Thais Borges
Ola Elvestrun, Norway's environment minister, announced Thursday that it is freezing its contributions to the Amazon Fund, and will no longer be transferring €300 million ($33.2 million) to Brazil. In a press release, the Norwegian embassy in Brazil stated:
Given the present circumstances, Norway does not have either the legal or the technical basis for making its annual contribution to the Amazon Fund.
Brazilian President Jair Bolsonaro reacted with sarcasm to Norway's decision, which had been widely expected. After an official event, he commented: "Isn't Norway the country that kills whales at the North Pole? Doesn't it also produce oil? It has no basis for telling us what to do. It should give the money to Angela Merkel [the German Chancellor] to reforest Germany."
According to its website, the Amazon Fund is a "REDD+ mechanism created to raise donations for non-reimbursable investments in efforts to prevent, monitor and combat deforestation, as well as to promote the preservation and sustainable use in the Brazilian Amazon." The bulk of funding comes from Norway and Germany.
The annual transfer of funds from developed world donors to the Amazon Fund depends on a report from the Fund's technical committee. This committee meets after the National Institute of Space Research, which gathers official Amazon deforestation data, publishes its annual report with the definitive figures for deforestation in the previous year.
But this year the Amazon Fund's technical committee, along with its steering committee, COFA, were abolished by the Bolsonaro government on 11 April as part of a sweeping move to dissolve some 600 bodies, most of which had NGO involvement. The Bolsonaro government views NGO work in Brazil as a conspiracy to undermine Brazil's sovereignty.
The Brazilian government then demanded far-reaching changes in the way the fund is managed, as documented in a previous article. As a result, the Amazon Fund's technical committee has been unable to meet; Norway says it therefore cannot continue making donations without a favorable report from the committee.
Archer Daniels Midland soy silos in Mato Grosso along the BR-163 highway, where Amazon rainforest has largely been replaced by soy destined for the EU, UK, China and other international markets.
Thaís Borges.
An Uncertain Future
The Amazon Fund was announced during the 2007 United Nations Climate Change Conference in Bali, during a period when environmentalists were alarmed at the rocketing rate of deforestation in the Brazilian Amazon. It was created as a way of encouraging Brazil to continue bringing down the rate of forest conversion to pastures and croplands.
Government agencies, such as IBAMA, Brazil's environmental agency, and NGOs shared Amazon Fund donations. IBAMA used the money primarily to enforce deforestation laws, while the NGOs oversaw projects to support sustainable communities and livelihoods in the Amazon.
There has been some controversy as to whether the Fund has actually achieved its goals: in the three years before the deal, the rate of deforestation fell dramatically but, after money from the Fund started pouring into the Amazon, the rate remained fairly stationary until 2014, when it began to rise once again. But, in general, the international donors have been pleased with the Fund's performance, and until the Bolsonaro government came to office, the program was expected to continue indefinitely.
Norway has been the main donor (94 percent) to the Amazon Fund, followed by Germany (5 percent), and Brazil's state-owned oil company, Petrobrás (1 percent). Over the past 11 years, the Norwegians have made, by far, the biggest contribution: R$3.2 billion ($855 million) out of the total of R$3.4 billion ($903 million).
Up till now the Fund has approved 103 projects, with the dispersal of R$1.8 billion ($478 million). These projects will not be affected by Norway's funding freeze because the donors have already provided the funding and the Brazilian Development Bank is contractually obliged to disburse the money until the end of the projects. But there are another 54 projects, currently being analyzed, whose future is far less secure.
One of the projects left stranded by the dissolution of the Fund's committees is Projeto Frutificar, which should be a three-year project, with a budget of R$29 million ($7.3 million), for the production of açai and cacao by 1,000 small-scale farmers in the states of Amapá and Pará. The project was drawn up by the Brazilian NGO IPAM (Institute of Environmental research in Amazonia).
Paulo Moutinho, an IPAM researcher, told Globo newspaper: "Our program was ready to go when the [Brazilian] government asked for changes in the Fund. It's now stuck in the BNDES. Without funding from Norway, we don't know what will happen to it."
Norway is not the only European nation to be reconsidering the way it funds environmental projects in Brazil. Germany has many environmental projects in the Latin American country, apart from its small contribution to the Amazon Fund, and is deeply concerned about the way the rate of deforestation has been soaring this year.
The German environment ministry told Mongabay that its minister, Svenja Schulze, had decided to put financial support for forest and biodiversity projects in Brazil on hold, with €35 million ($39 million) for various projects now frozen.
The ministry explained why: "The Brazilian government's policy in the Amazon raises doubts whether a consistent reduction in deforestation rates is still being pursued. Only when clarity is restored, can project collaboration be continued."
Bauxite mines in Paragominas, Brazil. The Bolsonaro administration is urging new laws that would allow large-scale mining within Brazil's indigenous reserves.
Hydro / Halvor Molland / Flickr
Alternative Amazon Funding
Although there will certainly be disruption in the short-term as a result of the paralysis in the Amazon Fund, the governors of Brazil's Amazon states, which rely on international funding for their environmental projects, are already scrambling to create alternative channels.
In a press release issued yesterday Helder Barbalho, the governor of Pará, the state with the highest number of projects financed by the Fund, said that he will do all he can to maintain and increase his state partnership with Norway.
Barbalho had announced earlier that his state would be receiving €12.5 million ($11.1 million) to run deforestation monitoring centers in five regions of Pará. Barbalho said: "The state governments' monitoring systems are recording a high level of deforestation in Pará, as in the other Amazon states. The money will be made available to those who want to help [the Pará government reduce deforestation] without this being seen as international intervention."
Amazonas state has funding partnerships with Germany and is negotiating deals with France. "I am talking with countries, mainly European, that are interested in investing in projects in the Amazon," said Amazonas governor Wilson Miranda Lima. "It is important to look at Amazônia, not only from the point of view of conservation, but also — and this is even more important — from the point of view of its citizens. It's impossible to preserve Amazônia if its inhabitants are poor."
Signing of the EU-Mercusor Latin American trading agreement earlier this year. The pact still needs to be ratified.
Council of Hemispheric Affairs
Looming International Difficulties
The Bolsonaro government's perceived reluctance to take effective measures to curb deforestation may in the longer-term lead to a far more serious problem than the paralysis of the Amazon Fund.
In June, the European Union and Mercosur, the South American trade bloc, reached an agreement to create the largest trading bloc in the world. If all goes ahead as planned, the pact would account for a quarter of the world's economy, involving 780 million people, and remove import tariffs on 90 percent of the goods traded between the two blocs. The Brazilian government has predicted that the deal will lead to an increase of almost $100 billion in Brazilian exports, particularly agricultural products, by 2035.
But the huge surge this year in Amazon deforestation is leading some European countries to think twice about ratifying the deal. In an interview with Mongabay, the German environment ministry made it very clear that Germany is very worried about events in the Amazon: "We are deeply concerned given the pace of destruction in Brazil … The Amazon Forest is vital for the atmospheric circulation and considered as one of the tipping points of the climate system."
The ministry stated that, for the trade deal to go ahead, Brazil must carry out its commitment under the Paris Climate agreement to reduce its greenhouse gas emissions by 43 percent below the 2005 level by 2030. The German environment ministry said: If the trade deal is to go ahead, "It is necessary that Brazil is effectively implementing its climate change objectives adopted under the [Paris] Agreement. It is precisely this commitment that is expressly confirmed in the text of the EU-Mercosur Free Trade Agreement."
Blairo Maggi, Brazil agriculture minister under the Temer administration, and a major shareholder in Amaggi, the largest Brazilian-owned commodities trading company, has said very little in public since Bolsonaro came to power; he's been "in a voluntary retreat," as he puts it. But Maggi is so concerned about the damage Bolsonaro's off the cuff remarks and policies are doing to international relationships he decided to speak out earlier this week.
Former Brazil Agriculture Minister Blairo Maggi, who has broken a self-imposed silence to criticize the Bolsonaro government, saying that its rhetoric and policies could threaten Brazil's international commodities trade.
Senado Federal / Visualhunt / CC BY
Maggi, a ruralista who strongly supports agribusiness, told the newspaper, Valor Econômico, that, even if the European Union doesn't get to the point of tearing up a deal that has taken 20 years to negotiate, there could be long delays. "These environmental confusions could create a situation in which the EU says that Brazil isn't sticking to the rules." Maggi speculated. "France doesn't want the deal and perhaps it is taking advantage of the situation to tear it up. Or the deal could take much longer to ratify — three, five years."
Such a delay could have severe repercussions for Brazil's struggling economy which relies heavily on its commodities trade with the EU. Analysists say that Bolsonaro's fears over such an outcome could be one reason for his recently announced October meeting with Chinese President Xi Jinping, another key trading partner.
Maggi is worried about another, even more alarming, potential consequence of Bolsonaro's failure to stem illegal deforestation — Brazil could be hit by a boycott by its foreign customers. "I don't buy this idea that the world needs Brazil … We are only a player and, worse still, replaceable." Maggi warns, "As an exporter, I'm telling you: things are getting very difficult. Brazil has been saying for years that it is possible to produce and preserve, but with this [Bolsonaro administration] rhetoric, we are going back to square one … We could find markets closed to us."
From Your Site Articles
Related Articles Around the Web
Aerial view of lava flows from the eruption of volcano Kilauea on Hawaii, May 2018. Frizi / iStock / Getty Images
Hawaii's Kilauea volcano could be gearing up for an eruption after a pond of water was discovered inside its summit crater for the first time in recorded history, according to the AP.
Gina Lopez, the Philippine secretary of the environment, at a meeting with residents affected by a mine tailing disaster. Keith Schneider
Gina Lopez, a former Philippine environment secretary, philanthropist and eco-warrior, died on Aug. 19 from brain cancer. She was 65.
Trump speaks to contractors at the Shell Chemicals Petrochemical Complex on Aug. 13 in Monaca, Pennsylvania. Jeff Swensen / Getty Images
Thousands of union members at a multibillion dollar petrochemical plant outside of Pittsburgh were given a choice last week: Stand and wait for a speech by Donald Trump or take the day off without pay.
By Simon Mui
States across the country are stepping up to make clean cars cheaper and easier to find. Colorado's Air Quality Control Commission (AQCC) voted Friday to adopt a Zero Emission Vehicle (ZEV) program that will increase the availability of electric vehicles in the state, improve air quality and increase transportation affordability.