This website uses cookies to ensure you get the best experience while browsing it. By clicking 'Got It' you're accepting these terms.
353 State Lawmakers From 46 States Support 100% Clean Energy by 2050
Dec. 13, 2015 09:37AM EST
Business
More than 350 U.S. state and local elected officials from nearly every state launched a letter calling for 50 percent clean energy by 2030 and 100 percent clean energy by 2050 at the Paris Climate Conference today.
In Paris, California Senate President Pro Tempore Kevin De León was among those releasing the letter. California recently passed legislation to achieve 50 percent clean energy by 2030 and is the world's 7th largest economy.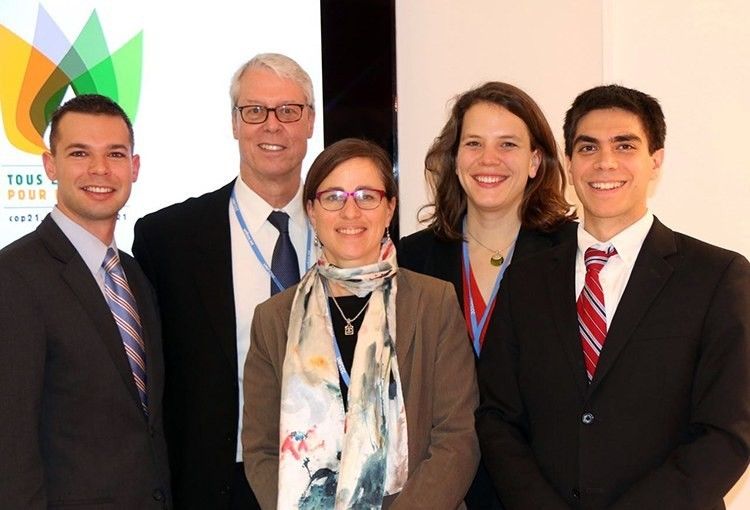 "California's example shows that climate action can be an engine for broadly shared economic prosperity," said De León. "By promoting the development of clean energy resources, we are simultaneously reducing greenhouse gas emissions, improving air quality and creating jobs that can lift families out of poverty. If Congress won't act, it's incumbent on state and local leaders to do the job for them."
The announcement focused on the success state and local governments are achieving in clean energy innovation and implementation.
In New York, Gov. Andrew Cuomo recently enacted a mandate that 50 percent of all electricity consumed in New York by 2030 come from renewable energy services and has committed to reducing greenhouse gas emissions by 40 percent.
New York Assembly person Brian Kavanagh, who chairs the nonpartisan New York State Caucus of Environmental Legislators and was at the Paris talks, said, "Progress in Paris is critically important, but whatever the outcome of international negotiations, we know we have a real opportunity to chart a new course at home. The U.S. must take action to aggressively curb climate-changing pollution. As a country and in each of our states, we can move decisively toward clean renewable energy, which will create good jobs and foster prosperous, healthy communities today and for future generations."
"Our region used to be coal country and now is powered by 40 percent wind. That's the future that cities and states are creating," said Des Moines, Iowa Mayor Frank Cownie. "Where there used to be 23 coal mines 100 years ago in and around the city, now we are building a green space corridor and new industries. It's time for cities, states, the U.S. and the world to aggressively commit to creating a better, clean energy future."
A number of current and former elected officials are organizing the initiative including former Maine State Representative Alex Cornell du Houx, former Caroline New York Council member and Deputy Town Supervisor Dominic Frongillo and California East Bay Municipal Utility District Director Andy Katz. They are urging more elected officials to sign onto the letter at here.
"We organized this initiative to highlight the important work state and local governments are doing to promote clean energy and reduce carbon pollution, despite many in Congress' complete lack of leadership to protect our families and communities," said Cornell du Houx. "We need to protect our nation and the world from the real threats caused by climate change. A recent Pew study found ISIL or Daesh and climate change are seen as the top two global threats and the two are interlinked. As a former Marine and now naval officer, I have seen this link firsthand. Instability caused by extreme weather helps terrorists like Daesh recruit fighters—Syria suffered an unusually severe drought that helped trigger the conflict."
"The political will to act on climate change exists in every state and community. But it's been drowned out by the millions of dollars dirty energy companies spend to sow doubt and denial," said Frongillo. "The decades of deception are over: science is clear on the necessity to move off fossil fuels and Exxon-Mobil is under investigation for misleading shareholders and the American people. We need elected officials to lead a fair and swift transition to 100 percent clean energy. The transition to renewables can create jobs and prosperous opportunities across the U.S. and the world. Now it's time to lead."
This year, the U.S. has hit many clean energy milestones. America has added more clean power than natural gas, with clean energy generation up 11 percent while natural gas generation declined. Demonstrating the opportunity, solar jobs grew 20 times faster than the rest of the economy.
The investment of New England Regional Greenhouse Gas Initiative (RGGI) estimates a return of more than $2.9 billion in lifetime energy bill savings to more than 3.7 million participating households and 17,800 businesses. In California, a similar program generated $969 million in revenue for the state through the end of 2014 and is expected to generate $2 billion a year or more in the future.
The RGGI states have experienced more than a 40 percent reduction in power sector carbon pollution since 2005, while the regional economy has grown eight percent. "This proves that we can reduce pollution that's putting our communities' health at risk while growing jobs and prosperity. From East Coast to West Coast—states and local communities are leading the way," said Katz.
"Cities and states and on the front lines of climate change. As sea levels rise, our city is in danger," said West Palm Beach, Florida Mayor Jeri Muoio. "To protect our future and lead by example, we have made a commitment to power all our city vehicles without fossil fuels."
The initiative also supports the implementation of President Obama's Clean Power Plan, as it will bring the U.S. within seven percent of the stated goal. "We appreciate the administration's leadership and commitment to working with state and local government," said Cornell du Houx. "The launch of this letter is only the beginning. We will be working with state and local elected officials across America to ensure a healthier and safer future for our children. As leaders responsible for America's present and future prosperity, we must take action now."
YOU MIGHT ALSO LIKE
World Leaders Agree to Historic Global Climate Agreement
10,000+ Took to the Streets in Paris Pledging Escalated Actions in the Fight for Climate Justice
Roadmap for Climate Action Unleashes Cities Potential to Cut Global Carbon Emissions
Arnold Schwarzenegger Doesn't 'Give a ****' Whether You Agree With Him on Climate Change
EcoWatch Daily Newsletter
Pexels
The world's population will hit 10 billion in just 30 years and all of those people need to eat. To feed that many humans with the resources Earth has, we will have to cut down the amount of beef we eat, according to a new report by the World Resources Institute.
Beachgoers enjoying a pleasant evening on Georgia's St. Simons Island rushed into the water, despite warnings of sharks, to rescue dozens of short-finned pilot whales that washed ashore on Tuesday evening, according to the New York Times.
Golde Wallingford submitted this photo of "Pure Joy" to EcoWatch's first photo contest. Golde Wallingford
EcoWatch is pleased to announce our third photo contest!

Six Extinction Rebellion protesters were arrested as they blocked off corporations in the UK. The group had increased their actions to week-long nationwide protests.
Sari Goodfriend
By Courtney Lindwall
Across the world, tens of thousands of young people are taking to the streets to protest climate inaction. And at the historic Apollo Theater in Harlem last month, more than a dozen of them took to the stage.
Pumpjacks on Lost Hills Oil Field in California. Arne Hückelheim, Wikimedia Commons
By Julia Conley
A national conservation group revealed Wednesday that President Donald Trump's drilling leases on public lands could lead to the release of more carbon emissions than the European Union contributes in an entire year.
Pixabay
By Marlene Cimons
For nearly a century, scientists thought that malaria could only spread in places where it is really hot. That's because malaria is spread by a tiny parasite that infects mosquitoes, which then infect humans — and this parasite loves warm weather. In warmer climates, the parasite grows quickly inside the mosquito's body. But in cooler climates, the parasite develops so slowly that the mosquito will die before the it is fully grown.
The summit of Mauna Kea in Hawaii, which is considered sacred by some Native Hawaiians. Charmian Vistaunet / Design Pics / Getty Images
A decade-long fight over the proposed construction of a giant telescope on a mountain considered sacred by some Native Hawaiians came to a head Wednesday when 33 elders were arrested for blocking the road to the summit, HuffPost Reported.