This website uses cookies to ensure you get the best experience while browsing it. By clicking 'Got It' you're accepting these terms.
35 Worst Cities (and the Worst State) for Asthma and Allergy Sufferers
May. 13, 2015 01:30PM EST
Climate
One of the hidden costs of climate change is its health costs. As more pollutants are pumped into the air we breathe, the health impacts mount. They include asthma, which has been increasing steadily especially in poorer neighborhoods, and allergies. Now the Natural Resources Defense Council (NRDC) has released a report, Sneezing and Wheezing: How Climate Change Could Increase Ragweed Allergies, Air Pollution and Asthma, which identifies the most vulnerable regions and cities, including the 35 "Sneeziest and Wheeziest" cities, which have the largest concentration of factors that can affect asthma.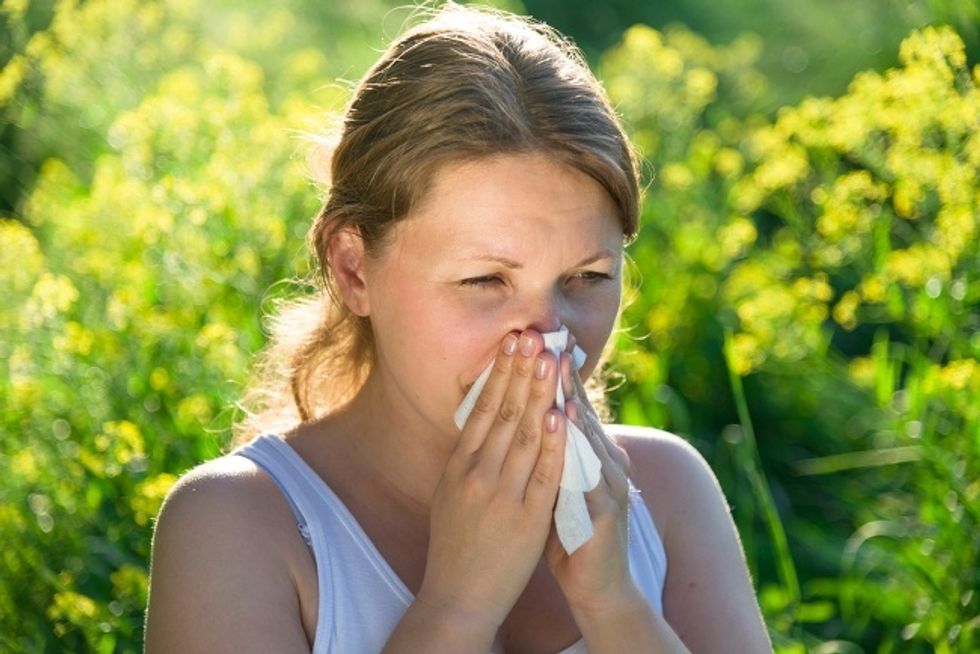 Photo credit: Shutterstock
The report explains that climate change is impacting ozone level and pollen pollution, key irritants that trigger asthma and allergic reactions.
"Scientific studies have shown that our changing climate could favor the formation of more ozone smog in some areas and increase the production of allergenic pollen such as that released by the ragweed plant, the principal source of pollen associated with allergic rhinitis," the study says.
"This is bad news for allergy sufferers and asthmatics because both ragweed pollen and high levels of ozone smog can trigger asthma attacks and worsen allergic symptoms in adults and children. Moreover, studies show that people exposed to both ragweed allergens and ozone are likely to become more ill than people exposed to just one of the two. These negative health effects are expected to worsen if carbon dioxide (Co2) concentrations keep rising and climate change continues unchecked."
"Americans deserve to breathe clean air, but today millions of us are sneezing and wheezing from allergies and asthma linked to climate-fueled ragweed and ozone pollution," said the report's lead author Juan Declet-Barreto. "This double-whammy health threat will only intensify, and affect more people, if we don't take steps to reduce climate change now.
Richmond, Virginia leads the list of the worst cities for asthma and allergy sufferers, followed by Memphis, Oklahoma City, Philadelphia, Chattanooga, Chicago, Detroit, New Haven, Allentown and Atlanta. It was also named the U.S. Asthma Capital by the Asthma and Allergy Foundation of America (AAFA) for 2014, a dubious distinction it also claimed in 2010 and 2011. It also identified the country's most vulnerable regions: Los Angeles Basin, St Louis area, Great Lakes regions, Mid- Atlantic States and New England.
And while it doesn't have any cities in the top 10, Ohio has the most cities listed, which is bad news for those with allergies and asthma, with seven in the top 35: Dayton (15), Cleveland (16), Toledo (17), Akron (20), Cincinnati (23), Youngstown (33) and Columbus (34).
"We think of the state of Ohio as the #1 wheeziest, sneeziest state because it has seven cities," said Declet-Baretto. "These cities are home to five million Ohioans, a sizable amount of population exposed to ozone health risk."
He suggests that Ohio increase its investment in clean energy sources, the opposite of what the state has been doing. Last year, the state became the first in the U.S. to freeze its Renewable Energy Standards and it is now considering repealing them entirely.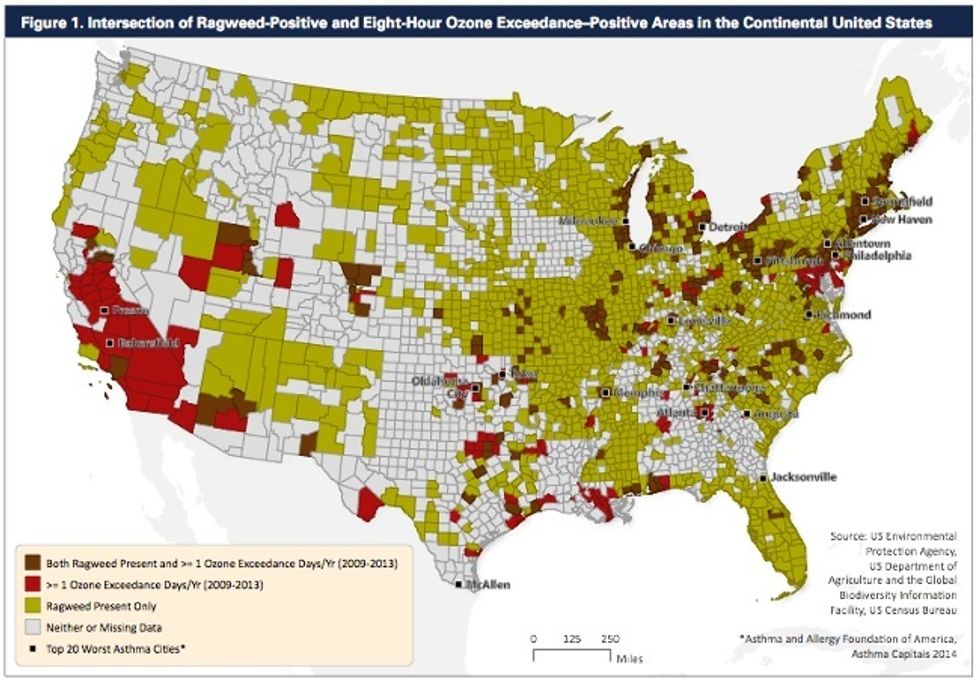 The number of people impacted is huge. According to the report, 50 million people in the U.S. have some type of nasal allergy, with about 26 million children and adults dealing with asthma.
The report points out that warmer temperatures and hot, clear summer days tend to increase ozone concentrations, and that ragweed, the main cause of respiratory allergies, has a longer growing season and produces more pollen when CO2 concentrations are higher. Other pollen-producing plants also thrive in warmer temperatures with higher CO2 concentrations.
"Climate change is already causing shifts in basic natural systems," said Alexandria, Virginia pediatrician Dr. Samantha Ahdoot. "The life cycle and growing patterns of plants are being impacted by climate conditions."
That's particularly pronounced in northern regions such as Ohio and Chicago, she said.
"Changes in climate are impacting allergies with later fall frost and earlier spring thaw," Ahdoot said. "Most people feel allergies have gotten worse, and they have. Total pollen counts have increased by 40 percent in part due to changes in atmosphere. In northern regions, the [allergy] season increased by nearly 20 days. In my practice in past month, I was flooded with parents and children experiencing intractable allergies. Most require multiple medications and often that is not enough. We have had two admissions this year—toddlers experiencing severe asthma attacks requiring hospitable admissions."
The NRDC report also made some suggestions about what we can do to address the problem, both on a personal and policy level. Policywise, it advocates for limiting carbon emissions from power plants, lowering the allowable standard for ozone, improving data collection on ozone and ragweed pollution, and making that information more accessible to the public and the scientific community. It urges individuals to keep track of pollen levels, avoid strenuous outdoor activities on high pollen count and ozone days, and washing bedding and showering frequently, among other things.
"Child health is inextricably linked to climate change," said Dr. Ahdoot, pointing out that public health initiatives on issues such as tobacco and lead paint have been essential in making children healthier. "The Clean Power Plan is the next essential legislation needed to protect the health of children in the U.S."
"Climate change is the central challenge of our time," said Declet-Baretto. "We need to take steps to reduce its strength."
YOU MIGHT ALSO LIKE
25 Most and Least Polluted Cities in America
Polluting Industries Say Sky Is Falling as EPA Proposes Stronger Ozone Standards
China Smog Documentary Goes Viral With 200 Million Views in 5 Days
EcoWatch Daily Newsletter
By Fino Menezes
Everyone adores dolphins. Intelligent, inquisitive and playful, these special creatures have captivated humans since the dawn of time. But dolphins didn't get to where they are by accident — they needed to develop some pretty amazing superpowers to cope with their environment.
Protesters face off against security during the Dakota Access Pipeline protests. ROBYN BECK / AFP / Getty Images
In just two weeks, three states have passed laws criminalizing protests against fossil fuel infrastructure.
Donald Trump and Anthony Fauci, director of the National Institute of Allergy and Infectious Diseases, listen to White House coronavirus response coordinator Deborah Birx speak in the Rose Garden for the daily coronavirus briefing at the White House on March 29, 2020 in Washington, DC. Tasos Katopodis / Getty Images
President Donald Trump has bowed to the advice of public health experts and extended social distancing measures designed to slow the spread of the new coronavirus till at least April 30.
Pexels
By Charli Shield
At unsettling times like the coronavirus outbreak, it might feel like things are very much out of your control. Most routines have been thrown into disarray and the future, as far as the experts tell us, is far from certain.
Pie Ranch in San Mateo, California, is a highly diverse farm that has both organic and food justice certification. Katie Greaney
By Elizabeth Henderson
Farmworkers, farmers and their organizations around the country have been singing the same tune for years on the urgent need for immigration reform. That harmony turns to discord as soon as you get down to details on how to get it done, what to include and what compromises you are willing to make. Case in point: the Farm Workforce Modernization Act (H.R. 5038), which passed in the House of Representatives on Dec. 11, 2019, by a vote of 260-165. The Senate received the bill the next day and referred it to the Committee on the Judiciary, where it remains. Two hundred and fifty agriculture and labor groups signed on to the United Farm Workers' (UFW) call for support for H.R. 5038. UFW President Arturo Rodriguez rejoiced: