35 Worst Cities (and the Worst State) for Asthma and Allergy Sufferers
One of the hidden costs of climate change is its health costs. As more pollutants are pumped into the air we breathe, the health impacts mount. They include asthma, which has been increasing steadily especially in poorer neighborhoods, and allergies. Now the National Resources Defense Council (NRDC) has released a report, Sneezing and Wheezing: How Climate Change Could Increase Ragweed Allergies, Air Pollution and Asthma, which identifies the most vulnerable regions and cities, including the 35 "Sneeziest and Wheeziest" cities, which have the largest concentration of factors that can affect asthma.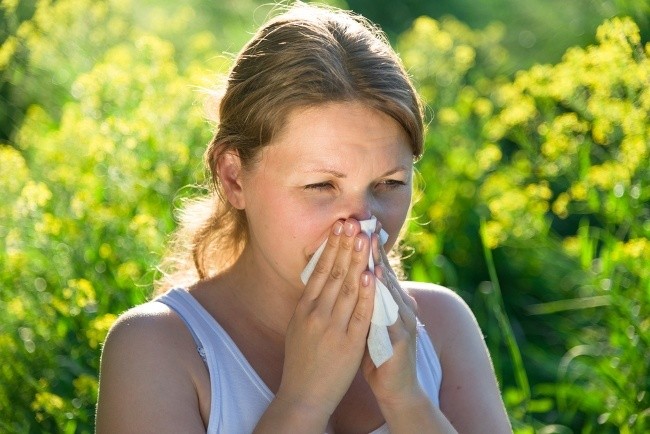 Photo credit: Shutterstock
The report explains that climate change is impacting ozone level and pollen pollution, key irritants that trigger asthma and allergic reactions.
"Scientific studies have shown that our changing climate could favor the formation of more ozone smog in some areas and increase the production of allergenic pollen such as that released by the ragweed plant, the principal source of pollen associated with allergic rhinitis," the study says.
"This is bad news for allergy sufferers and asthmatics because both ragweed pollen and high levels of ozone smog can trigger asthma attacks and worsen allergic symptoms in adults and children. Moreover, studies show that people exposed to both ragweed allergens and ozone are likely to become more ill than people exposed to just one of the two. These negative health effects are expected to worsen if carbon dioxide (Co2) concentrations keep rising and climate change continues unchecked."
"Americans deserve to breathe clean air, but today millions of us are sneezing and wheezing from allergies and asthma linked to climate-fueled ragweed and ozone pollution," said the report's lead author Juan Declet-Barreto. "This double-whammy health threat will only intensify, and affect more people, if we don't take steps to reduce climate change now.
Richmond, Virginia leads the list of the worst cities for asthma and allergy sufferers, followed by Memphis, Oklahoma City, Philadelphia, Chattanooga, Chicago, Detroit, New Haven, Allentown and Atlanta. It was also named the U.S. Asthma Capital by the Asthma and Allergy Foundation of America (AAFA) for 2014, a dubious distinction it also claimed in 2010 and 2011. It also identified the country's most vulnerable regions: Los Angeles Basin, St Louis area, Great Lakes regions, Mid- Atlantic States and New England.
And while it doesn't have any cities in the top 10, Ohio has the most cities listed, which is bad news for those with allergies and asthma, with seven in the top 35: Dayton (15), Cleveland (16), Toledo (17), Akron (20), Cincinnati (23), Youngstown (33) and Columbus (34).
"We think of the state of Ohio as the #1 wheeziest, sneeziest state because it has seven cities," said Declet-Baretto. "These cities are home to five million Ohioans, a sizable amount of population exposed to ozone health risk."
He suggests that Ohio increase its investment in clean energy sources, the opposite of what the state has been doing. Last year, the state became the first in the U.S. to freeze its Renewable Energy Standards and it is now considering repealing them entirely.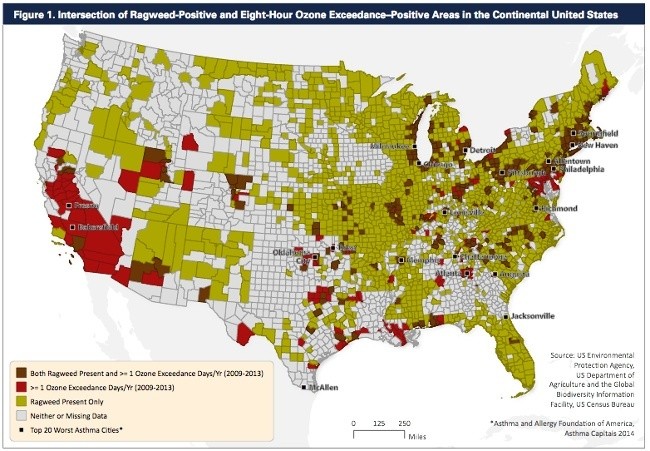 The number of people impacted is huge. According to the report, 50 million people in the U.S. have some type of nasal allergy, with about 26 million children and adults dealing with asthma.
The report points out that warmer temperatures and hot, clear summer days tend to increase ozone concentrations, and that ragweed, the main cause of respiratory allergies, has a longer growing season and produces more pollen when CO2 concentrations are higher. Other pollen-producing plants also thrive in warmer temperatures with higher CO2 concentrations.
"Climate change is already causing shifts in basic natural systems," said Alexandria, Virginia pediatrician Dr. Samantha Ahdoot. "The life cycle and growing patterns of plants are being impacted by climate conditions."
That's particularly pronounced in northern regions such as Ohio and Chicago, she said.
"Changes in climate are impacting allergies with later fall frost and earlier spring thaw," Ahdoot said. "Most people feel allergies have gotten worse, and they have. Total pollen counts have increased by 40 percent in part due to changes in atmosphere. In northern regions, the [allergy] season increased by nearly 20 days. In my practice in past month, I was flooded with parents and children experiencing intractable allergies. Most require multiple medications and often that is not enough. We have had two admissions this year—toddlers experiencing severe asthma attacks requiring hospitable admissions."
The NRDC report also made some suggestions about what we can do to address the problem, both on a personal and policy level. Policywise, it advocates for limiting carbon emissions from power plants, lowering the allowable standard for ozone, improving data collection on ozone and ragweed pollution, and making that information more accessible to the public and the scientific community. It urges individuals to keep track of pollen levels, avoid strenuous outdoor activities on high pollen count and ozone days, and washing bedding and showering frequently, among other things.
"Child health is inextricably linked to climate change," said Dr. Ahdoot, pointing out that public health initiatives on issues such as tobacco and lead paint have been essential in making children healthier. "The Clean Power Plan is the next essential legislation needed to protect the health of children in the U.S."
"Climate change is the central challenge of our time," said Declet-Baretto. "We need to take steps to reduce its strength."
YOU MIGHT ALSO LIKE
25 Most and Least Polluted Cities in America
Polluting Industries Say Sky Is Falling as EPA Proposes Stronger Ozone Standards
China Smog Documentary Goes Viral With 200 Million Views in 5 Days
By Itai Vardi
A recent intensification in protests against Williams Partners' planned Atlantic Sunrise pipeline in Pennsylvania prompted a state senator to propose legislation aimed at limiting demonstrations.
Last month, Pennsylvania Sen. Scott Martin (R-Norman) announced his intention to introduce legislation that would pass the costs of law enforcement responding to protests onto the demonstrators. Martin also helped introduce a different bill that would criminalize protests at natural gas facilities.
Keep reading...
Show less
Black Shogun / iStock
The Federal Energy Regulatory Commission (FERC) released its Final Environmental Impact Statement Friday for the Mountain Valley Pipeline, a controversial 303-mile pipeline that would carry two billion cubic feet of fracked gas per day from West Virginia through Virginia.
Keep reading...
Show less
Falcon PEV
The so-called "first and last mile" problem is one of the biggest hurdles with public transportation. How do you encourage more people to take Earth-friendlier commutes when their homes are miles away from the train or bus station?
One solution, as this Estonian electric scooter company proposes, is to simply take your commute with you—literally. Tallinn-based Stigo has developed a compact e-scooter that folds to the size of a rolling suitcase in about two seconds.
Keep reading...
Show less
Connect4Climate
[Editor's note: I'm still in shock after hearing the news that Lucia Grenna passed away in her sleep last week. When we first met in April of 2014 at a Copenhagen hotel, I was immediately taken by here powerful presence. We spent the next couple days participating in a Sustainia climate change event where Lucia presented her audacious plans to connect people to the climate issue. I had the chance to partner with Lucia on several other projects throughout the years and work with her incredible Connect4Climate team. I was always in awe of her ability to "make the impossible possible." Her spirit will live on forever. — Stefanie Spear]
It is with a heavy heart that Connect4Climate announces the passing of its founder and leading light, Lucia Grenna. Lucia passed peacefully in her sleep on June 15, well before her time. We remember her for her leadership and extraordinary ability to motivate people to take on some of the greatest challenges of our time, not least climate change.
Keep reading...
Show less
Jun. 23, 2017 07:29PM EST
Wikimedia Commons
By Stacy Malkan
Neil deGrasse Tyson has inspired millions of people to care about science and imagine themselves as participants in the scientific process. What a hopeful sign it is to see young girls wearing t-shirts emblazoned with the words, "Forget princess, I want to be an astrophysicist."
Keep reading...
Show less
Jun. 23, 2017 01:57PM EST
www.youtube.com
By Andy Rowell
Any day now we will truly witness climate change in action. Within days at worst, maybe weeks at best, scientists predict that a huge section of the Larsen C ice shelf in Antarctica will break off into the ocean, in what is called a major "carving" event.
Keep reading...
Show less
Jun. 23, 2017 02:27PM EST
www.youtube.com
President Trump visited Cedar Rapids, Iowa on June 21 to speak to a large crowd in the U.S. Cellular Center at a political rally organized by his campaign.
As Trevor Noah noted during The Daily Show episode last night (starts at 2:25), the real reason Trump has these rallies is to "get back in front of his loyal crowds and feed of their energy." Noah believes that "Trump supporters are so on board with their dude he can say anything and they'll come along for the ride."
Keep reading...
Show less
Jun. 23, 2017 07:50PM EST
The Kamuthi solar plant in the southern Indian state of Tamil Nadu.
The rapid growth in renewable energy continues to put a dent in the demand for coal.
Coal India, the world's biggest coal mining company and producer of 82 percent of the country's coal, announced the closure of 37 mines that are financially "unviable."
Keep reading...
Show less
Jun. 23, 2017 06:42PM EST
www.youtube.com
By Katie O'Reilly
Two years ago—long before coal became one of the most dominant and controversial symbols of the 2016 presidential election—Bloomberg Philanthropies approached production company RadicalMedia with the idea of creating a documentary exploring the U.S. coal mining industry. Last spring, they brought on Emmy-nominated director Michael Bonfiglio, tasked with forging a compelling story out of the multitudes of facts, statistics and narratives underlying the declining industry.
Keep reading...
Show less


Get EcoWatch in your inbox