31 Incredible Ways to Use Coconut Oil
Jun. 01, 2016 10:01AM EST
Food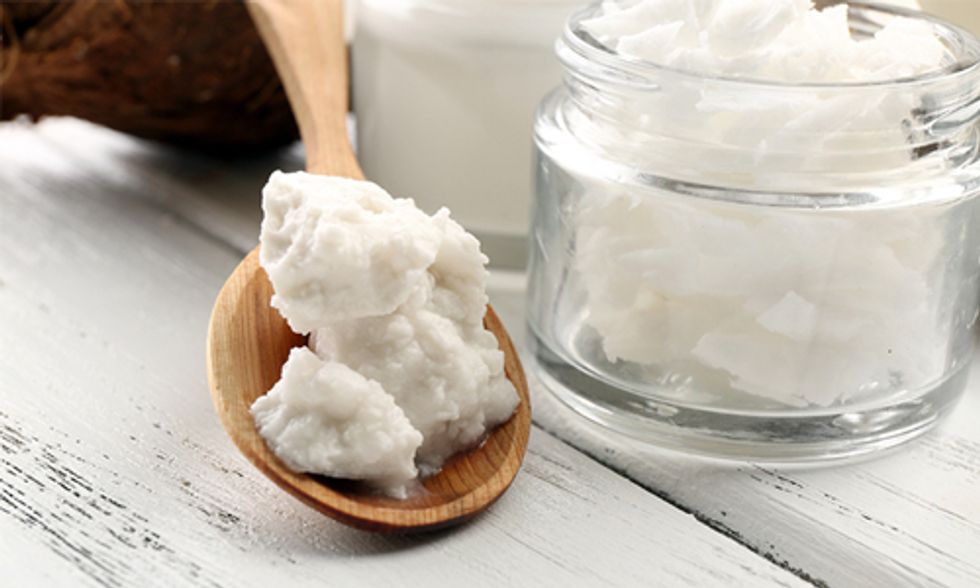 Coconut oil is incredibly popular and for good reason. It offers many health benefits, has a delicate taste and is widely available. It's also an extremely versatile oil with a number of uses you may not be aware of.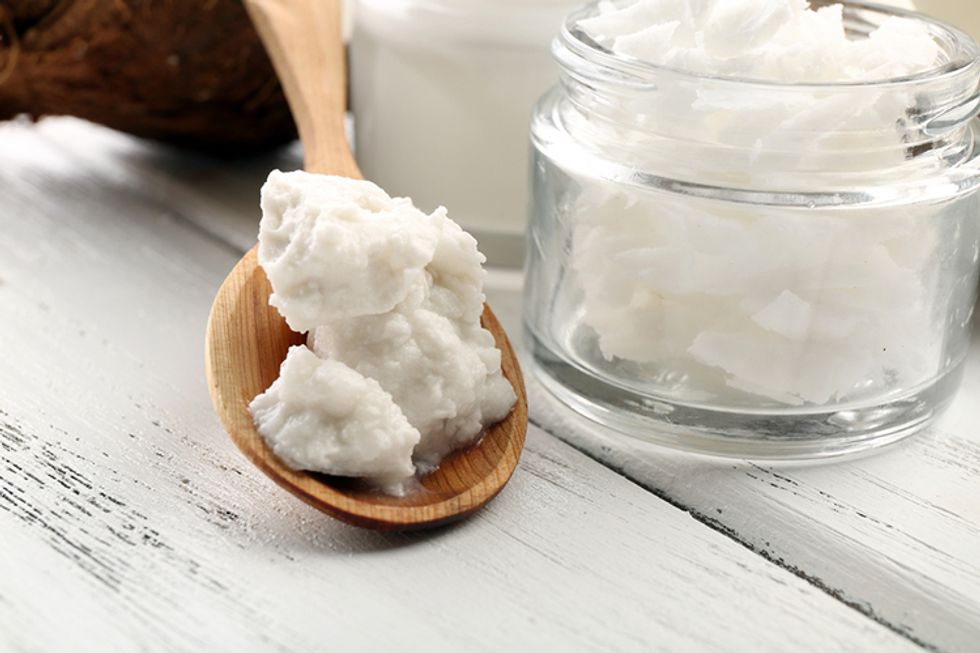 Here are 31 clever uses for coconut oil.
1. Protection From Sun
Coconut oil may protect your skin from the sun's ultraviolet (UV) rays, which can cause wrinkling, brown spots and raise your risk of skin cancer.
In fact, one study found that it blocks about 20 percent of the sun's UV rays (1).
However, keep in mind that it doesn't provide the same amount of protection as conventional sunscreen, which blocks about 90 percent of UV rays.
Another study estimated that coconut oil has a sun protection factor (SPF) of 7, which is still lower than the minimum recommended in some countries (2).
2. Increase Your Metabolism
Coconut oil contains medium-chain triglycerides (MCTs). These are fatty acids that are quickly absorbed and can increase the amount of calories you burn (3).
Controlled studies have shown that MCTs can significantly boost your metabolic rate, at least temporarily (4, 5).
One study found that, on average, 15–30 grams of MCTs increased calorie expenditure by around 120 calories over a 24-hour period (6).
3. Cook Safely at High Temperatures
Coconut oil has a very high saturated fat content. In fact, about 87 percent of its fat is saturated (7).
This feature makes it one of the best fats for high-heat cooking, including frying.
Saturated fats retain their structure when heated to high temperatures, unlike the polyunsaturated fatty acids found in vegetable oils.
Oils such as corn and safflower are converted into toxic compounds when heated. These may have harmful effects on health (8).
There is no reason to fear the saturated fats in coconut oil. New studies show that they have no link to heart disease risk.
4. Improve Your Dental Health
Coconut oil can be a powerful weapon against bacteria, including Streptococcus mutans. This is the bacteria in the mouth that causes dental plaque, tooth decay and gum disease.
In one study, swishing with coconut oil for 10 minutes (known as oil pulling) reduced these bacteria as effectively as rinsing with an antiseptic mouthwash (9).
In another study, swishing daily with coconut oil significantly reduced inflammation and plaque in teenagers with gingivitis (inflamed gums) (10).
5. Relieve Skin Irritation and Eczema
Research shows that coconut oil improves dermatitis and other skin disorders at least as well as mineral oil and other conventional moisturizers (11, 12, 13).
In a study of children with eczema, 47 percent of those treated with coconut oil had major improvements (13).
6. Improve Brain Function
The MCTs in coconut oil are broken down by the liver and turned into ketones, which can act as an alternative energy source for the brain (14).
Several studies have found MCTs to have impressive benefits for brain disorders, including epilepsy and Alzheimer's (15, 16, 17).
Some researchers recommend using coconut oil as a source of MCTs to increase the production of ketones (14).
7. Make Healthy Mayonnaise
Commercial mayonnaise often contains soybean oil, added sugar and other unhealthy ingredients.
However, it's easy to make your own mayo with much healthier ingredients, including coconut oil or olive oil.
Recipe number two on this list uses coconut oil as one of the fats for a healthy homemade mayonnaise.
8. Moisturize Your Skin
Coconut oil makes a wonderful moisturizer for your legs, arms and elbows.
You can use it on your face as well, although this isn't recommended for those with very oily skin.
It can also help repair cracked heels. Simply apply a thin coat to your heels at bedtime, put on socks and continue on a nightly basis until your heels are smooth.
9. Fight Infections
Virgin coconut oil has strong antibacterial properties that can help treat infections.
One study found that it helped stop the growth of the intestinal bacteria Clostridium difficile, commonly known as "C. diff," which causes severe diarrhea (18).
It also appears to fight several other bacteria and yeasts—an effect generally attributed to lauric acid, the main fatty acid in coconut oil (19).
10. Increase Your HDL Cholesterol
Coconut oil has been shown to raise cholesterol levels in some people.
However, its strongest and most consistent effect is an increase in HDL cholesterol, which is known as the "good" cholesterol (20, 21, 22).
One study of women with abdominal obesity found that HDL increased in a group consuming coconut oil (22).
In contrast, women consuming soybean oil had a decrease in HDL cholesterol (22).
11. Provide Relief from Insect Bites and Stings
Coconut oil's anti-inflammatory properties can help relieve the pain or itch caused by insect bites or stings. It may also reduce swelling and decrease risk of infection.
To try this, gently rub a small amount onto the bite and cover with a bandage.
12. Make Sugar-Free Dark Chocolate
Homemade dark chocolate is a delicious way to get coconut oil's health benefits.
Just remember to store it in the refrigerator or freezer, since coconut oil melts at 76 F (24 C).
Here's a delicious recipe for sugar-free dark chocolate candy bars made with coconut oil.
13. Reduce Belly Fat
Coconut oil may help reduce belly fat, also known as visceral fat, which is linked to increased health risks such as heart disease and type 2 diabetes (21, 22, 23).
In one study, obese men lost 1 inch (2.54 cm) from their waist fat by adding 2 tablespoons (1 oz or 30 ml) of coconut oil to their diet (21).
Another study looked at women on calorie-restricted diets. Those who took 2 tablespoons of coconut oil per day had a decrease in waist size, while the soybean oil group actually had a slight increase (22).
14. Protect Your Hair from Damage
Coconut oil can help keep your hair healthy.
One study compared the effects of coconut oil, mineral oil and sunflower oil on hair.
Only coconut oil significantly reduced protein loss from hair when applied before or after shampooing. This result occurred with damaged as well as healthy hair.
The researchers concluded that the unique structure of lauric acid, the main fatty acid in coconut oil, can penetrate the hair shaft in a way that most other fats can't (24).
15. Massage Your Newborn
Massaging newborns with oil has been shown to promote normal weight gain and growth.
One study suggests that coconut oil may be the best type of oil to use for this purpose.
Premature babies who were massaged with coconut oil for 30 days gained significantly more weight than those massaged with mineral oil for the same time period (25).
Read page 1
16. Decrease Hunger and Food Intake
The medium-chain triglycerides in coconut oil may help reduce hunger, leading to a spontaneous decrease in calorie intake (3, 26, 27).
In a small study, men who followed a high-MCT diet took in fewer calories and lost more weight than men who ate diets with low or medium MCT content (27).
17. Improve Wound Healing
One study found that rats whose wounds were treated with coconut oil had a reduction in inflammatory markers and increased production of collagen, a major component of skin. As a result, their wounds healed much faster (28).
To speed healing of minor cuts or scrapes, apply a little bit of coconut oil directly to the wound and cover it with a bandage.
18. Boost Bone Health
Animal research suggests that the the antioxidants in virgin coconut oil may protect bone health by neutralizing free radicals, which can damage bone cells (29, 30).
A 6-week study of rats showed that the group receiving 8 percent of their calories from coconut oil had significantly more bone volume and improved bone structure (30).
19. Make a Nontoxic Insect Repellent
Some essential oils may be a natural way to keep bugs away and avoiding bites and stings.
However, rather than applying these oils directly to your skin, they need to be combined with a carrier oil.
In one study, combining Thai essential oils with coconut oil provided more than 98 percent protection from the bites of certain mosquitoes (31).
20. Combat Candida
Candida albicans is the fungus responsible for yeast infections, which commonly occur in warm, moist areas of the body such as the mouth or vagina.
Test-tube studies suggest that coconut oil may help fight candida infections (32, 33).
Researchers found coconut oil to be as effective as fluconazole, the antifungal medication typically prescribed for candida infections (33).
21. Remove Stains
Coconut oil can be used to get rid of stains, including spills on carpets and furniture.
Combine one part coconut oil with one part baking soda and mix into a paste. Apply to the stain, wait 5 minutes and wipe away.
22. Reduce Inflammation
Several animal studies show that eating coconut oil provides strong anti-inflammatory effects (34, 35, 36).
Human studies suggest eating coconut oil may reduce markers of oxidative stress and inflammation, especially when compared to highly unsaturated oils (37, 38).
23. Natural Deodorant
Sweat itself has no smell. However, the bacteria living on your skin can produce undesirable odors.
Coconut oil's strong antibacterial properties make it a great natural deodorant that contains no chemicals.
Here is an easy recipe for an effective natural deodorant made with coconut oil and other natural ingredients.
24. Quick Energy Source
Coconut oil contains fats called medium-chain triglycerides, which are digested differently than the long-chain triglycerides found in most foods.
These fats go directly from the gut to the liver, where they can be used as a quick source of energy that won't raise blood sugar levels (3).
25. Heal Ragged Cuticles
Coconut oil can be used to improve your cuticles, including hangnails.
Simply apply a small amount of coconut oil to your cuticles and massage for a few moments. Do this several times a week for the best results.
26. Relieve Symptoms of Arthritis
Arthritis is characterized by pain and immobility of the joints due to inflammation.
Animal research suggests that antioxidants called polyphenols found in coconut oil may be able to relieve some symptoms of arthritis.
A study of arthritic rats found that treatment with polyphenols from coconut oil reduced swelling and several inflammatory markers (39).
27. Make Your Wood Furniture Shine
Coconut oil may help keep your furniture looking shiny and well-cared-for.
In addition to bringing out the beauty in natural wood, it seems to act as a dust repellent. It also has a pleasant, delicate aroma, unlike many commercial furniture polishes that contain strong fragrances.
28. Remove Eye Makeup
Coconut oil is a gentle and effective eye makeup remover. Apply with a cotton pad and wipe gently until all traces of makeup are gone.
29. Improve Liver Health
Animal research has found that the saturated fats in coconut oil can help protect the liver from damage due to alcohol or toxin exposure (40, 41).
In one study, mice treated with coconut oil after exposure to a toxic compound had a decrease in inflammatory liver markers and increased activity of beneficial liver enzymes (41).
30. Soothe Chapped Lips
Coconut oil makes an ideal natural lip balm.
It glides on smoothly, leaves your lips moist for hours and even provides some protection from the sun.
Here's an easy recipe for making your own lip balm with coconut oil.
31. Make Homemade Salad Dressing
Commercial salad dressings are often loaded with sugar and preservatives.
Here's a great recipe for a coconut oil salad dressing that tastes wonderful and is made with nourishing ingredients.
Take Home Message
Coconut oil has several health benefits, but it also has many other clever and practical uses that you may not have considered before. Make sure to always have plenty of coconut oil on hand. You never know when you might need it.
This article was reposted from our media associate Authority Nutrition.
YOU MIGHT ALSO LIKE
Protein Shakes Can Help You Lose Weight and Boost Your Metabolism
5 Superfoods You're Probably Not Eating, But Should Be
The Science Behind the Health Benefits of Coconut Oil
Lower Granite Dam is obstructing salmon along the Snake River in Washington. Greg Vaughn / VW PICS / Universal Images Group / Getty Images
Climate change, activities that contribute to it, and dams pose grave threats to America's rivers, according to American Rivers.
The annual report ranks the county's 10 rivers most endangered by human activity that also have a critical decision point coming in the next year that could change the river's fate.
Four dams are choking the Snake River — earning it the top spot in the report — obstructing salmon and posing an existential threat to Native American tribes in the region who depend on the fish for food, culture and their identities.
Advocates are calling on President Biden to remove the federal dams and revitalize the river and its ecosystem.
Toxic coal ash pollutes the Lower Missouri, which also is experiencing an increase in climate-driven flooding, putting it second on the list, while Iowa's Raccoon River, at number nine, faces threats from industrial agriculture.
Between them are rivers befouled by sewage, polluted or threatened by mining, and otherwise dammed or mismanaged.
"Rivers are among the most degraded ecosystems on the planet, and threats to rivers are threats to human health, safety and survival," American Rivers head Tom Kiernan said.
"If we want a future of clean water and healthy rivers everywhere, for everyone, we must prioritize environmental justice."
For a deeper dive:
The Guardian, USA Today, Mother Jones, Reuters, E&E
For more climate change and clean energy news, you can follow Climate Nexus on Twitter and Facebook, sign up for daily Hot News, and visit their news site, Nexus Media News.

EcoWatch Daily Newsletter
Radiation-contaminated water tanks and damaged reactors at the Fukushima Daiichi nuclear power plant on Feb. 25, 2016 in Okuma, Japan. Christopher Furlong / Getty Images
Japan will release radioactive wastewater from the failed Fukushima nuclear plant into the Pacific Ocean, the government announced on Tuesday.
The water will be treated before release, and the International Atomic Energy Agency said the country's plans were in keeping with international practice, The New York Times reported. But the plan is opposed by the local fishing community, environmental groups and neighboring countries. Within hours of the announcement, protesters had gathered outside government offices in Tokyo and Fukushima, according to NPR.
"The Japanese government has once again failed the people of Fukushima," Greenpeace Japan Climate and Energy Campaigner Kazue Suzuki said in a statement. "The government has taken the wholly unjustified decision to deliberately contaminate the Pacific Ocean with radioactive wastes."
The dilemma of how to dispose of the water is one ten years in the making. In March 2011, an earthquake and tsunami in northeastern Japan killed more than 19,000 people and caused three of six reactors at the Fukushima Daiichi nuclear power plant to melt down, The New York Times explained. This resulted in the biggest nuclear disaster since Chernobyl, and the cleanup efforts persist more than a decade later.
To keep the damaged reactors from melting down, cool water is flushed through them and then filtered to remove all radioactive material except for tritium. Up until now, the wastewater has been stored on site, but the government says the facility will run out of storage room next year. Water builds up at 170 tons per day, and there are now around 1.25 million tons stored in more than 1,000 tanks.
The government now plans to begin releasing the water into the ocean in two years time, according to a decision approved by cabinet ministers Tuesday. The process is expected to take decades.
"On the premise of strict compliance with regulatory standards that have been established, we select oceanic release," the government said in a statement reported by NPR.
Opposition to the move partly involves a lack of trust around what is actually in the water, as NPR reported. Both the government and Tokyo Electric Power Co., which operates the plant, say that the water only contains tritium, which cannot be separated from hydrogen and is only dangerous to humans in large amounts.
"But it turned out that the water contains more radioactive materials. But they didn't disclose that information before," Friends of the Earth Japan campaigner Ayumi Fukakusa told NPR. "That kind of attitude is not honest to people. They are making distrust by themselves."
In February, for example, a rockfish shipment was stopped when a sample caught near Fukushima tested positive for unsafe levels of cesium.
This incident also illustrates why local fishing communities oppose the release. Fish catches are already only 17.5 percent of what they were before the disaster, and the community worries the release of the water will make it impossible for them to sell what they do catch. They also feel the government went against its promises by deciding to release the water.
"They told us that they wouldn't release the water into the sea without the support of fishermen," fishery cooperative leader Kanji Tachiya told national broadcaster NHK, as CBS News reported. "We can't back this move to break that promise and release the water into the sea unilaterally."
Japan's neighbors also questioned the move. China called it "extremely irresponsible," and South Korea asked for a meeting with the Japanese ambassador in Seoul in response.
The U.S. State Department, however, said that it trusted Japan's judgement.
"In this unique and challenging situation, Japan has weighed the options and effects, has been transparent about its decision, and appears to have adopted an approach in accordance with globally accepted nuclear safety standards," the department said in a statement reported by The New York Times.
But environmentalists argue that the government could have found a way to continue storing waste.
"Rather than using the best available technology to minimize radiation hazards by storing and processing the water over the long term, they have opted for the cheapest option, dumping the water into the Pacific Ocean," Greenpeace's Suzuki said.
From Your Site Articles
Related Articles Around the Web
Antarctica's Thwaites Glacier, aka the doomsday glacier, is seen here in 2014. NASA /
Wikimedia Commons
/ CC0
Scientists have maneuvered an underwater robot beneath Antarctica's "doomsday glacier" for the first time, and the resulting data is not reassuring.
Antarctica's Thwaites Glacier is referred to as the doomsday glacier because every year it contributes four percent to global sea level rise and acts as a stopper for the West Antarctic Ice Sheet. If the glacier were to collapse and take the sheet with it, that would raise global sea levels by around 10 feet. Now, a study published in Science Advances on April 9 warns that there is more warm water circling below the glacier than previously believed, making that collapse more likely.
"Our observations show warm water impinging from all sides on pinning points critical to ice-shelf stability, a scenario that may lead to unpinning and retreat," the study authors wrote. Pinning points are areas where the ice connects with the bedrock that provides stability, Earther explained.

The new paper is based on a 2019 expedition where an autonomous submarine named Ran explored the area beneath the glacier in order to measure the strength, salinity, oxygen content and temperature of the ocean currents that move beneath it, the International Thwaites Glacier Collaboration explained in a press release.
"These were the first measurements ever performed beneath the ice front of Thwaites glacier," Anna Wåhlin, lead author and University of Gothenburg oceanography professor, explained in the press release. "Global sea level is affected by how much ice there is on land, and the biggest uncertainty in the forecasts is the future evolution of the West Antarctic Ice Sheet."
This isn't the first instance revealing the presence of warm water beneath the glacier. In January 2020, researchers drilled a bore hole through the glacier and recorded temperature readings of more than two degrees Celsius above freezing, EcoWatch reported at the time.

However, Ran's measurements were taken earlier and allow scientists to understand the warmer water's movement in more detail. Scientists now know that water as warm as 1.05 degrees Celsius is circulating around the glacier's vulnerable pinning points.
"The worry is that this water is coming into direct contact with the underside of the ice shelf at the point where the ice tongue and shallow seafloor meet," Alastair Graham, study co-author and University of Southern Florida associate professor of geological oceanography, told Earther. "This is the last stronghold for Thwaites and once it unpins from the sea bed at its very front, there is nothing else for the ice shelf to hold onto. That warm water is also likely mixing in and around the grounding line, deep into the cavity, and that means the glacier is also being attacked at its feet where it is resting on solid rock."
While this sounds grim, the fact that researchers were able to obtain the data is crucial for understanding and predicting the impacts of the climate crisis.
"The good news is that we are now, for the first time, collecting data that will enable us to model the dynamics of Thwaite's glacier. This data will help us better calculate ice melting in the future. With the help of new technology, we can improve the models and reduce the great uncertainty that now prevails around global sea level variations," Wåhlin said in the press release.
From Your Site Articles
Related Articles Around the Web
Journalists film a protest by the environmental organization BUND at the Datteln coal-fired power plant in North Rhine-Westphalia, Germany on April 23, 2020. Bernd Thissen / picture alliance via Getty Images
By Jessica Corbett
Lead partners of a global consortium of news outlets that aims to improve reporting on the climate emergency released a statement on Monday urging journalists everywhere to treat their coverage of the rapidly heating planet with the same same level of urgency and intensity as they have the COVID-19 pandemic.
Airborne microplastics are turning up in remote regions of the world, including the remote Altai mountains in Siberia. Kirill Kukhmar / TASS / Getty Images
However, a new study from researchers at Cornell and Utah State University highlights the increasing threat of airborne microplastics "spiraling around the globe," The Guardian reported.
Plastic waste breaks down into smaller pieces until it becomes microscopic and gets swept up into the atmosphere, where it rides the jet stream and travels across continents, the Cornell Chronicle reported. Researchers discovered this has led to a global plastic cycle as microplastics permeate the environment, according to The Guardian.
"We found a lot of legacy plastic pollution everywhere we looked; it travels in the atmosphere and it deposits all over the world," Janice Brahney, lead author of the study and Utah State University assistant professor of natural resources, told the Cornell Chronicle. "This plastic is not new from this year. It's from what we've already dumped into the environment over several decades."
In the study, published in the journal Proceedings of the National Academy of Sciences, researchers tested the most likely sources of more than 300 samples of airborne microplastics from 11 sites across the western U.S. To their surprise, the researchers found that almost none of the atmospheric microplastics came from plastic waste in cities and towns. "It just didn't work out that way," Professor Natalie Mahowald from Cornell University, who was part of the research team, told The Guardian.
It turns out that 84 percent of atmospheric microplastics came from roads, 11 percent from oceans and five percent from agricultural soil dust, the scientists wrote.
"We did the modeling to find out the sources, not knowing what the sources might be," Mahowald told the Cornell Chronicle. "It's amazing that this much plastic is in the atmosphere at that level, and unfortunately accumulating in the oceans and on land and just recirculating and moving everywhere, including remote places."
The scientists say the level of plastic pollution is expected to increase, raising "questions on the impact of accumulating plastics in the atmosphere on human health. The inhalation of particles can be irritating to lung tissue and lead to serious diseases," The Guardian reported.
The study coincides with other recent reports by researchers, who confirmed the existence of microplastics in New Zealand and Moscow, where airborne plastics are turning up in remote parts of snowy Siberia.
In the most recent study, scientists also learned that plastic particles were more likely to be blown from fields than roads in Africa and Asia, The Guardian reported.
As plastic production increases every year, the scientists stressed that there remains "large uncertainties in the transport, deposition, and source attribution of microplastics," and wrote that further research should be prioritized.
"What we're seeing right now is the accumulation of mismanaged plastics just going up. Some people think it's going to increase by tenfold [per decade]," Mahowald told The Guardian. "But maybe we could solve this before it becomes a huge problem, if we manage our plastics better, before they accumulate in the environment and swirl around everywhere."