300+ Devoted Activists Rally in Minnesota Against Proposed Tar Sands Pipeline Expansion Project
The sky was gray, the temp was just below freezing, the wind was whistling and sleet was pelting down on Kellogg Park in downtown St. Paul, MN, last week …
… but that wasn't enough to stop more than 300 of us from across the Midwest who came to rally and march against the proposed expansion of the Alberta Clipper tar sands pipeline. With songs, speeches and buoyant enthusiasm, we gathered to say "No" to tar sands expansion and "Yes" to a future free of carbon emissions and oil spills.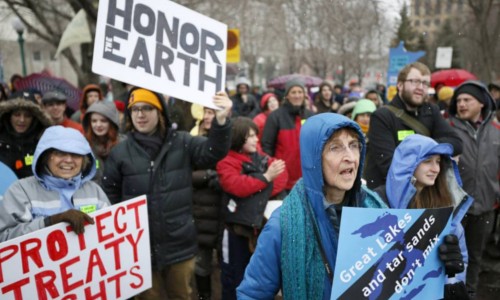 The Alberta Clipper is an existing Enbridge pipeline that runs from Hardisty, Alberta to Superior, WI, across much of northern Minnesota. Built in 2010 to carry tar sands oil, it is currently under consideration for expansion from its present 450,000 barrels per day (bpd) to 800,000 bpd, which would make it almost as large as Keystone XL. Expanding it would be a similar disaster for the climate and would increase the risk of spills into the Mississippi River and Lake Superior.
We're opposing the expansion at the state level right now in Minnesota through a contested case hearing process at the Minnesota Public Utilities Commission, which is very much like putting the pipeline on trial: there's a judge and both sides get to make their arguments. The contested case also ensures there are public hearings where anyone can give testimony. It's an almost-all-volunteer effort—while we have a lawyer, his funds were raised primarily by volunteers who wanted to make sure we had a voice in the process.
We gathered in St. Paul last Thursday from all across the region so we could show up in force to the final public hearing. We marched through downtown to the Public Utilities Commission, led by a group of drummers and a giant paper maché pipeline, turning heads and bringing officeworkers to windows to look down at us.
The PUC hearing was packed, which was the best and worst part of the day because it made a huge impression and they were so unprepared for the crowd. The official police count was 1,000 people (many of our supporters had gone directly to the hearing so they could sign up and testify early, and there were also some pipeline contractors who came to testify in favor of the expansion). Only about 200 people could fit into the hearing room and official overflow room combined.
We brought our big rally sound system indoors and jury-rigged a set of extension speakers in an empty room so more people could listen, but the crowds were still overflowing. I wish more people had been able to actually be part of the hearing, but it was fabulous to see all the interest. One of the officials at the hearing said she'd never seen anything else like this.
There are only a few days left to submitted a public comment yet against the Alberta Clipper pipeline—the public comment period closes on April 14.
--------
YOU MIGHT ALSO LIKE

Tar Sands Emissions Linked to Serious Health Problems in Alberta
Report Reveals High Risk, No Reward of Enbridge Tar Sands Pipeline Expansion
Report Details How Extreme Energy Expansion Threatens the Great Lakes
--------
www.facebook.com
Keep reading...
Show less
Keep reading...
Show less
www.elysee.fr
By Andy Rowell
There is a growing feeling within European capitals that a quiet, but deeply positive, revolution is happening under Emmanuel Macron in France.
Macron's opinion poll rating is high, especially boosted in how the young French president has reacted to Donald Trump on the international stage.
Keep reading...
Show less
Hawaii Renewable Energy Alliance
The latest issue of the U.S. Energy Information's "Electric Power Monthly" (with data through April 30) reveals that—for the first time since the beginning of the nuclear era—renewable energy sources (i.e., biomass, geothermal, hydropower, solar—inc. small-scale PV, wind) are now providing a greater share of the nation's electrical generation than nuclear power.
Keep reading...
Show less
www.youtube.com
Check out this great 360° virtual reality video by NowThis on the world's largest indoor vertical farm, AeroFarms. Located in Newark, New Jersey, AeroFarms grows more than 2 million pounds of greens a year without sunlight, soil or pesticides.
As reported by EcoWatch in July 2105, the $30 million, 70,000-square-foot AeroFarms headquarters dwarfs Japan's (already impressive) 25,000-square-foot vertical indoor farm, which had been the world's largest until now.
www.youtube.com
According to Bloomberg, "SeaWorld Entertainment Inc. received a subpoena earlier this month from regulators investigating disclosures and public statements by executives, including comments about the Blackfish documentary that caused a public backlash against the confinement of orcas.
Keep reading...
Show less
Wikipedia
By Franziska Spritzler, RD, CDE
Boosting your metabolic rate can help you lose body fat. However, most "fat-burning" supplements on the market are either unsafe, ineffective or both.
Fortunately, several natural foods and beverages have been shown to increase your metabolism and promote fat loss.
Keep reading...
Show less
Jun. 25, 2017 04:50PM EST
Monsanto, the maker of the glyphosate-based herbicide Roundup, filed a motion June 16 in U.S. District Court, Northern District of California to reconsider the chemical's addition to California's Proposition 65 list of agents known to cause cancer.
The agrochemical giant made this move based on a June 14 Reuters investigation of Dr. Aaron Blair, a lead researcher on the World Health Organization's International Agency for Research on Cancer (IARC) committee, that classified glyphosate as a "2A probable human carcinogen" in March 2015.
Keep reading...
Show less
Jun. 25, 2017 04:40PM EST
By Avery Friedman
Algae is often considered a nuisance, but for Sweden, the rapidly growing sea plant is now an asset.
As the Scandinavian country works to cut all of its greenhouse gas emissions by 2045, it's using algae to sop up the carbon emissions from cement.
Keep reading...
Show less