300,000 Demand Costco Say No to GMO Salmon
Jun. 25, 2015 02:45PM EST
Food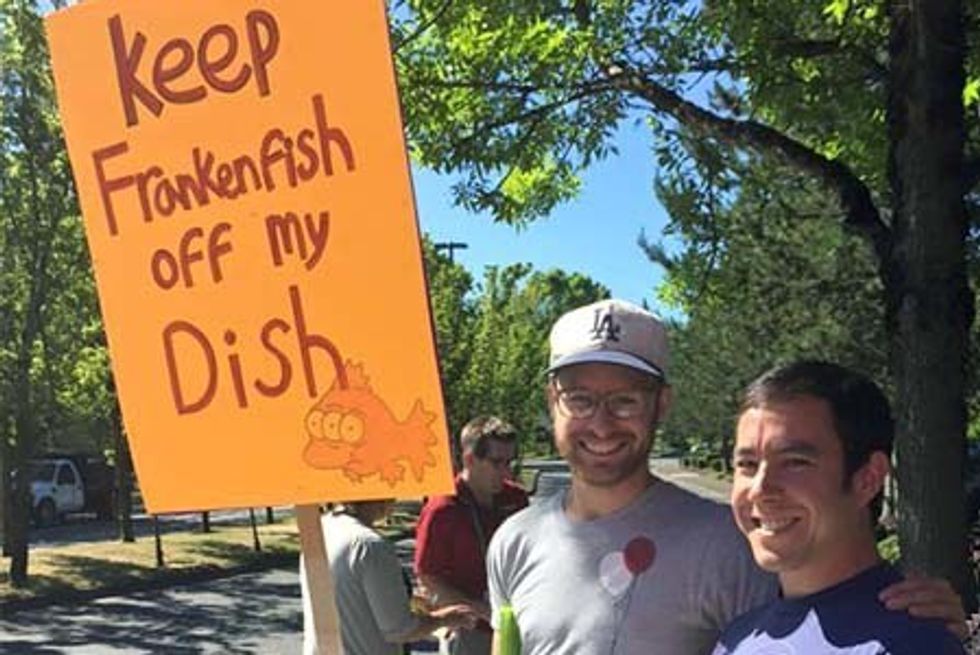 A coalition including Community Alliance for Global Justice, fishermen, members of the United Food and Commercial Workers (UFCW) Local 21 and concerned Costco customers rallied in front of the Costco next door to store headquarters and presented more than 300,000 petition signatures demanding that Costco Wholesale publicly commit to not sell genetically modified (GMO) salmon.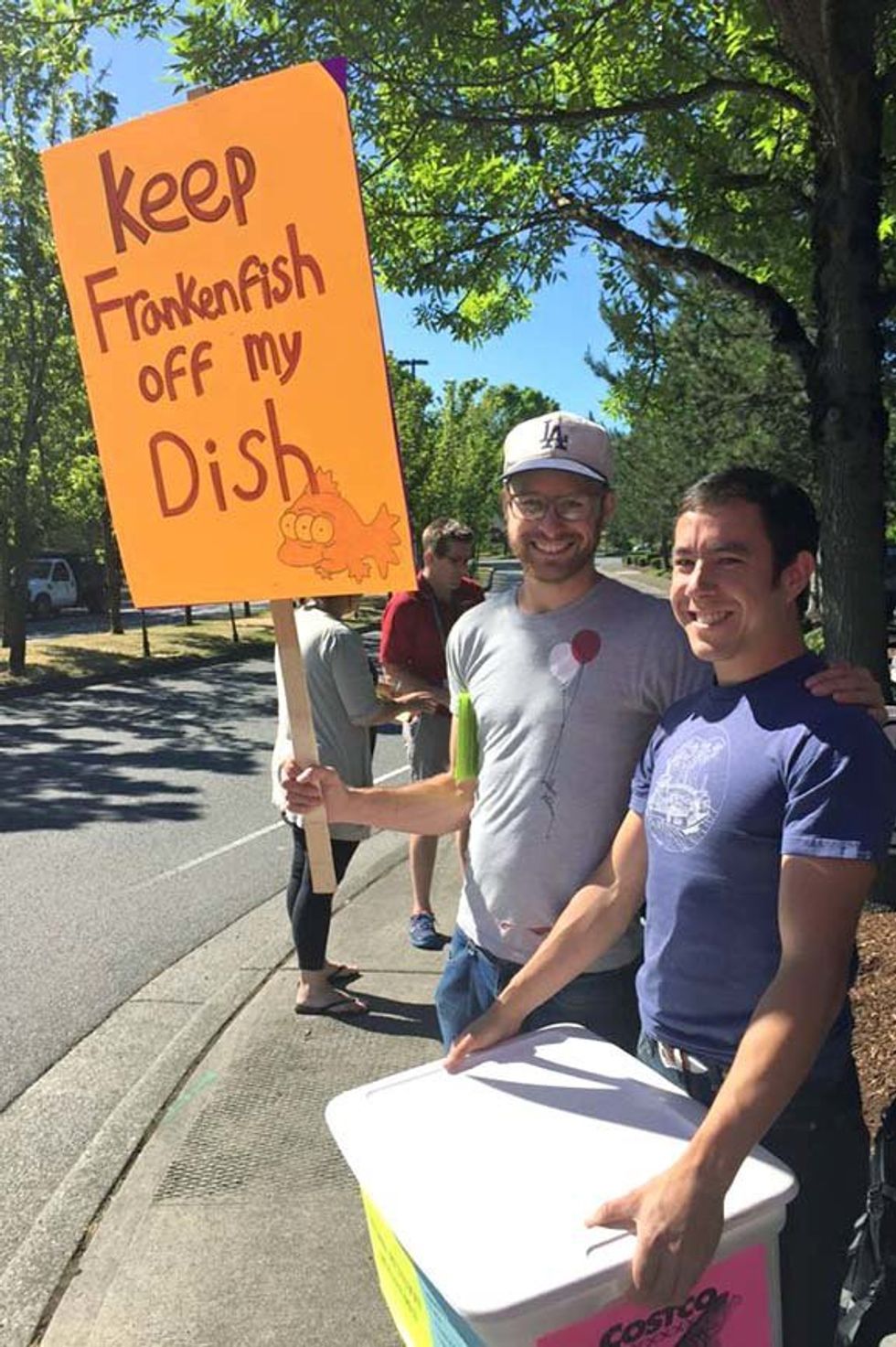 Earlier this year, on March 7, the coalition attempted to deliver more than 50,000 petitions to the Costco store in Downtown Seattle, to no avail. In response to the store manager's refusal to accept the petitions, allied groups across the nation, including Friends of the Earth, Food & Water Watch, Center for Food Safety, Food Democracy Now!, Sum of Us, Community Alliance for Global Justice, Campaign for Safe Food and Organic Consumers Association, collected more than six times the amount of signatures and local allies attempted to deliver them directly to Costco's headquarters early this morning.
In response to this campaign led by Friends of the Earth and allies, more than 60 retailers, including Target, Whole Foods, Trader Joe's, Safeway and Kroger, representing more than 9,000 grocery stores across the country, have made commitments to not sell this genetically modified fish, should it be approved by the U.S. Food and Drug Administration (FDA). Although Costco is one of the largest retailers of salmon and seafood in the U.S., and headquartered in the Northwest region, home to Pacific wild salmon, it has yet to make a similar public commitment.
"More than 300,000 people from across the country are asking Costco not to sell genetically modified salmon. Costco, a seemingly progressive company, is located in our backyard. By delivering these signatures directly to Costco's front door, it is our hope that they will no longer be able to ignore the risks posed by genetically modified salmon and make the pledge," says Danielle Friedman, organizing director of the Community Alliance for Global Justice.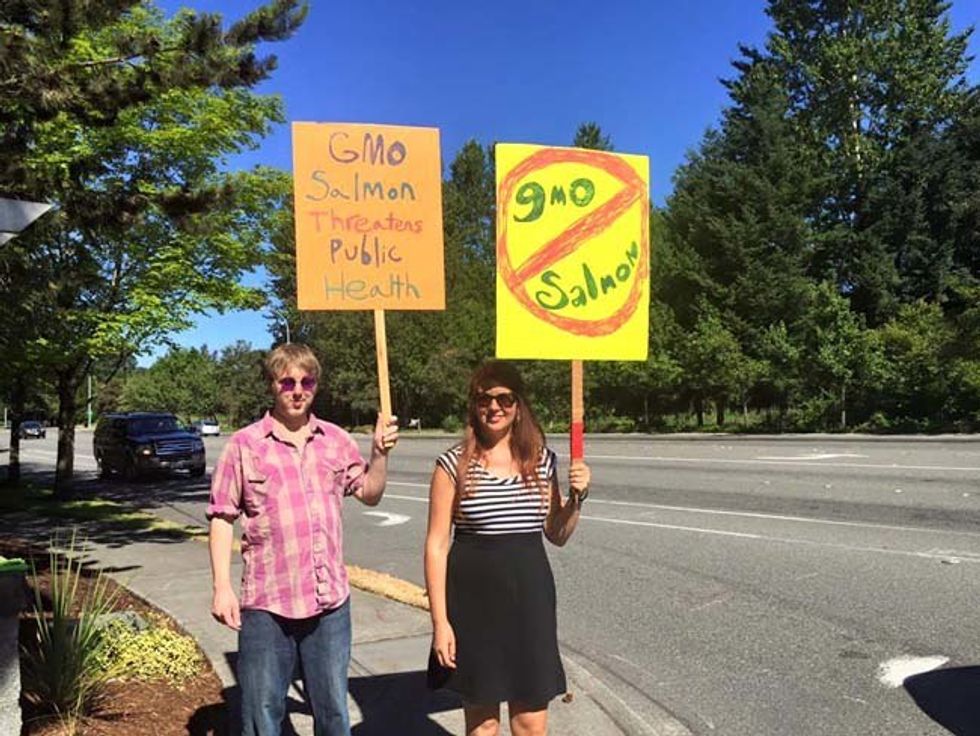 Nearly 2 million people—including scientists, fishermen, business owners and consumers—have written to the FDA in opposition to the approval of genetically engineered salmon due to the risks it poses to human health, the environment and wild salmon populations. Recently, a never-before-seen Canadian government report raised new environmental and health concerns not being considered by the FDA. Despite this outcry and new sustainability and safety concerns, the FDA is still considering GMO salmon's approval. If approved, this would be the first genetically engineered animal allowed by regulators to enter the U.S. food supply, and it will likely not be labeled.
"Genetically engineered salmon are a threat to the Pacific Northwest," said Dylan Knutson, general manager at local Loki Fish Company. "On top of the documented issues associated with farmed salmon—escapement, pollution and a net loss of protein per pound of fish produced—introducing a frankenfish opens Pandora's box of probable environmental catastrophe. We need to be restoring native habitat and nurturing a properly managed wild fishery, not perpetuating the problems of the farmed salmon industry with genetically engineered salmon."
At least 35 other species of genetically engineered fish are currently under development, and the FDA's decision on this genetically engineered salmon application will set a precedent for other genetically engineered fish and animals (including cows, chickens and pigs) to enter the global food market.
Three quarters of Americans surveyed in a New York Times poll said they would not eat genetically engineered fish, and 93 percent wanted GMO foods to be labeled. Polls show that 80 percent of Americans who regularly eat fish say sustainable practices are "important" or "very important" to them.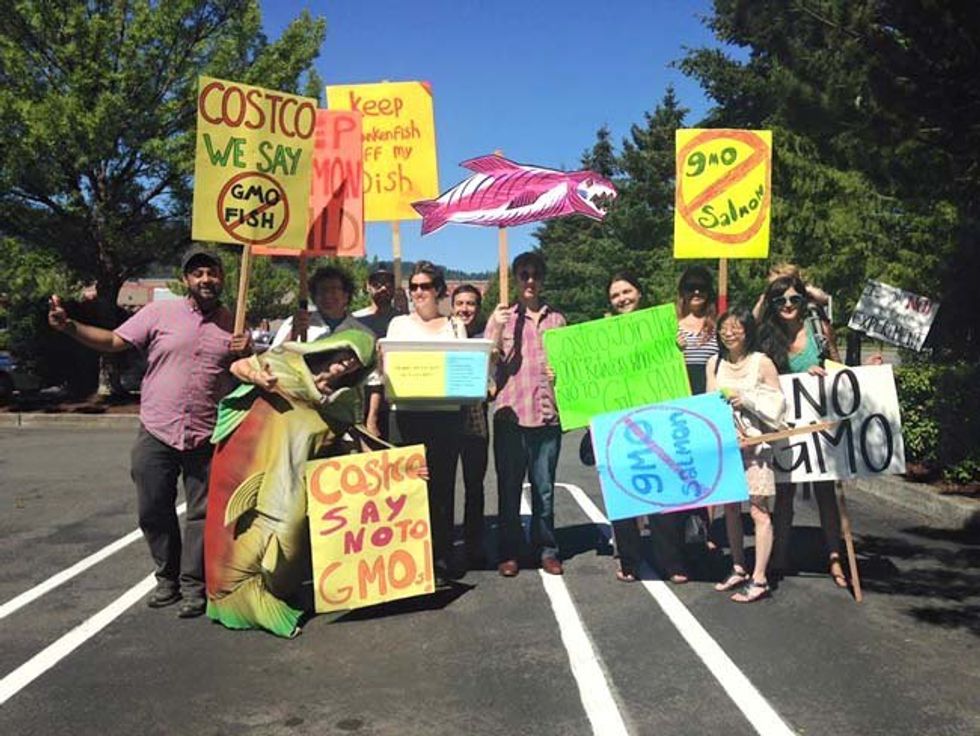 "Genetically engineered salmon is risky and Costco should pledge to keep it out of their stores," said Todd Crosby, secretary and treasurer for Seattle's UFCW 21 union. "The 25,000 Grocery store workers at UFCW 21 take pride in nourishing their communities with healthy food. While we don't always have control over the products we handle, we do have a union voice to speak up for ourselves and our customers. Costco workers do not have that voice so we are standing together with them and their customers to call on Costco to make the right choice."
The national debate about GMO labeling has been heating up over the past several months with several bills in Congress gaining momentum. Sen. Barbara Boxer's (D-CA) and Rep. Peter DeFazio's (D-OR) Genetically Engineered Food Right-to-Know Act would make GMO food labeling mandatory across the country, while U.S. Representatives Mike Pompeo (R-KS) and G.K. Butterfield's (D-NC) bill, dubbed the "Deny Americans the Right to Know (DARK) Act," would make GMO labels voluntary. If passed, the DARK Act would allow retailers like Costco to sell GMO salmon unlabeled and would block states like Washington from passing GMO labeling laws.
The supermarket rejection of genetically engineered salmon is part of a growing trend of food companies distancing themselves from GMO foods. Chipotle is removing GMOs and Whole Foods will require GMO foods in its stores to be labeled by 2018. Cereal giant General Mills removed GMO ingredients from Cheerios and Post quickly followed suit, removing GMOs from Grape Nuts. McDonald's and Gerber have said they have no plans to sell the GMO apple that was recently approved by the U.S. Department of Agriculture.
To find more information on health and environmental risks of genetically engineered salmon; a full list of stores that have made commitments to not sell genetically engineered seafood and salmon; letters sent to companies by Friends of the Earth and allies; and a list of coalition partners, check out our campaign for GMO-free seafood. Grocery stores, restaurants and chefs can also communicate their commitment to not sell GMO salmon by signing up on this page.
YOU MIGHT ALSO LIKE
Eat Well Guide Features 25,000+ Local and Sustainable Restaurants, Farms and Markets
Leading Cancer Experts: 2,4-D Weed-Killer Is 'Possibly Carcinogenic to Humans'
Air France airplanes parked at the Charles de Gaulle/Roissy airport on March 24, 2020. SAMSON / AFP via Getty Images
France moved one step closer this weekend to banning short-haul flights in an attempt to fight the climate crisis.
A bill prohibiting regional flights that could be replaced with an existing train journey of less than two and a half hours passed the country's National Assembly late on Saturday, as Reuters reported.
"We know that aviation is a contributor of carbon dioxide and that because of climate change we must reduce emissions," Industry Minister Agnes Pannier-Runacher told Europe 1 radio, according to Reuters.
The measure now has to pass the French Senate, then return to the lower house for a final vote. It would end regional flights between Paris's Orly airport and cities like Nantes and Bordeaux, The Guardian explained. It would not, however, impact connecting flights through Paris's Charles de Gaulle/Roissy airport.
The bill is part of a legislative package which aims to reduce France's emissions by 40 percent of 1990 levels by 2030, Reuters reported. It is a watered-down version of a proposal suggested by France's Citizens' Convention on Climate, BBC News explained. This group, which was formed by President Emmanuel Macron in 2019 and included 150 ordinary citizens, had put forward a ban on flights that could be replaced with an existing train journey of under four hours.
However, the journey length was lowered after protests from KLM-Air France, which had suffered heavy losses due to the coronavirus pandemic, and regions who were concerned about being left out of national transit networks, as The Guardian explained.
"We have chosen two and a half hours because four hours risks isolating landlocked territories including the greater Massif Central, which would be iniquitous," transport minister Jean-Baptiste Djebbari said, as The Guardian reported.
However, some environmental and consumer groups objected to the changes. The organization UFC-Que Choisir compared plane routes with equivalent train journeys of under four hours and found that the plane trips emitted an average of 77 times more carbon dioxide per passenger than the train journeys. At the same time, the train alternatives were cheaper and only as much as 40 minutes longer.
"[T]he government's choice actually aims to empty the measure of its substance," the group said, according to The Guardian.
The new measure also opens the French government to charges of hypocrisy. It bailed out Air France-KLM to the tune of a seven-billion euro loan last year, though it did require the airline to drop some domestic routes as a condition. Then, days before the measure passed, it more than doubled its stake in the airline, BBC News reported. However, Pannier-Runacher insisted to Europe 1 radio that it was possible to balance fighting climate change and supporting struggling businesses.
"Equally, we must support our companies and not let them fall by the wayside," she said, as Reuters reported.
This is not the first time that climate measures and aviation bailouts have coincided in the wake of the coronavirus pandemic. Austrian Airlines replaced its Vienna-Salzburg flight with additional train service after it received government money dependent on cutting greenhouse gas emissions, BBC News reported.
The number of flights worldwide declined almost 42 percent in 2020 when compared with 2019. It is expected that global aviation may not fully recover until 2024, according to Reuters.
EcoWatch Daily Newsletter
A woman looks at a dead gray whale on the beach in the SF Bay area on May 23, 2019; a new spate of gray whales have been turning up dead near San Francisco. Justin Sullivan / Getty Images
Four gray whales have washed up dead near San Francisco within nine days, and at least one cause of death has been attributed to a ship strike.
A small tourist town has borne the brunt of a cyclone which swept across the West Australian coast.
ABC News (Australia) / YouTube
A general view shows the remains of a dam along a river in Tapovan, India, on February 10, 2021, following a flash flood caused by a glacier break on February 7. Sajjad Hussain / AFP / Getty Images
By Rishika Pardikar
Search operations are still underway to find those declared missing following the Uttarakhand disaster on 7 February 2021.
This story originally appeared in Eos and is republished here as part of Covering Climate Now, a global journalism collaboration strengthening coverage of the climate story.
Indigenous youth, organizers with the Dakota Access and Line 3 pipeline fights and climate activists march to the White House to protest against pipeline projects on April 1, 2021. Bill Clark / CQ-Roll Call, Inc via Getty Images
By Jessica Corbett
Indigenous leaders and climate campaigners on Friday blasted President Joe Biden's refusal to shut down the Dakota Access Pipeline during a court-ordered environmental review, which critics framed as a betrayal of his campaign promises to improve tribal relations and transition the country to clean energy.