This website uses cookies to ensure you get the best experience while browsing it. By clicking 'Got It' you're accepting these terms.
300,000 Demand Costco Say No to GMO Salmon
Jun. 25, 2015 01:45PM EST
Food
A coalition including Community Alliance for Global Justice, fishermen, members of the United Food and Commercial Workers (UFCW) Local 21 and concerned Costco customers rallied in front of the Costco next door to store headquarters and presented more than 300,000 petition signatures demanding that Costco Wholesale publicly commit to not sell genetically modified (GMO) salmon.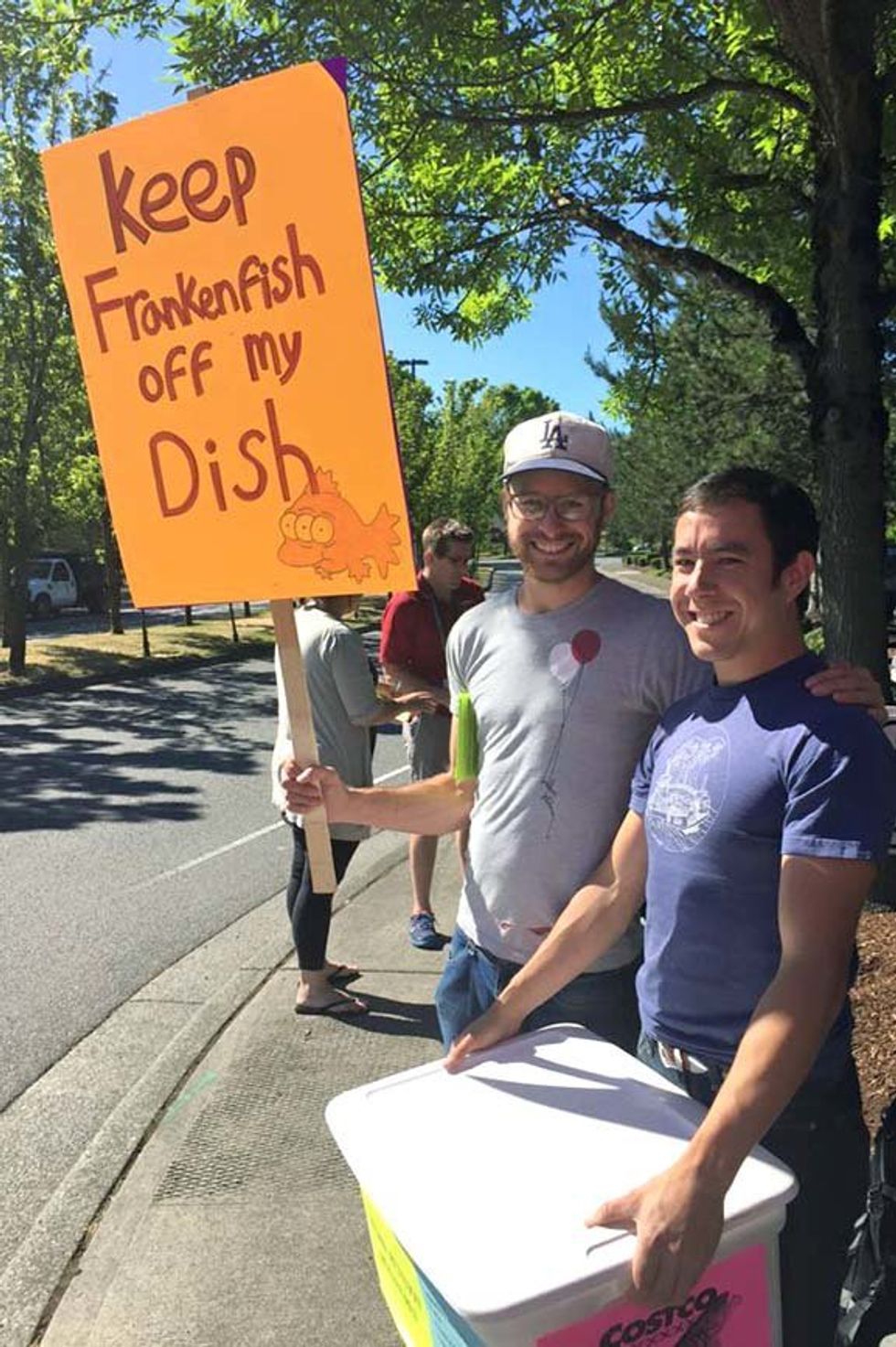 Earlier this year, on March 7, the coalition attempted to deliver more than 50,000 petitions to the Costco store in Downtown Seattle, to no avail. In response to the store manager's refusal to accept the petitions, allied groups across the nation, including Friends of the Earth, Food & Water Watch, Center for Food Safety, Food Democracy Now!, Sum of Us, Community Alliance for Global Justice, Campaign for Safe Food and Organic Consumers Association, collected more than six times the amount of signatures and local allies attempted to deliver them directly to Costco's headquarters early this morning.
In response to this campaign led by Friends of the Earth and allies, more than 60 retailers, including Target, Whole Foods, Trader Joe's, Safeway and Kroger, representing more than 9,000 grocery stores across the country, have made commitments to not sell this genetically modified fish, should it be approved by the U.S. Food and Drug Administration (FDA). Although Costco is one of the largest retailers of salmon and seafood in the U.S., and headquartered in the Northwest region, home to Pacific wild salmon, it has yet to make a similar public commitment.
"More than 300,000 people from across the country are asking Costco not to sell genetically modified salmon. Costco, a seemingly progressive company, is located in our backyard. By delivering these signatures directly to Costco's front door, it is our hope that they will no longer be able to ignore the risks posed by genetically modified salmon and make the pledge," says Danielle Friedman, organizing director of the Community Alliance for Global Justice.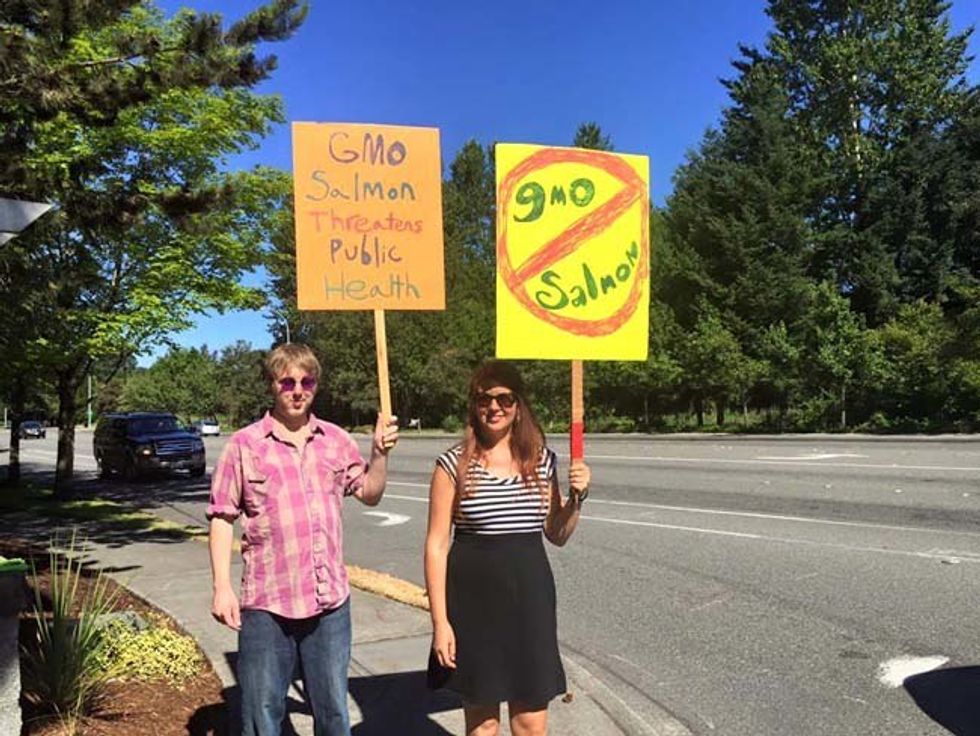 Nearly 2 million people—including scientists, fishermen, business owners and consumers—have written to the FDA in opposition to the approval of genetically engineered salmon due to the risks it poses to human health, the environment and wild salmon populations. Recently, a never-before-seen Canadian government report raised new environmental and health concerns not being considered by the FDA. Despite this outcry and new sustainability and safety concerns, the FDA is still considering GMO salmon's approval. If approved, this would be the first genetically engineered animal allowed by regulators to enter the U.S. food supply, and it will likely not be labeled.
"Genetically engineered salmon are a threat to the Pacific Northwest," said Dylan Knutson, general manager at local Loki Fish Company. "On top of the documented issues associated with farmed salmon—escapement, pollution and a net loss of protein per pound of fish produced—introducing a frankenfish opens Pandora's box of probable environmental catastrophe. We need to be restoring native habitat and nurturing a properly managed wild fishery, not perpetuating the problems of the farmed salmon industry with genetically engineered salmon."
At least 35 other species of genetically engineered fish are currently under development, and the FDA's decision on this genetically engineered salmon application will set a precedent for other genetically engineered fish and animals (including cows, chickens and pigs) to enter the global food market.
Three quarters of Americans surveyed in a New York Times poll said they would not eat genetically engineered fish, and 93 percent wanted GMO foods to be labeled. Polls show that 80 percent of Americans who regularly eat fish say sustainable practices are "important" or "very important" to them.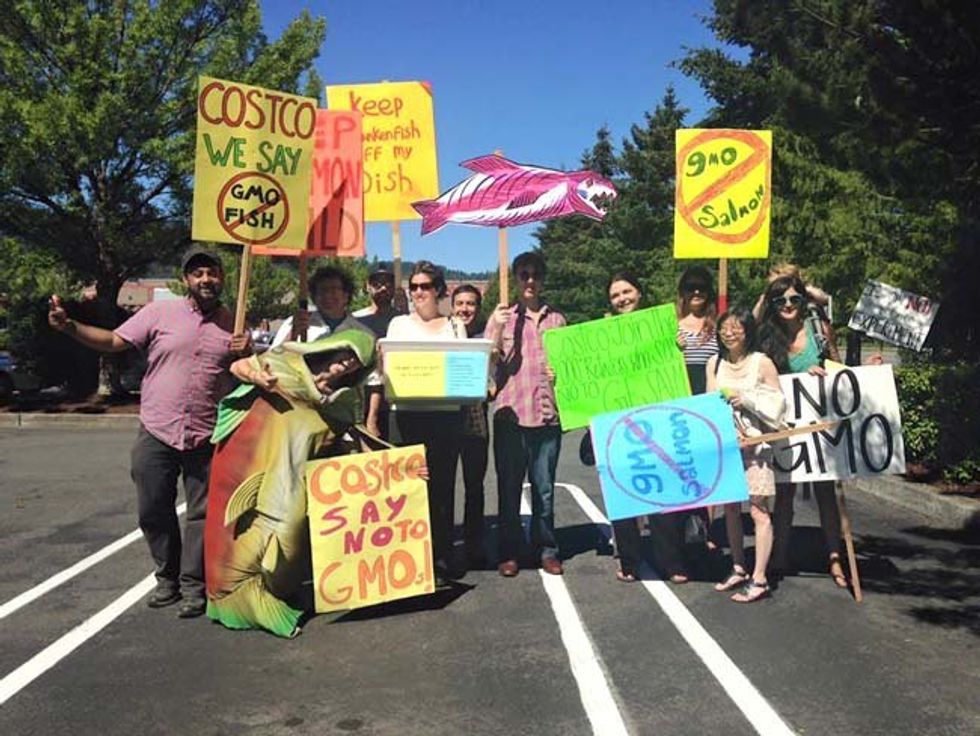 "Genetically engineered salmon is risky and Costco should pledge to keep it out of their stores," said Todd Crosby, secretary and treasurer for Seattle's UFCW 21 union. "The 25,000 Grocery store workers at UFCW 21 take pride in nourishing their communities with healthy food. While we don't always have control over the products we handle, we do have a union voice to speak up for ourselves and our customers. Costco workers do not have that voice so we are standing together with them and their customers to call on Costco to make the right choice."
The national debate about GMO labeling has been heating up over the past several months with several bills in Congress gaining momentum. Sen. Barbara Boxer's (D-CA) and Rep. Peter DeFazio's (D-OR) Genetically Engineered Food Right-to-Know Act would make GMO food labeling mandatory across the country, while U.S. Representatives Mike Pompeo (R-KS) and G.K. Butterfield's (D-NC) bill, dubbed the "Deny Americans the Right to Know (DARK) Act," would make GMO labels voluntary. If passed, the DARK Act would allow retailers like Costco to sell GMO salmon unlabeled and would block states like Washington from passing GMO labeling laws.
The supermarket rejection of genetically engineered salmon is part of a growing trend of food companies distancing themselves from GMO foods. Chipotle is removing GMOs and Whole Foods will require GMO foods in its stores to be labeled by 2018. Cereal giant General Mills removed GMO ingredients from Cheerios and Post quickly followed suit, removing GMOs from Grape Nuts. McDonald's and Gerber have said they have no plans to sell the GMO apple that was recently approved by the U.S. Department of Agriculture.
To find more information on health and environmental risks of genetically engineered salmon; a full list of stores that have made commitments to not sell genetically engineered seafood and salmon; letters sent to companies by Friends of the Earth and allies; and a list of coalition partners, check out our campaign for GMO-free seafood. Grocery stores, restaurants and chefs can also communicate their commitment to not sell GMO salmon by signing up on this page.
YOU MIGHT ALSO LIKE
Eat Well Guide Features 25,000+ Local and Sustainable Restaurants, Farms and Markets
Leading Cancer Experts: 2,4-D Weed-Killer Is 'Possibly Carcinogenic to Humans'
EcoWatch Daily Newsletter
A Starbucks barista prepares a drink at a Starbucks Coffee Shop location in New York. Ramin Talaie / Corbis via Getty Images
By Cathy Cassata
Are you getting your fill of Starbucks' new Almondmilk Honey Flat White, Oatmilk Honey Latte, and Coconutmilk Latte, but wondering just how healthy they are?
By Sharon Kelly
Back in April last year, the Trump administration's Environmental Protection Agency decided it was "not necessary" to update the rules for toxic waste from oil and gas wells. Torrents of wastewater flow daily from the nation's 1.5 million active oil and gas wells and the agency's own research has warned it may pose risks to the country's drinking water supplies.
Swedish climate activist Greta Thunberg takes part in a "Friday for Future" youth demonstration in a street of Davos on Jan. 24, 2020 on the sideline of the World Economic Forum annual meeting. FABRICE COFFRINI / AFP via Getty Images
Treasury Secretary Steven Mnuchin pretended not to know who Greta Thunberg is, and then he told her to get a degree in economics before giving world leaders advice, as The Guardian reported.
The Visible Infrared Imaging Radiometer Suite on the Suomi NPP satellite acquired this image of forest fire smoke hovering over North America on Aug. 15, 2018. NASA Earth Observatory
New York City isn't known for having the cleanest air, but researchers traced recent air pollution spikes there to two surprising sources — fires hundreds of miles away in Canada and the southeastern U.S.
If temperatures continue to rise, the world is at risk from global
sea-level rise
, which will flood many coastal cities as seen above in Bangladesh. NurPhoto / Contributor / Getty Images
The mounting climate emergency may spur the next global financial crisis and the world's central banks are woefully ill equipped to handle the consequences, according to a new book-length report by the Bank for International Settlements (BIS), as S&P Global reported. Located in Basel, Switzerland, the BIS is an umbrella organization for the world's central banks.