300,000 Demand Costco Say No to GMO Salmon
A coalition including Community Alliance for Global Justice, fishermen, members of the United Food and Commercial Workers (UFCW) Local 21 and concerned Costco customers rallied in front of the Costco next door to store headquarters and presented more than 300,000 petition signatures demanding that Costco Wholesale publicly commit to not sell genetically modified (GMO) salmon.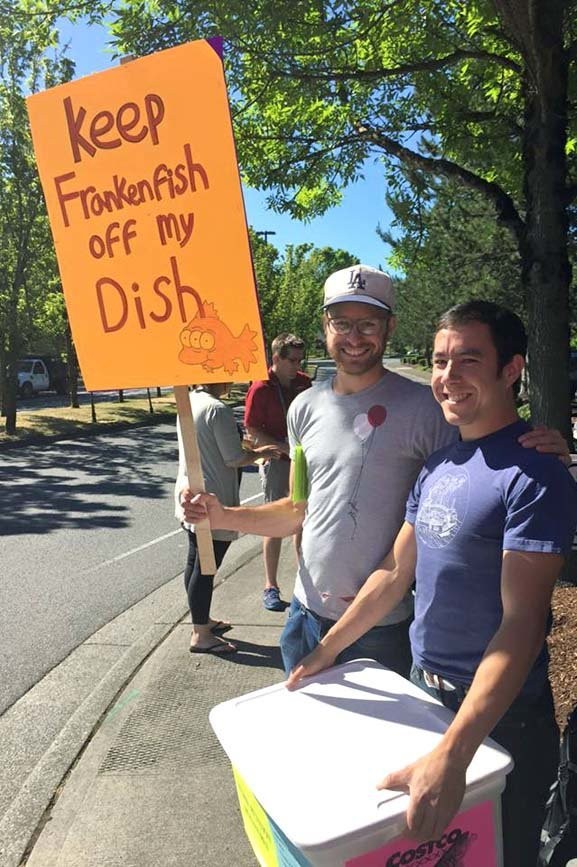 Earlier this year, on March 7, the coalition attempted to deliver more than 50,000 petitions to the Costco store in Downtown Seattle, to no avail. In response to the store manager's refusal to accept the petitions, allied groups across the nation, including Friends of the Earth, Food & Water Watch, Center for Food Safety, Food Democracy Now!, Sum of Us, Community Alliance for Global Justice, Campaign for Safe Food and Organic Consumers Association, collected more than six times the amount of signatures and local allies attempted to deliver them directly to Costco's headquarters early this morning.
In response to this campaign led by Friends of the Earth and allies, more than 60 retailers, including Target, Whole Foods, Trader Joe's, Safeway and Kroger, representing more than 9,000 grocery stores across the country, have made commitments to not sell this genetically modified fish, should it be approved by the U.S. Food and Drug Administration (FDA). Although Costco is one of the largest retailers of salmon and seafood in the U.S., and headquartered in the Northwest region, home to Pacific wild salmon, it has yet to make a similar public commitment.
"More than 300,000 people from across the country are asking Costco not to sell genetically modified salmon. Costco, a seemingly progressive company, is located in our backyard. By delivering these signatures directly to Costco's front door, it is our hope that they will no longer be able to ignore the risks posed by genetically modified salmon and make the pledge," says Danielle Friedman, organizing director of the Community Alliance for Global Justice.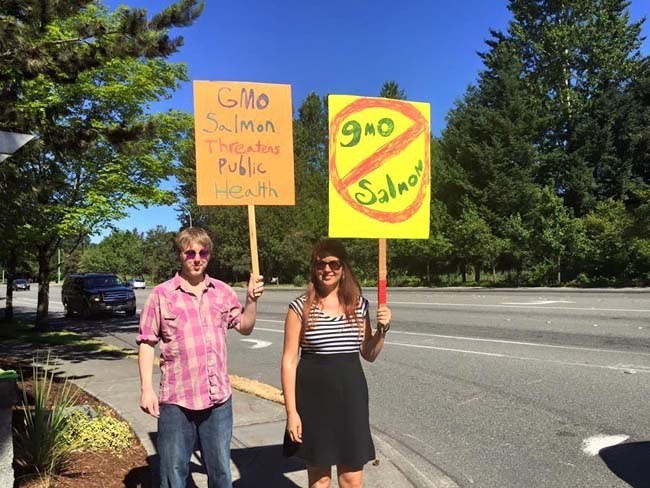 Nearly 2 million people—including scientists, fishermen, business owners and consumers—have written to the FDA in opposition to the approval of genetically engineered salmon due to the risks it poses to human health, the environment and wild salmon populations. Recently, a never-before-seen Canadian government report raised new environmental and health concerns not being considered by the FDA. Despite this outcry and new sustainability and safety concerns, the FDA is still considering GMO salmon's approval. If approved, this would be the first genetically engineered animal allowed by regulators to enter the U.S. food supply, and it will likely not be labeled.
"Genetically engineered salmon are a threat to the Pacific Northwest," said Dylan Knutson, general manager at local Loki Fish Company. "On top of the documented issues associated with farmed salmon—escapement, pollution and a net loss of protein per pound of fish produced—introducing a frankenfish opens Pandora's box of probable environmental catastrophe. We need to be restoring native habitat and nurturing a properly managed wild fishery, not perpetuating the problems of the farmed salmon industry with genetically engineered salmon."
At least 35 other species of genetically engineered fish are currently under development, and the FDA's decision on this genetically engineered salmon application will set a precedent for other genetically engineered fish and animals (including cows, chickens and pigs) to enter the global food market.
Three quarters of Americans surveyed in a New York Times poll said they would not eat genetically engineered fish, and 93 percent wanted GMO foods to be labeled. Polls show that 80 percent of Americans who regularly eat fish say sustainable practices are "important" or "very important" to them.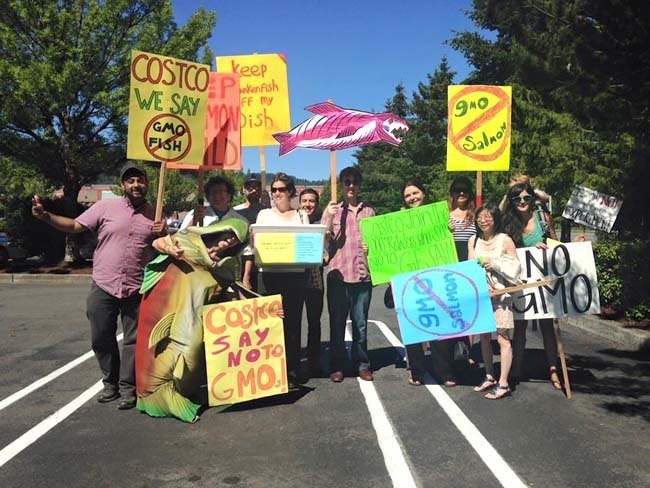 "Genetically engineered salmon is risky and Costco should pledge to keep it out of their stores," said Todd Crosby, secretary and treasurer for Seattle's UFCW 21 union. "The 25,000 Grocery store workers at UFCW 21 take pride in nourishing their communities with healthy food. While we don't always have control over the products we handle, we do have a union voice to speak up for ourselves and our customers. Costco workers do not have that voice so we are standing together with them and their customers to call on Costco to make the right choice."
The national debate about GMO labeling has been heating up over the past several months with several bills in Congress gaining momentum. Sen. Barbara Boxer's (D-CA) and Rep. Peter DeFazio's (D-OR) Genetically Engineered Food Right-to-Know Act would make GMO food labeling mandatory across the country, while U.S. Representatives Mike Pompeo (R-KS) and G.K. Butterfield's (D-NC) bill, dubbed the "Deny Americans the Right to Know (DARK) Act," would make GMO labels voluntary. If passed, the DARK Act would allow retailers like Costco to sell GMO salmon unlabeled and would block states like Washington from passing GMO labeling laws.
The supermarket rejection of genetically engineered salmon is part of a growing trend of food companies distancing themselves from GMO foods. Chipotle is removing GMOs and Whole Foods will require GMO foods in its stores to be labeled by 2018. Cereal giant General Mills removed GMO ingredients from Cheerios and Post quickly followed suit, removing GMOs from Grape Nuts. McDonald's and Gerber have said they have no plans to sell the GMO apple that was recently approved by the U.S. Department of Agriculture.
To find more information on health and environmental risks of genetically engineered salmon; a full list of stores that have made commitments to not sell genetically engineered seafood and salmon; letters sent to companies by Friends of the Earth and allies; and a list of coalition partners, check out our campaign for GMO-free seafood. Grocery stores, restaurants and chefs can also communicate their commitment to not sell GMO salmon by signing up on this page.
YOU MIGHT ALSO LIKE
Eat Well Guide Features 25,000+ Local and Sustainable Restaurants, Farms and Markets
Leading Cancer Experts: 2,4-D Weed-Killer Is 'Possibly Carcinogenic to Humans'
Disturbing footage of a snake in Goa, India vomiting an empty soft drink bottle highlights the world's mounting plastic pollution crisis.
Keep reading...
Show less
By Melissa Hellmann
When her eldest son was in elementary school in the Oakland Unified School District, Ruth Woodruff became alarmed by the meals he was being served at school. A lot of it was frozen, processed foods, packed with preservatives. At home, she was feeding her children locally sourced, organic foods.
Keep reading...
Show less
May. 28, 2017 01:33PM EST
Laurie Woolever
By James O'Hare
There are 20 million people in the world facing famine in South Sudan, Somalia, Nigeria and Yemen. In developed nations, too, people go hungry. Venezuela, for instance, is enduring food insecurity on a national level as a result of economic crisis and political corruption. In the U.S., the land of supposed excess, 12.7 percent of households were food insecure in 2015, meaning they didn't know where their next meal would come from.
Keep reading...
Show less
May. 28, 2017 01:22PM EST
Melwater, Greenland ice sheet. Diane Tuft
Artists are taking the climate crisis into frame and the results are emotional, beautiful and stirring.
So you've seen the best climate change cartoons and shared them with your friends. You've showed your family the infographics on climate change and health, infographics on how the grid works and infographics about clean, renewable energy. You've even forwarded these official National Oceanic and Atmospheric Administration graphs that explain the 10 clear indicators of climate change to your colleagues at the office.
Keep reading...
Show less
May. 27, 2017 01:11PM EST
As the Trump administration moves full speed ahead on boosting the oil and fossil fuel industry, opposition to increased pipeline construction is cropping up in different communities around the country.
Keep reading...
Show less
May. 27, 2017 01:02PM EST
Minke whale stranding near Havergate Island in Suffolk. MCGA.
By Simon Evans
Last Saturday, two dead whales washed up on the coast of Suffolk, in eastern England, and a third was spotted floating at sea.
What happened next illustrates how news can spread and evolve into misinformation, when reported by journalists rushing to publish before confirming basic facts or sourcing their own quotes.
Keep reading...
Show less
May. 27, 2017 01:22PM EST
By Monica Amarelo and Paul Pestano
Sun safety is a crucial part of any outdoor activity for kids, and sunscreen can help protect children's skin from harmful ultraviolet rays. Kids often get sunburned when they're outside unprotected for longer than expected. Parents need to plan ahead and keep sun protection handy in their cars or bags.
Keep reading...
Show less
May. 27, 2017 01:02PM EST
By Joe McCarthy
A lot of people take part in community clean-up efforts—spending a Saturday morning picking up litter in a park, mowing an overgrown field or painting a fence.
Keep reading...
Show less


Get EcoWatch in your inbox