3 Young Entrepreneurs Find Revolutionary Way to Cut Out Food Waste
Food waste is a serious problem. An estimated 30-50 percent of food is wasted globally. Grassroots organizations such as Food Recovery Network have been working on the issues on college campuses across the U.S. with great success. The issue is getting even more attention from renowned chefs, such as Dan Barber whose trendy locally-inspired restaurant in Manhattan will transform into a food-waste focused pop-up for two weeks in March.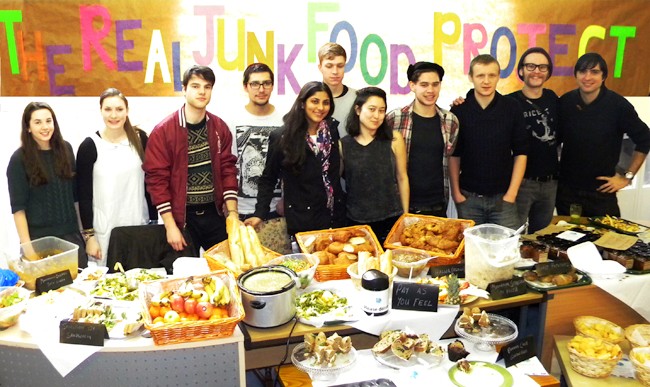 Across the pond, Adam Smith, a chef, and Sam Joseph and Conor Walsh, two university students, are tackling food waste in the UK. Their effort, The Real Junk Food Project, created a "Pay As You Feel" (PAYF) cafe, which asks customers to pay what they see fit for perfectly good food that, due to strict food labeling laws, would have otherwise been thrown out.
Between his time on a farm in Australia and working in restaurants in the UK, Smith was tired of seeing all this perfectly good food go to waste. He recruited his two friends, Joseph and Walsh, who were distraught by all of the food waste in the supermarkets they worked for. They couldn't believe that so much perfectly good food—about 1.4 billion tons globally per year—was going to waste while a billion people around the world live in food poverty.
With the goal to cut out food waste and feed the hungry, the three young entrepreneurs started the first PAYF cafe in the UK city of Leeds in December 2013. The idea caught on in the rest of the UK with more than 40 cafes selling surplus food on a PAYF basis. In the last year the cafe in Leeds has diverted about 22 tons of food from the landfill and fed 10,000 people.
"For me this feels like the right thing to do, and it feels like it's common sense," says Smith. "And I feel like common sense is missing from most of these regulations and laws. And that's the reason why we're in such a mess socially and environmentally as well."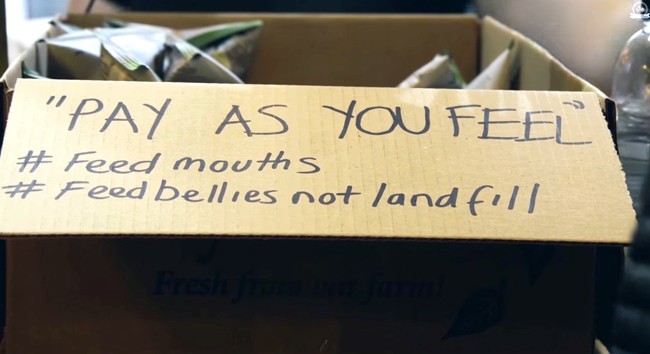 Little Less Known, an organization that spotlights "some of the best independent businesses, innovative ideas and inspiring people," featured the project on their site in December. At the time, the cafe was on the brink of closure. The food they recover is free and the cafe is run entirely by volunteers, but the cafe was still not covering its operating costs.
When Little Less Known followed up with The Real Junk Food Project last week, things were looking much better. Not only did Smith succeed in raising the funds to keep the cafe open, but he raised enough money to refurbish the cafe to create "the most energy efficient and sustainable building in probably the whole country," says Smith. On the day Little Less Known met up with Smith, his team had convinced their four neighboring street food vendors at a local market to adopt the PAYF concept for the day.
The project was very well received and so popular that they ran out of food by three o'clock in the afternoon. Smith's team promised to be back in an hour and went out into the city to recover more food. Smith is quick to point out that he sees the PAYF cafe model as only a stopgap solution. Ultimately, Smith believes, we needs to change regulations, as well as consumers' behaviors and expectations, so we can eliminate food waste.
Watch the video to see their success:
YOU MIGHT ALSO LIKE
World's First Carbon-Positive Prefab Home Hits the Market
Dan Barber's Pop-Up Restaurant Puts Food Waste on the Plate
Revolutionary Honey Harvesting Beehive Crowdsources $2 Million in First Day
www.elysee.fr
By Andy Rowell
There is a growing feeling within European capitals that a quiet, but deeply positive, revolution is happening under Emmanuel Macron in France.
Macron's opinion poll rating is high, especially boosted in how the young French president has reacted to Donald Trump on the international stage.
Keep reading...
Show less
www.facebook.com
Keep reading...
Show less
Keep reading...
Show less
www.youtube.com
According to Bloomberg, "SeaWorld Entertainment Inc. received a subpoena earlier this month from regulators investigating disclosures and public statements by executives, including comments about the Blackfish documentary that caused a public backlash against the confinement of orcas.
Keep reading...
Show less
By Mary Mazzoni
In 2013, shoppers were reacquainted with the tragic story of their clothing when a massive factory collapse claimed the lives of more than 1,100 Bangladeshi garment workers.
The nonprofit Fashion Revolution, formed in response to that disaster, continues to track the apparel industry's progress on environmental stewardship and human rights. But four years later, big brands are still not doing enough to disclose their efforts to customers, the organization concluded in a recent report.
Keep reading...
Show less
Hawaii Renewable Energy Alliance
The latest issue of the U.S. Energy Information's "Electric Power Monthly" (with data through April 30) reveals that—for the first time since the beginning of the nuclear era—renewable energy sources (i.e., biomass, geothermal, hydropower, solar—inc. small-scale PV, wind) are now providing a greater share of the nation's electrical generation than nuclear power.
Keep reading...
Show less
www.youtube.com
Check out this great 360° virtual reality video by NowThis on the world's largest indoor vertical farm, AeroFarms. Located in Newark, New Jersey, AeroFarms grows more than 2 million pounds of greens a year without sunlight, soil or pesticides.
As reported by EcoWatch in July 2105, the $30 million, 70,000-square-foot AeroFarms headquarters dwarfs Japan's (already impressive) 25,000-square-foot vertical indoor farm, which had been the world's largest until now.
www.facebook.com
"There's no such thing as clean coal," according to this ATTN: video.
Watch above as ATTN: explains the many hazards of coal beyond carbon emissions, that no matter what there's no reviving the coal industry and how investment in renewable energy is the best way forward.
Share this video if you think America needs real energy solutions.
Wikipedia
By Franziska Spritzler, RD, CDE
Boosting your metabolic rate can help you lose body fat. However, most "fat-burning" supplements on the market are either unsafe, ineffective or both.
Fortunately, several natural foods and beverages have been shown to increase your metabolism and promote fat loss.
Keep reading...
Show less


Get EcoWatch in your inbox