3 Ways UN Leaders Can Restore the World's Oceans
Sep. 25, 2015 01:15PM EST
Climate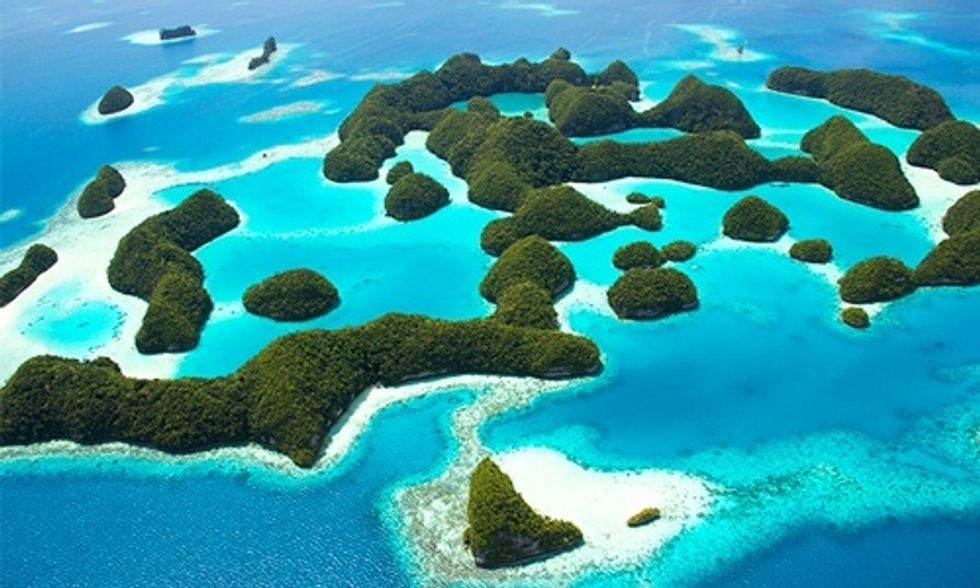 The ocean is in trouble. It's being overfished, under-managed, polluted and altered in ways we're still just beginning to understand. Environmental pressures could worsen as demand for marine resources grows.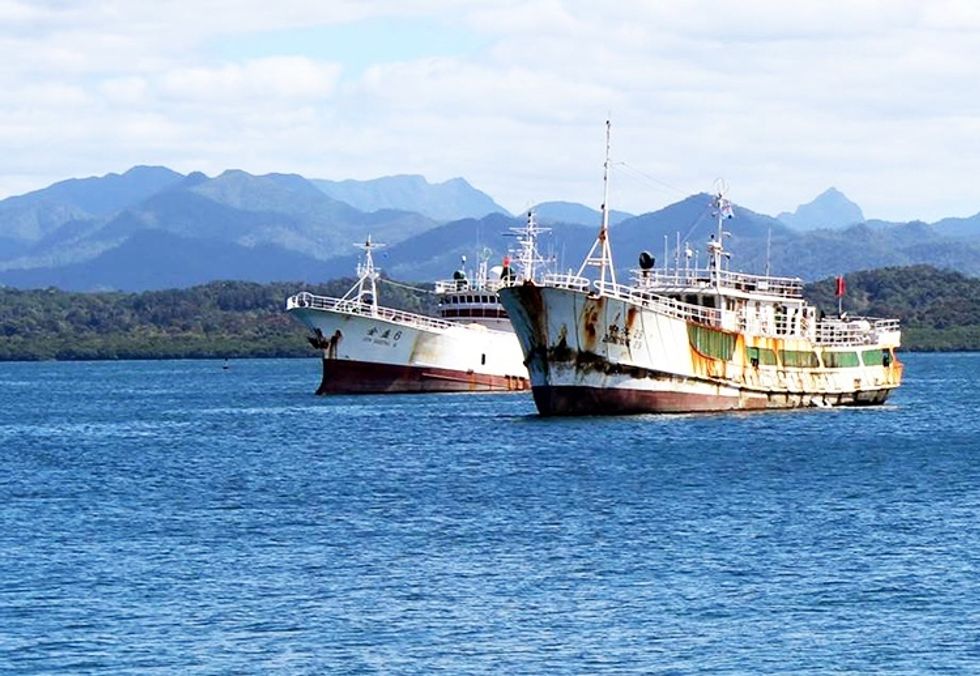 Longline tuna fishing vessels tied up in port in Suva, Fiji. Photo credit: Mike Crispino / The Pew Charitable Trusts
This week, United Nations (UN) members will gather in New York for the Sustainable Development Summit, where they are expected to adopt a framework aimed at ending poverty and promoting prosperity—all while protecting the environment. Of the document's 17 goals, one in particular calls on governments to "conserve and sustainably use the oceans, seas and marine resources"—including effectively regulating harvesting, ending overfishing and illegal fishing and protecting at least 10 percent of coastal and marine areas.
Right now, UN leaders can help transform these aspirational goals into measurable action by:
1. Adopting Robust Port Measures to Combat Illegal Fishing
Experts estimate that illegal and unreported catches of ocean fish account for up to $23.5 billion in stolen seafood yearly—or about 1 in every 5 fish taken from our oceans.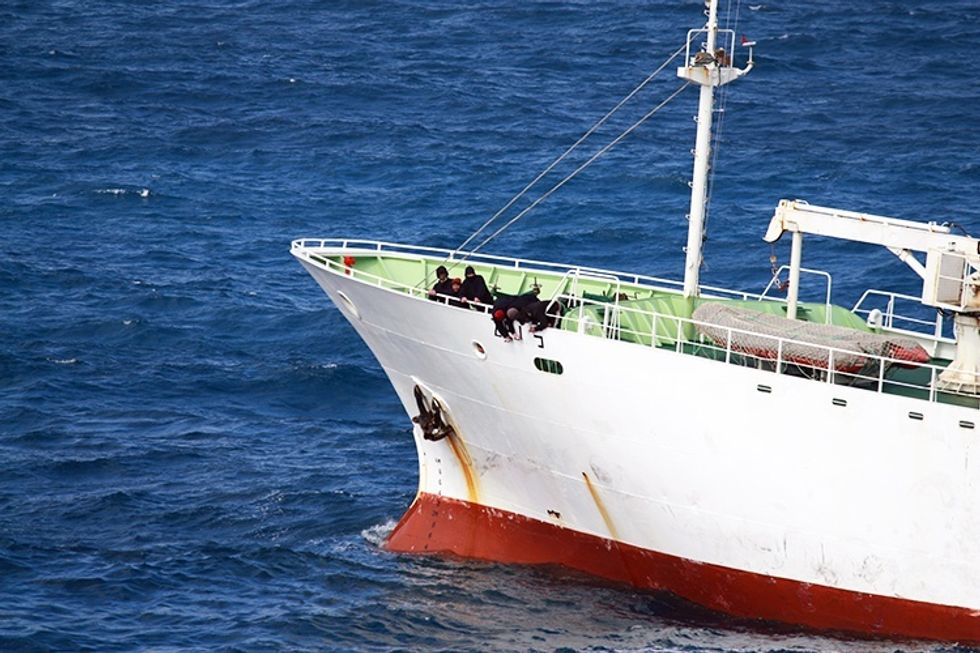 Crew of an illegal fishing vessel paint a new name on the hull at sea in an effort to avoid enforcement for crimes committed under a prior name. Photo credit: Australian Fisheries Management Authority
It's far from practical for authorities to patrol every square mile of water, but new technologies—such as the satellite-based Project Eyes on the Seas—are making it easier to spot vessels that routinely skirt the rules. Once suspicious activity is identified, the most practical time to follow up is when a vessel is in port—through which almost all commercially caught fish, whether landed legally or not, must pass to reach market.
The UN has already shown a commitment to improved governance by adopting the Port State Measures Agreement, a treaty to cost-effectively strengthen port inspection standards for fishing vessels. The pact will take effect once 25 governments ratify it; to date, 14 have done so.
2. Setting Science-Based Catch Limits
Populations of marine species are being fished to their limits globally. According to the UN Food and Agriculture Organization, 90 percent of fish stocks are being taken from the world's oceans at or beyond sustainable levels. Large migratory fish species, such as Pacific bluefin tuna, have seen some of the greatest declines.
In traditional fisheries management, scientists conduct stock assessments, which managers use to set quotas and other policies designed to ensure that overfishing does not occur. But too often, politics derail multilateral negotiations to set science-based limits, especially when multiple countries are collectively setting catch limits and other fishing policies for a stock. Collaboration on catch limits is often elusive even when a population's health reaches a crisis point. That's where harvest strategies can help. These pre-agreed upon frameworks for making fisheries management decisions can help governments plan ahead.
3. Establishing a Global Network of Large-Scale Marine Parks
Sometimes the best way to protect the most extraordinary ecosystems from illegal fishing and overfishing is to bar all fishing and other extractive activities. After all, we do this for our most special places on land, so why not at sea?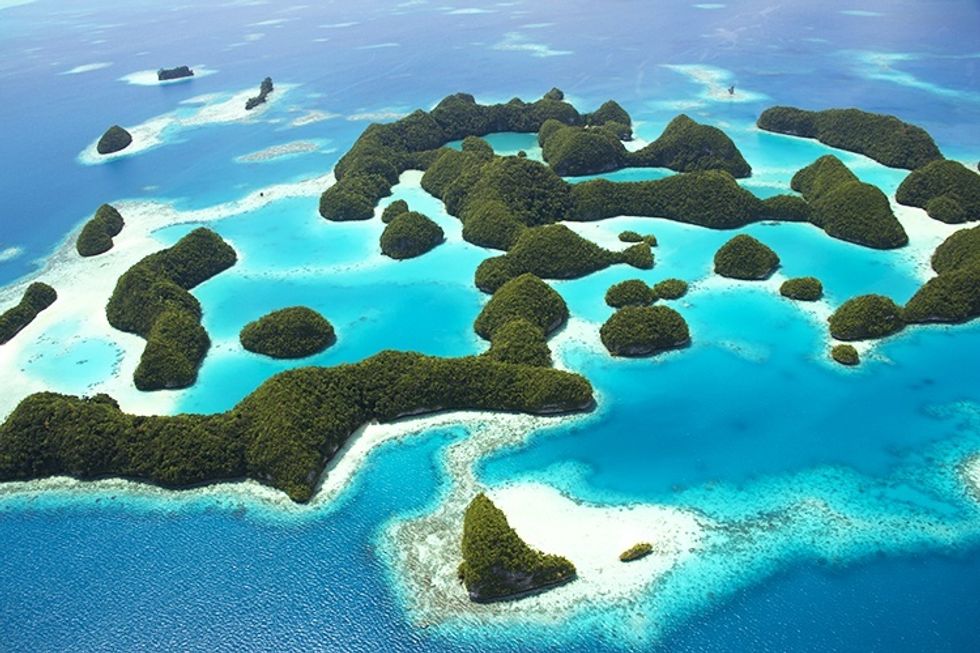 The Rock Islands in Palau in the Pacific Ocean are a UNESCO World Heritage Site. Photo credit: Matt Rand / The Pew Charitable Trusts
Peer-reviewed studies have found more marine species and significantly larger populations, within marine reserves than in similar areas that are unprotected. Research also has concluded that populations of predatory fish increase exponentially for up to 18 years after a reserve is established.
Despite this evidence, only 1 percent of the world's oceans are fully protected. But there are signs that the tide is turning. The U.S., Palau and the United Kingdom, among others, have recognized that reserves provide invaluable protection for marine life. And governments aren't going it alone. In June, U.N. members agreed to move forward with negotiating a new international agreement that could lead to the establishment of large-scale marine reserves in areas that are beyond national jurisdiction.
By recognizing the vulnerability of the ocean and setting a Sustainable Development Goal to protect it, the U.N. has taken an important step. No one solution can overcome all of the challenges facing our marine environment, but by using the available suite of tools, U.N. members could make significant progress toward ensuring healthy, sustainable and productive seas for years to come.
Elizabeth Wilson directs international ocean policy for The Pew Charitable Trusts.
YOU MIGHT ALSO LIKE
Pope Francis' Words to Congress: A Rallying Call for Climate Action
America's Deadly Love Affair With Bottled Water Has to End
Senate Democrats Unveil Energy Bill to Signal 'Full-Throated Support' of Obama's 'Aggressive' Climate Plan
$43 Trillion: What Scientists Calculate a Warming Arctic Will Cost
EcoWatch Daily Newsletter