Dec. 05, 2014 12:01PM EST
3 Teen Changemakers Rock 30-Day Eco Lifestyle Challenge
Youth-led nonprofit Teens Turning Green just chose its Project Green Challenge (PGC) winners for 2014. PGC is a 30-day eco lifestyle challenge, in which teens "transition from conventional to conscious living." After a three-day summit in San Francisco, a panel of judges chose the top three finalists. PGC 2014 had 3,984 student participants—representing 49 states, 31 countries and 435 campuses worldwide—who completed daily calls to action on sustainability-related themes.
Examples of these daily challenges that students took on include volunteering at community gardens; interviewing farmers about sustainable practices; cooking sustainable meals; radically decreasing their water usage and changing their personal care and cleaning routines; starting eco clubs on their campuses; launching petitions advocating for social and environmental causes; meeting with their school administrations to advocate for transitioning to environmentally friendly practices; and making phone calls to help support the Prop 92 GMO labeling initiative in Oregon.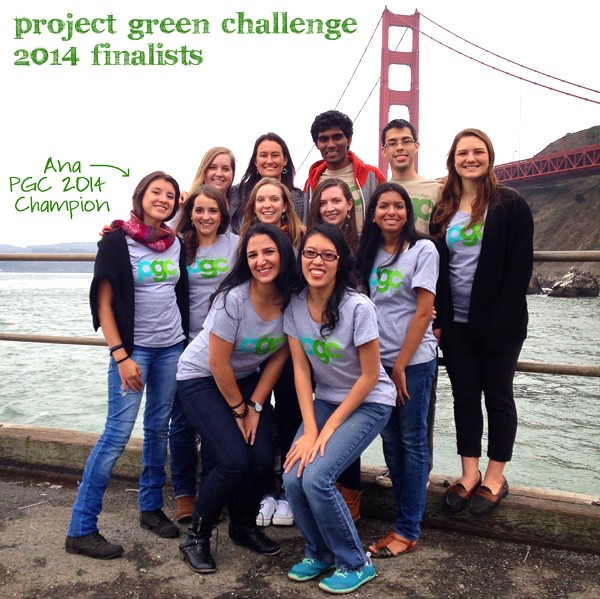 The Top 3 Finalists
First Place: Ana Zabala 
Zabala, who hails from Colombia, organized a student group at her high school in Bogotá to do an awareness campaign on the virtues of hemp, clean up a polluted area of her city and work with her administration to improve sustainability efforts. Reflecting on her experience, Zabala said:
This weekend changed my life and my perspective. It showed me that everything can be taken to the limit and that even the most outrageously visionary idea is possible with enough determination. I felt extremely supported by people who were so kind to me just because of my existence. For the first time in a long time, I felt that I wasn't wasting my time and that I don't stand alone in my non-conventional vision of the world. I experienced the feeling of empowerment as I had never in my life. The whole weekend was full of this imminent desire to act! There's so much to do! And I can do it! It opened a new world of opportunities and relationships of human quality. I love the fact that these extremely influential characters would just say hi to you with a warm hug. I bet that doesn't happen in most of the circles of businesses or companies of the world. It was a model of how humanity should work. It felt like everyone was a vital part of the tribe! Everyone was important and essential!
During her presentation, Zabala emphasized that change starts with oneself. "Change happens with a group, but starts with one! We are changing the world with passion, love, respect and kindness; change also implies thought ... This is for the world. This is not the work of a month; this is the work of a lifetime."
Second Place: Jessica Hespen
Hespen's passion for water quality and conservation comes from her experience playing in the lakes in her native Ohio when she was younger. As she grew up, the lakes became too polluted to swim in. Hespen, who wants to become an environmental engineer, has played an active role on her campus at Ohio State University as the Treasurer of Project Green OSU, the first ever Teens Turning Green chapter on a university campus. During her presentation to the judges, she spoke of her transformation in PGC:
I started out knowing the basics: recycling is good, buying organic and non-GMO are good, composting is good and I did some of those things before this October. I call myself an environmentalist and a tree hugger, but I don't really think I knew what those labels entailed. But Project Green Challenge filled in the gaps in my knowledge and pushed and inspired me to confidently become that tree hugger, that environmentalist.
Third Place: Jenny Fang
Fang, a high school senior in San Leandro, CA, mobilized students and started an environmental club, Green Way. For Fang, PGC was just the start of her eco-revolution:
Many of the challenges have inspired or helped me develop a more comprehensive plan for action in my home and school. I'm extremely excited to [bring] more sustainable dining to the campus. Reflecting on all the things I learned from PGC, I had the courage and motivation to go up to my food service director and talk to her about my ideas. Now, we're collaborating on forming a garden on campus. Yay!
 The PGC 2014 Grand Prize:
The PGC 2014 Champion, Ana Zabala, won a Grand Prize package valued at more than $12,000, including:
A $5,000 Green Award from Acure Organics

A trip to the Natural Products Expo in Anaheim from Aubrey Organics

Tickets to the Organic Center dinner at the Natural Products Expo from the Organic Center

A $1,000 Whole Foods Market gift card

An Acre of Land via the World Land Trust from Natracare

Trip to the Gaia Herbs farm in North Carolina from Gaia Herbs

A head-to-toe eco makeover, including clothing, bath and body products; and other great gifts from our extraordinary PGC partners

A Suja Juice Party for 100 friends from Suja

Chipotle catering for 20 friends

An organic duvet and pillows from Earthsake
Since its inception in 2011, PGC has engaged more than 15,000 participants. This year, Teens Turning Green helped students to build out the initiatives developed at last year's Challenge Finals, including Project Green U, a network of college chapters; Eco Engine, a hub for student research on sustainability; and the TTG Conventional to Conscious blog. It's truly exciting to see youth step up and create the kind of conscious living we need to live on a thriving planet.
YOU MIGHT ALSO LIKE
Obama Sets Out to Fight Climate Denial in Classrooms, Museums, Bathrooms and Other Places
Jul. 21, 2017 01:50PM EST
Will Rose / Greenpeace
Eleven peaceful activists from the Greenpeace ship Arctic Sunrise have taken to the water in inflatable boats with handheld banners to oppose the Statoil Songa Enabler oil rig, 275 km North off the Norwegian coast, in the Arctic Barents sea.
The banners say: "People Vs. Arctic Oil" and are directed at Statoil and the Norwegian government, which has opened a new, aggressive search for oil in the waters of the Barents Sea.
Keep reading...
Show less
Jul. 21, 2017 10:34AM EST
Dominion Pipeline Monitoring Coalition
The Federal Energy Regulatory Commission (FERC) paved the way Friday for the 600-mile, 42-inch fracked gas Atlantic Coast Pipeline to proceed when it issued the final environmental impact statement (FEIS). A joint project of utility giants Duke Energy and Dominion Energy, the Atlantic Coast Pipeline would move fracked gas from West Virginia into Virginia and North Carolina.
In April, the Sierra Club submitted more than 500 pages of legal and technical comments on FERC's draft EIS, which were joined by more than 18,000 individual comments detailing opposition to the project. The pipeline has been met with widespread opposition, with more than 1,000 people participating in public hearings across the three affected states. The Sierra Club recently requested that FERC issue a new environmental review document analyzing information that came in after or late in, the public comment process.
Keep reading...
Show less
Jul. 21, 2017 08:25AM EST
Greenpeace / PolluterWatch
By Jessica Corbett
"It's time Rex Tillerson step down or be removed," said Gigi Kellett of Corporate Accountability International, following an announcement on Thursday that ExxonMobil will pay $2 million for violating U.S. sanctions against Russian officials while the now-secretary of state was the company's CEO.
"ExxonMobil demonstrated reckless disregard for U.S. sanction requirements," according to enforcement filing released by the Treasury Department's Office of Foreign Assets Control (OFAC), which issued the penalty. Though the fine is reportedly the maximum penalty allowed, it's pittance to one of the world's most profitable and powerful corporations, which last year reported a profit of $7.8 billion.
Keep reading...
Show less
Jul. 21, 2017 11:15AM EST
New analysis from Amory B. Lovins debunks the notion that highly unprofitable, economically distressed nuclear plants should be further subsi­dized to meet financial, security, reliability and climate goals. The analysis, which will appear shortly in The Electricity Journal, shows that closing costly-to-run nuclear plants and reinvesting their saved operating costs in energy efficiency provides cheaper elec­tricity, increases grid reliability and security, reduces more carbon, and preserves (not distorts) market integrity—all without subsidies.

Keep reading...
Show less
Jul. 21, 2017 08:44AM EST
Oil Change International / Twitter
By Christian Detisch and Seth Gladstone
In the wake of Senate Republicans' ever-deepening debacle over their flailing attempts to strip health insurance from 22 million people, Majority Leader Mitch McConnell is desperate to do something—anything—to show that he can get legislation passed. To this end, he's bypassing the standard committee review process to push a complex 850+ page energy bill straight to the full Senate floor. Perhaps not surprisingly, this legislation, the Energy and Natural Resources Act of 2017, would be a disaster for public health and our climate.
Keep reading...
Show less
Jul. 21, 2017 08:11AM EST
Rooftop solar panels on a beach house in southern Florida. TAI VIINIKKA / CC BY-NC-ND 2.0
A new law passed this week in South Miami will require all new homes built in the city to install solar panels. The measure, which was inspired by a proposal from a teenage climate activist, will go into effect in September.
The text of the ordinance details the climate impacts facing South Miami.
Keep reading...
Show less
Jul. 21, 2017 10:27AM EST
www.youtube.com
Keep reading...
Show less
Jul. 21, 2017 08:49AM EST
iStock
By Katherine Paul and Ronnie Cummins
A recent series of articles by a Washington Post reporter could have some consumers questioning the value of the U.S. Department of Agriculture's (USDA) organic seal. But are a few bad eggs representative of an entire industry?
Consumers are all for cracking down on the fraudulent few who, with the help of Big Food, big retail chains and questionable certifiers give organics a bad name. But they also want stronger standards, and better enforcement—not a plan to weaken standards to accommodate "Factory Farm Organic."
Keep reading...
Show less