3 Solar Ovens That Give You the Power to Cook With the Sun
Apr. 08, 2016 09:46AM EST
Food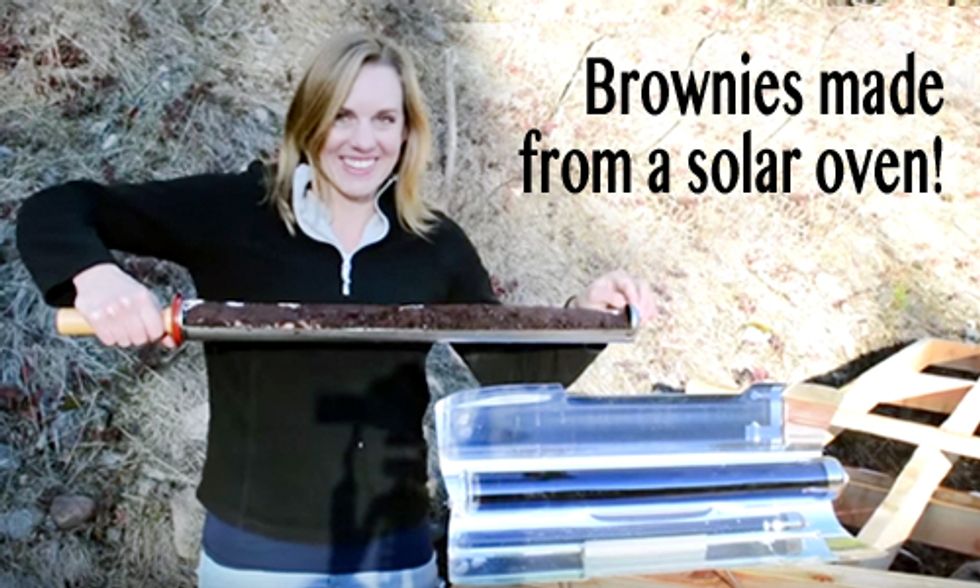 With barbecue season around the corner, what could be more planet-friendly than cooking with the sun? Instead of gas/electricity/charcoal/wood, a solar cooker harnesses heat from the sun to cook food.
From baking cookies to frying eggs, these pollution-free devices work wherever there is sunshine, regardless of how cold it is outside. With ample sunlight, most get into temperatures between 250-350 degrees Fahrenheit, with some top end varieties going nearly 600 degrees.
Solar cookers come in all shapes, sizes and price ranges and you can even DIY. Here are instructions for solar box cookers, parabolic cookers and panel cookers. And here's a kid-friendly version from NASA that basically requires a cardboard box, plastic wrap, aluminum foil and regular office supplies.
For those of you who are less handy, check out some of our favorites you can buy online.
Solar cookers are ideal for people who enjoy camping outdoors or live off-grid, but for people in energy-impoverished nations, they can be a lifesaver when fuel is limited or if water needs purification. Developed for use in refugee camps in 1995, the $39.00 CooKit panel cooker is made of cardboard and aluminum foil and is the most widely-used solar cooker in the world. The CooKit is incredibly portable as it folds flat into a 13-by-13 inch square that's 2 inches thick. Cooking temperature range is 180-240 degrees Fahrenheit.
As Insights writer Eric Hoffner pointed out, "lack of access to such clean cooking options is a huge issue globally: 3 billion people cook their daily meals over smoky biomass fires every day causing more than 4 million annual mortalities, mostly women and children, from smoke inhalation related diseases. Not only is it a human health issue, but forests and the climate suffer: most households that rely on smoky stoves burn 2 tons of biomass per year, about 730 million tons globally, which releases about a billion tons of carbon dioxide. The resulting particulate matter also traps heat in the atmosphere."
Food gets "steam-fried" inside this unique, tubed-shaped solar cooker making it ideal for vegetables and meats and even baking bread. A GoSun was one of the solar-powered stoves featured on a December episode of Bravo's hit reality cooking competition Top Chef. Host Padma Lakshmi gave the contestants 30 minutes to create a dish with "the cleanest energy there is—the sun."
TONIGHT: @BravoTopChef @ChefJoseAndres Challenges Contestants to Cook With #Solar Stoves https://t.co/KfilP7Iwk2 https://t.co/VP54ik11nN

— EcoWatch (@EcoWatch)1450369413.0
GoSun social designer Matt Gillespie told EcoWatch last year that the GoSun Grill can roast a meal for eight as fast as a grill. And since it has a thermal battery, users can cook whenever they want to, even if it's cloudy. The company sells different iterations of stoves online, such as the 7 lbs. GoSun Sport and the industrial sized GoSun Station. The products can reach temperatures of 550 degrees Fahrenheit and can cook a meal in 20 minutes, depending on what's being cooked and the amount of sunlight.
In the video below, a YouTuber shows how she cooked a batch of moist brownies with the oven.
Think of the Solavore Sport as a crockpot within an oven. Here's how it works: Sunlight enters through the transparent cover and hits internal cooking pots that transform light into heat. Heat builds inside the longer it sits while the exterior of the box remains cool to the touch.
TreeHugger's Derek Markham recently reviewed the unit and said that the 9-pound cooker is "light and portable, and a convenient addition to home cooking."
The Sport can roast, bake, steam using only solar energy. "Using the natural moisture in meats, fish, and vegetables, the Sport cooks without additional water so all the natural vitamins and minerals are retained, giving food a wonderful rich flavor," the company says.
"Using something as simple and elegant as a black box with a lens on top, putting your pots inside and knowing that all day the sun's going to be making that dinner," Solavore CEO Anne Patterson says in the video. "There's something just beautiful about that simplicity."
The company is even paying it forward with each purchase. Every solar oven that's purchased helps fund a Solavore Sport somewhere in the world where an open fire is still the main kitchen appliance.
YOU MIGHT ALSO LIKE
20 Cities Leading America's Solar Revolution
This Must-See Documentary Shows the Future of Solar Power Is Here Today
David Suzuki: Tapping Earth's Abundant Geothermal Energy
Is Rooftop Solar Cheaper Than Buying Electricity From the Grid?
EcoWatch Daily Newsletter
Related Articles from EcoWatch