3 Reasons You Should Skip Fabric Softeners and Dryer Sheets
Using fabric softeners sounds like a no-brainer. These common laundry products promise soft, fresh-smelling clothes, free of static and wrinkles, along with less stretching, fading and pilling.
But in-wash fabric softeners and heat-activated dryer sheets pack a powerful combination of chemicals that can harm your health, damage the environment and pollute the air, both inside and outside your home.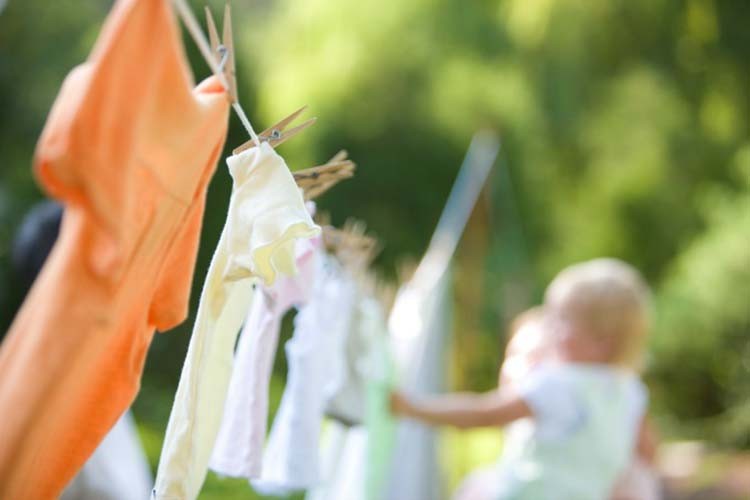 Healthy Child Healthy World recommends skipping fabric softeners entirely. Here are the worst chemicals to watch for in your laundry basket—and what to use instead.
"Quats"
Quaternary ammonium compounds make clothes feel soft and wearable right out of the wash, but they're known to trigger asthma and may be toxic to our reproductive systems.
Check labels and product websites for these ingredients: distearyldimonium chloride, diethyl ester dimethyl ammonium chloride, variants of hydroxyethyl methyl ammonium methyl sulfate or the vague terms "biodegradable fabric softening agents" and "cationic surfactant." Avoid them all.
Fragrance
There are more than 3,000 fragrance ingredients in common household products—and scarcely any way to know what they are.
Your fabric softener may contain phthalates, which disperse the scent; synthetic musks such as galaxolide, which accumulate in the body; and much more. Fragrance mixes can cause allergies, skin irritations such as dermatitis, difficulty breathing and potential reproductive harm. Research indicates that scents also cause irritation when vented outdoors, especially for asthmatics and those sensitive to chemicals. Not worth it.
Preservatives and Colors
Like fragrance, the terms "preservatives" and "colors" or "colorants" on an ingredient label may refer to any number of chemicals. The most worrisome preservatives in fabric softeners include methylisothiazolinone, a potent skin allergen and glutaral, known to trigger asthma and skin allergies. Glutaral (or glutaraldehyde) is also toxic to marine life. Among artificial colors, D&C violet 2 has been linked to cancer. Others may contain impurities that can cause cancer.
So skip fabric softeners and conditioners in any form—pellets, crystals, bars or single-dose packs. You won't notice the difference.
Or you can try these ideas instead:
Try adding half a cup of distilled white vinegar to your washing machine during the rinse cycle. Don't worry: the smell doesn't linger on clothes.
If you're not line-drying, run the drying machine with just your clothes inside. (To reduce static, do not over-dry.) Not only do dryer sheets contain a variety of chemicals, but neither plant-based nor polyester types are reusable, creating extra waste.
Try 100 percent wool dryer balls. Makers of these solid balls of felted wool or felted wool wrapped around a fiber core, say wool or its natural lanolin soften laundry and reduce static. Generally safe for sensitive skin and babies, the balls also lift and separate clothes in the dryer, shortening drying time and saving energy.You can buy ready-made balls or make your own with wool batting or wool yarn. Look for unscented versions and always be leery of essential oils, which can cause allergic reactions after just few contacts.
Learn more about laundry products and other home cleaners in the 2016 edition of EWG's Guide to Healthy Cleaning.
YOU MIGHT ALSO LIKE
Do Your Household Cleaners Have the EPA's Safer Choice Label?
Why Is This Hormone-Disrupting Pesticide Banned in Europe But Widely Used in the U.S.?
3 Natural Deodorants That Actually Work
A coalition of conservation groups and others announced Thursday that a historic number of comments and petitions of support have been submitted to the U.S. Department of the Interior in support of Bears Ears National Monument. Despite the entirely inadequate 15-day comment period ending on May 26, more than 685,000 comments in support of Bears Ears National Monument have been collected.
Keep reading...
Show less
Rink Glacier in western Greenland, with a meltwater lake visible center. NASA/OIB
Scientists have had their eyes on Greenland as its iconic glaciers have begun disappearing due to a warming climate. But, what they didn't expect to see was a whole new type of melting.
Keep reading...
Show less
Mountain View Fire
By Lena Moffitt
An oil tanker in Mead, Colorado exploded, killing one and injuring three on Thursday. Authorities are continuing to investigate the cause of the explosion.
Keep reading...
Show less
Banner created by Alliance for Climate Education
Keep reading...
Show less
Twenty-two GOP senators sent a letter Thursday urging Donald Trump to pull out of the Paris agreement. They argued remaining in the deal could "upend" the administration's ability "to fulfill its goal of rescinding the Clean Power Plan."
Keep reading...
Show less
By Cheryl Johncox
The Federal Energy Regulatory Commission (FERC) rejected on Thursday Energy Transfer Partners' request to resume horizontal directional drilling at two sites for its Rover fracked gas pipeline. This rejection comes after numerous leaks into Ohio's wetlands, and Clean Air and Clean Water act violations. FERC has halted the process at only eight locations of the 32 where drilling is taking place under Ohio's wetlands and streams.
Keep reading...
Show less
By Nadia Prupis
A majority of people in eight countries say they are ready to change their lifestyles if it would prevent climate catastrophe, a survey on global threats released Wednesday found.
Keep reading...
Show less
May. 25, 2017 01:55PM EST
Bill Maher is sick of billionaires' obsession with Mars, more like "Mars-a-Lago," he said.
In a new animation produced by ATTN:, the popular talk show host of Real Time, discusses the perils of our planet, including how "climate change is killing us."
Keep reading...
Show less