This website uses cookies to ensure you get the best experience while browsing it. By clicking 'Got It' you're accepting these terms.
3 Reasons You Should Comment in Support of EPA's New Carbon Rule
Sep. 08, 2014 07:41AM EST
Climate

In June, the U.S. Environmental Protection Agency (EPA) rolled out a proposal to reduce carbon pollution from existing power plants by 30 percent by 2030 from 2005 levels. This proposal will be instrumental in meeting our domestic and international climate change goals. But the rule is not final yet: the EPA is taking public comments. This means everyone can weigh in—from the fossil fuel industry polluting our atmosphere to people like you who are paying the cost of carbon pollution today.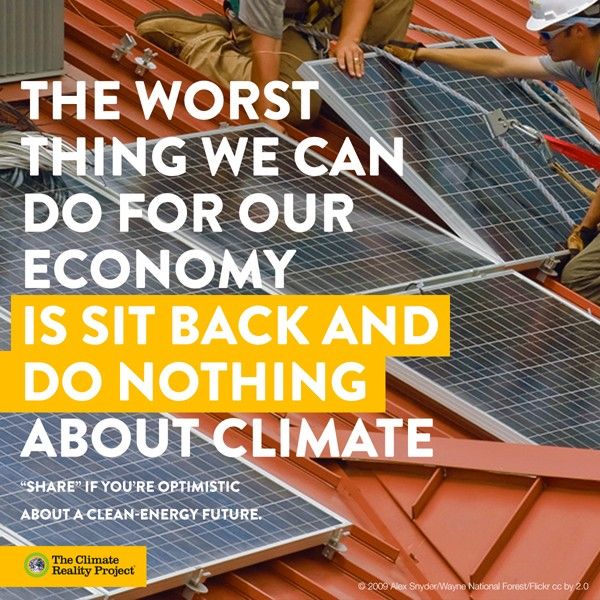 Here are three reasons why you should comment in support of the rule right now.
1. It will catalyze the growth of our cleanest technologies. This rule will limit pollution from existing power plants by requiring carbon polluters to reduce their emissions. This new system will create space for the rapid deployment of, clean energytechnologies, catalyzing the spread of clean solutions that already exist, such as renewable energy and energy efficiency technologies. It is these technologies that ultimately must become ubiquitous for us to counter the long-term impacts of climate change and grow a low-carbon economy.
2. It's good for the economy. These regulations will provide benefits to consumers and to the overall economy. Natural Resources Defense Council (NRDC) and the EPA reports show that this type of proposal will lower electricity bills for consumers through its efficiency measures. Given the space to grow, clean energy is either now or soon will be cheaper, cleaner and more reliable then fossil fuel based energy plants.The NRDC study also showed that this type of rule would create 274,00 jobs in energy efficiency in 2020, not to mention the jobs that will be created through the development of new renewable energy projects.The tremendous public health benefits that come along with this rule are good for our pocketbooks, too (not to mention for our loved ones: the EPA estimates that reducing pollution to the levels stipulated in the rule will mean avoiding 2,700 to 6,600 premature deaths and 140,000 to 150,000 asthma attacks in children). Avoiding health complications saves money by reducing the need for things such as trips to the hospital, and those savings add up. According to the EPA, American's will see health benefits in the range of $55 billion to $93 billion in 2030.
3. It will help us deal with global climate change. This rule would guarantee a reduction in carbon pollution in America and enable us to meet the carbon reduction targets that we have promised the world that we would meet by 2020. It also creates the global political space for other nations to follow suit. For example, right after the announcement, there were indications that China may be looking to cap their carbon emissions by 2016. With both the U.S. and China taking significant steps to curb emissions, for the first time ever there is true potential for an international breakthrough at the upcoming U.N climate talks. We cannot look back now—we must finalize this rule to have a shot at preventing the worst impacts of climate change.
But for all its benefits, the rule is already under bitter attack—from the fossil fuel industry and from the politicians whom they fund. That's why we need to show the EPA and the Obama Administration that there is broad public support for finalizing this rule.
Make your voice heard by submitting a public comment here to tell the EPA to finalize this landmark rule. Do it so that we can ensure more clean energy in the future, grow our economy and get a handle on climate change.
YOU ALSO MIGHT LIKE
'Irreversible' Damage to Planet From Climate Change Says Leaked IPCC Report
Bill McKibben on Democracy Now!: Obama's Nonbinding Climate Deal, IPCC Report, People's Climate March
New Satellite Maps Show World's Major Ice Caps Melting at Unprecedented Rate
EcoWatch Daily Newsletter
Artist's conception of solar islands in the open ocean. PNAS
Millions of solar panels clustered together to form an island could convert carbon dioxide in seawater into methanol, which can fuel airplanes and trucks, according to new research from Norway and Switzerland and published in the Proceedings of the National Academy of Sciences journal, PNAS, as NBC News reported. The floating islands could drastically reduce greenhouse gas emissions and dependence on fossil fuels.
Marcos Alves / Moment Open / Getty Images
More than 40 percent of insects could go extinct globally in the next few decades. So why did the U.S. Environmental Protection Agency (EPA) last week ok the 'emergency' use of the bee-killing pesticide sulfoxaflor on 13.9 million acres?
EcoWatch teamed up with Center for Biological Diversity via EcoWatch Live on Facebook to find out why. Environmental Health Director and Senior Attorney Lori Ann Burd explained how there is a loophole in the The Federal Insecticide, Fungicide, and Rodenticide Act under section 18, "that allows for entities and states to request emergency exemptions to spraying pesticides where they otherwise wouldn't be allowed to spray."
Simple swaps that cut down on kitchen trash.
Sponsored
By Kayla Robbins
Along with the bathroom, the kitchen is one of the most daunting areas to try and make zero waste.
View of downtown Miami, Florida from Hobie Island on Feb. 2, 2019.
Michael Muraz / Flickr
The Democratic candidates for president descended upon Miami for a two-night debate on Wednesday and Thursday. Any candidate hoping to carry the state will have to make the climate crisis central to their campaign, as The New York Times reported.
By Sharon Kelly
On Monday, the Wall Street Journal featured a profile of Scott Sheffield, CEO of Pioneer Natural Resources, whose company is known among investors for its emphasis on drawing oil and gas from the Permian basin in Texas using horizontal drilling and hydraulic fracturing, or fracking.
Pexels
By Craig K. Chandler
The federal government has available to it, should it choose to use them, a wide range of potential climate change management tools, going well beyond the traditional pollution control regulatory options. And, in some cases (not all), without new legislative authorization.
Denis Poroy / Getty Images
By Dan Gray
Processed foods, in their many delicious forms, are an American favorite.
But new research shows that despite increasing evidence on just how unhealthy processed foods are, Americans have continued to eat the products at the same rate.
By Sarah Steffen
With a profound understanding of their environmental surroundings, indigenous communities around the world are often cited as being pivotal to tackling climate change.