This website uses cookies to ensure you get the best experience while browsing it. By clicking 'Got It' you're accepting these terms.
3 Reasons Universities Are Investing Renewable Energy
Nov. 26, 2014 10:01AM EST
Business
Colleges and universities have always been focal points of change. The mixture of academic research, student activism and institutional clout has allowed campus communities to promote widespread technical and social transformations. During the last few years, a few of these institutions have begun to lead in an entirely new area—renewable energy. Just last September, the University of California system announced an 80 megawatt (MW) procurement contract for off-site solar photovoltaic (PV) electricity, enough to power almost 13,000 homes.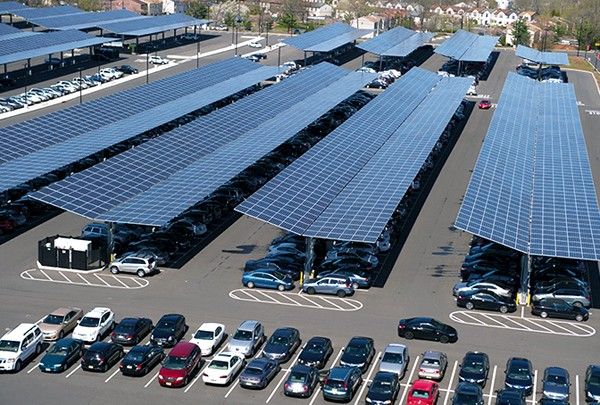 While this is the largest power purchase agreement (PPA) on record for a university, it was not the first. Back in 2008, the University of Oklahoma signed an agreement with Oklahoma Gas & Electric to purchase 100 percent renewable electricity, spurring the development of a 44-turbine wind farm. Then, in 2012, Ohio State University signed a 20-year PPA for 50 MW of wind power. This year, George Washington University and American University teamed up, along with George Washington University Hospital, to secure 52 MW of solar PV from Duke Energy Renewables. Meanwhile, many campuses have installed significant on-site resources. Three universities in particular—Arizona State, Rutgers and Mount Saint Mary's—have installed more than 57 MW of solar PV combined; enough to power more than 9,000 U.S. homes.
Three Reasons Why Universities are Buying Renewables:
1. Renewables are a Good Deal
Recent transactions highlight just how competitive renewable power can be. Ohio State University estimated its wind transaction would save the university $1 million dollars in the first year alone. Similarly, American University says that its renewable energy contract "provides fixed pricing for solar energy at a lower total price than current power solutions." When you start to look at the recent, all-time-low wind and solar prices per kilowatt-hour (kWh), it's easy to see how these deals can be cost-effective.
In 2013, new wind projects in the U.S. had an average wholesale price of just $0.025/kWh. Meanwhile, recent wholesale solar PPAs have reached $0.05/kWh or lower. Add in the fact that these deals allow buyers to lock in low prices for 20 years or more, and the savings really start to add up. Ultimately, you don't need an Ivy League endowment to buy a lot of renewable energy—many of the leaders are public universities that have discovered it's a sound economic investment.
2. Top-Down Leadership
Since 2007, the American Colleges and Universities Presidents' Climate Commitment has encouraged almost 700 institutions of higher education to commit to achieving carbon neutrality within a defined timeframe. These commitments to reach carbon neutrality, sometimes by 2025 or earlier, are frequently cited as key components of a university's decision to purchase renewable energy. In fact, a few small colleges have already achieved carbon neutrality, most recently Colby College in Maine.
3. Bottom-Up Demand
Colleges and universities are also responding to a growing demand from their key stakeholders. Students and faculty around the country are already campaigning for increasing university sustainability programs, and these topics are also on the minds of prospective students. In a 2014 Princeton Review survey of student applicants, "61 percent said having information about a college's commitment to the environment would impact their decision to apply to or attend a school." Information about campuses' sustainability track records, provided through programs such as AASHE's STARS initiative, have brought additional transparency to these efforts and allowed for holistic sustainability rankings. Moreover, for both faculty and students, these renewables projects open up research opportunities. This was particularly true for Ohio State University, which employed more than 400 energy researchers in 2013.
Creating Social Change
At Rocky Mountain Institute, we've shown time and again that renewable energy is held back not by technical limitations but rather by societal inertia, outdated regulations, and institutional barriers. Universities, by design, are hubs for experimentation and pushing beyond the norms of the day. As Dr. George Basile from Arizona State University observed, "When society doesn't know how to do something, universities are where you go to solve those problems." In addition, universities' relatively stable growth, long-term ownership of facilities, and intellectual atmosphere provide an ideal testing ground for new approaches.
For these reasons,Rocky Mountain Institute is engaging with universities through a number of programs, including:
However, more importantly, universities matter because they are educating the future leaders and members of our society. Integrating energy efficiency and renewables into a school's culture exposes each wave of students to more efficient and sustainable processes, systems and behaviors. That's social change. That's legacy. That's scale.
At the end of the day, whether you're a student, professor or alumnus, it looks as though universities still have plenty left to teach us.
YOU MIGHT ALSO LIKE
Solar Energy Could Power America 100 Times Over
Interactive Map: Find Out How Your State Ranks on Renewable Energy
EcoWatch Daily Newsletter
A fracking well looms over a residential area of Liberty, Colorado on Aug. 19.
WildEarth Guardians / Flickr
Pope Francis flanked by representatives of the Amazon Rainforest's ethnic groups and catholic prelates march in procession during the opening of the Special Assembly of the Synod of Bishops for the Pan-Amazon Region at The Vatican on Oct. 07 in Vatican City, Vatican. Alessandra Benedetti / Corbis News / Getty Images
The Catholic Church "hears the cry" of the Amazon and its peoples. That's the message Pope Francis hopes to send at the Synod of the Amazon, a three-week meeting at the Vatican that ends Oct. 27.
The crowd appears to attack a protestor in a video shared on Twitter by ITV journalist Mahatir Pasha.
VOA News /
Youtube screenshot
Some London commuters had a violent reaction Thursday morning when Extinction Rebellion protestors attempted to disrupt train service during rush hour.
Some fruit drinks may appear to be healthier, but many can have high levels of added sugars. d3sign / Moment / Getty Images
By Kristen Fischer
Though the science has shown sugary drinks are not healthy for children, fruit drinks and similar beverages accounted for more than half of all children's drink sales in 2018, according to a new report.

Donald Trump attends the opening of Red Tiger Golf Course at Trump National Doral on Jan. 12, 2015 in Doral, Florida. Johnny Louis / FilmMagic
Acting White House Chief of Staff Mick Mulvaney made two controversial announcements about the 2020 Group of Seven (G7) summit: it will be hosted at one of President Donald Trump's golf resorts in Miami and it won't feature any discussion of the climate crisis.
Farms with just one or a handful of different crops encourage fewer species of pollinating and pest-controlling insects to linger, ultimately winnowing away crop yields, according to a new study.
Up to half of the detrimental impacts of the "landscape simplification" that monocropping entails come as a result of a diminished mix of ecosystem service-providing insects, a team of scientists reported Oct. 16 in the journal Science Advances.
Monocrop palm oil plantation Honduras.
​SHARE Foundation / Flickr / CC BY-NC 2.0​
"Our study shows that biodiversity is essential to ensure the provision of ecosystem services and to maintain a high and stable agricultural production," Matteo Dainese, the study's lead author and a biologist at Eurac Research in Bolzano, Italy, said in a statement.

It stands to reason that, with declines in the sheer numbers of insects that ferry pollen from plant to plant and keep crop-eating pests under control, these services will wane as well. But until now, it hasn't been clear how monocultures affect the number and mix of these species or how crop yields might change as a result.
Aiming to solve these questions, Dainese and his colleagues pulled together data from 89 studies cutting across a variety of landscapes, from the tropics of Asia and Africa to the higher latitudes of northern Europe. They tabulated the number of pollinating and pest-controlling insects at these sites — both the absolute number of individuals and the number of species — along with an assessment of the ecosystem services the insects provided.
In almost all of the studies they looked at, the team found that a more diverse pool of these species translated into more pollination and greater pest control. They also showed that simplified landscapes supported fewer species of service-providing insects, which ultimately led to lower crop yields.
The researchers also looked at a third measure of the makeup of insect populations — what they called "evenness." In natural ecosystems, a handful of dominant species with many more individuals typically live alongside a higher number of rarer species. The team found as landscapes became less diverse, dominant species numbers dwindled and rare species gained ground. This resulting, more equitable mix led to less pollination (though it didn't end up affecting pest control).
"Our study provides strong empirical support for the potential benefits of new pathways to sustainable agriculture that aim to reconcile the protection of biodiversity and the production of food for increasing human populations," Ingolf Steffan-Dewenter, one of the study's authors and an animal ecologist at the University of Würzburg in Germany, said in the statement.
The scientists figure that the richness of pollinator species explains around a third of the harmful impacts of less diverse landscapes, while the richness of pest-controlling species accounts for about half of the same measure. In their view, the results of their research point to the need to protect biodiversity on and around crops in an uncertain future.
"Under future conditions with ongoing global change and more frequent extreme climate events, the value of farmland biodiversity ensuring resilience against environmental disturbances will become even more important," Steffan-Dewenter said.
Reposted with permission from our media associate Mongabay.
From Your Site Articles
Related Articles Around the Web
View of an Ivorian cleared forest at the edge of the 35.000 hectares Peko Mont National Park on Oct. 8, 2016. The Mont Péko National Park is located in the west of Ivory Coast where the forest officers fight with illegal immigrants to protect an exceptional flora and fauna, espacially dwarf elephants. SIA KAMBOU / AFP / Getty Images
Ivory Coast's rainforests have been decimated by cocoa production and what is left is put in peril by a new law that will remove legal protections for thousands of square miles of forests, according to The Guardian.
The Apusiaajik Glacier, as seen from Kulusuk village in East Greenland. Like most glaciers in Greenland, it's retreating rapidly, changing the local landscape year by year. Photo credit: Karin Kirk
By Karin Kirk
Greenland had quite the summer. It rose from peaceful obscurity to global headliner as ice melted so swiftly and massively that many were left grasping for adjectives. Then, Greenland's profile was further boosted, albeit not to its delight, when President Trump expressed interest in buying it, only to be summarily dismissed by the Danish prime minister.
During that time I happened to be in East Greenland, both as an observer of the stark effects of climate change and as a witness to local dialogue about presidential real estate aspirations, polar bear migrations and Greenland's sudden emergence as a trending topic.