3 Reasons the Nordic Diet Is Healthy for You and the Planet
Aug. 16, 2015 09:49AM EST
Food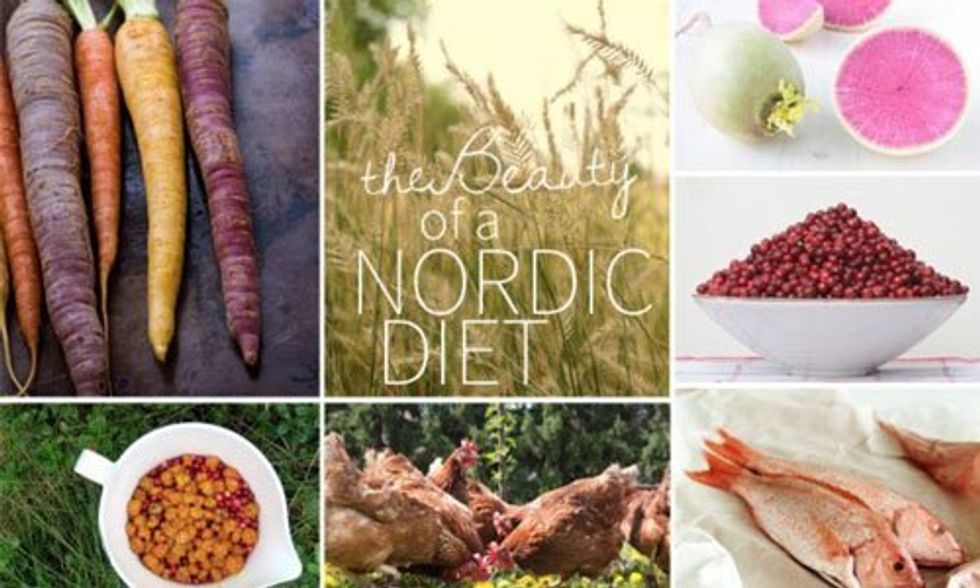 The New Nordic Diet (NND) is a model for a sustainable diet based on Nordic foods that achieve high scores in palatability, healthfulness and sustainability. Recent research by Henrik Saxe of the University of Copenhagen in Denmark has compared the NND to the Average Danish Diet (ADD) to explore several environmental indicators. Results of several studies have shown that the NND is a cost-effective way to reduce environmental impact through dietary choices.
The Nordic Diet is a cost effective way to reduce our environmental impact: http://t.co/VSTHRW31pq @DaniNierenberg pic.twitter.com/ZloXxCOj59

— Food Tank (@Food_Tank) July 23, 2015
In one study by Saxe and a colleague, Jørgen Deigard Jensen, the NND reduced environmental footprint relative to the ADD in 12 of 15 impact categories, while in another study, researchers discovered that the NND reduced environmental impact in all 16 impact categories examined, in addition to saving consumers €266 (US$295) annually if environmental costs are considered.
The UN Food and Agriculture Organization (FAO) defines sustainable diets as "those diets with low environmental impacts which contribute to food and nutrition security and to healthy life for present and future generations. Sustainable diets are protective and respectful of biodiversity and ecosystems, culturally appropriate, accessible, economically fair and affordable; nutritionally adequate, safe and healthy; while optimizing natural and human resources."
Sustainable diets not only contribute to a lower environmental footprint but also help to account for the true costs of food production. Many organizations, such as the Sustainable Food Trust and the Lexicon of Sustainability, are working on True Cost Accounting (TCA) methods, which aim to place a value on externalized costs of food production to the environment and human health.
The cost savings of the NND were attributed to reducing the amount of meat in the diet and excluding long-distance imports. Emphasis on organic produce and local products from Nordic regions offset a smaller portion of the cost savings. The study was novel in its inclusion of the environmental impact of land use changes caused by food production, which causes greenhouse gas emissions, loss of biodiversity and nutrient cycling. The study was also unique in its separate consideration of transportation and inclusion of high amounts of organic produce.
To examine whole diets as realistically as possible, researchers included more than 300 food and beverage items placed into 34 food categories, including dairy products and meat. The environmental impact categories were examined under three hypothetical scenarios that included different models for land use change, changes in imports and transportation and production method (organic or conventional). The overall cost savings of shifting from the ADD to the NDD was 32 percent for the first two scenarios but was reduced to only 5 percent when organic production was considered in the third scenario.
By shifting from the ADD to the NND, three of the most important environmental impacts (global warming, respiratory inorganics and nature occupation) were reduced by 16-22 percent, mainly by reducing the focus on meat. Meat and dairy production are particularly water-intensive; the water footprint per calorie of beef production is 20 times higher than for cereals. Moreover, livestock impacts land use change through conversion of primary forest to grazing land.
The research concluded that sustainable diets are a surprisingly effective method of addressing environmental impact that have so far been mostly ignored by policy-makers. By placing a monetary value on environmental aspects of different diet items, researchers hope to effect policy change. According to Saxe, "if [policymakers] address the environmentally socioeconomic advantages of a given diet item in a complete diet, they are sure to also address the environmental problems associated with diet and diet items."
But policymakers aren't the only group that may be interested in the results of the research. Saxe says, "US$1 invested in a better diet comes back as US$2 in socioeconomic advantages when the ADD is substituted by the NND. Doubling your investment talks to politicians and businessmen alike."
Saxe published another study in the International Journal of Environmental Research and Public Health, focusing on the cost-effectiveness of a switch from the ADD to the NDD on a large scale. The study found that environmental loads from food consumption are 15–25 percent lower for the NND, which exhibited a cost-effectiveness ratio of about €73,000–94,000 (US$80,545- 103,713) per disability-adjusted life year saved. The ratio improves considerably if the emphasis on organic and local foods is relaxed.
For consumers, the cost of the NND is about 16 percent higher at current market prices, but much of this cost is offset by the positive environmental externalities of the diet shift and the reduced health burden from chronic diet-related diseases. Researchers concluded that a large-scale diet shift could especially benefit low-income consumers due to a larger cost gap and disproportionate public health burden.
More research and economic models may be needed to provide a system-wide understanding of the true costs of food production and dietary choices to human health and the health of the environment. Future studies may focus on the development of more robust TCA methodologies and footprint analyses.
In the meantime, many organizations are working to support sustainability in dietary guidelines and environmental choices by consumers. Join Food Tank in accounting for the true costs of cheap food by signing the pledge here.
YOU MIGHT ALSO LIKE
Scotland Bans the Growing of Genetically Modified Crops
EcoWatch Daily Newsletter