This website uses cookies to ensure you get the best experience while browsing it. By clicking 'Got It' you're accepting these terms.
Ah, the classic conundrum—you want to put only good, natural things in and on your body, but your armpits seem to only agree with deodorants that are definitely not those things. Do any of these natural deodorants actually work?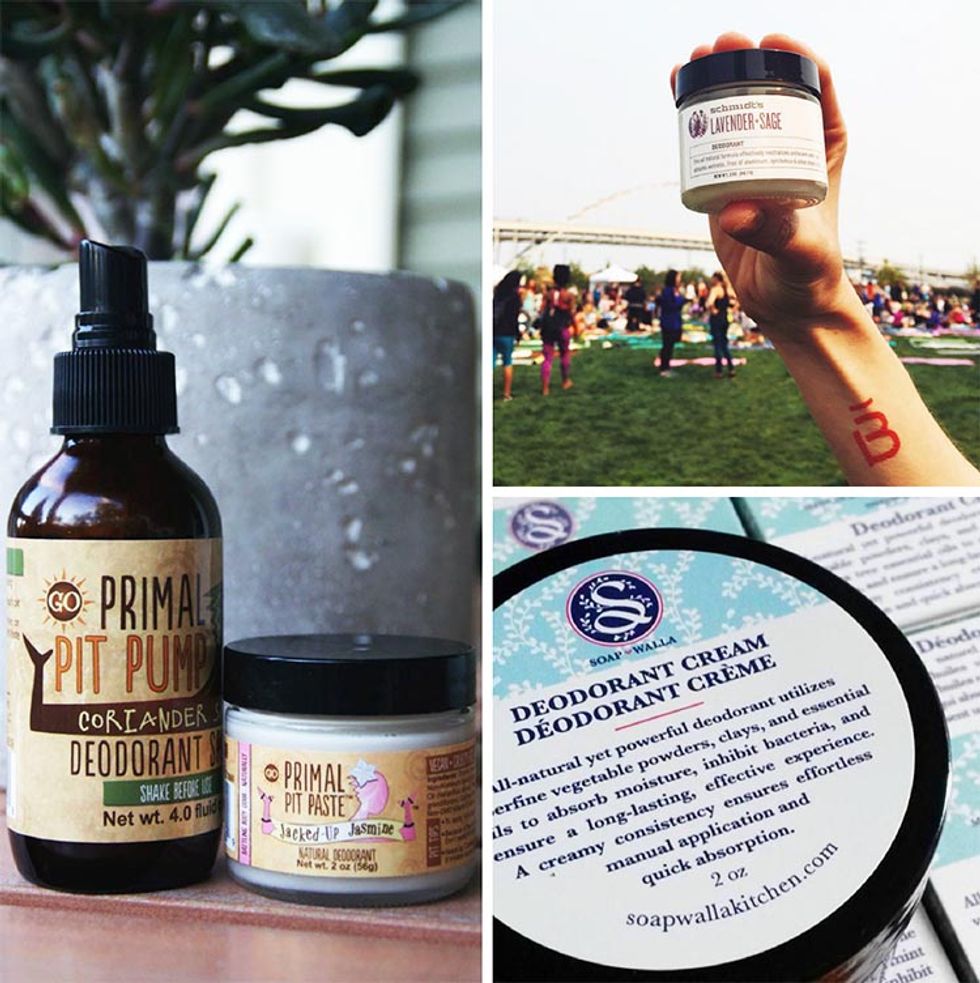 Deodorant is an extremely important product to keep pure. It's spread over a sensitive area day in and day out, right over breast tissue and lymph nodes. Unfortunately, the aluminum in standard antiperspirants can build up in the armpits over time and may contribute to the development of breast cancer and Alzheimer's.
Other common deodorant ingredients with potential hazards are triclosan (an antibacterial that acts as a powerful endocrine disruptor), disodium ExDTA (unharmful alone, but helps the body better absorb active ingredients like aluminum) and BHT (a suspected carcinogen). While natural deodorants don't really work as anti-perspirants—sweating is healthy, after all—some of them do wonders to inhibit smelly bacterial growth in the pit.
Personally, I've tried a lot of natural deodorants. I'm a dancer whose hobbies include mountain biking, hiking, tennis and bouldering. Suffice to say, I sweat a lot. As a dancer, it's no fun to lift your arm and sense your own fermenting armpits steadily expanding into the space. No one likes to stink.
When I made the switch from regular deodorants to natural, I had a tough time finding something that could thwart the inevitable odor that comes with a full day of heavy physical activity. I've tried it all: spray-on deodorants, crystal deodorant and endless sticks of white paste that crumbles off within minutes. However, the day I discovered pots of deodorant paste, everything changed.
I love using jarred deodorant. It's a great way to keep track of any changes going on in my body (it's not often that you touch your own armpit) and I can really control the amount of deodorant I use. For those who don't like the idea, there are sticks to work well, too. After much testing, the following three brands are my favorite.
1. Soapwalla
The priciest deodorant on this list, Soapwalla is by far the best in texture, smell reduction and scent. With ingredients like jojoba oil, rosehip seed oil, shea butter, baking soda, kaolin clay and a delightful blend of essential oils like tea tree, lavender, peppermint and bergamot, this deodorant really feels luxurious. And it works beautifully! If you can spare the cash, this deodorant will last a couple of months and will make touching your armpits a joy.
2. Primal Pit Paste
Marketed towards the Paleo-inclined, Primal Pit Paste has a terrific texture. With an interesting and expanding line of scents, I find Primal Pit Paste to be fairly creamy and pleasant on the delicate armpit skin. For those of us who need a little more bang, they also create a "strong" variety that uses a little more baking soda (which can be too abrasive for some people, so they also create a light version). The ingredients in all their formulations include a base of shea butter, arrowroot powder, baking soda and coconut oil. At $9 for a pot or $11 for a stick, this is a little more affordable and will definitely still keep your pits from stinking.
3. Schmidt's
This deodorant works, but the texture of the jar variety is a bit firmer than the others. I found their regular concoction a touch abrasive for my delicate skin, however, Schmidt's has recently come out with a sensitive skin formula. So, if you have sensitive pits, their sensitive formulation may be worth a try, because Schmidt's definitely fends off the stink. It contains a base of shea butter, baking soda, arrowroot powder, cacao seed butter and hop extract. At $9 for a 2 ounce tub or a 3.25 ounce stick, Schmidt's is a great choice for someone who doesn't want to shell out a ton of cash for a quality product.
If you are just switching over to natural deodorant, it may take a couple of weeks for your body to adjust to the change. Yes, you may stink. It's a pit detox. But, if you can be patient, your body will get rid of its toxic crud and adjust to your new, non-toxic regimen.
The number of natural deodorants on the market seems to be growing every week. Do you use a natural deodorant that actually works? Share it with us below!
YOU MIGHT ALSO LIKE
8 Ways to Ensure a Better Night's Sleep
5 Essential Oil Recipes for All Your Spring Cleaning
Online Database Tells You if the Cleaning Products You Bring in Your Home Are Toxic
5 Toxic Ingredients in Shampoos and Conditioners You Should Avoid
EcoWatch Daily Newsletter
Heavy industry on the lower Mississippi helps to create dead zones.
AJ Wallace on Unsplash.
Cutting out coal-burning and other sources of nitrogen oxides (NOx) from heavy industry, electricity production and traffic will reduce the size of the world's dead zones along coasts where all fish life is vanishing because of a lack of oxygen.
Despite the ongoing coronavirus pandemic, which has restricted the ability to gather in peaceful assembly, a Canadian company has moved forward with construction of the controversial Keystone XL pipeline, according to the AP.
A gas flare from the Shell Chemical LP petroleum refinery illuminates the sky on August 21, 2019 in Norco, Louisiana. Drew Angerer / Getty Images.
Methane levels in the atmosphere experienced a dramatic rise in 2019, preliminary data released Sunday shows.
A retired West Virginia miner suffering from black lung visits a doctor for tests. Andrew Lichtenstein / Corbis via Getty Images
In some states like West Virginia, coal mines have been classified as essential services and are staying open during the COVID-19 pandemic, even though the close quarters miners work in and the known risks to respiratory health put miners in harm's way during the spread of the coronavirus.