3 More GOP Candidates to Jump in Presidential Race: Where Do They Stand on Climate?
May. 27, 2015 11:25AM EST
Climate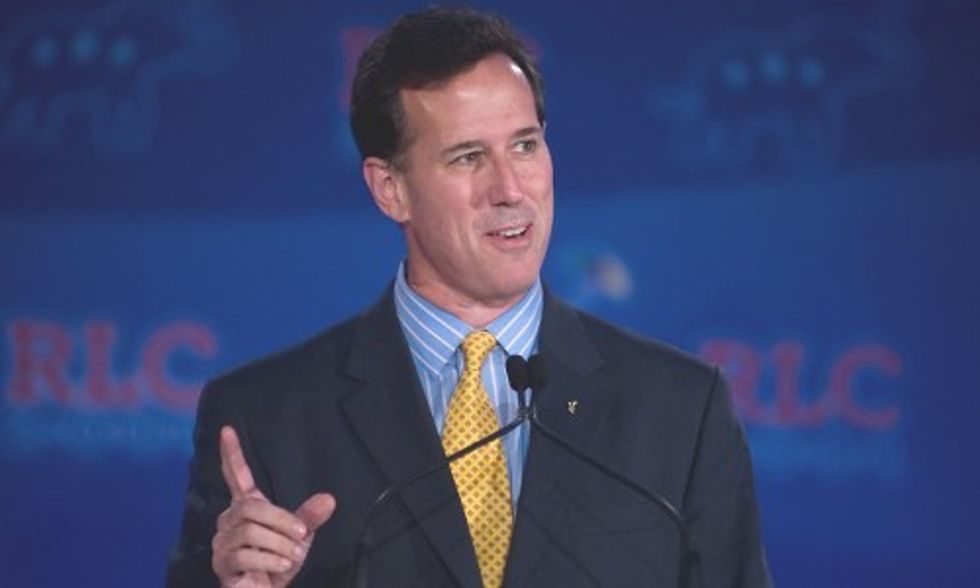 Dust off those scorecards! The Republican presidential field is set to expand again. One of the candidates fully embraces climate denial, while one appears to be trying to position himself as a sane, electable candidate while still appealing to a GOP base that's grown increasingly conservative. And one boasts a reputation as an avid environmentalist.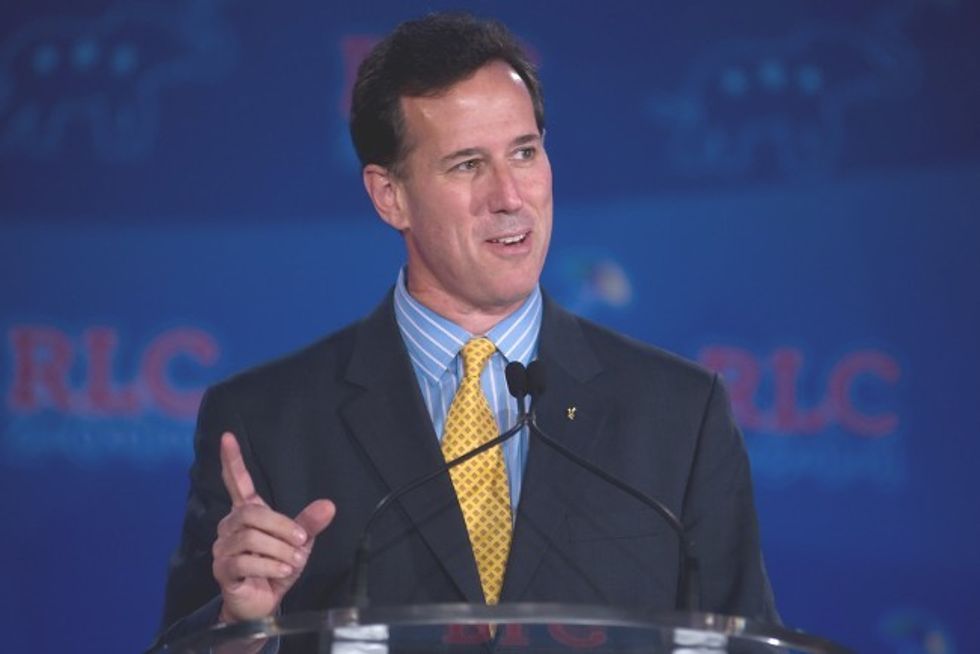 Photo credit: Shutterstock
Former Pennsylvania Sen. Rick Santorum is primarily known for his extreme positions on social issues aka sex. He has repeatedly made statements equating gay sex to incest, polygamy and bestiality—famously saying marriage equality would open the door to "man on dog" sex. He's said that contraception is "harmful" to women and that sex should be only for procreation no pleasure. It was the billionaire backer of his 2012 presidential campaign, Foster Friess, who suggested that the best method of birth control was for women to put an aspirin between their knees.
Santorum is no friend of the climate either. He's taken the position popular in some climate denier circles that, yes, climate change is happening but humans have nothing to do with it and humans can't—or shouldn't try to—fix it. He's called the position of 97 percent of climate scientists "junk science."
Back in January, Santorum told CNN host Michael Smerconish, "Is the climate warming? Clearly, over the past 15 or 20 years, the answer is yes. The question is, is man having a significant impact on that, number one. And number two, and this is even more important than the first, is there really anything we can do about it? Is there anything the United States can do about it? Clearly, no. Everything that is being considered by the United States will have almost—well, not almost, but zero impact on it given what's going on in the rest of the world."
When Smerconish asked Santorum if he meant the U.S. should do nothing, Santorum replied, "If it has no impact, of course, do nothing! Why would you do something with people admitting that even if you do something, it won't make a difference?"
Precisely who the "people" Santorum cites is not clear.
It's not the first time he's publicly espoused climate denial. During his first presidential run in 2012, he appeared on Rush Limbaugh's radio program and issued a position that will sound familiar to anyone who has been listening to GOP candidates lately; that the Earth warms and cools naturally.
"I believe the Earth gets warmer and I also believe the Earth gets cooler," he said. "And I think history points out that it does that and that the idea that man, through the production of CO2—which is a trace gas in the atmosphere, and the man-made part of that trace gas is itself a trace gas—is somehow responsible for climate change is, I think, just patently absurd when you consider all the other factors, El Niño, La Niña, sunspots, moisture in the air. There's a variety of factors that contribute to the Earth warming and cooling."
The only thing he forgot to add is that he's not a scientist, although that statement makes it pretty evident. He continued in full-blown denier mode, saying, "It's just an excuse for more government control of your life. And I've never been for any scheme or even accepted the junk science behind the whole narrative."
Santorum is certainly a long shot for the GOP nomination. South Carolina Sen. Lindsey Graham and former New York Gov. George Pataki, who both intend to announce the campaigns next week, are even longer shots. And they probably don't help themselves in this particular contest by being in contact with reality on climate change.
That's especially true of Pataki, who served as governor from 1995 through 2006. He earned a reputation as a friend of the environment during that time, pushing projects that cut greenhouse gas emissions, improved water quality, encouraged green building practices and protected green space. According to the Albany Times-Union, his Regional Greenhouse Gas Initiative, the country's first state cap-and-trade program, was the target of a (failed) lawsuit from a Buffalo-based leader of Americans for Prosperity, which the paper pointed out is "a conservative political action group supported by oilmen David and Charles Koch that is linked to the tea party movement."
Lindsey Graham probably won't be getting any money from the billionaire Koch brothers either. He's acknowledged that all the climate denial going on in the GOP might not be healthy for them.
"I think there will be a political problem for the Republican Party going into 2016 if we don't define what we are for the environment," he said late last year. "I don't know what the environmental policy of the Republican Party is."
As for his own position, he said he accepts that humans are driving climate change but rejects cap-and-trade as a solution and claims that Al Gore has turned it into a "religion."
"I'm for finding oil and gas that we own," he said on Fox News last month. "I'm for clean coal, I'm for natural gas, but I would like a lower carbon economy over time. Clean up the air and create jobs in the process."
YOU MIGHT ALSO LIKE
9 Climate-Denying Republicans Who Might Run for President
Meet 3 More Climate Deniers Who Want to Be Your President
David Suzuki: Koch Brothers Continue to Oil the Machine of Climate Change Denial
Rise and Resist activist group marched together to demand climate and racial justice. Steve Sanchez / Pacific Press / LightRocket / Getty Images
After experiencing California's wildfires, I researched the connection between wildfires and climate change. Even though I was only 13 at the time, I realized I needed to do everything in my power to advocate for our planet and ensure that we have a safe and habitable Earth for not only my generation's future, but for future generations. Every day, our planet is increasing its calls for our help. Our ice caps are melting; sea levels are rising; heatwaves and droughts are increasing. We're seeing more frequent wildfires, hurricanes, tornadoes, and other extreme weather events. Climate change is happening right now, and people all over the world are losing their livelihoods — and even their lives — as a result of the growing number of climate-fueled disasters.
My activism started with the youth climate strike movement, which began when Greta Thunberg started striking in front of the Swedish Parliament in 2018. However, I want to acknowledge that young people, especially youth of color, have been protesting and demanding action for the planet for decades. I'm honored to follow in the footsteps of all the youth activists who paved the way for my activism and for the phenomenal growth of the youth climate movement that we have seen since 2018.
My experiences in the youth climate movement have allowed me to see that one of the greatest barriers we have to urgent climate action is education. Because of the lack of climate education around the world, I founded Earth Uprising International to help young people educate one another on the climate crisis, which ultimately has the effect of empowering young people to take direct action for their futures.
The primary mission of Earth Uprising International is increased climate and civics education for youth. Climate literacy and environmental education are the first steps to mobilizing our generations. By adding climate literacy to curricula worldwide, governments can ensure young people leave school with the skills and environmental knowledge needed to be engaged citizens in their communities. A climate-educated and environmentally literate global public is more likely to take part in the green jobs revolution, make more sustainable consumer choices, and hold world leaders accountable for their climate action commitments. Youth who have been educated about the climate crisis will lead the way in adaptation, mitigation, and solution making. Youth will be the ones who will protect democracy and freedom, advocate for climate and environmental migrants, and create the political will necessary to address climate change at the scale of the crisis.
So this year, for Earth Week, I am thrilled to be organizing a global youth climate summit called "Youth Speaks: Our Message to World Leaders," on April 20. Together, in collaboration with EARTHDAY.ORG and hundreds of youth climate activists around the world, the summit will address our main issues of concern, including climate literacy, biodiversity protection, sustainable agriculture, the creation of green jobs, civic skill training, environmental justice, environmental migration and borders, the protection of democracy and free speech, governmental policy making, and political will.
From this summit, youth climate activists from all over the world will be creating a concise list of demands that we want addressed at President Biden's World Leaders Summit, occurring on Earth Day, April 22. We believe that youth must inform and inspire these critical conversations about climate change that will impact all of us!
For more information about our global youth climate summit, "Youth Speaks: Our Message to World Leaders," go to www.EarthUprising.org/YouthSpeaks2021. There, you will find information about how to participate in our summit as well as be kept up to date on the latest agenda, participants, and follow along as we develop our demands and platform.
The youth will continue to make noise and necessary trouble. There is so much left to be done.
This story originally appeared in Teen Vogue and is republished here as part of Covering Climate Now, a global journalism collaboration strengthening coverage of the climate story.
EcoWatch Daily Newsletter
U.S. Interior Secretary Deb Haaland announced a pair of climate-related secretarial orders on Friday, April 16. U.S. Department of the Interior
By Jessica Corbett
As the Biden administration reviews the U.S. government's federal fossil fuels program and faces pressure to block any new dirty energy development, Interior Secretary Deb Haaland won praise from environmentalists on Friday for issuing a pair of climate-related secretarial orders.
"Today is a watershed moment in the history of the U.S. Department of the Interior," declared Jeremy Nichols, climate and energy program director for WildEarth Guardians. "With Secretary Haaland's actions today, it's clear the Interior Department is now working for communities, science, and justice. We are grateful for her leadership and bold action to put people over polluters."
David Attenborough narrates "The Year Earth Changed," premiering globally April 16 on Apple TV+. Apple
Next week marks the second Earth Day of the coronavirus pandemic. While a year of lockdowns and travel restrictions has limited our ability to explore the natural world and gather with others for its defense, it is still possible to experience the wonder and inspiration from the safety of your home.
Here are three new films to watch this Earth Week that will transport you from pole to pole and introduce you to the scientists and activists working to save our shared home.
Where to Watch: Apple TV+
When to Watch: From April 16
The coronavirus pandemic has brought home the stakes of humanity's impact on the environment. But the lockdowns also proved how quickly nature can recover when humans give it the space. Birds sang in empty cities, whales surfaced in Glacier Bay and capybara roamed the South American suburbs.
The Year Earth Changed captures this unique year with footage from more than 30 lockdowned cities between May 2020 to January 2021. Narrated by renowned wildlife broadcaster David Attenborough, the film explores what positive lessons we can take from the experience of a quieter, less trafficked world.
"What the film shows is that the natural world can bounce back remarkably quickly when we take a step back and reduce our impact as we did during lockdown," executive producer Alice Keens-Soper of BBC Studios Natural History Unit told EcoWatch. "If we are willing to make even small changes to our habits, the natural world can flourish. We need to learn how to co-exist with nature and understand that we are not separate from it- for example if we closed some of our beaches at for a few weeks during the turtle breeding we see that it can make a huge difference to their success. There are many ways that we can adapt our behavior to allow the natural world to thrive as it did in lockdown."
When to Watch: 12 a.m. PST April 9 to 11:59 p.m. April 18
In 1989, Will Steger led an international team of six scientists and explorers to be the first humans to cross Antarctica by dogsled. Steger and his team weren't just in it for the adventure. They also wanted to draw attention to the ways in which the climate crisis was already transforming the icy continent and to rally support for the renewal of the Antarctic Treaty, which would keep the continent safe from extractive industries.
In After Antarctica, award-winning filmmaker Tasha Van Zandt follows Steger 30 years later as he travels the Arctic this time, reflecting on his original journey and once again bringing awareness to changes in a polar landscape. The film intersperses this contemporary journey with footage from the original expedition, some of which has never been seen before.
"Will's life journey as an explorer and climate activist has led him not only to see more of the polar world than anyone else alive today, but to being an eyewitness to the changes occurring across both poles," Van Zandt told EcoWatch. "But now, these changes are happening in all of our own backyards and we have all become eyewitnesses. Through my journey with Will, I have learned that although we cannot always control change, we can change our response. I feel strongly that this is a message that resonates when we look at the current state of the world, as we each have power and control over how we choose to respond to hardships, and we all have the power to unite with others through collective action around a common goal."
After Antarctica is available to stream once you purchase a ticket to the San Francisco International Film Festival. If you miss it this weekend, it will screen again at the Minneapolis St. Paul International Film Festival from May 13 to May 23.
Tasha Van Zandt
When to Watch: From Earth Day, April 22
While many films about the climate crisis seek to raise awareness about the extent of the problem, The Race to Save the World focuses on the people who are trying to stop it. The film tells the story of climate activists ranging from 15-year-old Aji to 72-year-old Miriam who are working to create a sustainable future. It follows them from the streets to the courtroom to their homes, and explores the impact of their advocacy on their personal lives and relationships.
Emmy award-winning documentary filmmaker Joe Gantz told EcoWatch that he wanted to make a film about climate change, but did not want to depress viewers with overwhelming statistics. Instead, he chose to inspire them by sharing the stories of people trying to make a difference.
"Unless millions of people take to the streets and make their voices heard for a livable future, the politicians are not going to get on board to help make the changes needed for a sustainable future," Gantz told Ecowatch. "I think that The Race To Save The World will energize and inspire people to take action so that future generations, as well as the plants, animals and ecosystems, can survive and thrive on this planet."
Check back with EcoWatch on the morning of Earth Day for a special preview of this inspiring film!
By Michael Svoboda
For April's bookshelf we take a cue from Earth Day and step back to look at the bigger picture. It wasn't climate change that motivated people to attend the teach-ins and protests that marked that first observance in 1970; it was pollution, the destruction of wild lands and habitats, and the consequent deaths of species.
An Amazon.com Inc. worker walks past a row of vans outside a distribution facility on Feb. 2, 2021 in Hawthorne, California. PATRICK T. FALLON / AFP via Getty Images
Over the past year, Amazon has significantly expanded its warehouses in Southern California, employing residents in communities that have suffered from high unemployment rates, The Guardian reports. But a new report shows the negative environmental impacts of the boom, highlighting its impact on low-income communities of color across Southern California.
The report, from the People's Collective for Environmental Justice (PCEJ) and students from the University of Redlands, shared with The Guardian, is meant to serve as an "advocacy tool to help raise awareness related to the warehouse industry's impacts on Southern California's air pollution issues," Earthjustice noted.
California's Inland Empire, 60 miles east of Los Angeles, has emerged as one of the largest "warehousing hubs" in the world in just the past few decades, according to Grist. Since establishing its first warehouse in the region in 2012, Amazon has become the largest private employer in the region, where 40,000 people now work in Amazon warehouses, picking, packing, sorting and unloading, as well as driving trucks and operating aircrafts, The New York Times Magazine reported.
"The company is so enmeshed in the community that it can simultaneously be a TV channel, grocery store, home security system, boss, personal data collector, high school career track, internet cloud provider and personal assistant," The New York Times Magazine added.
In just the last year, Amazon has tripled its delivery hubs in the region due to the demand for online shopping during the COVID-19 crisis. But despite the economic boom, heavy air pollution mainly from trucks going in and out of the warehouses infects nearby communities, the new research showed, according to The Guardian.
The research found, for example, that the populations living within a half-mile of the warehouses are 85 percent people of color, while California's overall population is 64 percent people of color, The Guardian reported. The research also found that communities with the most Amazon warehouses nearby have the lowest rates of Amazon sales per household.
"Amazon has boomed in 2020 and tripled the amount of money it's making, and it is happening at a cost to the folks who live in these communities," Ivette Torres, a PCEJ environmental science researcher and analyst, who helped put the research together, told The Guardian.
The research also demonstrated that the top 10 communities with the most warehouses in the region also experience pollution from other facilities, like gas plants and oil refineries, Earthjustice wrote in a statement.
"The Inland Empire, probably more than any region in the United States, has disproportionately [borne] the brunt of the environmental and economic impact of goods movement, and Amazon is driving that now in the Inland Empire," Jake Wilson, a California State University, Long Beach, professor of sociology, told Grist.
Last year, the San Bernardino International Airport Authority ratified a decision to allow an air cargo facility development at the airport, allowing Amazon to operate more flights out of the region, Grist reported.
Among the local residents to oppose the decision was Jorge Osvaldo Heredia, a resident of San Bernadino in Southern California since 2005. "This whole region has been taken over by warehouses," Heredia told Grist, and commented on the "horrible" air quality in the city on most days. "It's really reaching that apex point where you can't avoid the warehouses, you can't avoid the trucks," he added.
Advocates who published the research are pushing on the South Coast Air Quality Management District, a local air pollution regulatory agency, to move forward with the Warehouse Indirect Source Rule, which would require new and existing warehouses to take action to reduce emissions locally each year, The Guardian reported. Some solutions include moving towards zero-emissions trucks and mitigation fees.
"Last year, we saw some of the worst air quality, with wildfires adding to it, and the trucks were still in and out of our communities. So this is a huge change that we need right now, and that we actually needed yesterday," Torres concluded, according to The Guardian.
From Your Site Articles
Related Articles Around the Web