This website uses cookies to ensure you get the best experience while browsing it. By clicking 'Got It' you're accepting these terms.
3 More GOP Candidates to Jump in Presidential Race: Where Do They Stand on Climate?
May. 27, 2015 10:25AM EST
Politics
Dust off those scorecards! The Republican presidential field is set to expand again. One of the candidates fully embraces climate denial, while one appears to be trying to position himself as a sane, electable candidate while still appealing to a GOP base that's grown increasingly conservative. And one boasts a reputation as an avid environmentalist.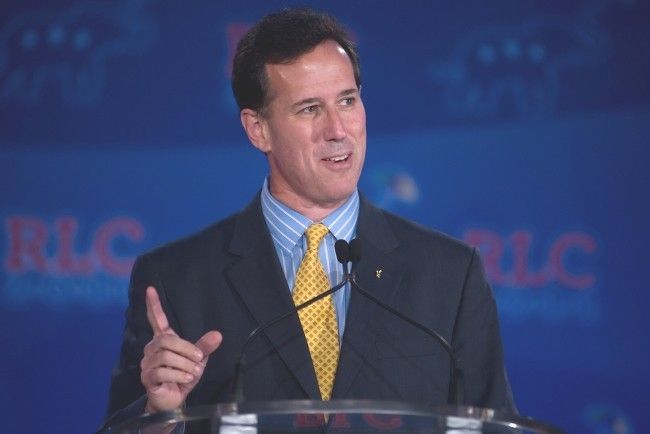 Photo credit: Shutterstock
Former Pennsylvania Sen. Rick Santorum is primarily known for his extreme positions on social issues aka sex. He has repeatedly made statements equating gay sex to incest, polygamy and bestiality—famously saying marriage equality would open the door to "man on dog" sex. He's said that contraception is "harmful" to women and that sex should be only for procreation no pleasure. It was the billionaire backer of his 2012 presidential campaign, Foster Friess, who suggested that the best method of birth control was for women to put an aspirin between their knees.
Santorum is no friend of the climate either. He's taken the position popular in some climate denier circles that, yes, climate change is happening but humans have nothing to do with it and humans can't—or shouldn't try to—fix it. He's called the position of 97 percent of climate scientists "junk science."
Back in January, Santorum told CNN host Michael Smerconish, "Is the climate warming? Clearly, over the past 15 or 20 years, the answer is yes. The question is, is man having a significant impact on that, number one. And number two, and this is even more important than the first, is there really anything we can do about it? Is there anything the United States can do about it? Clearly, no. Everything that is being considered by the United States will have almost—well, not almost, but zero impact on it given what's going on in the rest of the world."
When Smerconish asked Santorum if he meant the U.S. should do nothing, Santorum replied, "If it has no impact, of course, do nothing! Why would you do something with people admitting that even if you do something, it won't make a difference?"
Precisely who the "people" Santorum cites is not clear.
It's not the first time he's publicly espoused climate denial. During his first presidential run in 2012, he appeared on Rush Limbaugh's radio program and issued a position that will sound familiar to anyone who has been listening to GOP candidates lately; that the Earth warms and cools naturally.
"I believe the Earth gets warmer and I also believe the Earth gets cooler," he said. "And I think history points out that it does that and that the idea that man, through the production of CO2—which is a trace gas in the atmosphere, and the man-made part of that trace gas is itself a trace gas—is somehow responsible for climate change is, I think, just patently absurd when you consider all the other factors, El Niño, La Niña, sunspots, moisture in the air. There's a variety of factors that contribute to the Earth warming and cooling."
The only thing he forgot to add is that he's not a scientist, although that statement makes it pretty evident. He continued in full-blown denier mode, saying, "It's just an excuse for more government control of your life. And I've never been for any scheme or even accepted the junk science behind the whole narrative."
Santorum is certainly a long shot for the GOP nomination. South Carolina Sen. Lindsey Graham and former New York Gov. George Pataki, who both intend to announce the campaigns next week, are even longer shots. And they probably don't help themselves in this particular contest by being in contact with reality on climate change.
That's especially true of Pataki, who served as governor from 1995 through 2006. He earned a reputation as a friend of the environment during that time, pushing projects that cut greenhouse gas emissions, improved water quality, encouraged green building practices and protected green space. According to the Albany Times-Union, his Regional Greenhouse Gas Initiative, the country's first state cap-and-trade program, was the target of a (failed) lawsuit from a Buffalo-based leader of Americans for Prosperity, which the paper pointed out is "a conservative political action group supported by oilmen David and Charles Koch that is linked to the tea party movement."
Lindsey Graham probably won't be getting any money from the billionaire Koch brothers either. He's acknowledged that all the climate denial going on in the GOP might not be healthy for them.
"I think there will be a political problem for the Republican Party going into 2016 if we don't define what we are for the environment," he said late last year. "I don't know what the environmental policy of the Republican Party is."
As for his own position, he said he accepts that humans are driving climate change but rejects cap-and-trade as a solution and claims that Al Gore has turned it into a "religion."
"I'm for finding oil and gas that we own," he said on Fox News last month. "I'm for clean coal, I'm for natural gas, but I would like a lower carbon economy over time. Clean up the air and create jobs in the process."
YOU MIGHT ALSO LIKE
9 Climate-Denying Republicans Who Might Run for President
Meet 3 More Climate Deniers Who Want to Be Your President
David Suzuki: Koch Brothers Continue to Oil the Machine of Climate Change Denial
EcoWatch Daily Newsletter
A dead sea lion on the beach at Border Field State Park, near the international border wall between San Diego, California and Tijuana, Mexico. Sherry Smith / iStock / Getty Images
People crossing the Brooklyn Bridge on July 20, 2017 in New York City sought to shield themselves from the sun as the temperature reached 93 degrees. Drew Angerer / Getty Images
by Jordan Davidson

Taking action to stop the mercury from rising is a matter of life and death in the U.S., according to a new study published in the journal Science Advances.
Salmon fry before being released just outside San Francisco Bay. Jim Wilson / The New York Times / Redux
By Alisa Opar
For Chinook salmon, the urge to return home and spawn isn't just strong — it's imperative. And for the first time in more than 65 years, at least 23 fish that migrated as juveniles from California's San Joaquin River and into the Pacific Ocean have heeded that call and returned as adults during the annual spring run.
Protesters hold a banner and a placard while blocking off the road during a protest against Air pollution in London. Ryan Ashcroft / SOPA Images / LightRocket / Getty Images
By Jessica Corbett
Dozens of students, parents, teachers and professionals joined a Friday protest organized by Extinction Rebellion that temporarily stalled morning rush-hour traffic in London's southeasten borough of Lewisham to push politicians to more boldly address dangerous air pollution across the city.

Jose A. Bernat Bacete / Moment / Getty Images
By Bridget Shirvell
On a farm in upstate New York, a cheese brand is turning millions of pounds of food scraps into electricity needed to power its on-site businesses. Founded by eight families, each with their own dairy farms, Craigs Creamery doesn't just produce various types of cheddar, mozzarella, Swiss and Muenster cheeses, sold in chunks, slices, shreds and snack bars; they're also committed to becoming a zero-waste operation.

By Jessica A. Knoblauch
Summers in the Midwest are great for outdoor activities like growing your garden or cooling off in one of the area's many lakes and streams. But some waters aren't as clean as they should be.
That's in part because coal companies have long buried toxic waste known as coal ash near many of the Midwest's iconic waterways, including Lake Michigan. Though coal ash dumps can leak harmful chemicals like arsenic and cadmium into nearby waters, regulators have done little to address these toxic sites. As a result, the Midwest is now littered with coal ash dumps, with Illinois containing the most leaking sites in the country.

picture-alliance / AP Photo / NOAA Pacific Islands Fisheries Science Center
The Group of 20 major economies agreed a deal to reduce marine pollution at a meeting of their environment ministers on Sunday in Karuizawa, Japan.