3 Islands Lead the Way By Going 100% Renewable Energy
By Jeremy Gottlieb
100% renewable energy to some may sound like nothing more than a pipe dream, but in reality, it already exists. As giant countries like China, North America and India continue to pump out never ending streams of greenhouse gas emissions into the atmosphere, small, low-elevation islands are at risk of serious damage from rising sea levels and more intense and frequent storms. But some islands refuse to surrender and are doing everything in their capacity to do their part, even if that means overhauling their electricity grid as a means to achieve 100% clean, renewable energy. Of course this transition does not only contribute towards a healthier planet, but also a lower fuel bill for the islands as it is expensive to purchase and receive diesel and other fuels by sea or air.
Tokelau
You may not have heard of the small island of Tokelau before, but its 1,500 inhabitants live on three atolls in the South Pacific where the maximum height above sea level is less than 17 feet. At the Durban Climate Conference in 2011, the Head of the Government of Tokelau, Foua Toloa, declared that his nation would be powered completely by renewable energy by 2012. By October of that year, Tokelau had fulfilled its goal.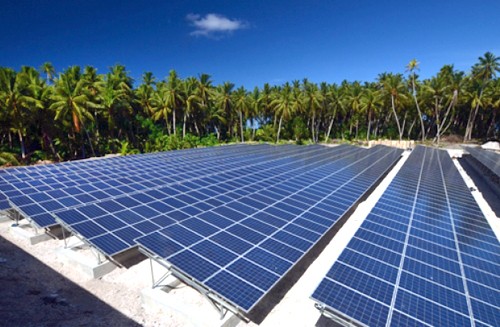 Prior to the 2012 conversion to clean energy, the island was dependent on three diesel-powered generators (one on each atoll) that burned 200 liters of fuel a day and cost the country nearly $800,000 on an annual basis. Furthermore, Tokelauans only had access to electricity between 15-18 hours each day, hardly the recipe for progress and growth. Now, with their solar panels and batteries for storage when the sun isn't shining, Tokelau can now produce 150% of its electrical need. Not only are carbon emissions and costs reduced, but energy is more accessible than ever before.
El Hierro
El Hierro is an island at the western edge of Spain's Canary Islands that has forsaken fossil fuels in favor of the plentiful renewable energy sources that bless the island. With a dormant volcano, strong breezes and abundant sunshine to draw from, El Hierro uses water, wind and fire to power itself to self-sufficiency. Much larger than Tokelau, the island has more than 10,000 residents and formerly emitted some 18,200 tons of carbon dioxide each year. That is however, until El Hierro built wind turbines, photovoltaic  panels and hydroelectric sources to replace the need of polluting energy generation.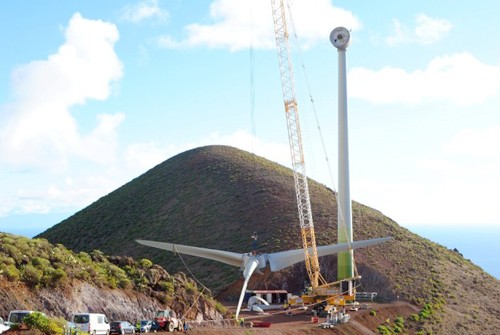 Samsø
The Danish island of Samsø was actually the first island in the world to become completely powered by renewable energy. In 1997, the island won a government sponsored competition to become a model renewable energy community and since then has added 21 wind turbines to fulfill the electricity needs of the approximately 4,000 residents. Of the 21 turbines that belong to the island twice the size of Manhattan, residents own a share in 20 of them. Soren Hermansen, one of the leading proponents of wind power in the area, addressed the critique that wind turbines are unsightly or noisy with the response, "If you own a share in a wind turbine it looks better, it sounds better. It sounds like money in the bank." It's difficult to argue with that.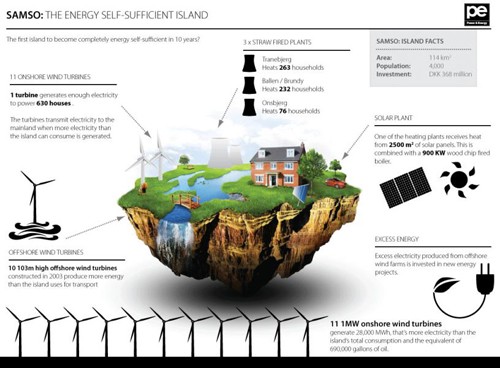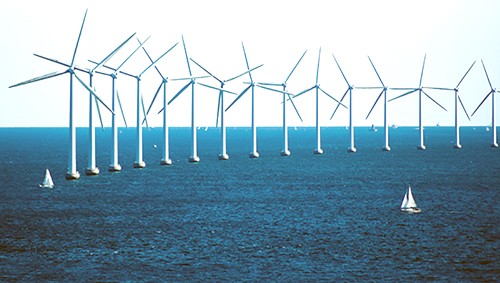 Transitioning to a 100% clean energy world is not only possible, it is inevitable. As Mr. Hermansen said, giving people a stake in creating clean energy will help accelerate its advancement. At Mosaic, we agree—the fastest way to grow the clean energy economy is to enable the most people to benefit from it. And our platform is making that possible. Thousands of people across the country are already earning 4-7% returns from 100% clean energy. We invite you to join us.
Jeremy is a Fellow at Mosaic, a company connecting investors to high quality solar project.
Disturbing footage of a snake in Goa, India vomiting an empty soft drink bottle highlights the world's mounting plastic pollution crisis.
Keep reading...
Show less
By Melissa Hellmann
When her eldest son was in elementary school in the Oakland Unified School District, Ruth Woodruff became alarmed by the meals he was being served at school. A lot of it was frozen, processed foods, packed with preservatives. At home, she was feeding her children locally sourced, organic foods.
Keep reading...
Show less
May. 28, 2017 01:33PM EST
Laurie Woolever
By James O'Hare
There are 20 million people in the world facing famine in South Sudan, Somalia, Nigeria and Yemen. In developed nations, too, people go hungry. Venezuela, for instance, is enduring food insecurity on a national level as a result of economic crisis and political corruption. In the U.S., the land of supposed excess, 12.7 percent of households were food insecure in 2015, meaning they didn't know where their next meal would come from.
Keep reading...
Show less
May. 28, 2017 01:22PM EST
Melwater, Greenland ice sheet. Diane Tuft
Artists are taking the climate crisis into frame and the results are emotional, beautiful and stirring.
So you've seen the best climate change cartoons and shared them with your friends. You've showed your family the infographics on climate change and health, infographics on how the grid works and infographics about clean, renewable energy. You've even forwarded these official National Oceanic and Atmospheric Administration graphs that explain the 10 clear indicators of climate change to your colleagues at the office.
Keep reading...
Show less
May. 27, 2017 01:11PM EST
As the Trump administration moves full speed ahead on boosting the oil and fossil fuel industry, opposition to increased pipeline construction is cropping up in different communities around the country.
Keep reading...
Show less
May. 27, 2017 01:02PM EST
Minke whale stranding near Havergate Island in Suffolk. MCGA.
By Simon Evans
Last Saturday, two dead whales washed up on the coast of Suffolk, in eastern England, and a third was spotted floating at sea.
What happened next illustrates how news can spread and evolve into misinformation, when reported by journalists rushing to publish before confirming basic facts or sourcing their own quotes.
Keep reading...
Show less
May. 27, 2017 01:22PM EST
By Monica Amarelo and Paul Pestano
Sun safety is a crucial part of any outdoor activity for kids, and sunscreen can help protect children's skin from harmful ultraviolet rays. Kids often get sunburned when they're outside unprotected for longer than expected. Parents need to plan ahead and keep sun protection handy in their cars or bags.
Keep reading...
Show less
May. 27, 2017 01:02PM EST
By Joe McCarthy
A lot of people take part in community clean-up efforts—spending a Saturday morning picking up litter in a park, mowing an overgrown field or painting a fence.
Keep reading...
Show less