This website uses cookies to ensure you get the best experience while browsing it. By clicking 'Got It' you're accepting these terms.
3 Huge Signs the Divest From Fossil Fuels Campaign Is Winning
Sep. 04, 2015 11:39AM EST
Energy
The campaign around the world to divest from fossil fuels has really heated up this year. Students at Swarthmore, Yale, Harvard and University of Washington among many others demanded their institutions put their money where their mouth is and stop investing "in an industry that is actively destabilizing the future that our education is meant to prepare us for," as one student at Swarthmore put it.
"Coal is in fact a bad investment" - for California, divesting from coal made a lot of sense http://t.co/m2SeqRUf5u pic.twitter.com/CicdPmyDnL

— 350 dot org (@350) September 3, 2015
Not all of the campaigns so far this year have been successful, but to date, 397 institutions have at least partially divested—including foundations, faith groups, pension funds, governmental organizations, universities, nonprofits and for-profits. One notable case came from the Norwegian Parliament, which took the unprecedented step of mandating that its sovereign wealth fund (the richest in the world) divest from coal burning and coal producing companies. And, in the past few weeks, there have been some more major divestment victories: 1. California Assembly votes to divest pension funds from coal California lawmakers passed a bill on Wednesday that requires the state's two largest pension plans—California Public Employees' Retirement System (CalPERS) and California State Teachers' Retirement System (CalSTRS)—to divest their holdings from thermal coal.
ICYMI: California voted to pull $500b out of coal. Biggest divestment in the U.S. by far. http://t.co/gBFKZXbsQN pic.twitter.com/PBZGfJ9NPI — Karthik Ganapathy (@kartpath) September 3, 2015
"Coal is the fuel of the past and it's no longer a wise investment for our pensioners," said assemblyman Rob Bonta, who presented the bill before the assembly. "I'm pleased that my colleagues agree: it's time to move on from this dirty energy source." The measure to divest CalPERS and CalSTRS—the largest public pension funds in the U.S.—is part of a legislative push in California to address climate change. "What a signal of hope amid California's relentless drought and the planet's hottest summer," said Bill McKibben, co-founder of 350.org. "That California—Earth's eighth biggest economy—will begin to pull its money out of fossil fuel stocks is a sign about what technologies are the future, and which are the dirty past." Read page 1 2. Environmental leaders launch "Divest for Paris" At the Paris Divestment Conference on Tuesday, environmental leaders launched Divest for Paris, which challenges "institutions, individuals and governments to show climate leadership and align their investments with their values by divesting from fossil fuels ahead of the COP21 Climate Summit in Paris."
Pressure grows for fossil fuel divestment ahead of Paris climate talks http://t.co/JZ73oRTRLn pic.twitter.com/xj4PA65FOt — TckTckTck (@tcktcktck) September 2, 2015
The event was co-hosted by 350.org and the European Green Party. "If you say you want action in Paris, then you have a responsibility to divest from fossil fuels,"said 350.org Executive Director May Boeve. "By shifting resources from the dirty energy of the past to the 100 percent renewable energy of the future, institutions can model the type of action we need from countries at COP21. With our climate in crisis, divestment is a moral necessity." Emphasising the power of divestment as not just a moral necessity, but a democratic one, Nicolas Haeringer, 350.org divestment organizer in France said: "French institutions, such as the Caisse des Dépôts—France's most important public investor—should set the example and listen to local authorities. Divesting from fossil fuel helps address the climate crisis, but is also a democratic necessity: if investments have an impact on our future, then investors should listen to the demands of citizens and their representatives." 3. The world's largest coal port voted to divest from all fossil fuels The city of Newcastle, Australia, which has the most coal going through its port every day, voted last week to divest its $270 million investment portfolio from fossil fuels, including coal. "The importance of this decision cannot be glossed over," says 350.org. "It is outstanding leadership for a city that is neck-deep in fossil fuels to make the call that it's time to get out of them. Obviously this divestment decision won't stop the coal port from continuing on at this point, but it sets the direction for the city going forward." Prime Minister Tony Abbott came out against the decision as have other Australian politicians.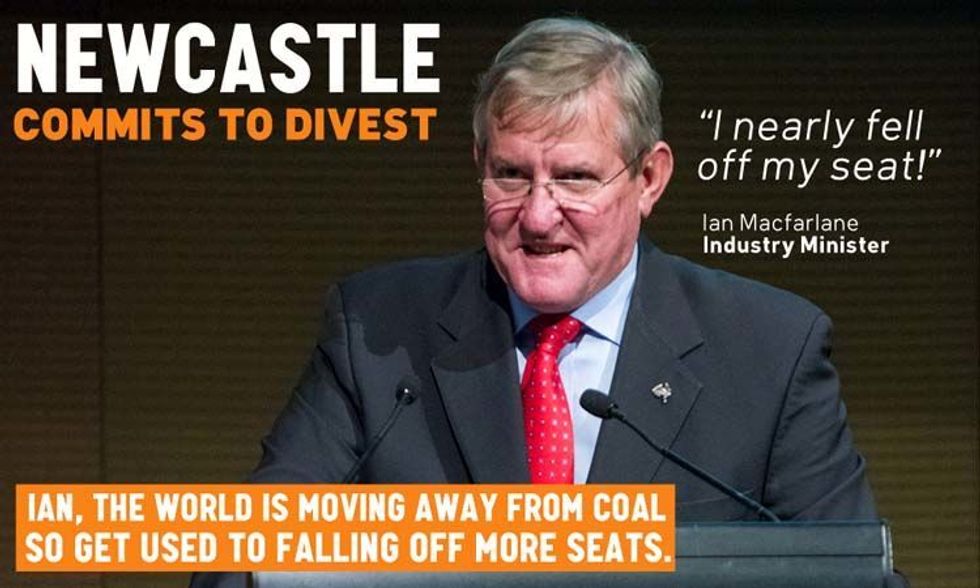 Newcastle city councillor Declan Clausen explained the city's aspirations moving forward:
There are an increasing group of start-ups in Newcastle that are looking at a clean-tech future, we are embracing those opportunities. The coal downturn has particularly affected the Hunter Valley. Clean techs are going to be a significant employer moving forward. Council is being on the front foot about that.
In response to the Newcastle vote, McKibben said, "We're suddenly and decisively, in a one-way transition to a renewable future and the only question—perhaps the most important question humans have ever faced—is whether we can make that transition fast enough to save the planet." YOU MIGHT ALSO LIKE Third U.S. City Goes 100% Renewable
Bill McKibben: The Turning Point Towards a Low-Carbon Future
EcoWatch Daily Newsletter
The CDC has emphasized that washing hands with soap and water is one of the most effective ways to prevent the spread of COVID-19. Guido Mieth / Moment / Getty Images
The Centers for Disease Control has emphasized that washing hands with soap and water is one of the most effective measures we can take in preventing the spread of COVID-19. However, millions of Americans in some of the most vulnerable communities face the prospect of having their water shut off during the lockdowns, according to The Guardian.
A California newt (Taricha torosa) from Napa County, California, USA. Connor Long /
CC BY-SA 3.0
Aerial photos of the Sierra Nevada — the long mountain range stretching down the spine of California — showed rust-colored swathes following the state's record-breaking five-year drought that ended in 2016. The 100 million dead trees were one of the most visible examples of the ecological toll the drought had wrought.
Now, a few years later, we're starting to learn about how smaller, less noticeable species were affected.
Disinfectants and cleaners claiming to sanitize against the novel coronavirus have started to flood the market.
Natthawat / Moment / Getty Images
Disinfectants and cleaners claiming to sanitize against the novel coronavirus have started to flood the market, raising concerns for the U.S. Environmental Protection Agency (EPA), which threatened legal recourse against retailers selling unregistered products, according to The New York Times.
A customer packs groceries in reusable bags at a NYC supermarket on March 1, 2020. Eduardo Munoz Alvarez/Getty Images
The global coronavirus pandemic has thrown our daily routine into disarray. Billions are housebound, social contact is off-limits and an invisible virus makes up look at the outside world with suspicion. No surprise, then, that sustainability and the climate movement aren't exactly a priority for many these days.
Ingredients are displayed for the Old School Pinto Beans from the Decolonize Your Diet cookbook by Luz Calvo and Catriona Rueda Esquibel. Melissa Renwick / Toronto Star via Getty Images
By Molly Matthews Multedo
Livestock farming contributes to global warming, so eating less meat can be better for the climate.