This website uses cookies to ensure you get the best experience while browsing it. By clicking 'Got It' you're accepting these terms.
3 Herbal Recipes for Beautiful Hair
Jul. 28, 2014 10:49AM EST
Herbs have long been held in high esteem for natural hair care. Throughout history, herbs and other botanicals have been used in all kinds of hair-care products, from hair rinses and deep-conditioning treatments to remedies for dandruff, hair loss and other scalp problems.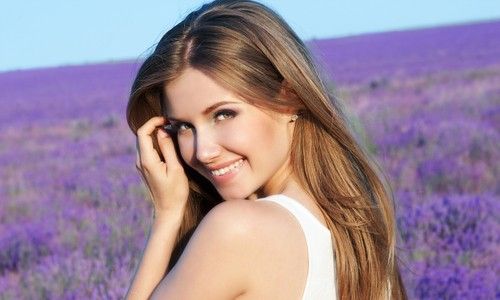 Herbs appropriate for all hair types include lavender, chamomile, nettle, rose and rosemary. Photo courtesy of Shutterstock
Rinses and conditioners are the best ways to bring the benefits of herbs to your hair. Many commercial shampoos tout the benefits of the herbs they contain. Although these herbal shampoos smell wonderful (and can lift your mood), they do little to truly improve hair health because they remain on your hair for just a short time.
For more lasting benefits, select herbal rinses and deep conditioners, which are left on your hair for a longer period of time and are therefore better able to coat and penetrate the hair shaft. Dry hair benefits from oil- and protein-rich deep-conditioning treatments.
You can use an herbal tea, or infusion, as a simple homemade hair rinse. Nettle, considered appropriate for all hair types, is one good choice. Or experiment with calendula, rosemary, sage or other herbs. Adding vinegar or lemon juice to the infusion will help restore your hair's natural pH. The vinegar scent dissipates quickly and will not remain in your hair.
Simple Herbal Hair Rinse
Ingredients:
1 teaspoon dried herb or handful of fresh herbs*
1 tablespoon apple cider vinegar or lemon juice
*Herbs traditionally used for treating dry hair include calendula, comfrey leaf and root and marshmallow root. Herbs appropriate for all hair types include chamomile, lavender, nettle, rose and rosemary. Scalp irritations can be soothed with calendula, comfrey or German chamomile, while dandruff can be helped with burdock, sage, nettle or rosemary.
Directions:
Place the herb or herbs in a bowl and pour 1 cup of boiling water over the top. Add the vinegar or lemon juice and steep, covered, for 10 to 15 minutes. Strain, let the infusion cool to a comfortable temperature, and pour it through freshly shampooed hair. (Makes enough for one use.)
Moisturizing Deep-Conditioning Treatment
Ingredients:
½ avocado (mashed), 1 tablespoon plain yogurt, or 1 tablespoon powdered milk
Egg yolk
1 to 2 tablespoons olive oil, coconut oil or shea butter
Directions:
In a medium bowl, combine the avocado, yogurt, or powdered milk and the egg yolk. Stir to thoroughly combine. Moisten the mixture with the olive oil, coconut oil, or shea butter. Work the conditioner thoroughly through your hair, paying special attention to the ends. Cover your head with a shower cap or plastic bag, and relax for 10 to 20 minutes. Rinse, then wash your hair thoroughly with a pH-balanced shampoo.
Herbal Hair Coloring
Herbs can be used to enhance hair color. The most important herbal hair dye comes from henna (Lawsonia inermis), used in Egypt, India and the Middle East for at least 8,000 years to provide hair with shine and striking red highlights. Other herbs, such as turmeric and saffron (for yellow) and nettle (for green), were also used. Commercial henna hair dyes come in a variety of colors, but only true, unadulterated henna creates the red color. Black henna, for example, contains a synthetic black hair dye.
Henna is also used to create temporary tattoos that are an important part of traditional Indian wedding ceremonies. The longer the henna remains on your skin, the darker and longer lasting the tattoo will be. The henna dye soaks into the outermost layer of skin and coats the hair shaft, but it does not permanently stain skin or hair.
Various other herbs can be used to enhance natural hair color, even though they are not true dyes. For example, hair rinses that contain German and Roman chamomile are used to add shine and bring out highlights in blond hair. Rosemary and sage rinses are believed to help enhance the natural beauty of brunette hair. 
Want to put herbs to more good use? Get beautiful from the inside out by working these beauty foods into your meal plans.
Adapted from Rodale's 21st Century Herbal by Michael Balick, PhD. This article originally appeared on Rodale News.

You Might Also Like
What to Avoid in Toothpaste, and How to Make Your Own
Cancer-Causing Chemical in Shampoos Subject of Ground-Breaking Legal Agreement
Powerful Antioxidant You Can Eat, Drink or Apply to Your Skin
EcoWatch Daily Newsletter
An aerial view of the Kudala Sangama submerged in floodwaters about 460 kms of the South Indian city of Bangalore on Aug. 10. Floods have displaced hundreds of thousands across much of India with the southern state of Kerala worst hit, authorities said on Aug. 10. STR / AFP / Getty Images
The southern India state of Kerala, having lost almost a million homes in two disastrous floods in 2018 and 2019, is trying to adapt to climate change by building homes for the poor that are flood-resistant.

The Paradise Fossil Plant in Kentucky. Coal-fired power plants are a major source of air pollution.
TVA / GPA Photo Archive / Flickr /
CC BY 2.0
Tweeting that the U.S. has the cleanest air in the world does not make it so. Not only do we rank 10th, but a new study says that after steady improvement during the Obama-era, air pollution has gotten worse while Donald Trump has been president.
In this Oct. 7 handout photo from the Aracaju Municipal Press Office, workers are removing oil from Viral Beach, in Aracaju, Brazil. The spill has been polluting Brazil's beaches since early September. Aracaju Municipal Press Office / AP
More than 1,000 miles of shoreline in Brazil are now contaminated by a mysterious oil spill. that has lasted for weeks as the country struggles to clean what may be its largest oil spill in history.
Nitrogen dioxide and nitrogen oxides, the pollutants released by diesel vehicles are a major source of air pollution in London. Jack Taylor / Stringer / Getty Images
On days where air pollution is higher, hundreds of people across nine major cities in England are suffering from more potentially fatal cardiac arrests or heading to the hospital for strokes or severe asthma attacks, according to new research from King's College in London.
A diet high in fish and vegetables can help keep your gut healthy. Linda Raymond / E+ / Getty Images
By Heather Cruickshank
Trillions of bacteria and other microbes live in the human digestive system. Together, they form a community that's known as the gut microbiota.
Many bacteria in the microbiota play important roles in human health, helping to metabolize food, strengthen intestinal integrity and protect against disease.
The message of the global movement to ban fracking and get off fossil fuels envisions a different future, one that starts with cutting off pollution at the source. cta88 / iStock / Getty Images Plus