This website uses cookies to ensure you get the best experience while browsing it. By clicking 'Got It' you're accepting these terms.
3 Frog Species That Depend on the Very Unique Habitat of Vernal Pools
Apr. 19, 2016 12:30PM EST
Animals
By Glenn Watkins, National Wildlife Federation
In honor of Save the Frogs Day, April 30, we're celebrating species of frogs that depend on a very unique habitat—vernal pools.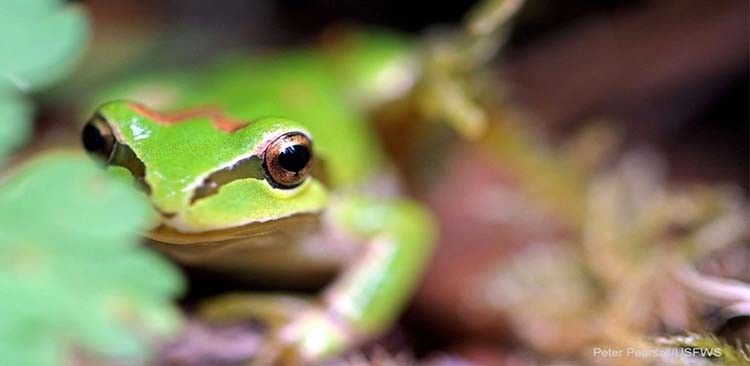 Vernal pools are shallow depressional wetlands that appear seasonally in meadows and woodlands and serve as important breeding grounds for amphibians like frogs. The seasonal wetlands and pools of the prairie pothole region are also vernal pools. Memorialized in Robert Frost's Spring Pools, these unique wetlands usually collect water in the winter and spring and typically dry up by the end of summer.
Since vernal pools are usually not filled with water year-round, fish cannot inhabit them. This makes vernal pools prime habitat for frogs like the ones below because there aren't any fish to eat their eggs and tadpoles!
Wood Frog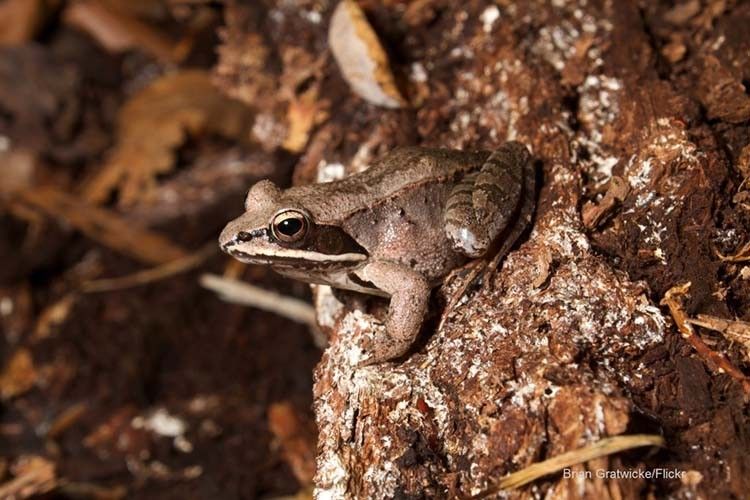 The wood frog ranges from New England, the Appalachians and the Great Lake states to as far north as the Arctic Circle. To survive, they possess the surprising ability to freeze!
During cold winter months, they cease breathing, their heart stops and nearly 70 percent of their body water turns to ice. As ice crystals form beneath their skin, they produce a substance that acts as an anti-freeze, allowing them to stay alive.
As the weather warms in early spring, the frogs thaw out and head to vernal pools to find mates, sometimes even before the ice has fully melted. They're the first frogs to herald in the spring with strange voices that sound similar to a duck quacking.
Spring Peeper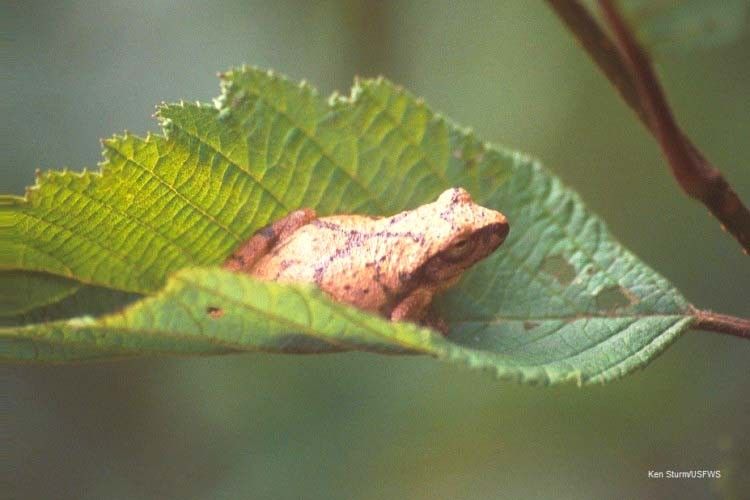 The spring peeper, Pseudacris crucifer, also breeds in vernal pools to avoid predators like fish. These tiny frogs are found in vernal pools in many eastern states and are usually no longer than 1 inch. Their small size and nocturnal habits make them tough to spot, but they're definitely not difficult to hear! Spring peepers emerge and start their ear-piercing choruses soon after the wood frogs.
Pacific Chorus Frog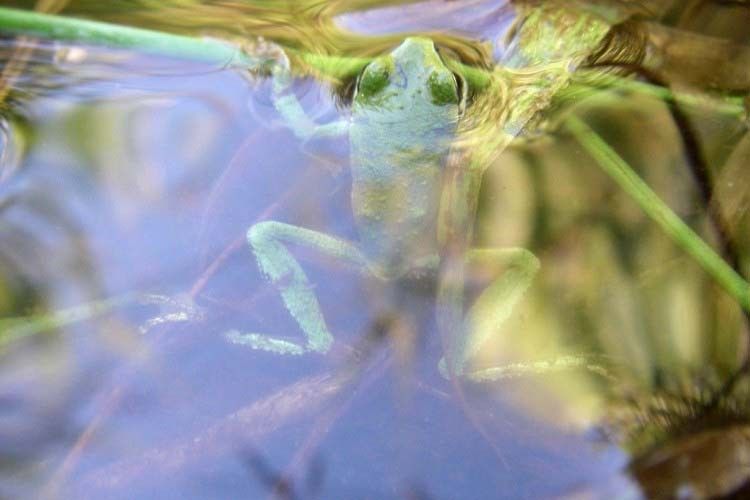 Vernal pools are also found out west, like those in California. The Pacific chorus frog is a common inhabitant of these western vernal pools during breeding season. The chorus frog's characteristic "krek-ek" is the most commonly used frog noise in Hollywood films.
Take Action for Frog's Threatened Pools
Though their seasonal nature makes vernal pools important breeding habitat for frogs, it also makes them vulnerable to development and pollution. Many amphibians return to the same wetland where they were born to breed, so the destruction of vernal pools may threaten many populations of these species.
Due to two Supreme Court cases that muddied what water bodies are covered by the Clean Water Act, small streams and wetlands have not clearly been protected. However, the Environmental Protection Agency and the Army Corps of Engineers have finalized the Clean Water Rule, which clears up these uncertainties and clarifies what waters have Clean Water Act protections. This rule would make it easier to more accurately identify and protect small streams and wetlands on which frogs and other wildlife depend.
Celebrate Save the Frogs day by taking action to help protect frogs who depend so much on these threatened wetlands.
YOU MIGHT ALSO LIKE
Meet the 2016 Goldman Environmental Prize Winners
Antartica's Penguins Need Your Help, Become a Citizen Scientist Today
The National Park Service Is Turning 100 and You're Invited
WWF and Leonardo DiCaprio: Wild Tiger Populations Increase for First Time in 100 Years
EcoWatch Daily Newsletter
David Gilmour performs at Anfiteatro Scavi di Pomei on July 7, 2016 in Pompei, Italy. Francesco Prandoni / Redferns / Getty Images
David Gilmour, guitarist, singer and songwriter in the rock band Pink Floyd, set a record last week when he auctioned off 126 guitars and raised $21.5 million for ClientEarth, a non-profit environmental law group dedicated to fighting the global climate crisis, according to CNN.
U.S. Secretary of Agriculture Sonny Perdue speaks during a forum April 18, 2018 in Washington, DC. Alex Wong / Getty Images
The Trump administration ratcheted up its open hostility to climate science in a move that may hide essential information from the nation's farmers.
Simple swaps that cut down on kitchen trash.
Sponsored
By Kayla Robbins
Along with the bathroom, the kitchen is one of the most daunting areas to try and make zero waste.
Protestors and police stand on ether side of railway tracks. dpa / picture-alliance
Police have cleared 250 climate activists who stayed overnight at the Garzweiler brown coal mine in western Germany, officials said Sunday.
Cecilie_Arcurs / E+ / Getty Images
By Megan Jones and Jennifer Solomon
The #MeToo movement has caused profound shake-ups at organizations across the U.S. in the last two years. So far, however, it has left many unresolved questions about how workplaces can be more inclusive and equitable for women and other diverse groups.

Cigarette butts are the most-littered item found at beach clean ups. John R. Platt
By Tara Lohan
By now it's no secret that plastic waste in our oceans is a global epidemic. When some of it washes ashore — plastic bottles, plastic bags, food wrappers — we get a stark reminder. And lately one part of this problem has been most glaring to volunteers who comb beaches picking up trash: cigarette butts.

Andrea Rodgers, second from the right, takes notes during a hearing in the Juliana v. U.S. case before the 9th Circuit Court of Appeals in Portland, Oregon on June 4. Colleague Elizabeth Brown sits to her left, while colleague Julia Olson sits on her right, with co-council Philip Gregory on Julia's right. Robin Loznak / Our Children's Trust
By Fran Korten
On June 4, Andrea Rodgers was in the front row of attorneys sitting before a three-judge panel of the 9th Circuit Court. The court session, held in Portland, Oregon, was to determine whether the climate change lawsuit (Juliana v. United States) brought by 21 young plaintiffs should be dismissed, as requested by the U.S. government, or go on to trial.
Seventy Extinction Rebellion protesters were arrested outside The New York Times building Saturday.
SCOOTERCASTER / YouTube screenshot