This website uses cookies to ensure you get the best experience while browsing it. By clicking 'Got It' you're accepting these terms.
3 Frog Species That Depend on the Very Unique Habitat of Vernal Pools
Apr. 19, 2016 12:30PM EST
Animals
By Glenn Watkins, National Wildlife Federation
In honor of Save the Frogs Day, April 30, we're celebrating species of frogs that depend on a very unique habitat—vernal pools.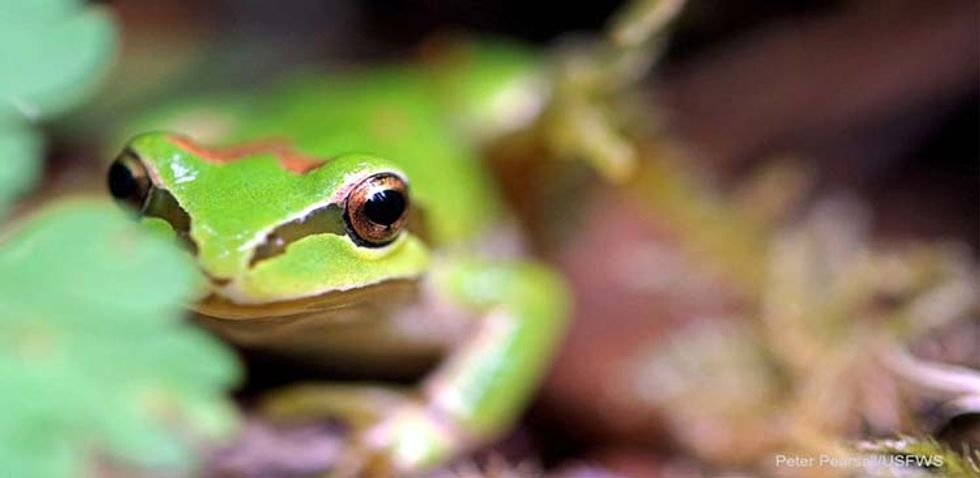 Vernal pools are shallow depressional wetlands that appear seasonally in meadows and woodlands and serve as important breeding grounds for amphibians like frogs. The seasonal wetlands and pools of the prairie pothole region are also vernal pools. Memorialized in Robert Frost's Spring Pools, these unique wetlands usually collect water in the winter and spring and typically dry up by the end of summer.
Since vernal pools are usually not filled with water year-round, fish cannot inhabit them. This makes vernal pools prime habitat for frogs like the ones below because there aren't any fish to eat their eggs and tadpoles!
Wood Frog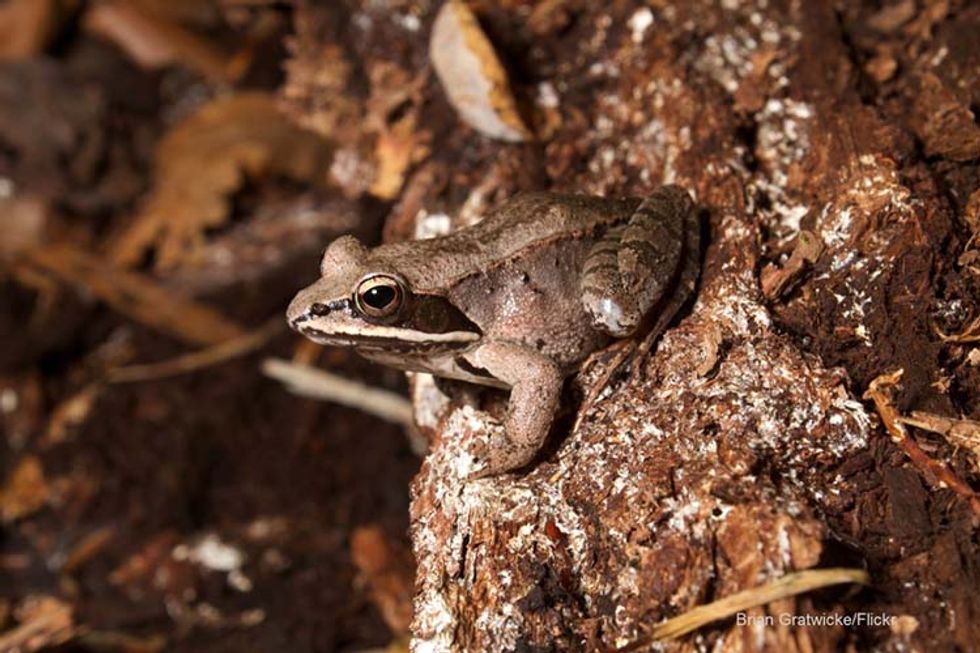 The wood frog ranges from New England, the Appalachians and the Great Lake states to as far north as the Arctic Circle. To survive, they possess the surprising ability to freeze!
During cold winter months, they cease breathing, their heart stops and nearly 70 percent of their body water turns to ice. As ice crystals form beneath their skin, they produce a substance that acts as an anti-freeze, allowing them to stay alive.
As the weather warms in early spring, the frogs thaw out and head to vernal pools to find mates, sometimes even before the ice has fully melted. They're the first frogs to herald in the spring with strange voices that sound similar to a duck quacking.
Spring Peeper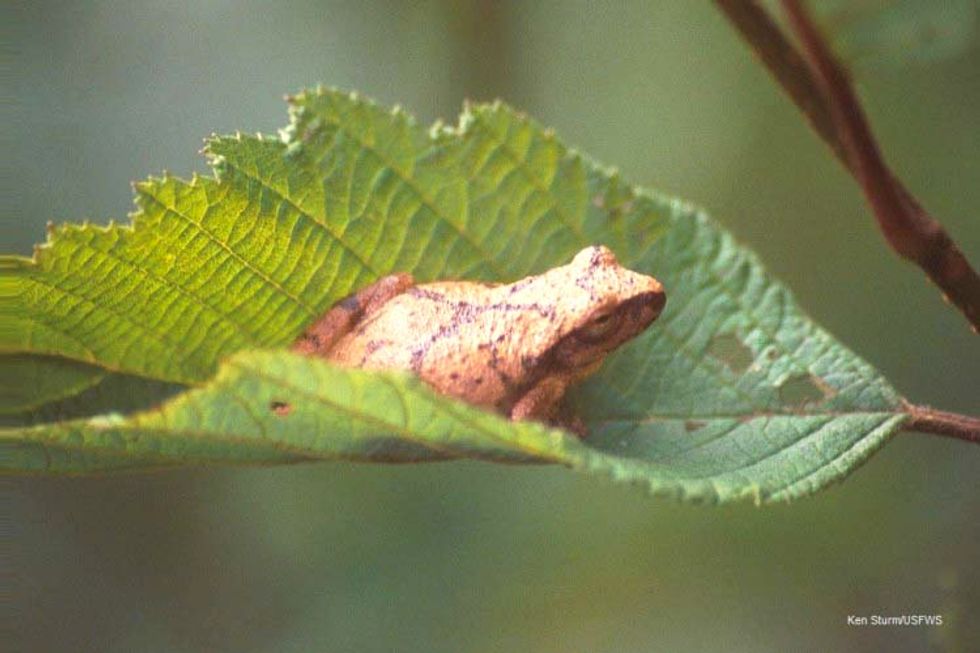 The spring peeper, Pseudacris crucifer, also breeds in vernal pools to avoid predators like fish. These tiny frogs are found in vernal pools in many eastern states and are usually no longer than 1 inch. Their small size and nocturnal habits make them tough to spot, but they're definitely not difficult to hear! Spring peepers emerge and start their ear-piercing choruses soon after the wood frogs.
Pacific Chorus Frog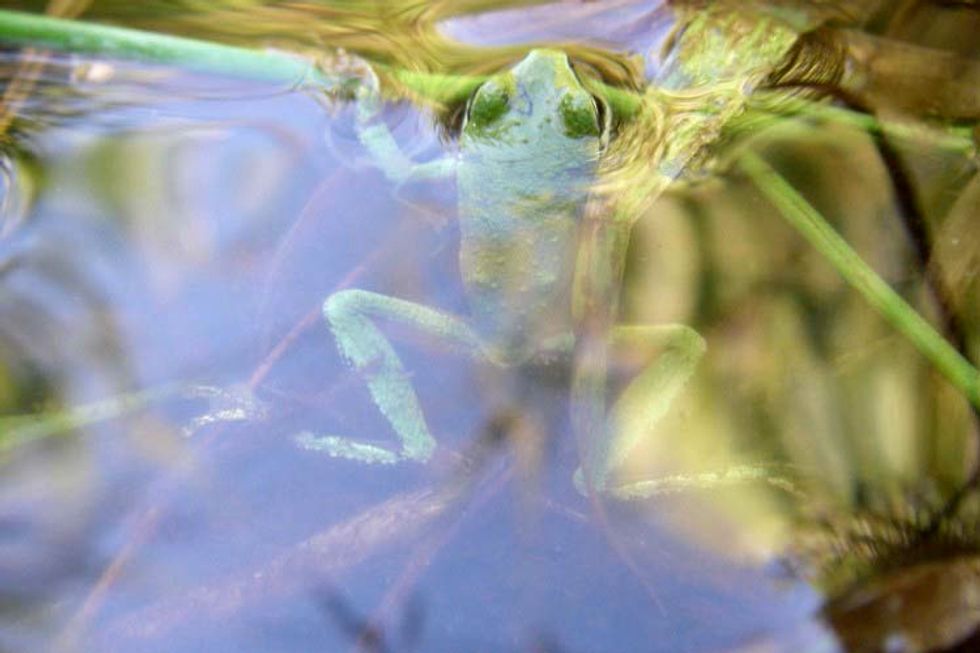 Vernal pools are also found out west, like those in California. The Pacific chorus frog is a common inhabitant of these western vernal pools during breeding season. The chorus frog's characteristic "krek-ek" is the most commonly used frog noise in Hollywood films.
Take Action for Frog's Threatened Pools
Though their seasonal nature makes vernal pools important breeding habitat for frogs, it also makes them vulnerable to development and pollution. Many amphibians return to the same wetland where they were born to breed, so the destruction of vernal pools may threaten many populations of these species.
Due to two Supreme Court cases that muddied what water bodies are covered by the Clean Water Act, small streams and wetlands have not clearly been protected. However, the Environmental Protection Agency and the Army Corps of Engineers have finalized the Clean Water Rule, which clears up these uncertainties and clarifies what waters have Clean Water Act protections. This rule would make it easier to more accurately identify and protect small streams and wetlands on which frogs and other wildlife depend.
Celebrate Save the Frogs day by taking action to help protect frogs who depend so much on these threatened wetlands.
YOU MIGHT ALSO LIKE
Meet the 2016 Goldman Environmental Prize Winners
Antartica's Penguins Need Your Help, Become a Citizen Scientist Today
The National Park Service Is Turning 100 and You're Invited
WWF and Leonardo DiCaprio: Wild Tiger Populations Increase for First Time in 100 Years
EcoWatch Daily Newsletter
A Starbucks barista prepares a drink at a Starbucks Coffee Shop location in New York. Ramin Talaie / Corbis via Getty Images
By Cathy Cassata
Are you getting your fill of Starbucks' new Almondmilk Honey Flat White, Oatmilk Honey Latte, and Coconutmilk Latte, but wondering just how healthy they are?
By Sharon Kelly
Back in April last year, the Trump administration's Environmental Protection Agency decided it was "not necessary" to update the rules for toxic waste from oil and gas wells. Torrents of wastewater flow daily from the nation's 1.5 million active oil and gas wells and the agency's own research has warned it may pose risks to the country's drinking water supplies.
Swedish climate activist Greta Thunberg takes part in a "Friday for Future" youth demonstration in a street of Davos on Jan. 24, 2020 on the sideline of the World Economic Forum annual meeting. FABRICE COFFRINI / AFP via Getty Images
Treasury Secretary Steven Mnuchin pretended not to know who Greta Thunberg is, and then he told her to get a degree in economics before giving world leaders advice, as The Guardian reported.
The Visible Infrared Imaging Radiometer Suite on the Suomi NPP satellite acquired this image of forest fire smoke hovering over North America on Aug. 15, 2018. NASA Earth Observatory
New York City isn't known for having the cleanest air, but researchers traced recent air pollution spikes there to two surprising sources — fires hundreds of miles away in Canada and the southeastern U.S.
If temperatures continue to rise, the world is at risk from global
sea-level rise
, which will flood many coastal cities as seen above in Bangladesh. NurPhoto / Contributor / Getty Images
The mounting climate emergency may spur the next global financial crisis and the world's central banks are woefully ill equipped to handle the consequences, according to a new book-length report by the Bank for International Settlements (BIS), as S&P Global reported. Located in Basel, Switzerland, the BIS is an umbrella organization for the world's central banks.