3 Creative Solutions Emerging in Urban Farming
The world's current food system is flawed. With so many mouths to feed, western society has resorted to intensive agriculture that relies heavily on petroleum-based technology, like tractors, plows and seed drills. With increasing population and advances in technology, farms are now competing on a global scale. Food is often flown in from all over the world, the emissions contributing to global climate change.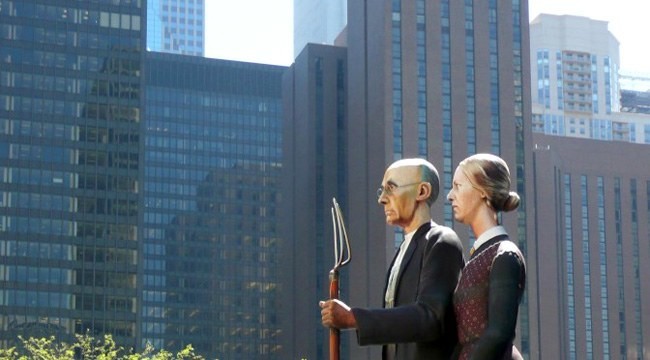 Because a growing proportion of food is not grown where it is eaten, city dwellers often fall victim to "food deserts" where they have little or no access to affordable, high-quality, fresh food. By the year 2050 close to 80 percent of the world's population will be living in urban centers. With the growth of mega cities, our current farms mandate a paradigm shift to environmentally friendly and efficient urban food systems to support the population in a sustainable way.
Urban farming presents a unique opportunity to grow crops on land that is vacant or unused. These crops can also be grown in huge skyscrapers, abandoned lots and even in used shipping containers. It is up to the farmer to be as creative as s/he wishes.
One of the largest benefits of urban agriculture is the reduced distance of shipping crops from farmer to buyer. Often produce in the U.S., especially during winter months, is grown in far away places where the weather is still warm enough to support fruits and vegetables and is then shipped to grocers throughout the U.S. The amount of gas-guzzling delivery trucks and airplanes that deliver all of this food could drastically be reduced with a shift to urban agriculture. City farms could provide urbanites with easier access to fresh and local produce.
Container Farms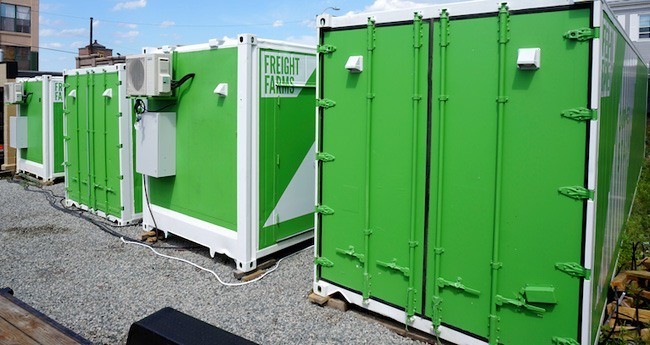 One of the most unusual examples of urban agriculture has the potential to provide Boston with fresh produce even when the city is blanketed in snow.  Founders Jon Friedman and Brad McNamara started Freight Farms in 2010 with the goal of cutting down on the number of miles it takes to get greens from farm to table. The pair converts old metal shipping containers from cargo ships into mobile farms.  These "smart farms" are insulated, completely digitally controlled and have even been installed with Wi-Fi so that farmers are able to check on things without leaving the comfort of their home when there is snow on the ground.
By growing food indoors, these containers eliminate the need for pesticides and herbicides. Indoor plants are able to produce food year round instead of seasonally, reducing the amount of fruits and vegetables flown in from other countries.
Freight Farms sell their containers to urban farmers looking for a new business endeavor for about $76,000 each. Shawn and Connie Cooney, two Bostonians, have taken advantage of this opportunity and have begun growing greens like kale, cilantro, mustard greens and wild mint, which they sell mostly to restaurants via wholesale distributors. They currently have four freight containers and claim to be able to grow as much produce as four acres of land could produce in a shorter amount of time and year-round.
Vertical Farms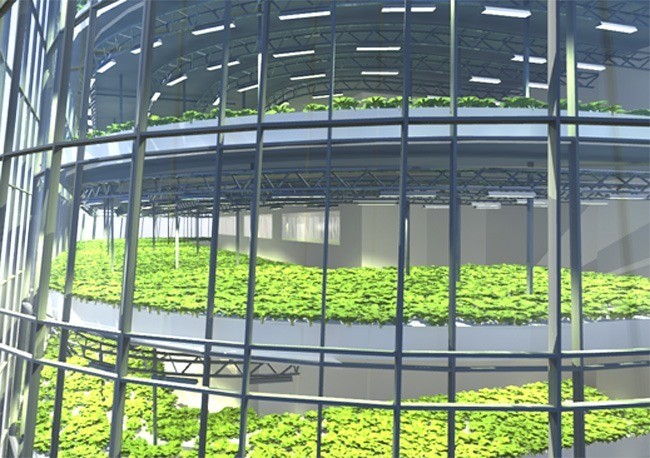 Other urban farms, like vertical farms, use height to maximize growth space in cities. Many use hydroponics—growing crops in a medium other than soil, like in water—or aquaponics—using a symbiotic relationship between fish (for their nutritious waste) and plants (for their waste filtration) to grow food. These alternative growing techniques eliminate the need for soil. This new idea for a farm was first proposed by Dr. Dickson Despommier, a professor of Microbiology and Public Health in Environmental Health Sciences at Columbia, in 1999. The idea has been gaining steam quickly with proposed buildings underway all around the world, like in Japan and Wyoming.
There is a vertical farm going up in Sweden called the Plantagon. This futuristic building, expected to be finished by the end of 2015, has tracks that allow plants to travel up and down the building to maximize sunlight exposure and to make harvesting much easier. The building will produce between 300-500 tons of food a year in a 400 square meter space. The CEO, Hans Hassle, envisions his business as not only environmentally responsible because of its commitment to corporate responsibility, but also as a way to get young people interested in becoming farmers.
Another vertical farm is underway in Chicago called The Plant, which is trying to resolve Chicago's food desert problem that has left some city dwellers without access to grocery stores or fresh produce. The building was once a meatpacking plant and has since been converted into a closed loop system where nutrients cycle between fish, plants and even Kombucha tea, a fermented drink. The facility even includes office spaces for local businesses to lease.
An anaerobic digester takes any waste products unable to be used and converts them into a sludge used to make fertilizer. The anaerobic digester combined with a proposed heat and power system will eventually run The Plant on net-zero energy and run completely off the grid.
Personal Farms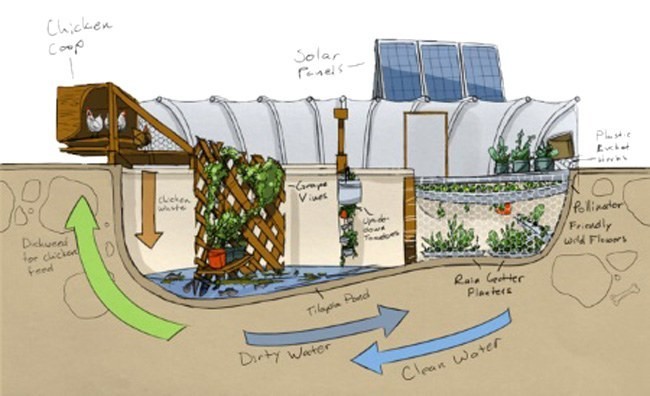 On a smaller scale, one family in Arizona converted their backyard swimming pool into a closed loop food production system and has since started a non-profit to help others learn about sustainable food production and how simple it can be. Garden Pool combines solar power, water conservation, poultry farming, aquaculture and more to convert water-intensive swimming pools into food oases. The concept is simple and allows a family with an average-sized swimming pool to produce their own food 365 days a year.
Moving Forward
Though innovative and unique in their technologies, these ways of growing food have their drawbacks. Freight Farms shipping containers are climate controlled and do not use natural sunlight, increasing the amount of energy needed to power them. They are also relatively expensive and may not be a viable option for providing large amounts of food to urbanites, especially those living in lower-income neighborhoods with low access to fresh foods.  The Plantagon may reduce any need for chemical pesticides and herbicides, but it requires the construction of a whole new facility and has a large energy demand to maintain climate settings. The Plant and Garden Pool are nearer to a sustainable system, using pre-existing structures, closed resource systems, clean energy sources and community networks.
Providing food for our future mega cities will not be an easy task, but it can be sustainable. Creative minds have come up with ways of turning once-wasted buildings, containers and swimming pools into sustainable farms, capable of producing a large amount of food in our cramped urban spaces.  Conventional agriculture does not have to be the answer to our exploding population and the environment does not have to be at risk to feed us.
YOU MIGHT ALSO LIKE
5 Reasons Why Urban Farming Rocks: Apply Today to Win the $15k Gardens for Good Grant
France Bans Monsanto's Roundup As Environmental Groups Push WHO for Stronger Safety Standards
The U.S. Fish and Wildlife Service removed grizzly bears in the Greater Yellowstone region on Thursday from the Endangered Species List. The decision comes despite serious concerns in the scientific community about a declining, isolated population with diminishing food resources and record-high mortalities, as well as strong opposition from an unprecedented number of Tribal Nations.
Keep reading...
Show less
ArborGen pine tree field test site in South Carolina. BJ McManama
By BJ McManama
ArborGen Corporation, a multinational conglomerate and leading supplier of seedlings for commercial forestry applications, has submitted an approval request to the U.S. Department of Agriculture, Animal and Plant Health Inspection Service to deregulate and widely distribute a eucalyptus tree genetically engineered (GE) to be freeze tolerant. This modification will allow this GE variety to be grown in the U.S. Southeast. The reason this non-native and highly invasive tree has been artificially created to grow outside of its tropical environment is to greatly expand production capacity for the highly controversial woody biomass industry.
Keep reading...
Show less
By Kari Hamerschlag
Many health conscious consumers are reducing their consumption of red meat in favor of chicken—especially products labeled and promoted as "100% natural"—believing they are a healthier option produced without routine antibiotics, artificial substances or other drugs.
Keep reading...
Show less
Stephen Hawking repeated his warning that humanity needs to leave Earth and colonize the moon, Mars or other planets in order for our species to survive the impending doom of climate change.
"We have given our planet the disastrous gift of climate change ... When we we have reached similar crises there has usually been somewhere else to colonize ... But there is no new world, no utopia around the corner," he said. "We are running out of space, and the only places to go to are other worlds."
Keep reading...
Show less
www.youtube.com
Keep reading...
Show less
It's so hot in the American Southwest that meteorologists are using unusual colors for their temperature maps.
As reported by MLive's Mark Torregrossa, with temperatures forecast to hit 120 degrees Fahrenheit in the Phoenix area, the folks at weatherbell.com had to use green for its Wednesday map because the other shades were already used.
Keep reading...
Show less
www.facebook.com
Former California Gov. Arnold Schwarzenegger has let the world know that Donald Trump does not represent America in his choice to drop out of the Paris climate agreement.
Despite the president's lack of support for the environment, the rest of America will continue to work towards a brighter and greener future, as Schwarzenegger makes clear in the video above.
An oil and gas drilling platform in Australian waters. CSIRO / Wikimedia Commons
By Paul Brown
Natural gas will have to be phased out along with coal if the world is to be kept safe from dangerous climate change. And that seems likely to have to happen far sooner than most official forecasts, according to a new report.
If countries want to reach their Paris climate agreement goals of limiting the long-term world temperature rise to 1.5°C, then many of the proposals to increase gas production and distribution will be unnecessary. New terminals and pipelines will never be fully used and will become stranded assets.
Keep reading...
Show less
The Dakota Access Pipeline being installed between farms in New Salem, North Dakota. Tony Webster /
Flickr
Keep reading...
Show less


Get EcoWatch in your inbox