This website uses cookies to ensure you get the best experience while browsing it. By clicking 'Got It' you're accepting these terms.
3 Common Chemicals That May Cause Breast Cancer
Aug. 19, 2014 09:37AM EST
Health + Wellness
Breast cancer is an epidemic. One in eight women will develop the disease, and nearly 40,000 women die from it yearly (though, thankfully, the death rate is decreasing). We all know women who have fought the disease—moms, sisters, grandmothers, friends, aunts, daughters, neighbors.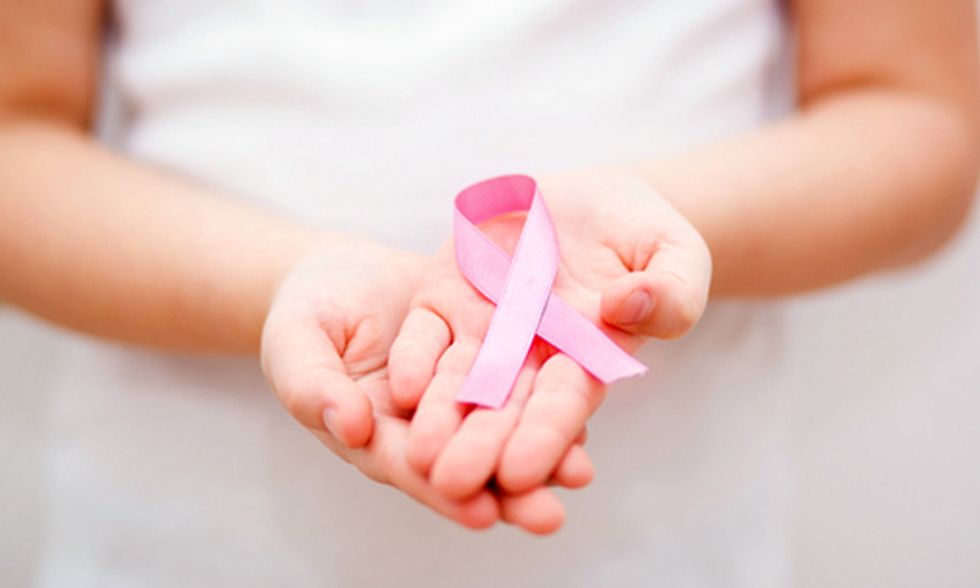 Photo credit: Shutterstock
Meanwhile, the evidence mounts that common chemicals play a role in breast cancer incidence. Hormone-disrupting chemicals pose a particular concern, since breast cancer is sensitive to hormonal changes. One recent study found women who work in the plastics and food canning industries had a fivefold increase in premenopausal breast cancer. The conclusion? Exposure to hormone-disrupting chemicals, including phthalates, bisphenol-A and flame-retardants, is a decisive factor in breast cancer incidence.
Because the government and industry are slow to take steps to protect people from the carcinogenic effects of everyday toxic chemicals, it falls to the consumer to take steps to reduce exposures to cancer-causing chemicals. Learning more about these chemicals and working to avoid exposure to them is a key cancer prevention strategy that everyone can embrace.
Bisphenol-A, phthalates and parabens are three very common chemicals that have been linked in various studies to breast cancer. Exposure to all three can easily be reduced and sometimes avoided by reading labels and making informed choices when it comes to buying food, household cleaners and personal care products. Here's how:
This hormone-disrupting chemical is found just about everywhere. Lab studies have shown that BPA is linked to early puberty, a risk factor for later-life breast cancer. It can make healthy breast cells grow and survive like cancer cells and can even make breast cancer drugs less effective.
How to avoid:
Don't buy canned foods or look for cans that are BPA-free.

Just say no to cash register receipts, some of which use BPA in the printing process.

Choose glass or stainless steel instead of plastic for your food storage and water bottle needs.

Make sure baby items and kids' toys are BPA-free.
2. Phthalates
Phthalates are a class of chemicals used in a variety of products. They can make plastics soft and pliable. They're also used in synthetic fragrances found in air fresheners, cosmetics, detergents, cleaning products and more.
How to avoid:
Look for products labeled "phthalate free."

Stop buying vinyl products, which are softened with phthalates. Choose a cloth or nylon shower curtain instead of one made with PVC. Kids' stuff should always be PVC-free.

Leave synthetic scented products like household cleaners, candles, and air fresheners on the store shelf. Choose unscented products or those with natural essential oils instead.
3. Parabens
Parabens are widely used as preservatives in cosmetics—found in lotions, creams and deodorants. They can be absorbed by the skin and have been linked to breast cancer incidence. One study found parabens in 99 percent of breast tissue samples; 60 percent of the samples contained at least five parabens.
How to avoid:
Only use personal care products labeled "paraben free."

Read labels and avoid ingredients that end with "paraben" such as methylparaben.

Consult EWG's Skin Deep Database to get more information about which personal care products contain parabens.
There are many more chemicals associated with breast cancer. Some are avoidable, others are not. It's hard to avoid 1,4 dioxane, for example. This known carcinogen is not deliberately added to a product, but is produced as a byproduct of suds-generating chemicals. There are also other actions to take to help prevent breast cancer, but eliminating your exposure to common carcinogenic chemicals is an good and easy first step.
YOU ALSO MIGHT LIKE
Despite Industry Opposition, Scientists Report Formaldehyde Causes Cancer
How Daily Exposure to Toxic Chemicals Can Trigger Serious Health Problems
EcoWatch Daily Newsletter
A new study shows that half of all Arctic warming and corresponding sea-loss during the late 20th century was caused by ozone-depleting substances. Here, icebergs discharged from Greenland's Jakobshavn Glacier. Kevin Krajick / Earth Institute /
EurekAlert!
The world awakened to the hole in the ozone layer in 1985, which scientists attributed it to ozone depleting substances. Two years later, in Montreal, the world agreed to ban the halogen compounds causing the massive hole over Antarctica. Research now shows that those chemicals didn't just cut a hole in the ozone layer, they also warmed up the Arctic.
Diane Wilson holds up a bag full of nurdles she collected from one of Formosa's outfall areas on Jan. 15. Julie Dermansky / DeSmogBlog
On the afternoon of Jan. 15, activist Diane Wilson kicked off a San Antonio Estuary Waterkeeper meeting on the side of the road across from a Formosa plastics manufacturing plant in Point Comfort, Texas.
After Wilson and the waterkeeper successfully sued Formosa, the company agreed to no longer release even one of the tiny plastic pellets known as nurdles into the region's waterways. The group of volunteers had assembled that day to check whether the plant was still discharging these raw materials of plastics manufacturing.
Malaysian Environment Minister Yeo Bee Yin (front 2nd L) and officials inspect a container containing plastic waste shipment on Jan. 20, 2020 before sending back to the countries of origin. AFP via Getty Images
The Southeast Asian country Malaysia has sent 150 shipping containers packed with plastic waste back to 13 wealthy countries, putting the world on notice that it will not be the world's garbage dump, as CNN reported. The countries receiving their trash back include the United States, the United Kingdom, France and Canada.
Trump leaves after delivering a speech at the Congress Centre during the World Economic Forum annual meeting in Davos on Jan. 21, 2020. JIM WATSON / AFP via Getty Images