3 Cities Disrupting the Local Electricity Market With Innovative Renewable Energy Projects
Many U.S. cities have taken the lead on sustainability efforts, particularly when it comes to adopting renewable energy. Already, at least 13 U.S. cities—including San Diego; San Francisco; Burlington, Vermont; and Aspen, Colorado—have committed to 100 percent clean energy.
Other American cities, though not generating all their electricity from renewables, have innovative projects that could soon become widely adopted and transform our energy system.
Here are three cities leading the way:
1. Brooklyn, New York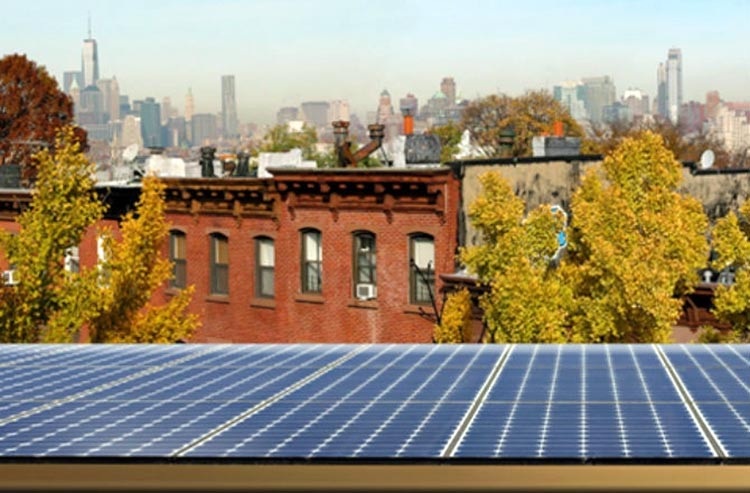 The Brooklyn Microgrid, a project of TransActive Grid, is developing a community microgrid in the Gowanus and Park Slope neighborhoods of Brooklyn that has the potential to disrupt the local energy market.
"Community microgrids are a new approach for grid operations that achieve a sustainable, secure, and cost-effective energy system by providing long-term, locally generated power security prioritized for the community," the startup explained. "Microgrids have the ability to separate from the larger electric grid during extreme weather events or other emergencies, providing the backbone for resilient, sustainable and more efficient energy production of the future."
The first version of the project connects solar energy producers with their neighbors who want to buy renewable energy. And the benefits are manyfold, according to TransActive Grid Co-founder Joseph Lubin.
"This whole concept benefits the area you live in," Lubin told Treehugger. "By buying energy locally, rather than from a national entity, the money goes back into the pockets of people in the community. We'll install the transactive platform which pretty much runs itself, whereby energy is automatically priced based on things consumers care about.
"It's pretty hands off—as we think that will suit consumers best—but in future we plan to enable people to set preferences to maximize savings, do good in the community and potentially sell energy cheaper to lower-income residents."
Watch TransActive Grid's video for more information on the technology behind their microgrid:
2. Austin, Texas
Research and development firm Pecan Street Inc. is developing a smart grid research project that began in Austin's Robert Mueller mixed-use development and has since expanded across Texas and into California and Colorado.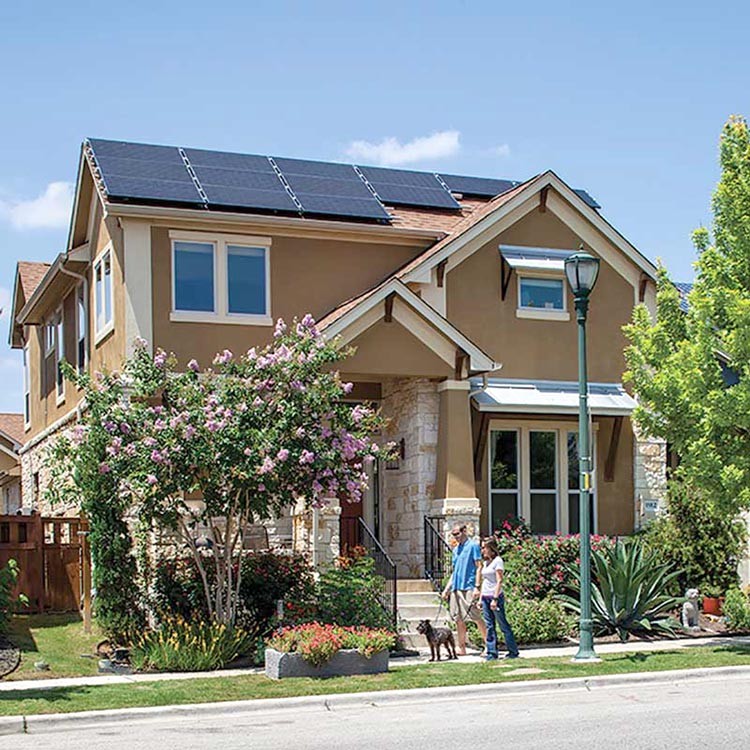 The organization created an "Energy Internet Demonstration" at the 711-acre Robert Mueller community. Some of the project's smart grid technologies include home energy monitoring systems, a smart meter research network, energy management gateways, distributed generation, electric vehicles with Level 2 charge systems and smart thermostats.
The neighborhood has nearly 13,000 residents, 4 million square feet of office and retail space, more than 5,700 homes and 140 acres of public open space. The neighborhood is designed to be walkable and transit-oriented.
Every home has been designed to meet the standards of at least a 3-star energy rating by Austin Energy, according to the video below. And several residents have rooftop solar panels, electrical vehicles, and smart water and gas meters.
"Through the use of Pecan Street's home energy monitoring systems, customers can view their energy use in real-time at the device level, set and track utility bill budgets, have software manage electricity use of individual appliances and sell energy back to the grid," Pecan Street explained. "Cars connected to the grid can be powered with solar energy and help level load, and utilities can store power and deliver it when needed."
Watch Green City Realty's video to learn more about Austin's smart-grid community:
3. Boston, Massachusetts
Boston-based Yeloha is a peer to peer solar sharing company that allows anyone to go solar. The concept allows people to invest in solar even if they rent, don't have a rooftop suitable for solar panels or cannot afford the upfront cost.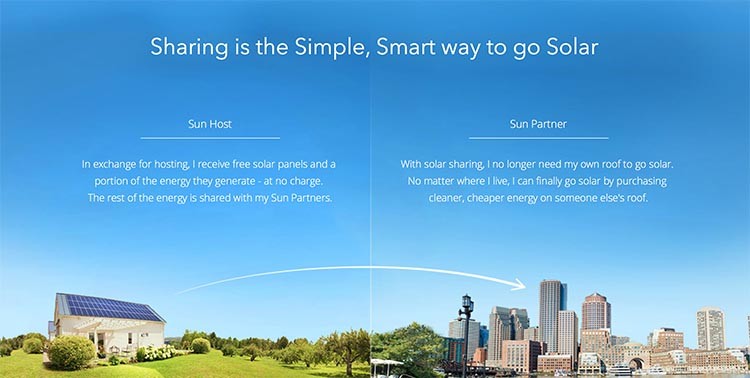 Customers can sign up for the service as a "sun host" or a "sun partner." Sun hosts are for homeowners who have a suitable roof for solar but can't afford panels. Yeloha will install the panels for free in exchange for access to the solar power the panels create. Sun hosts will also get about a third of the electricity created by the panels, all for free. This translates to lower monthly power bills for the homeowner.
The remaining power goes to the sun partners, who are customers that want to go solar but don't have a proper roof or don't own their home. Sun partners can buy as many solar credits as they'd like from Yehola at a price that's less than what they'd normally pay to their local utility.
Sun hosts can also assign their electricity to specific partners, and sun partners can choose who hosts their power. The savings work out to about 10 percent less than the utility's prices for a year's worth of energy.
It's currently only available in Massachusetts, but Yeloha is in the process of expanding to New York and Vermont, and has plans to expand to other states too.
YOU MIGHT ALSO LIKE
Oregon Becomes First State in Nation to Sign Bill That Phases Out Coal, Ramps Up Renewables
Patagonia to Fund Rooftop Solar Installations on 1,500 Homes
Solar Energy Will Lead the Way for New Power in 2016
World's Largest Floating Solar Farm to Provide 10 Million People With Clean Drinking Water
Bill Maher is sick of billionaires' obsession with Mars, more like "Mars-a-Lago," he said.
In a new animation produced by ATTN:, the popular talk show host of Real Time, discusses the perils of our planet, including how "climate change is killing us."
Keep reading...
Show less
Dr. Benjamin D. Santer, research scientist
A group of prominent climate scientists have written a study explicitly refuting statements made by the U.S. Environmental Protection Agency Administrator Scott Pruitt on climate data. During his Senate confirmation hearing, Pruitt claimed in a written response that satellite data shows a "leveling off" of warming over the past two decades.
Keep reading...
Show less
By David Pomerantz
The Nevada Assembly passed a bill Wednesday that would dramatically increase the growth of renewable energy in the state, but Sheldon Adelson, the casino magnate and major donor to Donald Trump, is attempting to prevent the bill from becoming law.
Keep reading...
Show less
Matt Crossick
By Yosola Olorunshola
Whether it's through fashion or protest, Vivienne Westwood is not a woman afraid of making a statement.
On May 23, she rocked up to the residence of the Archbishop of Canterbury in London with a special guest—the Grim Reaper—to issue a strong statement on the Church of England's position on fracking.
Keep reading...
Show less
By Paul Brown
The food industry and big agricultural concerns are driving climate change and at the same time threatening to undermine efforts to feed the world's growing population, according to GRAIN, an organization that supports small farmers.
Particularly singled out for criticism are the large chemical fertilizer producers that have gained access to the United Nations talks on climate change. GRAIN accuses them of behaving like the fossil fuel companies did in the 1990s, pushing false information in the hope of delaying real action on climate change.
Keep reading...
Show less
May. 24, 2017 06:55PM EST
By Sydney Robinson
President Trump has no doubt been given a long list of extravagant, elaborate gifts in his lifetime, but the gift given to him today by Pope Francis may not make it on his most favorite list.
Keep reading...
Show less
May. 24, 2017 07:17PM EST
By John Rogers
Maybe it's because I first started working on clean energy while serving in the Peace Corps he founded, or maybe it's my years of working on these issues from his home state. But I can't help thinking about the 100th anniversary of John F. Kennedy's birth, and connecting his stirring rhetoric to the energy challenges of our times.
Here's what our 35th president might have said about the challenges of energy transition and the opportunities in clean energy:
"Change is the law of life. And those who look only to the past or present are certain to miss the future."
Keep reading...
Show less
May. 24, 2017 01:47PM EST
Keep reading...
Show less


Get EcoWatch in your inbox