This website uses cookies to ensure you get the best experience while browsing it. By clicking 'Got It' you're accepting these terms.
3 Cities Disrupting the Local Electricity Market With Innovative Renewable Energy Projects
Mar. 16, 2016 08:23AM EST
Energy
Many U.S. cities have taken the lead on sustainability efforts, particularly when it comes to adopting renewable energy. Already, at least 13 U.S. cities—including San Diego; San Francisco; Burlington, Vermont; and Aspen, Colorado—have committed to 100 percent clean energy.
Other American cities, though not generating all their electricity from renewables, have innovative projects that could soon become widely adopted and transform our energy system.
Here are three cities leading the way:
1. Brooklyn, New York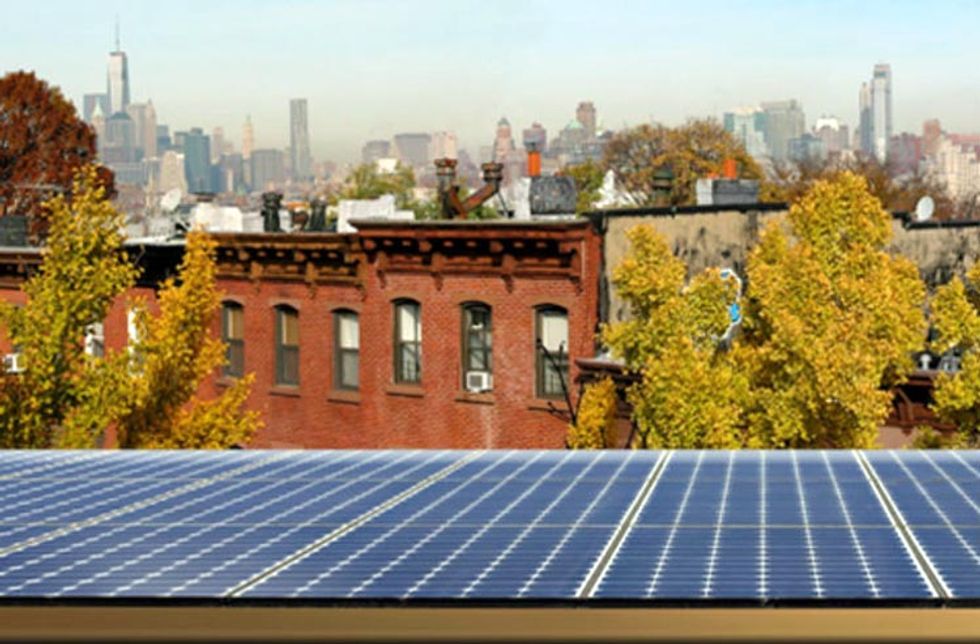 The Brooklyn Microgrid, a project of TransActive Grid, is developing a community microgrid in the Gowanus and Park Slope neighborhoods of Brooklyn that has the potential to disrupt the local energy market.
"Community microgrids are a new approach for grid operations that achieve a sustainable, secure, and cost-effective energy system by providing long-term, locally generated power security prioritized for the community," the startup explained. "Microgrids have the ability to separate from the larger electric grid during extreme weather events or other emergencies, providing the backbone for resilient, sustainable and more efficient energy production of the future."
The first version of the project connects solar energy producers with their neighbors who want to buy renewable energy. And the benefits are manyfold, according to TransActive Grid Co-founder Joseph Lubin.
"This whole concept benefits the area you live in," Lubin told Treehugger. "By buying energy locally, rather than from a national entity, the money goes back into the pockets of people in the community. We'll install the transactive platform which pretty much runs itself, whereby energy is automatically priced based on things consumers care about.
"It's pretty hands off—as we think that will suit consumers best—but in future we plan to enable people to set preferences to maximize savings, do good in the community and potentially sell energy cheaper to lower-income residents."
Watch TransActive Grid's video for more information on the technology behind their microgrid:
2. Austin, Texas
Research and development firm Pecan Street Inc. is developing a smart grid research project that began in Austin's Robert Mueller mixed-use development and has since expanded across Texas and into California and Colorado.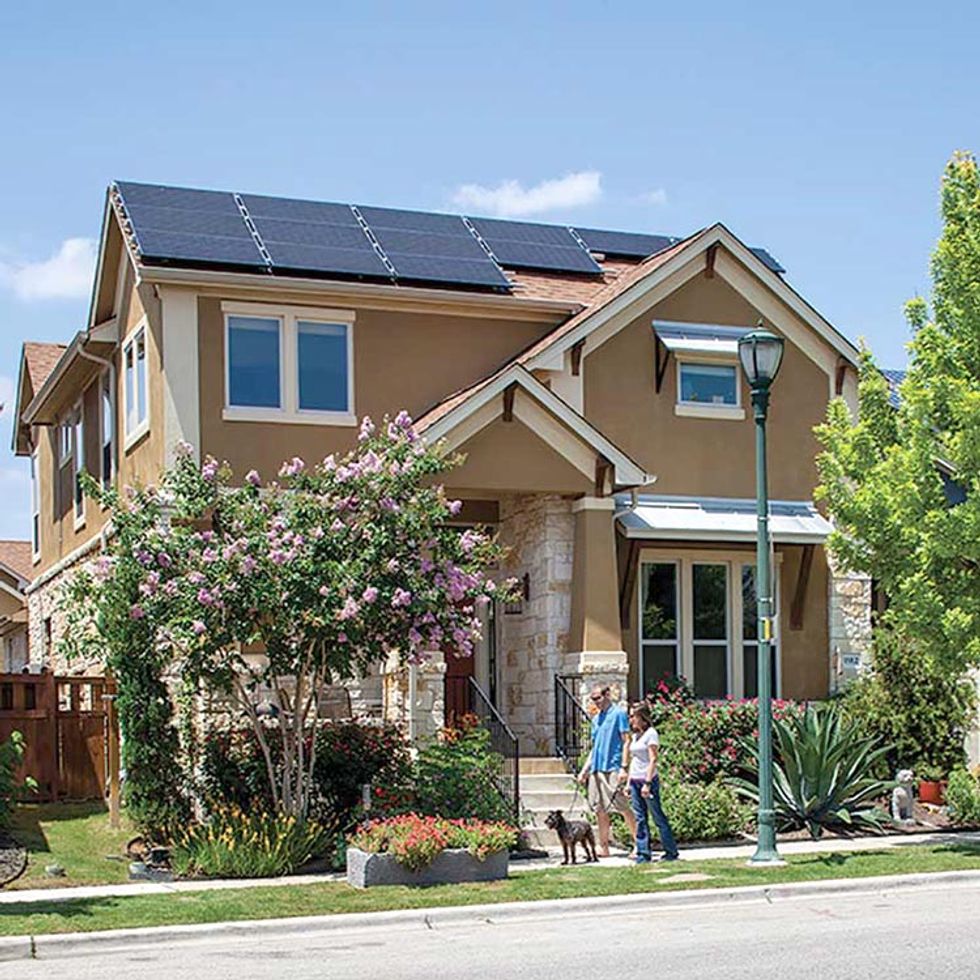 The organization created an "Energy Internet Demonstration" at the 711-acre Robert Mueller community. Some of the project's smart grid technologies include home energy monitoring systems, a smart meter research network, energy management gateways, distributed generation, electric vehicles with Level 2 charge systems and smart thermostats.
The neighborhood has nearly 13,000 residents, 4 million square feet of office and retail space, more than 5,700 homes and 140 acres of public open space. The neighborhood is designed to be walkable and transit-oriented.
Every home has been designed to meet the standards of at least a 3-star energy rating by Austin Energy, according to the video below. And several residents have rooftop solar panels, electrical vehicles, and smart water and gas meters.
"Through the use of Pecan Street's home energy monitoring systems, customers can view their energy use in real-time at the device level, set and track utility bill budgets, have software manage electricity use of individual appliances and sell energy back to the grid," Pecan Street explained. "Cars connected to the grid can be powered with solar energy and help level load, and utilities can store power and deliver it when needed."
Watch Green City Realty's video to learn more about Austin's smart-grid community:
3. Boston, Massachusetts
Boston-based Yeloha is a peer to peer solar sharing company that allows anyone to go solar. The concept allows people to invest in solar even if they rent, don't have a rooftop suitable for solar panels or cannot afford the upfront cost.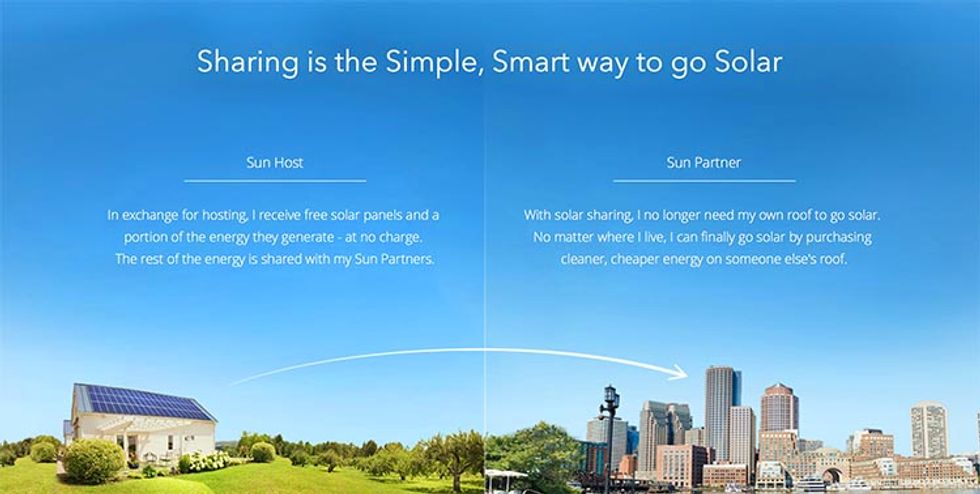 Customers can sign up for the service as a "sun host" or a "sun partner." Sun hosts are for homeowners who have a suitable roof for solar but can't afford panels. Yeloha will install the panels for free in exchange for access to the solar power the panels create. Sun hosts will also get about a third of the electricity created by the panels, all for free. This translates to lower monthly power bills for the homeowner.
The remaining power goes to the sun partners, who are customers that want to go solar but don't have a proper roof or don't own their home. Sun partners can buy as many solar credits as they'd like from Yehola at a price that's less than what they'd normally pay to their local utility.
Sun hosts can also assign their electricity to specific partners, and sun partners can choose who hosts their power. The savings work out to about 10 percent less than the utility's prices for a year's worth of energy.
It's currently only available in Massachusetts, but Yeloha is in the process of expanding to New York and Vermont, and has plans to expand to other states too.
YOU MIGHT ALSO LIKE
Oregon Becomes First State in Nation to Sign Bill That Phases Out Coal, Ramps Up Renewables
Patagonia to Fund Rooftop Solar Installations on 1,500 Homes
Solar Energy Will Lead the Way for New Power in 2016
World's Largest Floating Solar Farm to Provide 10 Million People With Clean Drinking Water
EcoWatch Daily Newsletter
Investing in grid infrastructure would enable utilities to incorporate modern technology, making the grid more resilient and flexible. STRATMAN2 / FLICKR
By Elliott Negin
The Royal Swedish Academy of Sciences' recent decision to award the 2019 Nobel Prize in Chemistry to scientists who developed rechargeable lithium-ion batteries reminded the world just how transformative they have been. Without them, we wouldn't have smartphones or electric cars. But it's their potential to store electricity generated by the sun and the wind at their peak that promises to be even more revolutionary, reducing our dependence on fossil fuels and protecting the planet from the worst consequences of climate change.
Two Javan rhinos deep in the forests of Ujung Kulon National Park, the species' last habitat on Earth. Sugeng Hendratno / WWF
The global population of the critically endangered Javan rhinoceros has increased to 72 after four new calves were spotted in the past several months.
A tiger looks out from its cage at a new resort and zoo in the eastern Lao town of Tha Bak on Dec. 5, 2018. Karl Ammann believes the "zoo" is really a front for selling tigers. Terrence McCoy / The Washington Post / Getty Images
Are tigers extinct in Laos?
That's the conclusion of a detailed new study that found no evidence wild tigers still exist in the country.
A group of scientists is warning that livestock production must not expand after 2030 for the world to stave off ecological disaster.
The largest wetland in Africa is in the South Sudan. George Steinmetz / Corbis Documentary / Getty Images Plus
Methane emissions are a far more powerful greenhouse gas than carbon dioxide – about 28 times more powerful. And they have been rising steadily since 2007. Now, a new study has pinpointed the African tropics as a hot spot responsible for one-third of the global methane surge, as Newsweek reported.