This website uses cookies to ensure you get the best experience while browsing it. By clicking 'Got It' you're accepting these terms.
3 Cities Disrupting the Local Electricity Market With Innovative Renewable Energy Projects
Mar. 16, 2016 08:23AM EST
Energy
Many U.S. cities have taken the lead on sustainability efforts, particularly when it comes to adopting renewable energy. Already, at least 13 U.S. cities—including San Diego; San Francisco; Burlington, Vermont; and Aspen, Colorado—have committed to 100 percent clean energy.
Other American cities, though not generating all their electricity from renewables, have innovative projects that could soon become widely adopted and transform our energy system.
Here are three cities leading the way:
1. Brooklyn, New York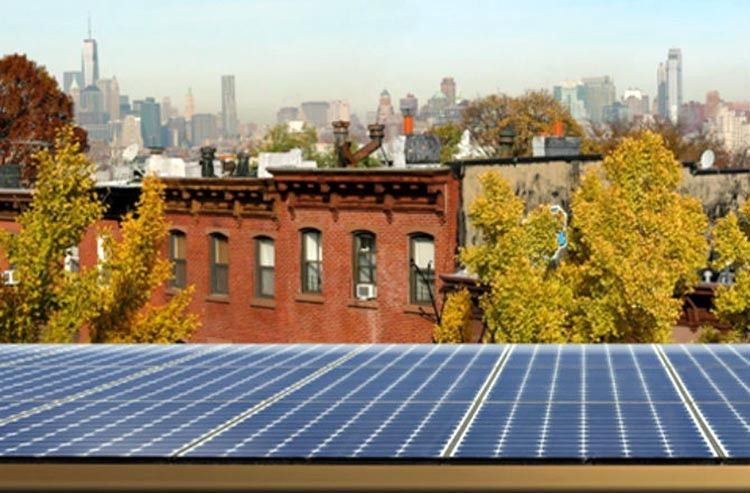 The Brooklyn Microgrid, a project of TransActive Grid, is developing a community microgrid in the Gowanus and Park Slope neighborhoods of Brooklyn that has the potential to disrupt the local energy market.
"Community microgrids are a new approach for grid operations that achieve a sustainable, secure, and cost-effective energy system by providing long-term, locally generated power security prioritized for the community," the startup explained. "Microgrids have the ability to separate from the larger electric grid during extreme weather events or other emergencies, providing the backbone for resilient, sustainable and more efficient energy production of the future."
The first version of the project connects solar energy producers with their neighbors who want to buy renewable energy. And the benefits are manyfold, according to TransActive Grid Co-founder Joseph Lubin.
"This whole concept benefits the area you live in," Lubin told Treehugger. "By buying energy locally, rather than from a national entity, the money goes back into the pockets of people in the community. We'll install the transactive platform which pretty much runs itself, whereby energy is automatically priced based on things consumers care about.
"It's pretty hands off—as we think that will suit consumers best—but in future we plan to enable people to set preferences to maximize savings, do good in the community and potentially sell energy cheaper to lower-income residents."
Watch TransActive Grid's video for more information on the technology behind their microgrid:
2. Austin, Texas
Research and development firm Pecan Street Inc. is developing a smart grid research project that began in Austin's Robert Mueller mixed-use development and has since expanded across Texas and into California and Colorado.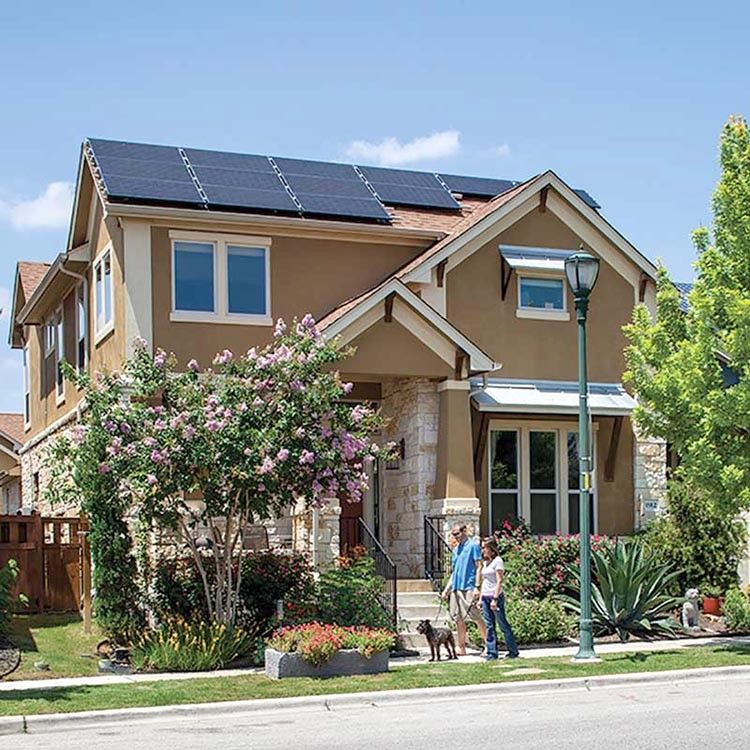 The organization created an "Energy Internet Demonstration" at the 711-acre Robert Mueller community. Some of the project's smart grid technologies include home energy monitoring systems, a smart meter research network, energy management gateways, distributed generation, electric vehicles with Level 2 charge systems and smart thermostats.
The neighborhood has nearly 13,000 residents, 4 million square feet of office and retail space, more than 5,700 homes and 140 acres of public open space. The neighborhood is designed to be walkable and transit-oriented.
Every home has been designed to meet the standards of at least a 3-star energy rating by Austin Energy, according to the video below. And several residents have rooftop solar panels, electrical vehicles, and smart water and gas meters.
"Through the use of Pecan Street's home energy monitoring systems, customers can view their energy use in real-time at the device level, set and track utility bill budgets, have software manage electricity use of individual appliances and sell energy back to the grid," Pecan Street explained. "Cars connected to the grid can be powered with solar energy and help level load, and utilities can store power and deliver it when needed."
Watch Green City Realty's video to learn more about Austin's smart-grid community:
3. Boston, Massachusetts
Boston-based Yeloha is a peer to peer solar sharing company that allows anyone to go solar. The concept allows people to invest in solar even if they rent, don't have a rooftop suitable for solar panels or cannot afford the upfront cost.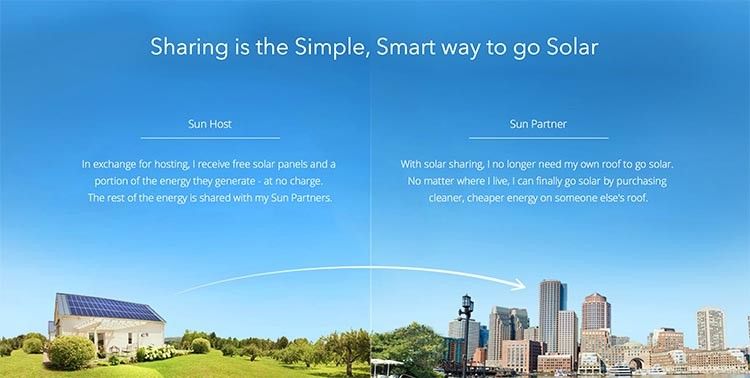 Customers can sign up for the service as a "sun host" or a "sun partner." Sun hosts are for homeowners who have a suitable roof for solar but can't afford panels. Yeloha will install the panels for free in exchange for access to the solar power the panels create. Sun hosts will also get about a third of the electricity created by the panels, all for free. This translates to lower monthly power bills for the homeowner.
The remaining power goes to the sun partners, who are customers that want to go solar but don't have a proper roof or don't own their home. Sun partners can buy as many solar credits as they'd like from Yehola at a price that's less than what they'd normally pay to their local utility.
Sun hosts can also assign their electricity to specific partners, and sun partners can choose who hosts their power. The savings work out to about 10 percent less than the utility's prices for a year's worth of energy.
It's currently only available in Massachusetts, but Yeloha is in the process of expanding to New York and Vermont, and has plans to expand to other states too.
YOU MIGHT ALSO LIKE
Oregon Becomes First State in Nation to Sign Bill That Phases Out Coal, Ramps Up Renewables
Patagonia to Fund Rooftop Solar Installations on 1,500 Homes
Solar Energy Will Lead the Way for New Power in 2016
World's Largest Floating Solar Farm to Provide 10 Million People With Clean Drinking Water
EcoWatch Daily Newsletter
Variety of fermented food korean traditional kimchi cabbage and radish salad. white and red sauerkraut in ceramic plates over grey spotted background. Natasha Breen / REDA&CO / Universal Images Group / Getty Image
Even if you've never taken probiotics, you've probably heard of them.
These supplements provide numerous benefits because they contain live microorganisms, such as bacteria or yeast, which support the healthy bacteria in your gut (1, 2, 3, 4).
Pexels
Singapore will become the first country in the world to place a ban on advertisements for carbonated drinks and juices with high sugar contents, its health ministry announced last week. The law is intended to curb sugar consumption since the country has some of the world's highest diabetes rates per capita, as Reuters reported.
A typical adult takes around 20,000 breaths per day. If you live in a megacity like Beijing, with many of those lungfuls you're likely to inhale a noxious mixture of chemicals and pollutants.
Fred Stone holds his brown swiss cow Lida Rose at his Arundel dairy farm on March 18 after a press conference where he spoke about PFAS chemical contamination in his fields. Gregory Rec / Portland Portland Press Herald via Getty Images
By Susan Cosier
First there was Fred Stone, the third-generation dairy farmer in Maine who discovered that the milk from his cows contained harmful chemicals. Then came Art Schaap, a second-generation dairy farmer in New Mexico, who had to dump 15,000 gallons of contaminated milk a day.
Protesters attend the 32nd annual Fur-Free Friday demonstration on Nov. 23, 2018 in Beverly Hills, California. Ella DeGea / Getty Images
California Governor Gavin Newsom signed into law a bill that that bans the sale and manufacture of fur products in the state. The fur ban, which he signed into law on Saturday, prohibits Californians from selling or making clothing, shoes or handbags with fur starting in 2023, according to the AP.
By Simon Evans
During the three months of July, August and September, renewables generated an estimated total of 29.5 terawatt hours (TWh), compared with just 29.1TWh from fossil fuels, the analysis shows.
A demonstrator waves an Ecuadorian flag during protests against the end of subsidies to gasoline and diesel on Oct. 9 in Quito, Ecuador. Jorge Ivan Castaneira Jaramillo / Getty Images
Protesters block the road outside Mansion House in London during an XR climate change protest. Gareth Fuller / PA Images via Getty Images