This website uses cookies to ensure you get the best experience while browsing it. By clicking 'Got It' you're accepting these terms.
3 Changes That Could Be Coming to a Nutrition Label Near You
Mar. 06, 2014 11:58AM EST
The nutrition label may be getting a makeover … but will its new look help you make healthier choices? That's what the FDA is hoping. The new proposed nutrition labels will includes three major changes:
1. A more visible calorie count.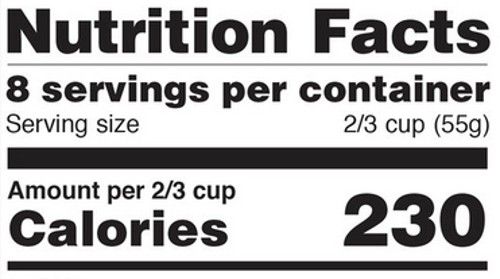 Calories are front and center on the new proposed label, set apart with a significantly larger, bolder font.
2. Larger, more realistic serving sizes.
People often underestimate how much they eat because they underestimate how many servings they're consuming. The proposed label would feature updated serving sizes that better reflect how much people eat of certain foods—therefore better reflecting the actual number of calories they're consuming.
3. A separate line for added sugars.

The new label will make it easier for consumers to distinguish between natural sugars (what you'll find in fruit, for example) and added sugars ("empty calories" like candy, baked goods and sodas). Americans currently get 16 percent of their total calories from added sugars.
Here's how the old label compares to the proposed new label:
Photo courtesy of Shutterstock
FDA Commissioner Margaret A. Hamburg, M.D. explains why they feel a change is due, stating "Today, people are eating differently—many current serving sizes, and the amount of calories and nutrients that go with them—are out of date." She goes on to point out that the three major changes are "important elements to fighting obesity and certain other chronic diseases, and making healthier food choices."
EcoWatch Daily Newsletter
Colombia rainforest. Marcel Oosterwijk / CC BY-SA 2.0
Many of us think of the Amazon as an untouched wilderness, but people have been thriving in these diverse environments for millennia. Due to this long history, the knowledge that Indigenous and forest communities pass between generations about plants, animals and forest ecology is incredibly rich and detailed and easily dwarfs that of any expert.
picture-alliance / Newscom / R. Ben Ari
By Wesley Rahn
Plastic byproducts were found in 97 percent of blood and urine samples from 2,500 children tested between 2014 and 2017, according to a study by the German Environment Ministry and the Robert Koch Institute.

Pexels
Medically reviewed by Daniel Bubnis, MS, NASM-CPT, NASE Level II-CSS
Hot yoga has become a popular exercise in recent years. It offers many of the same benefits as traditional yoga, such as stress reduction, improved strength, and flexibility.
Lara Hata / iStock / Getty Images
By SaVanna Shoemaker, MS, RDN, LD
Rice is a staple in many people's diets. It's filling, inexpensive, and a great mild-tasting addition to flavorful dishes.
An image of the trans-alaskan oil pipeline that carries oil from the northern part of Alaska all the way to valdez. This shot is right near the arctic national wildlife refuge. kyletperry / iStock / Getty Images Plus
The Trump administration has initialized the final steps to open up nearly 1.6 million acres of the protected Alaskan National Wildlife Refuge to allow oil and gas drilling.
Kaboompics / Pexels
Tensions between lawmakers and several large manufacturing companies came to a head on Capitol Hill this week during a hearing on toxic fluorochemicals in U.S. drinking water.