3 Arrested in Denton As Oklahoma Joins Texas in Banning Fracking Bans
Jun. 02, 2015 10:23AM EST
Energy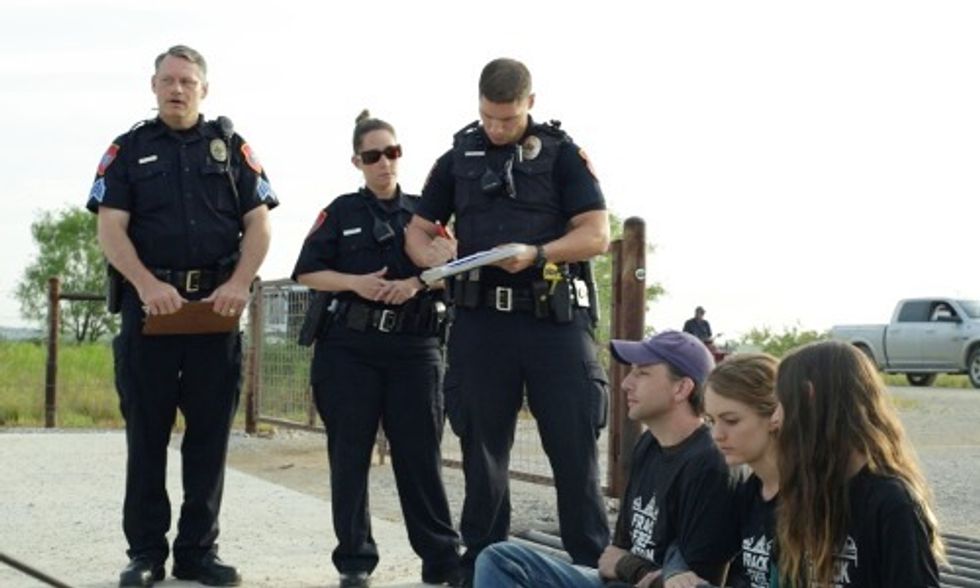 The movement by states to block local citizen input into fracking operations in their backyards has spread from Texas to Oklahoma. With concerns rising after a dramatic increase in earthquakes tied to fracking injection wells, Gov. Mary Fallin signed into law Monday a bill that would block cities and counties from enacting any restrictions on drilling, fracking, pipeline construction or the disposal of the wastewater byproduct of drilling—the injection wells that have been linked to the Oklahoma earthquakes.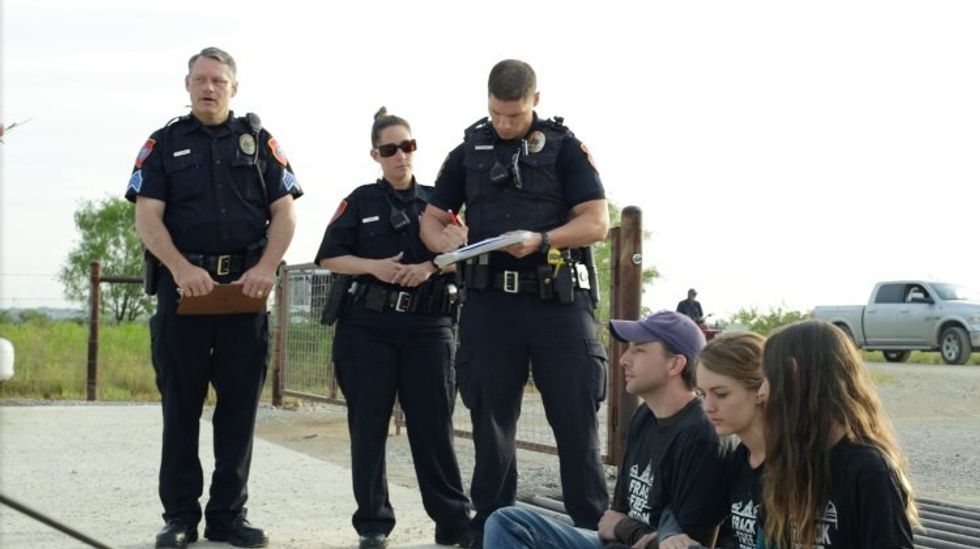 According to drilling supporters such as Fallin, this bill creates consistency and avoids a "patchwork of regulations" that could inconvenience the oil and gas industry. It does allow local governments to have some say over noise, traffic and pollution caused by drilling operations.
"Corporation commissioners are elected by the people of Oklahoma to regulate the oil and gas industry," said Fallin, referring to the Oklahoma Corporation Commission, which sets state energy policy. "They are best equipped to make decisions about drilling and its effect on seismic activity, the environment and other sensitive issues. The alternative is to pursue a patchwork of regulations that, in some cases, could arbitrarily ban energy exploration and damage the state's largest industry, largest employers and largest taxpayers."
She failed to note that the fossil fuel industry is also one of the largest donors to the campaigns of corporation commission candidates or that major players in the oil and gas industry, such as Oklahoma City-based fracking billionaire Harold Hamm, have pressured the state to downplay the link between fracking and earthquakes. The Oklahoman notes that commissioner Todd Hiett paid off a $200,ooo family loan to his campaign with contributions "mostly from donors in the oil and gas industry." Fellow commissioner Dana Murphy received more than half of her donations from the oil and gas industry in her latest campaign with Devon Energy and Chesapeake Energy her biggest donors.
Johnson Bridgwater, director of the Oklahoma Sierra Club, saw things differently than Fallin.
"At the very time local governments really need to have the ability to address a serious safety issue in their communities, the state is stepping in and taking that very authority away from them," he said.
Concern about fracking injection wells has been growing along with the number and intensity of earthquakes. Oklahoma, where earthquakes were once rare, now leads the nation in earthquakes, with three times as many quakes of 3.0 magnitude or greater than California. Prior to 2009, when widespread disposal of wastewater into underground wells began, the state experienced an average of two such quakes a year; in 2014, it had 585.
Texas blazed the trail for Oklahoma when Gov. Greg Abbott last month signed a similar bill pushed by the oil and gas industry in response to a ban on new fracking operations passed by nearly 60 percent of voters in the north Texas city of Denton last November. The city is considering repealing its ban as fracking operations resumed in Denton this week.
"What began as a purely Denton issue quickly evolved into an issue impacting every city in the state of Texas—all thanks to the overreaction of the Texas legislature and their industry-purchased legislation we all know as HB40," Denton City Councilman Kevin Roden posted on his blog. "As a result, the legal and political landscape surrounding this issue has changed dramatically. If our goal is to dismantle HB40 and restore robust local control on oil and gas development in cities, then all paths should be on the table and analyzed."
The three Denton citizens arrested this morning are still in custody. #Denton #FrackingBan #LocalControl pic.twitter.com/MYUF3BRc7y
— frackfreedenton (@frackfreedenton) June 1, 2015

And some Denton citizens are already fighting back. A group of activists from the Frack Free Denton movement blocked the drilling site and three were arrested Monday on charges of criminal trespassing.
"How could I sleep at night or look my children in the eyes if I was not here today to mark, with my body as well as my words, this injustice?" said Adam Briggle, one of those arrested.
"I believe our community has the right to defend itself from imminent threats," said Niki Chochrek, another of the detained protesters. "The legislature in Austin wants us to believe that we must stand aside and allow ourselves to be poisoned by this reckless industry. I refuse to stand aside, and I believe most people in Denton feel the same way."
YOU MIGHT ALSO LIKE
Confirmed: Oklahoma Earthquakes Caused By Fracking
Oil and Gas Billionaire Pressured Oklahoma Scientist to Ignore Fracking-Earthquake Link
Texas Passes Ban on Fracking Bans (Yes, You Read that Right)
EcoWatch Daily Newsletter