3 Arrested Blockading Train Tracks Protesting Oil-By-Rail
Three Seattle area residents were arrested today after blockading train tracks at an oil facility at Tesoro's Anacortes Refinery. The protestors were demanding an immediate end to the shipment of Bakken oil through Northwest communities, all new oil-by-rail terminals proposed for the Northwest and Clean Air Act violations by oil refineries.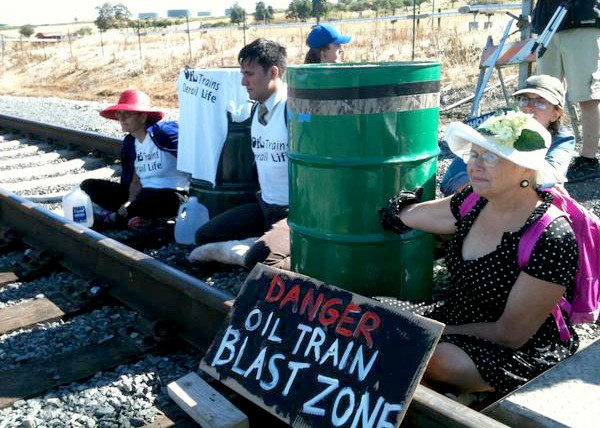 Three Seattle area resident blockade train tracks at the Tesoro's Anacortes Refinery. Photo credit: @SeattleActivist
"Thursday's derailment was the last straw," said Jan Woodruff, an Anacortes resident who was blockading the tracks. "If federal and state regulators won't stand up to the fossil fuel companies endangering our communities, then we, the people of those communities, will do so."
The blockade prevented at least one oil train from using the tracks as the protestors were locked down inside the train bed for more than four hours with their arms locked inside of 55-gallon barrels filled with concrete.
Last week, an oil train bound for Tesoro's Anacortes Refinery derailed in Seattle, WA under a busy bridge highlighting the dangers posed to Northwest communities. Nine to 16 oil trains travel through Seattle and Mount Vernon every week with about five bound for the Tesoro refinery. The day before the derailment, Seattle Mayor Ed Murray and all nine city council members sent a letter to the Department of Transportation asking for an immediate halt of oil-by-rail shipments through Seattle.
"Even though they travel through our city, we as a city, do not have control over how the railways are used, and we must rely on the safety standards that are set at the federal level," Seattle Mayor Ed Murray said in a statement following the derailment. "This is an important public safety issue facing Seattle and I will continue to advocate for less oil and coal coming through our city."
Despite the extreme controversy over the transport of Bakken oil, three oil-by-rail terminals were permitted in Washington state without full environmental review or robust public input. Permitting was allowed through the process of "mitigated determination of non-significance." This same process was used to approve terminals at the Port of Gray's Harbor and Shell's Puget Sound Refinery, but legal challenges and public opposition reversed these permits.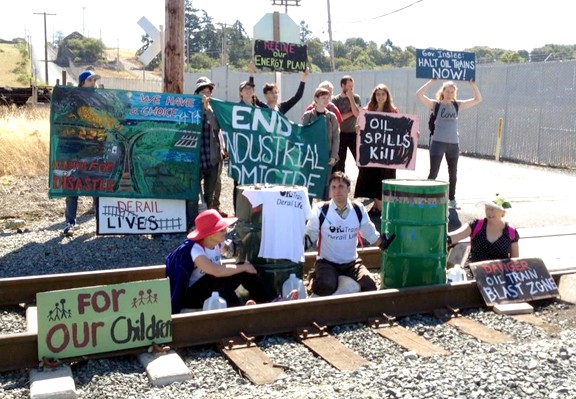 "It's no surprise that an industry willing to sacrifice the entire planet to catastrophic climate change doesn't see a few vaporized towns and cities as significant" said Adam Gaya, one of the blockaders and a member of Rising Tide Seattle. "With recent disasters and the accelerating climate crisis we shouldn't even be considering new oil infrastructure."
In 2010, Tesoro's Anacortes Refinery was the site of an explosion that killed seven workers. The company was later determined to have committed 39 "willful" and five "serious" violations of safety regulations.
"Tesoro and the others are bad actors. If any other group of people exposed us to these risks, they'd be locked up," says Annette Klapstein, a retired lawyer from Bainbridge Island. "This kind of resistance may seem extreme, but these are extreme times … and the resistance to this craziness won't end with us."
You Might Also Like
How Fracking Changed the World
North Texas Town Rejects Fracking Ban
Bill Maher is sick of billionaires' obsession with Mars, more like "Mars-a-Lago," he said.
In a new animation produced by ATTN:, the popular talk show host of Real Time, discusses the perils of our planet, including how "climate change is killing us."
Keep reading...
Show less
Dr. Benjamin D. Santer, research scientist
A group of prominent climate scientists have written a study explicitly refuting statements made by the U.S. Environmental Protection Agency Administrator Scott Pruitt on climate data. During his Senate confirmation hearing, Pruitt claimed in a written response that satellite data shows a "leveling off" of warming over the past two decades.
Keep reading...
Show less
By David Pomerantz
The Nevada Assembly passed a bill Wednesday that would dramatically increase the growth of renewable energy in the state, but Sheldon Adelson, the casino magnate and major donor to Donald Trump, is attempting to prevent the bill from becoming law.
Keep reading...
Show less
Matt Crossick
By Yosola Olorunshola
Whether it's through fashion or protest, Vivienne Westwood is not a woman afraid of making a statement.
On May 23, she rocked up to the residence of the Archbishop of Canterbury in London with a special guest—the Grim Reaper—to issue a strong statement on the Church of England's position on fracking.
Keep reading...
Show less
By Paul Brown
The food industry and big agricultural concerns are driving climate change and at the same time threatening to undermine efforts to feed the world's growing population, according to GRAIN, an organization that supports small farmers.
Particularly singled out for criticism are the large chemical fertilizer producers that have gained access to the United Nations talks on climate change. GRAIN accuses them of behaving like the fossil fuel companies did in the 1990s, pushing false information in the hope of delaying real action on climate change.
Keep reading...
Show less
May. 24, 2017 06:55PM EST
By Sydney Robinson
President Trump has no doubt been given a long list of extravagant, elaborate gifts in his lifetime, but the gift given to him today by Pope Francis may not make it on his most favorite list.
Keep reading...
Show less
May. 24, 2017 07:17PM EST
By John Rogers
Maybe it's because I first started working on clean energy while serving in the Peace Corps he founded, or maybe it's my years of working on these issues from his home state. But I can't help thinking about the 100th anniversary of John F. Kennedy's birth, and connecting his stirring rhetoric to the energy challenges of our times.
Here's what our 35th president might have said about the challenges of energy transition and the opportunities in clean energy:
"Change is the law of life. And those who look only to the past or present are certain to miss the future."
Keep reading...
Show less
May. 24, 2017 01:47PM EST
Keep reading...
Show less


Get EcoWatch in your inbox