3.4-Magnitude Earthquake Strikes Colorado Less Than 2 Miles From Fracking Site
Jun. 02, 2014 05:06PM EST
Fracking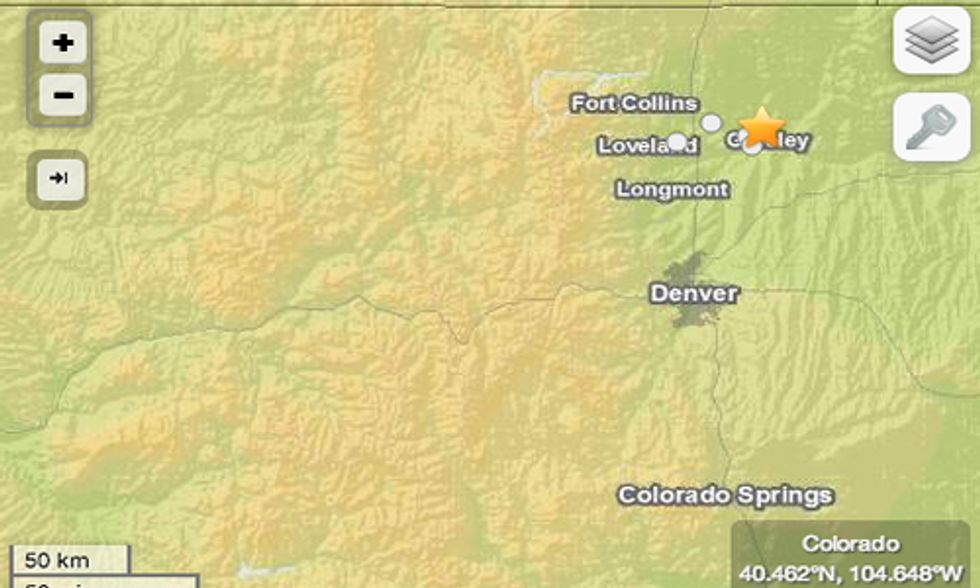 A 3.4-magnitude earthquake struck northern Colorado Saturday night, and environmentalists weren't surprised to learn that the epicenter was near a fracking site.
According to the U.S. Geological Survey (USGS), the earthquake struck about 9:35 p.m. It was felt in five towns, NBC 9 reported, with Greeley being the nearest.
There were no reports of damage, but anti-fracking activists say there is not a lot of math to add up in this incident. The USGS site refers to eastern Colorado as nearly "aseismic" and states that earthquakes are rare in the state, overall. However, The Tribune reported that the earthquake took place less than two miles away from two oil and gas wastewater injection wells that the state has not inspected in nearly two years.
Greeley is also in Weld County, where there are more than 24,000 wells.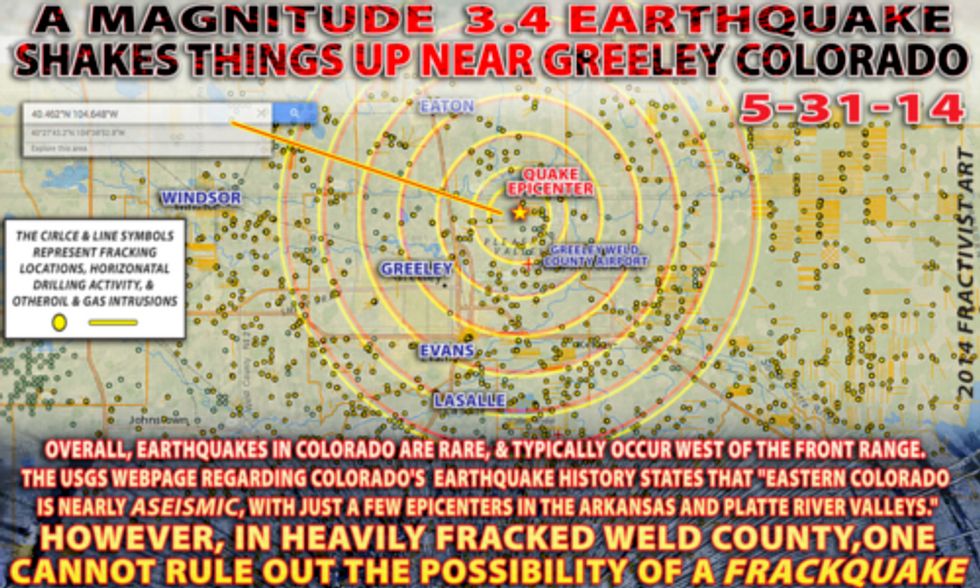 "Aseismic formations are naturally stable, however when you introduce thousands of fracking-shaped charges (forms of TNT), with millions of gallons of slick water and chemicals at pressures as high as 18,000 [pounds per square inch], the fractures in the shale can extend over 1,000 feet in a radius," Shane Davis of Fracktivist explained, via email.
"The shale formation is then essentially 'viscosified', or made slick by chemical additives."
This makes the shale easier to move, he said.
"Now, let's add hundreds or thousands of fracking operations within close proximity to each other," he wrote with sarcasm. "I suspect subsidence will be a future issue, as well."
The earthquake hit just a day after several groups demanded that Gov. John Hickenlooper allow them access to meetings he has been having with energy executives in hopes of getting more local control over fracking in communities across the state. Several cities have already introduced ballot initiatives for fracking control this year. 
YOU ALSO MIGHT LIKE
Colorado Groups Demand Access To Gov. Hickenlooper's Secret Fracking Meetings
Airborne Study Shows Colorado Oil and Gas Wells Leaked 3 Times More Methane Than EPA Estimates
Jon Stewart Highlights Earthquakes, Chevron's Pizza and Other 'Benefits' of Fracking
——–
EcoWatch Daily Newsletter