3,000 Marched Around White House Saying No Keystone XL Pipeline, Yes Climate Solutions
Nov. 18, 2012 05:38PM EST
Climate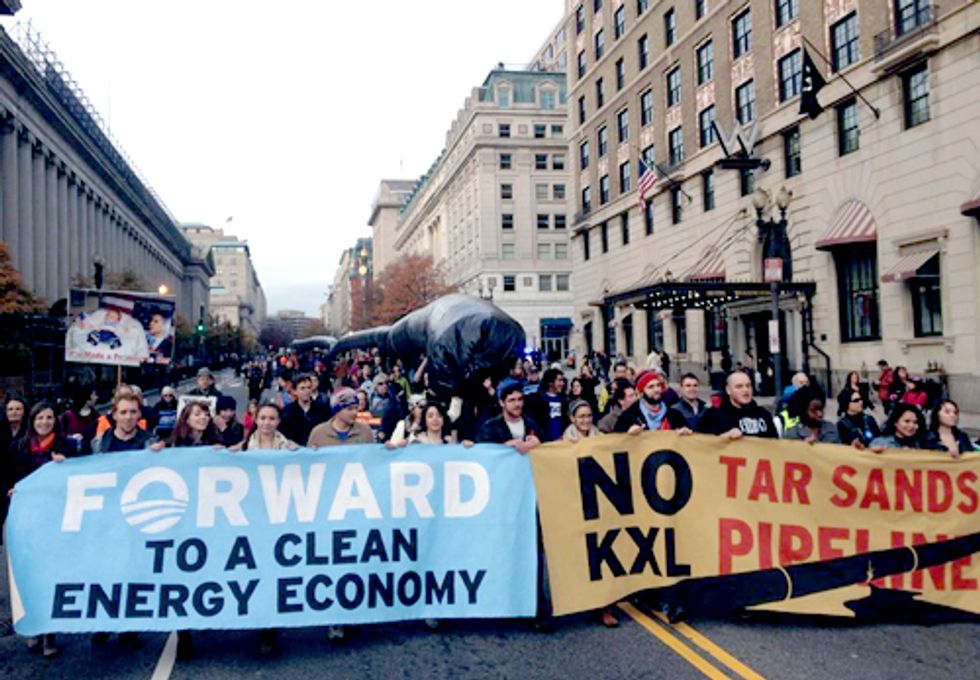 More than 3,000 people marched around the White House today, calling on the Obama Administration to reject the proposed Keystone XL tar sands pipeline and keep tar sands crude out of the U.S. The event, organized by 350.org, Sierra Club and other public interest groups, followed a 350.org "Do the Math" climate event at Washington, DC's historic Warner Theater.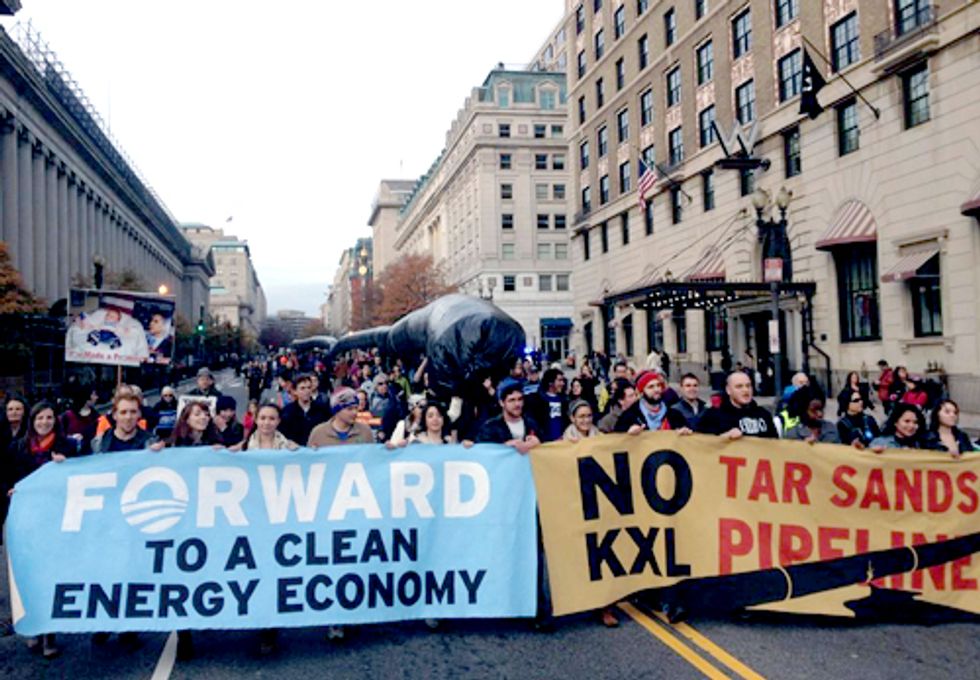 The groups also announced that today's event is the first in a series of actions promoting climate solutions and rejecting tar sands, Keystone XL, and other extreme oil sources that will culminate in a major Washington, DC rally on Presidents Day, Feb. 18, 2013.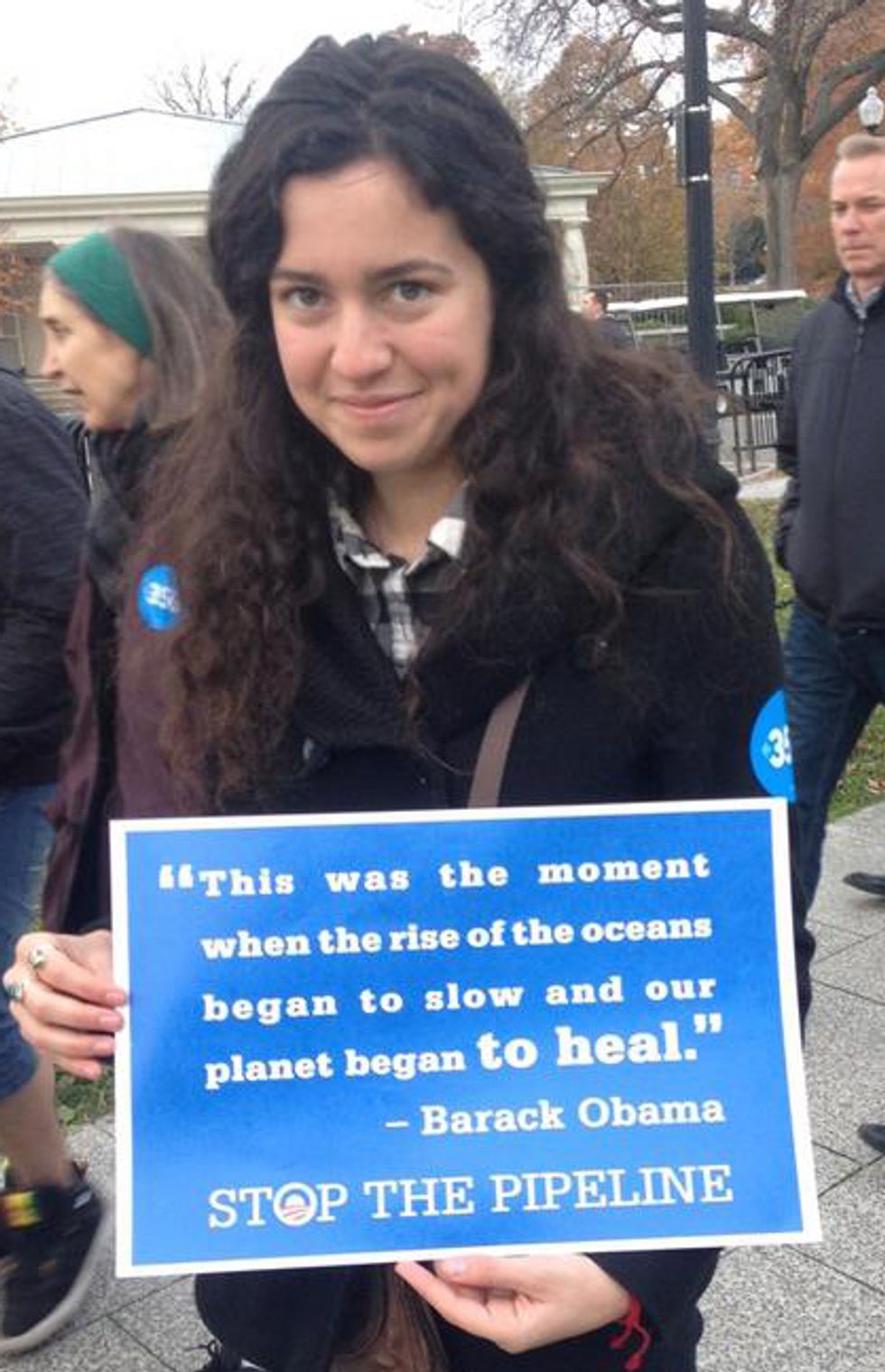 The marchers carried a 500 foot "oil pipeline" and held signs with famous quotes from President Barack Obama about his commitment to tackling the climate crisis, including this from election night: "We want our children to live in an America that isn't threatened by the destructive power of a warming planet."
"The President needs to know that the American people have his back on keeping tar sands crude out of America," says Sierra Club President Allison Chin. "In 2012 we've seen epic droughts and the Sandy superstorm—extreme weather delivering a loud and clear message that solutions to climate disruption can't wait. Keeping tar sands out of America is a critical step to turn this problem around."
After hearing from ranchers and farmers living along the proposed path of the Keystone XL pipeline and from landowners fighting to stop the Oklahoma to Texas portion of the pipeline, participants retraced the steps of a fall 2011 march that encircling the White House. Speakers at the Freedom Plaza rally which followed the march included 350.org founder Bill McKibben, Chin, Indigenous Environmental Network organizer Marty Cobenais and others.
"I never wanted this tar sands pipeline, but TransCanada bullied me out of my land and now they're ripping my farm apart," says Susan Scott, a landowner in the path of the pipeline and lifelong East Texan. "This pipeline puts my family, my loved ones, and my property at risk; but we all need to rise up and defend our homes because this isn't just about Texas. Keystone XL threatens us all."
A Nov. 7, 2012 joint letter from 19 environmental leaders announced the rally, recognized the progress the administration has achieved to lower U.S. climate pollution emissions through new car and light truck efficiency standards, and called on the President to take a strong stand against the carbon-intensive, highly polluting tar sands crude.
"It's time to start holding the fossil fuel industry accountable for the wholesale damage they're doing to our planet," said McKibben. "If Sandy showed us anything, it's that the hour is late and the need is urgent–but the fossil fuel industry has terrified our politicians and the result has been two decades of inaction. We need that to change."
Visit EcoWatch's CLIMATE CHANGE and KEYSTONE XL pages for more related news on this topic.
EcoWatch Daily Newsletter