280+ Elected Officials Call on Gov. Cuomo to Continue Fracking Moratorium
Jun. 04, 2012 06:17PM EST
Energy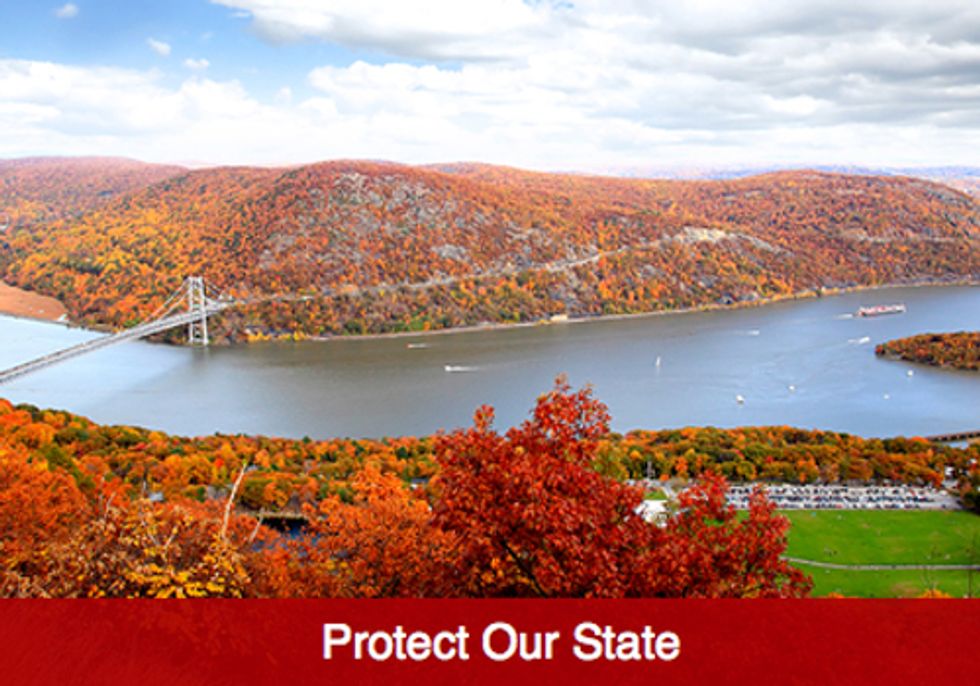 On Monday, June 4, more than 280 local elected officials from 34 counties across New York State called on Governor Cuomo to continue the fracking moratorium and to do additional study before a decision is made whether to allow fracking. Their request, which they delivered in the form of a letter to the Governor, crosses political lines and comes from elected officials from more than half of New York State's counties.
At a press conference in Albany, elected officials shared issues of concern to municipalities and released their letter to Governor Cuomo. They spoke about how the Department of Environmental Conservation's (DEC) review of fracking has significant shortcomings. To address their concerns, a number of studies are needed before—not after—any decision is made about fracking and before fracking commences anywhere in the state.
One of the elected officials who started the initiative, Town of Caroline Deputy Supervisor Dominic Frongillo, said, "As local elected officials, we are on the front lines of this issue, and a number of critical studies have not been done to determine the consequences of fracking and drilling operations to the constituents we represent. The impacts of fracking don't respect municipal boundaries or political parties, which is why we've already seen such an overwhelming and bipartisan response in support of this initiative from across the state."
Among their concerns are the cumulative health impacts of fracking, so they are calling for a comprehensive and independent cumulative health impact assessment. Town of Rochester Supervisor Carl Chipman said, "The revised SGEIS on the extraction of natural gas by hydraulic fracturing presented by the DEC falls very short of resolving and even discussing many concerns involving the impacts on the health, safety, and general well being of our residents as well as the economic impacts to our communities. As an elected official, failure to oppose lifting the moratorium on hydraulic fracturing in New York would be a disservice to those whom I'm elected to represent."
Elected Officials to Protect New York's request to the governor also called for revised and thorough studies of all potentially negative socioeconomic impacts (not just the benefits, as the current study outlines) and of cumulative environmental impacts related to fracking and drilling operations. They pointed out that thorough study was significantly lacking in the SGEIS of impacts relating to these concerns, including increased demands on local governments, increased strain on first responders and law enforcement, effects on property values and home mortgages, impacts on existing businesses and economies, local community character, water resources, air quality, greenhouse gas emissions and more.
Justin Riccobono, Council Member At Large in the City of Beacon, urged extreme caution: "As a Republican and a conservative, I feel there are too many risks involved for our watershed and air quality than there are benefits. If something goes wrong, we may never be able to correct the problem. I encourage all New Yorkers to research the issues with hydrofracking in the states of Wyoming, Pennsylvania and West Virginia."
Elected Officials to Protect New York noted that they agree with Governor Cuomo that a decision on fracking should be based on the science, but they believe the facts and science available currently leave many serious questions unanswered. Albany Common Council Member Leah Golby said, "It is imperative that a decision on fracking be based on the facts, like the Governor has said it will be, but as it stands New York State has not adequately looked at the science and facts on many issues of serious concern. We respectfully urge Governor Cuomo to maintain New York's moratorium and to hold off on making a decision until the requested independent and thorough studies have been completed and we have all of the facts."
Elected officials from the Southern Tier were quick to point out that the perception that the Southern Tier wants fracking is wrong. Town of Afton Councilmember Mary Jo Long said, "Just because we have been unable to get our town boards to pass bans or moratoria to date does not mean we want our community fracked. Senator Libous does not speak for a large portion of the Southern Tier."
City of Elmira Mayor Susan Skidmore said, "My opinion is that all the facts are not being considered. Local environmental and infrastructure studies and current conditions of these items are not understood or taken into consideration. I am very concerned about the impact to my city. I see it as a burden to the residents to shoulder what is left when these large companies cap the wells and employment drops to a few part time maintenance positions. It will and has destroyed our property values and our ability to afford our own homes and rental properties."
Syracuse Common Councilor Kathleen Joy said, "Even though Syracuse is protected, New York is one state. If it's not safe in one municipality's watershed, it's not safe anywhere. We shouldn't be putting any of New York's citizens at risk. The risks of fracking don't change from one municipality to the next, neither should state policy."
Elected Officials to Protect New York is a broad-based and nonpartisan group of elected officials seeking to open a dialogue with the Governor's office on these issues. Frongillo made the point that there needs to be an ongoing conversation between the Governor's office and local officials: "Whatever is eventually decided about fracking, we need to be consulted and involved. We're the boots on the ground, representing villages, cities, towns, and counties. The bipartisan, geographically-diverse group of elected officials that has joined together on this letter stands ready to work with the DEC and the Governor for the best possible future for all of New York State."
Elected Officials to Protect New York will continue to collect signatures on the letter to Governor Cuomo on its website.
Visit EcoWatch's FRACKING page for more related news on this topic.
EcoWatch Daily Newsletter