This website uses cookies to ensure you get the best experience while browsing it. By clicking 'Got It' you're accepting these terms.
28 Most Inspiring Urban Agriculture Projects Around the World
Oct. 21, 2015 10:22AM EST
Food
Around 15 percent of the world's food is now grown in urban areas. According to the U.N. Food and Agriculture Organization (FAO), urban farms already supply food to about 700 million residents of cities, representing about a quarter of the world's urban population. By 2030, 60 percent of people in developing countries will likely live in cities.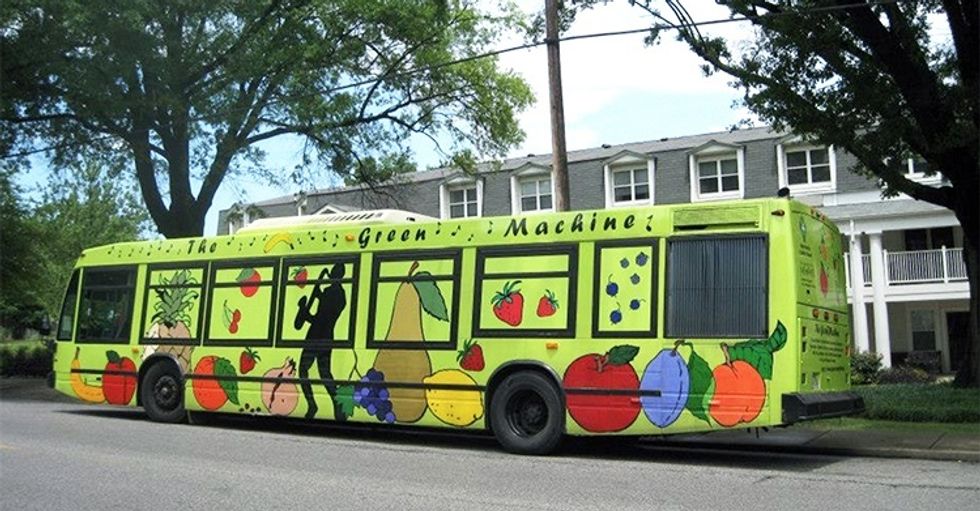 The Green Machine Mobile Food Market uses a bus to deliver fresh fruits and vegetables to almost 400 customers in the food deserts of South Memphis. Photo credit: Green Machine Mobile Food Market
At Food Tank, we are amazed by the efforts of hundreds of urban farms and gardens to grow organic produce, cultivate food justice and equity in their communities and revitalize urban land. Urban agriculture not only contributes to food security, but also to environmental stewardship and a cultural reconnection with the land through education.
The Urban Food Policy Pact (UFPP), signed on World Food Day, addresses the potential of cities to contribute to food security through urban agriculture. A technical team of 10 members organized physical and virtual workshops with many of the 45 cities participating in the pact, and drafted a framework for action that includes 37 provisions covering the themes of governance, food supply and distribution, sustainable diets and nutrition, poverty alleviation, food production, and food and nutrient recovery.
"The 2015 Sustainable Development Goals (SDGs) recognize the importance of building sustainable cities," says Maurizio Baruffi, Chief of Staff of the Mayor of Milan, Italy. "The City of Milan is partnering with urban areas around the world to embark on this journey, starting from food."
Do you want to discover urban agriculture projects in your own city or are you interested in visiting farms during your travels to new urban areas? Check out these inspiring projects, and find even more links to urban agriculture projects below.
Abalimi is an urban agriculture and environmental action group located outside of Capetown, South Africa. The organization supports and assists groups and individuals looking to improve their livelihoods through organic farming.
Alternatives' Feeding Citizenship
A nonprofit that promotes social and environmental justice in Montreal, Canada, Alternatives' Feeding Citizenship is growing healthy food to fuel healthy communities. The project engages the community through horticultural training programs while supporting school and neighborhood gardens.
Baltimore Urban Gardening with Students (BUGS)
An after-school and summer program, BUGS provides children from low-income neighborhoods in Baltimore, Maryland with a safe place for learning. Kids can garden, visit local farms and try new foods while improving math and reading skills as well as exploring creative entrepreneurial projects.
Located in Puerto Maldonado, Peru, Camino Verde's mission is to plant trees and encourage environmental stewardship through educational programs and public awareness. The project's Living Seed Bank acts as a botanical garden with over 250 tree species and protects endangered varieties. Camino Verde has planted over 70 different fruit trees, 40 flowering species, and enough trees to cover seven hectares of land.
Serving communities in Canberra, Australia, Canberra City Farms is dedicated to establishing learning hubs where people can collaborate and share their knowledge of sustainable and environmentally responsible food production.
A 100 percent bike-powered compost recycling project in Austin, Texas, Compost Pedallers strives to reduce waste, strengthen the local food system and connect the community with farms. Residents can sign up to redirect organic waste to local farms and gardens through the bicycle-powered network.
Detroit Dirt is a compost company that helps complete the "circle of life" in food production by regenerating waste into resources. Through partnerships with community coffee houses and local businesses, the organization is hoping to instill a self-sustaining culture of recycling organic waste and provide a valuable resource to urban farms and gardens in Detroit.
A municipal organic farm nestled in an expansive park, Ferme de Paris provides the public with vegetable gardens, orchards, medicinal plant gardens and a number of farm animals housed in sustainably-constructed buildings. City residents can even stay to volunteer if they want to.
Fresh & Local is looking to use urban agriculture to improve the health and well-being of Mumbai. The organization takes underutilized spaces and transforms them into places of community empowered food production.
Frisch vom Dach (Fresh from the Roof)
An aquaponics project starting on the rooftop of a former malt factory in Berlin, Germany, Frisch vom Dach uses nutrients from aquaculture to irrigate plants in a mostly closed loop.
Green Machine Mobile Food Market
A collaborative project among a number of organizations in Memphis, Tennessee, the Green Machine Mobile Food Market uses a bus to deliver fresh fruits and vegetables to almost 400 customers in the food deserts of South Memphis.
Grignon Energie Positive, located in Paris, France, is an experimental farm run by the AgroParisTech program for sustainable development. The farm is working to reduce energy inputs by developing techniques that minimize its carbon footprint while growing enough organic food to feed between 5,500 and 8,000 people annually.
Grow City is a nonprofit in San Francisco, California that works to amend the way people consider the division between urban and rural to build a "more secure, sustainable, and fair" food system.
An edible forest in Mexico City, Mexico with 45 tree varieties, a seed bank, and a large section of bio-intensive gardening, Huerto Tlatelolco was created with the objective of building the local community.
A nonprofit farming cooperative in the South Bronx, New York, La Finca del Sur is led by Latina and black women. By empowering minority women through economic and food stability, the project is contributing to social and political equity in an underserved area.
The Last Organic Outpost is a research farm that teaches sustainable agriculture techniques to residents of Houston, Texas. The project targets underserved areas and supports local farmers so they can develop a safe, healthy local food economy.
An urban farm in San Antonio, Texas, Local Sprout grows fresh fruits and vegetables year-round using a hydroponic growing system. The project aims to contribute to food security, provide education and reduce environmental impact.
Marathon Restaurants, a small, sustainably minded chain in Philadelphia, now sources its fresh, organic produce from Marathon Urban Farm. The farm is revitalizing urban land and providing workshops on cooking and composting.
The Mazingira Institute provides training and support for urban farmers in Nairobi, Kenya. The NGO has trained about 3,000 urban farmers and organized youth and women's hubs.
Natural Sound Agriculture and Craft Education
Natural Sound Agriculture and Craft Education is a private enterprise that offers educational opportunities about agriculture and food crafts to increase knowledge about urban gardening, sustainable agriculture and traditional skills like beekeeping, mushroom growing and brick-making.
O'Hare International Airport Urban Garden
At the Rotunda Building of O'Hare International Airport in Chicago, Illinois, 26 vertical, aeroponic towers house herbs, greens, and tomatoes. The project also raises animals that mow the property's lawn.
An urban farm in Tokyo that grows over 100 types of produce indoors, underground and on the exterior walls of the nine-story office-style building, Pasona O2 has been described as technologically intensive.
Located in Montreal, Canada, The People's Potato is a neighborhood collective providing garden and greenhouse space for community members. Volunteers grow and distribute organic produce to the surrounding community and distribute vegan meals through a food bank. The People's Potato maintains an educational program in the form of monthly workshops and an affordable Good Food Box program.
ReVision Urban Farm is a community-based urban agriculture project that grows nutritious, culturally appropriate food for residents of its family home and the Boston community. The project also teaches locals about healthy eating and offers job training for youth and the homeless in the area.
Roosevelt Row Growhouse is a revitalization initiative from two artists that transformed a vacant, dilapidated property into a learning center for urban desert vegetable farming, sustainable living, healthy eating and edible landscaping in Phoenix, Arizona.
An urban farm and San Diego-based company that creates and distributes small-scale vertical gardens, SoCal Urban Farms aims to help anyone produce sustainable and healthy food, even with minimal space and poor soil.
Urban Farms of Central Ohio  (UFCO)
A nonprofit organization formed by the Mid-Ohio Foodbank, UFCO transforms vacant or under-utilized land into community gardens to generate a sustainable source of food stability for underserved communities.
The Washington Youth Garden  (WYG)
WYG is a community garden that teaches science, environmental stewardship and nutrition to youth in Washington, D.C. through hands-on gardening experience.
These are just a few examples from a cornucopia of urban agriculture projects happening in these cities. To learn more, read the full lists here:
Check out The Good Stuff's video on urban farming:
YOU MIGHT ALSO LIKE
3 Companies Say 'No' to GMO Arctic Apples
Inside the Nation's Largest Organic Vertical Farm
50 Ways You Can Help Save the Earth
EcoWatch Daily Newsletter
Coldplay is releasing a new album on Friday, but the release will not be followed by a world tour.
Ash dieback is seen infecting a European ash (Fraxinus excelsior) in Bottomcraig, Scotland, UK on Aug. 10, 2016.
nz_willowherb / Flickr
Scientists have discovered a genetic basis to resistance against ash tree dieback, a devastating fungal infection that is predicted to kill over half of the ash trees in the region, and it could open up new possibilities to save the species.
Truth in Action is a day-long global conversation on the climate crisis and how we solve it. The Climate Reality Project
Former Vice President Al Gore kicked off 24 hours of climate talks in the U.S. and 77 other countries around the world Wednesday night.
Activists highlighted the climate emergency outside Scottish Government headquarters at St Andrew's House in Edinburgh on Oct. 13, 2017. Usage of the term "climate emergency" spiked in 2019, according to Oxford Dictionaries.
By Jessica Corbett
Climate advocates and experts celebrated Oxford Dictionaries' announcement Wednesday that "climate emergency" is the Oxford Word of the Year 2019.
By Kieran Cooke
There could be a way of countering one key aspect of the climate emergency by making much greater use of a widely-available plant: bamboo building.