This website uses cookies to ensure you get the best experience while browsing it. By clicking 'Got It' you're accepting these terms.


The best of EcoWatch, right in your inbox. Sign up for our email newsletter!
27,000 Pink Plastic Detergent Bottles Wash Up on UK Beach
Jan. 05, 2016 03:01PM EST
Many plastic bottles are washing up on Poldhu Beach in Cornwall, UK this week, making the waves literally pink.
It appears that a whopping 27,000 of these bright pink bottles—believed to be Vanish brand detergent—have washed ashore, prompting wildlife warnings in the area due to the potentially toxic contents of the bottles, according to UK-based ocean advocacy group Surfers Against Sewage.
MailOnline reported that the bright pink bottles have been "strewn across bubbly sand as far as the eye can see" and even more bottles are expected to wash up in the coming days, the National Trust (who owns the beach) said.
Many of the bottles are full but some have leaked, a Cornwall council spokeswoman said. As you can see in the photos, the soapy content in the bottles have coated the shoreline with foam.
Conservationists told the BBC that nearby coves including Gunwalloe, Polurrian, Church Cove and Marazion have also been affected.
Although many people volunteered to pick up the plastic litter, they have also been warned to stay away.
"In the meantime the public are advised to keep children and dogs at a safe distance from the bottles should any more be washed up," a Cornwall council spokeswoman said. "No attempt should be made to recover the bottles."
In a blog post, Surfers Against Sewage warned about the harmful contents of the bottles:
"WARNING: These bottles are thought to contain hazardous and toxic chemicals, only handle with extreme care or report bottles to Cornwall Council and SAS to be removed by experts. Please remember, the contents are most likely toxic and if you decide to remove them, please take precautions (wearing gloves and store in an appropriate container)."
The area is currently being monitored by the Maritime and Coastguard Agency and Natural England. A wildlife warning has been issued for the area as the contents of the soap could be harmful to natural life, MailOnline reported.
Cornwall Wildlife Trust told the BBC it was "highly concerned" about the impact on "sensitive marine life."
"The main worry is all that detergent going into our beautiful marine environment, but thankfully most are full," Justin Whitehouse, from the National Trust, told the BBC.
Surfers Against Sewage said in a blog post that the bottles originated from a shipping vessel, which reportedly lost "a number of containers" near Land's End in May last year.
The group adds that recent winter storms have purportedly caused the bottles to redistribute around the area:
"Our friends at Lizard National Trust were the first to spot these bottles on their beaches and believe they are from the container ship, DS Blue Ocean, that lost a number of containers overboard near Lands End in May 2015. 27 tonnes of Vanish detergent were in one of these containers. These containers will have been lying on the sea floor since May, disturbed and reanimated by the recent winter storms that are now distributing them onto ever beach, cove and rock pool the tides, winds and swell can reach."
The Maritime and Coastguard Agency said (via the BBC) that "while it is fact that the MV Blue Ocean lost a container containing bottles of 'Vanish,' there is no currently available evidence that the bottles washed up on the Cornish coast are from this container; all evidence is currently circumstantial."
A Vanish spokesman told MailOnline they are unsure if the bottles are theirs, but that it "looks that way."
"We're working closely to get samples back. It's a concern and we're working with the authorities while we investigate if they're our bottles," he added.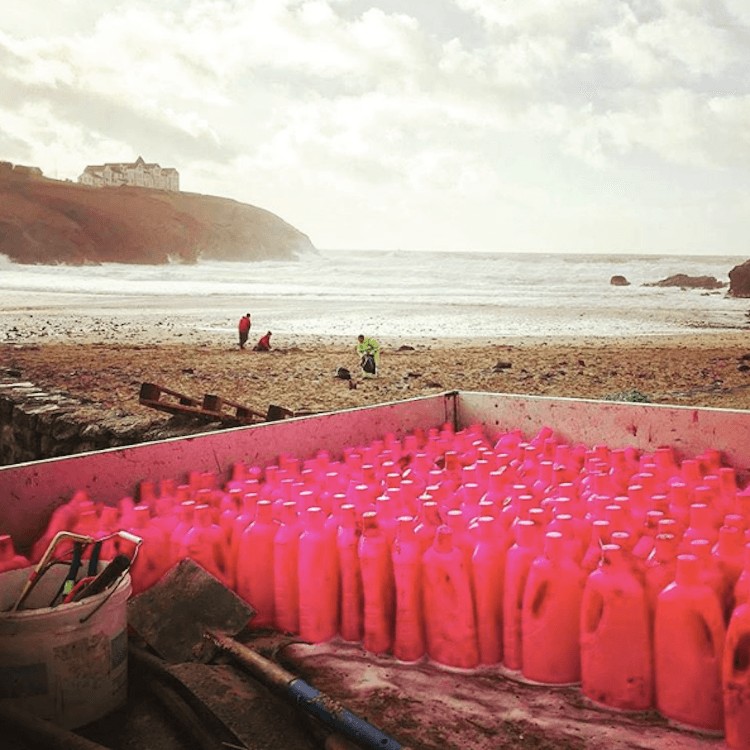 Photo credit: Surfers Against Sewage
Cleanup efforts are underway. Watch this video from The Guardian for more:
Teflon's Toxic Legacy: DuPont Knew for Decades It Was Contaminating Water Supplies
How One Man Plans to Make Billions Selling Water From Mojave Desert to Drought-Stricken California
Victory: Obama Signs Bill Banning Plastic Microbeads
EcoWatch Daily Newsletter
A metal fence marked with the U.S. Border Patrol sign prevents people to get close to the barbed/concertina wire covering the U.S./Mexico border fence, in Nogales, Arizona, on Feb. 9. ARIANA DREHSLER / AFP / Getty Images
D'Bone Collector Museum head Darrell Blatchley shows plastic found inside the stomach of a Cuvier's beaked whale in the Philippines this weekend. - / AFP / Getty Images
Yet another whale has died after ingesting plastic bags. A young male Cuvier's beaked whale was found washed up in Mabini, Compostela Valley in the Philippines Friday, CNN reported. When scientists from the D' Bone Collector Museum in Davao investigated the dead whale, they found it had died of "dehydration and starvation" after swallowing plastic bags―40 kilograms (approximately 88 pounds) worth of them!
Pexels
By Jeff Turrentine
"Be careful what you wish for; you just might get it." This is something that everybody has to learn at some point. Lately, the lesson has hit home for a group of American automakers.
Art direction: Georgie Johnson. Illustrations: Freya Morgan
By Joe Sandler Clarke
"Don't expect us to continue buying European products," Malaysia's former plantations minister Mah Siew Keong told reporters in January last year. His comments came just after he had accused the EU of "practising a form of crop apartheid."

A few months later Luhut Pandjaitan, an Indonesian government minister close to President Joko 'Jokowi' Widodo, warned his country would retaliate if it was "cornered" by the EU.
Torres and his parents walk along the Rio Grande. Luis Torres / Earthjustice
By Luis Torres
For some people who live along the U.S.-Mexico border, President Trump's attempt to declare a national emergency and extend the border wall is worse than a wasteful, unconstitutional stunt. It's an attack on their way of life that threatens to desecrate their loved ones' graves.
Flooding caused by last week's bomb cyclone storm has broken records in 17 places across the state of Nebraska, CNN reported Sunday. Around nine million people in 14 states along the Mississippi and Missouri Rivers were under a flood watch, CNN meteorologist Karen Maginnis said.
A car destroyed by Cyclone Idai in Beira, Mozambique. ADRIEN BARBIER / AFP / Getty Images
At least 150 people have died in a cyclone that devastated parts of Mozambique, Zimbabwe and Malawi over the weekend, The Associated Press reported Sunday. Cyclone Idai has affected more than 1.5 million people since it hit Mozambique's port city of Beira late Thursday, then traveled west to Zimbabwe and Malawi. Hundreds are still missing and tens of thousands are without access to roads or telephones.
"I think this is the biggest natural disaster Mozambique has ever faced. Everything is destroyed. Our priority now is to save human lives," Mozambique's Environment Minister Celso Correia said, as AFP reported.