250,000 People Call for Action on Climate Change and an End to Extreme Poverty
Apr. 20, 2015 11:47AM EST
Climate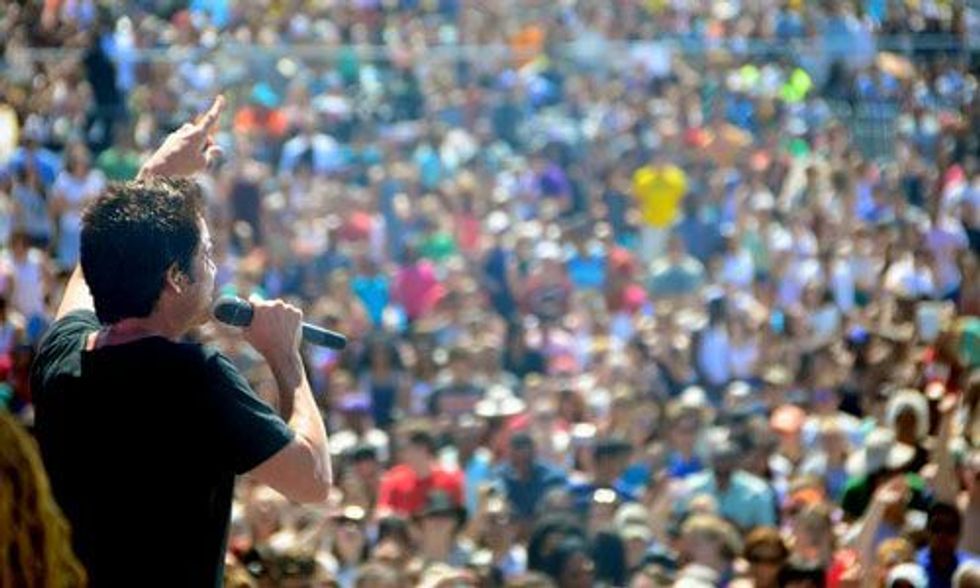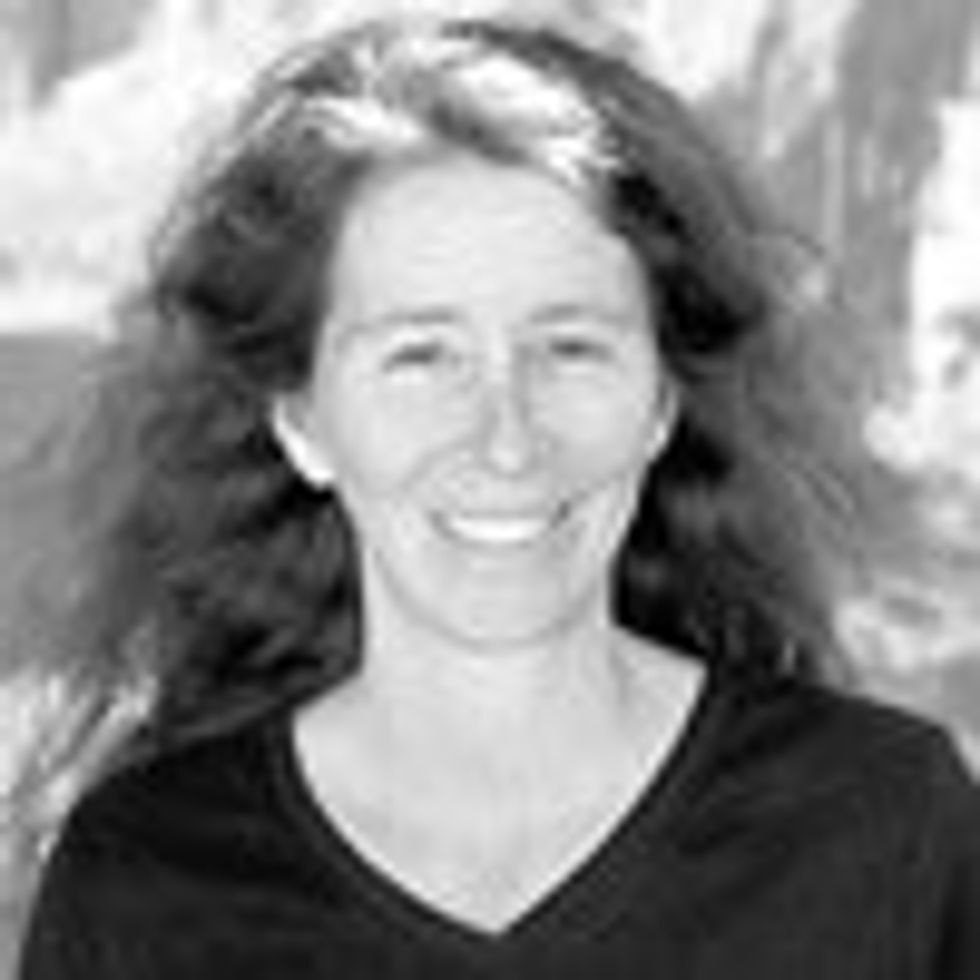 In celebration of the 45th anniversary of Earth Day, Earth Day Network and The Global Poverty Project joined forces to expand the movement to end extreme poverty and solve the climate crisis. Global Citizen 2015 Earth Day was a free event Saturday on the National Mall in Washington, DC where more than 250,000 people gathered to engage in these issues and enjoy an all-star concert.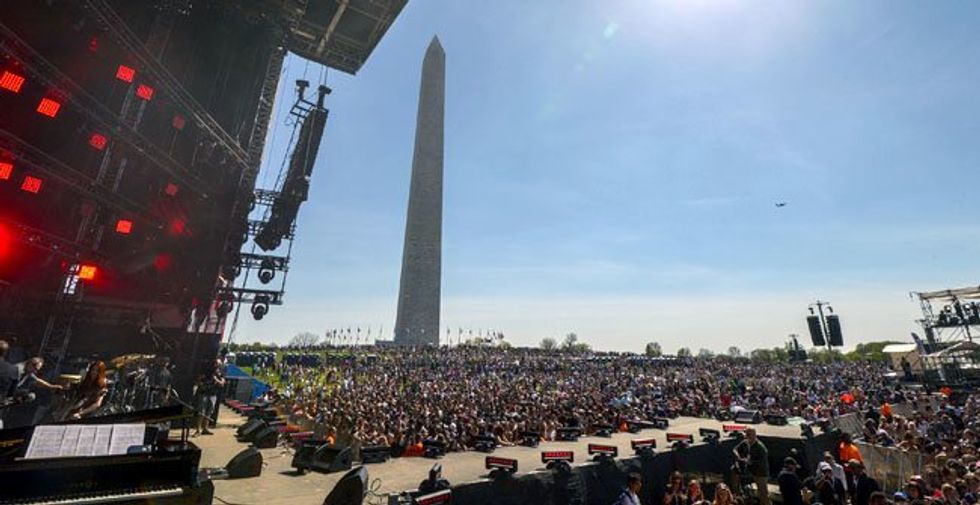 No Doubt, Usher, Fall Out Boy, Mary J. Blige, Train and My Morning Jacket, with special guests Common and D'Banj, headlined Global Citizen 2015. The event was hosted by will.i.am and Soledad O'Brien. The all-day concert coincide with the spring meetings of the World Bank Group, which brought global policymakers, finance ministers, environment and development NGOs, industry executives and high-profile artists together in participation in the event.
The more than 250,000 people at the event and the 2 million people that watched it live via YouTube were asked to download the Global Citizen 2015 Earth Day app and take action on these critical issues by letting their elected officials know they care about ending extreme poverty and solving climate change.
The crowd exploded when Train took the stage. Train's Patrick Monahan spoke to the crowd encouraging everyone to get active and make a difference in the world. In addition to performing their top songs, including Drops of Jupiter, they rocked out Aerosmith's Dream On which had the crowd roaring and singing at the top of their lungs, "Dream on, dream on, dream until your dreams come true."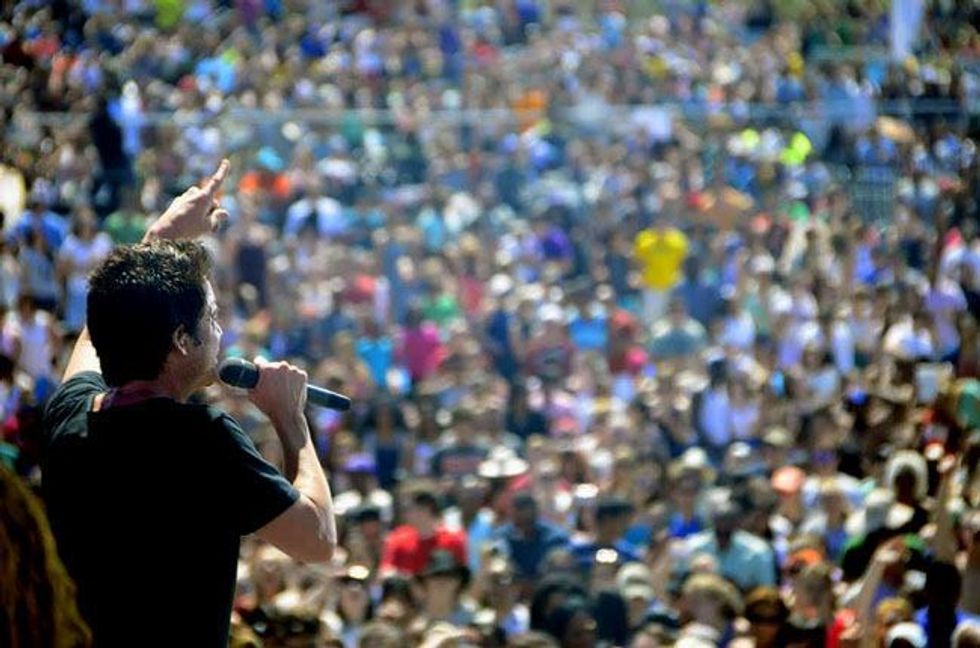 The day was filled with dignitaries announcing 33 critical commitments, including United Nations Secretary-General Ban Ki-moon and President of the World Bank Group Jim Yong Kim.
Ban Ki-moon at #GlobalCitizenEarthDay: raise your voice for people & planet https://t.co/9tHu9QLpzn #Action2015 pic.twitter.com/775CbSU5Tm

— United Nations (@UN) April 18, 2015
Huge commitments were made by the world's most influential leaders, including Ki-moon announcing a plan to end poverty through the collaboration between international organizations and civil society.
"Will you support women's empowerment? Will you speak up to bring all the children to school? Will you raise your voice for people and our planet?," asked Ki-moon. "It's our best chance to end global poverty. It's our last chance to tackle climate change before it is too late. You have the power. Your generation can make it happen. Be a global citizen. Take your passion and compassion to make this world sustainable, prosperous. And, let's make that our global reality!"
U.S. Reps Betty McCollum (D-MN), Ed Royce (R-CA), Dave Reichert (R-WA) and Sen. Isakson (R-GA) stood together to announce bipartisan support for the Global Food Security act and the intention to bring the bill to a vote next week.
"Next week, when the Foreign Affairs committee votes on the Global Food Security Act, we'll get a second chance," said Rep. Royce. "And with your help we can get this important bill through Congress and to the President's desk without further delay."
Rovio Entertainment, whose Angry Birds game has been downloaded 2.8 billion times, announced Angry Birds' "Champions for Earth," in cooperation with the Earth Day Network.
"I am now committing, on behalf of Rovio and Earth Day Network, to bring an amazing game experience to Angry Birds in time for Climate Week and the UN General Assembly in September. Stay tuned, get ready!," said Patrick Liu, creative director of Rovio Entertainment.
Ahmad Ashkar, CEO of the Hult Prize, a partnership with President Clinton and the Clinton Global Initiative that has invested $25 million dollars in the next generation and mobilized hundreds of thousands of youth to solve our planet's most crippling challenges through new and innovative business approaches that are both profitable and sustainable, made a huge announcement Saturday.
"Today, we are excited to announce an incredible new partnership with Earth Day Network enabling 500,000 high school students from across the world to dream up innovative ideas and global solutions," said Ashkar. "We will pair their ideas with a million dollars of seed funding so that these students, our future, can make their dreams of a better world a reality."
And, the day would not have been complete without hearing from Denis Hayes, one of the organizers of the first Earth Day in 1970.
"Climate justice is the issue facing this generation. Ruthless, powerful carbon companies are buying votes and lying like the cigarette industry did for so long. So far, they are winning. The main power on the other side is you—you and billions of other people who actually care about tomorrow," said Hayes.
As part of the days festivities, Connect4Climate and Earth Day Network organized a roundtable to engage world leaders and influencers in a candid conversation on climate communication. The roundtable brought together a diverse group of business and nonprofit leaders that discussed the most pressing issues around communicating climate change and ways to get more people engaged.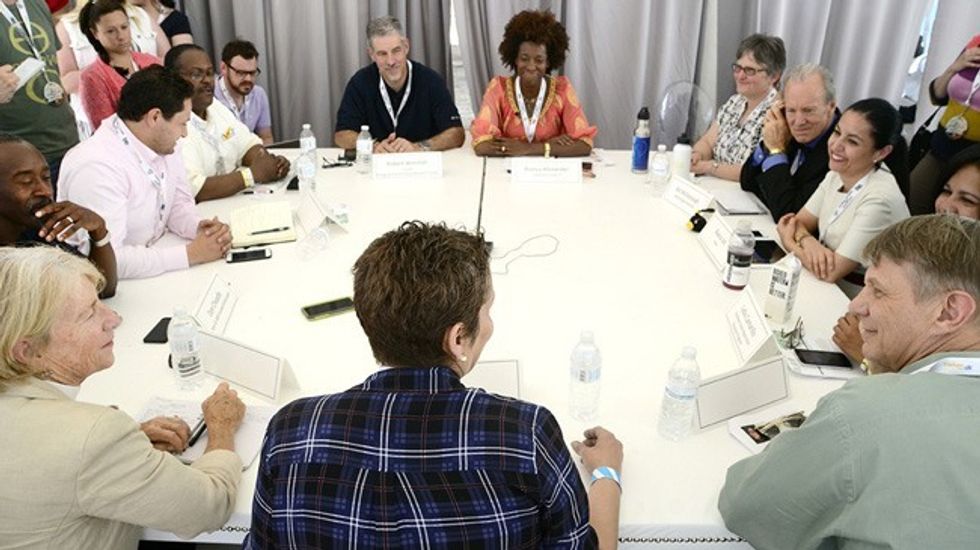 Later in the day, actor and United Nations Goodwill Ambassador Don Cheadle took the stage and introduced Connect4Climate's program manager Lucia Grenna.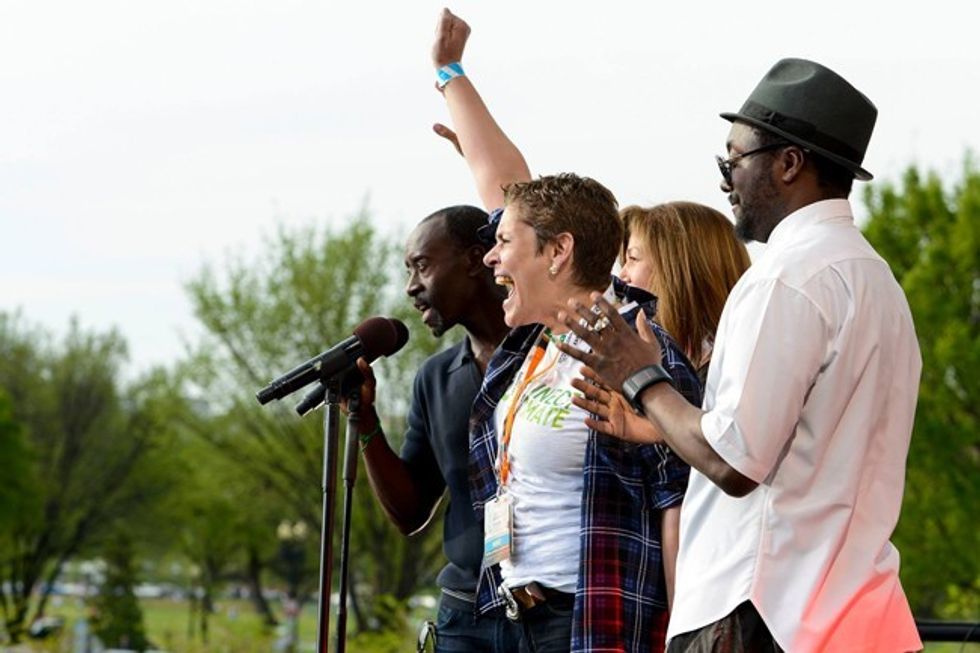 Grenna acknowledged the winners of the Action4Climate documentary competition, which received submission of 230 videos from 70 countries, bringing to life the serious consequences of climate change across the world and highlighting the actions taken by local communities to tackle it. 
Grenna then introduced Monica Ord, the producer of the soon-to-be released film Chloe & Theo, which had its world premier at the World Bank Group headquarters on Wednesday. Ord's mission to bring Theo's message to the world came true as this video was shown to the crowd and live streamed on YouTube:
The closing act was No Doubt with a stellar, high-energy performance by Gwen Stefani and her band, which were reunited for this performance.
@gwenstefani can do anything, that includes help save the world. http://t.co/cwi32QJOKv #GlobalCitizenEarthDay — BottleRock Napa (@BottleRockNapa) April 19, 2015
YOU MIGHT ALSO LIKE
Finding Real Solutions to #TakeOn Climate Change
World Premiere of Chloe & Theo and Its Extraordinary Behind-the-Scenes Story
School Kids Weigh in on Helping the Planet at Earth Day Festivities in DC
EcoWatch Daily Newsletter