This website uses cookies to ensure you get the best experience while browsing it. By clicking 'Got It' you're accepting these terms.
25 Ways Vegans Get Protein
Aug. 26, 2014 11:17AM EST
Food
If you've been vegan for any length of time, there's a pretty good chance that someone's asked you the ubiquitous question, "How do you get enough protein?" It's a common misconception that you need animal products to get enough protein into your diet. In fact, many plant foods are loaded with protein, and if you incorporate 2-3 protein sources into each meal, chances are your protein levels will be a-OK.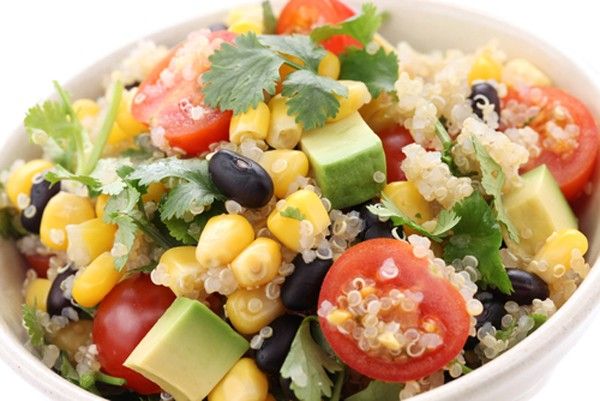 Photo credit: Shutterstock
Need proof that vegans aren't hurting for protein? Just take a look at the recent popularity of veganism among bodybuilders. When you're doing heavy weight training like bodybuilders do, you need to take in a lot more protein than the average recommendations. If it was that hard to get enough protein on a vegan diet, chances are we wouldn't see so many bodybuilders talking about the benefits of a vegan diet.
The amount of protein you need in your diet depends a lot on your body weight and what activities you do. Americans in general eat far more protein than we need each day. The recommended daily allowances for protein is .8 grams per kilogram of body weight. So, if you weigh 140 pounds, you'd need 51 grams of protein per day (140 pounds = 63.5 kg, and 63.5 X .8 = 50.8).
Like I mentioned above, you just need a couple of protein sources at each meal, and you're golden. Depending on the protein sources you choose, you can even have just one source at a meal, if it's high in protein. What I don't want to do is confuse this idea with protein combining, a common practice that is totally unnecessary.
The Myth of Protein Combining
You can probably track the idea of protein combining back to the book Diet for a Small Planet. The idea is that plant foods don't contain "complete" proteins, and you need to combine certain plant foods at each meal to make sure you're getting enough complete proteins.
Proteins contain amino acids, which are necessary for good health. There are nine amino acids that our bodies need to function, and animal products contain all nine. However, most plant-based protein sources are missing one or two amino acids, and different ones are missing different amino acids.
What makes a good myth is a kernel of truth, right? It's true that you need to eat a variety of proteins to make sure you're getting all of the amino acids your body needs, but it's not as hard as protein combining methods make it seem. You don't need all nine at the same meal, and it's even OK if you don't get them all every single day. If you stick to a variety of protein sources, like the ones below, you'll be golden. Hey, maybe you'll even try your hand at bodybuilding.
25 Vegan Protein Sources
There are plenty of vegan protein sources, and if you make sure to eat a variety of these throughout the week, you won't need to worry about getting enough protein.
I understand that not everyone is going to eat all 25 of these. This list is a jumping off point to give you some options to get going. Beans, whole grains, and even fruits and veggies contain protein, so if your favorite foods aren't on this list, I suggest using a resource like the U.S.Department of Agriculture Nutrition Database to check out their protein contents.
Tempeh: 41 g per cup

Lentils: 18 g per cup

Plain soymilk: 11 g per cup

Edamame: 20 g per cup

Seitan: 19 g per 3 ounces

Tofu: 20 g per 1/2 cup

Peas: 9 g per cup

Brown rice: 5 g per cup

White rice: 4 g per cup

Cooked broccoli: 4 g per cup

Sunflower seeds: 6 g per 1/4 cup

Quinoa: 9 g per cup

Cooked spinach: 5 g per cup

Avocado: 4 g per cup

Whole grain bread: 7 g in 2 slices

Black beans: 15 g per cup

Cashews: 5 g per 1/4 cup

Cooked semolina pasta: 8 g per cup

Chia seeds: 5 g per 2 tablespoons

Flax seeds: 4 g per 2 tablespoons

Bulgur: 5.5 g per cup

Peanut butter: 8 g per 2 tablespoons

Sunflower seed butter: 5.5 g per 2 tablespoons

Baked red potato:  3 g per cup

Barley: 3.5 g per cup
Of course, this isn't an exhaustive list, and I'd love to hear from you guys. What plant-based foods do you rely on for protein?
YOU ALSO MIGHT LIKE
Move Over, Quinoa, a New Superfood Grain Is in Town
EcoWatch Daily Newsletter
Artist's conception of solar islands in the open ocean. PNAS
Millions of solar panels clustered together to form an island could convert carbon dioxide in seawater into methanol, which can fuel airplanes and trucks, according to new research from Norway and Switzerland and published in the Proceedings of the National Academy of Sciences journal, PNAS, as NBC News reported. The floating islands could drastically reduce greenhouse gas emissions and dependence on fossil fuels.
Marcos Alves / Moment Open / Getty Images
More than 40 percent of insects could go extinct globally in the next few decades. So why did the U.S. Environmental Protection Agency (EPA) last week OK the 'emergency' use of the bee-killing pesticide sulfoxaflor on 13.9 million acres?
EcoWatch teamed up with Center for Biological Diversity via EcoWatch Live on Facebook to find out why. Environmental Health Director and Senior Attorney Lori Ann Burd explained how there is a loophole in the The Federal Insecticide, Fungicide, and Rodenticide Act under section 18, "that allows for entities and states to request emergency exemptions to spraying pesticides where they otherwise wouldn't be allowed to spray."
Simple swaps that cut down on kitchen trash.
Sponsored
By Kayla Robbins
Along with the bathroom, the kitchen is one of the most daunting areas to try and make zero waste.
View of downtown Miami, Florida from Hobie Island on Feb. 2, 2019.
Michael Muraz / Flickr
The Democratic candidates for president descended upon Miami for a two-night debate on Wednesday and Thursday. Any candidate hoping to carry the state will have to make the climate crisis central to their campaign, as The New York Times reported.
By Sharon Kelly
On Monday, the Wall Street Journal featured a profile of Scott Sheffield, CEO of Pioneer Natural Resources, whose company is known among investors for its emphasis on drawing oil and gas from the Permian basin in Texas using horizontal drilling and hydraulic fracturing, or fracking.
Pexels
By Craig K. Chandler
The federal government has available to it, should it choose to use them, a wide range of potential climate change management tools, going well beyond the traditional pollution control regulatory options. And, in some cases (not all), without new legislative authorization.
Denis Poroy / Getty Images
By Dan Gray
Processed foods, in their many delicious forms, are an American favorite.
But new research shows that despite increasing evidence on just how unhealthy processed foods are, Americans have continued to eat the products at the same rate.
By Sarah Steffen
With a profound understanding of their environmental surroundings, indigenous communities around the world are often cited as being pivotal to tackling climate change.