This website uses cookies to ensure you get the best experience while browsing it. By clicking 'Got It' you're accepting these terms.
25 Ways Vegans Get Protein
Aug. 26, 2014 11:17AM EST
Food
If you've been vegan for any length of time, there's a pretty good chance that someone's asked you the ubiquitous question, "How do you get enough protein?" It's a common misconception that you need animal products to get enough protein into your diet. In fact, many plant foods are loaded with protein, and if you incorporate 2-3 protein sources into each meal, chances are your protein levels will be a-OK.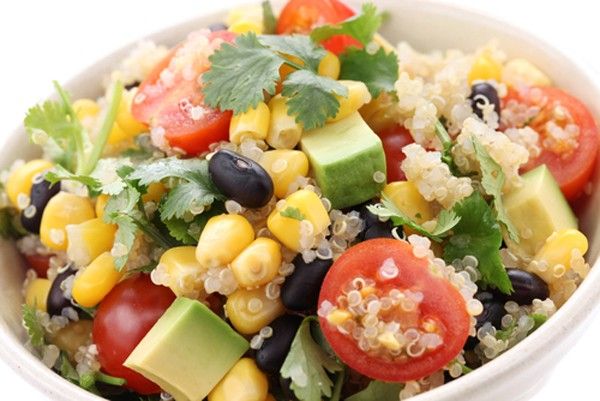 Photo credit: Shutterstock
Need proof that vegans aren't hurting for protein? Just take a look at the recent popularity of veganism among bodybuilders. When you're doing heavy weight training like bodybuilders do, you need to take in a lot more protein than the average recommendations. If it was that hard to get enough protein on a vegan diet, chances are we wouldn't see so many bodybuilders talking about the benefits of a vegan diet.
The amount of protein you need in your diet depends a lot on your body weight and what activities you do. Americans in general eat far more protein than we need each day. The recommended daily allowances for protein is .8 grams per kilogram of body weight. So, if you weigh 140 pounds, you'd need 51 grams of protein per day (140 pounds = 63.5 kg, and 63.5 X .8 = 50.8).
Like I mentioned above, you just need a couple of protein sources at each meal, and you're golden. Depending on the protein sources you choose, you can even have just one source at a meal, if it's high in protein. What I don't want to do is confuse this idea with protein combining, a common practice that is totally unnecessary.
The Myth of Protein Combining
You can probably track the idea of protein combining back to the book Diet for a Small Planet. The idea is that plant foods don't contain "complete" proteins, and you need to combine certain plant foods at each meal to make sure you're getting enough complete proteins.
Proteins contain amino acids, which are necessary for good health. There are nine amino acids that our bodies need to function, and animal products contain all nine. However, most plant-based protein sources are missing one or two amino acids, and different ones are missing different amino acids.
What makes a good myth is a kernel of truth, right? It's true that you need to eat a variety of proteins to make sure you're getting all of the amino acids your body needs, but it's not as hard as protein combining methods make it seem. You don't need all nine at the same meal, and it's even OK if you don't get them all every single day. If you stick to a variety of protein sources, like the ones below, you'll be golden. Hey, maybe you'll even try your hand at bodybuilding.
25 Vegan Protein Sources
There are plenty of vegan protein sources, and if you make sure to eat a variety of these throughout the week, you won't need to worry about getting enough protein.
I understand that not everyone is going to eat all 25 of these. This list is a jumping off point to give you some options to get going. Beans, whole grains, and even fruits and veggies contain protein, so if your favorite foods aren't on this list, I suggest using a resource like the U.S.Department of Agriculture Nutrition Database to check out their protein contents.
Tempeh: 41 g per cup

Lentils: 18 g per cup

Plain soymilk: 11 g per cup

Edamame: 20 g per cup

Seitan: 19 g per 3 ounces

Tofu: 20 g per 1/2 cup

Peas: 9 g per cup

Brown rice: 5 g per cup

White rice: 4 g per cup

Cooked broccoli: 4 g per cup

Sunflower seeds: 6 g per 1/4 cup

Quinoa: 9 g per cup

Cooked spinach: 5 g per cup

Avocado: 4 g per cup

Whole grain bread: 7 g in 2 slices

Black beans: 15 g per cup

Cashews: 5 g per 1/4 cup

Cooked semolina pasta: 8 g per cup

Chia seeds: 5 g per 2 tablespoons

Flax seeds: 4 g per 2 tablespoons

Bulgur: 5.5 g per cup

Peanut butter: 8 g per 2 tablespoons

Sunflower seed butter: 5.5 g per 2 tablespoons

Baked red potato:  3 g per cup

Barley: 3.5 g per cup
Of course, this isn't an exhaustive list, and I'd love to hear from you guys. What plant-based foods do you rely on for protein?
YOU ALSO MIGHT LIKE
Move Over, Quinoa, a New Superfood Grain Is in Town
EcoWatch Daily Newsletter
Tuna auctions are a tourist spectacle in Tokyo. Outside the city's most famous fish market, long queues of visitors hoping for a glimpse of the action begin to form at 5 a.m. The attraction is so popular that last October the Tsukiji fish market, in operation since 1935, moved out from the city center to the district of Toyosu to cope with the crowds.

gmnicholas / E+ / Getty Images
Kristan Porter grew up in a fishing family in the fishing community of Cutler, Maine, where he says all roads lead to one career path: fishing. (Porter's father was the family's lone exception. He suffered from terrible seasickness, and so became a carpenter.) The 49-year-old, who has been working on boats since he was a kid and fishing on his own since 1991, says that the recent warming of Maine's cool coastal waters has yielded unprecedented lobster landings.
Aerial view of lava flows from the eruption of volcano Kilauea on Hawaii, May 2018. Frizi / iStock / Getty Images
Hawaii's Kilauea volcano could be gearing up for an eruption after a pond of water was discovered inside its summit crater for the first time in recorded history, according to the AP.
The Eqip Sermia Glacier is seen behind a moraine left exposed by the glacier's retreat during unseasonably warm weather on Aug. 1 at Eqip Sermia, Greenland. Sean Gallup / Getty Images
hadynyah / E+ / Getty Images
By Johnny Wood
The Ganges is a lifeline for the people of India, spiritually and economically. On its journey from the Himalayas to the Bay of Bengal, it supports fishermen, farmers and an abundance of wildlife.
The river and its tributaries touch the lives of roughly 500 million people. But having flowed for millennia, today it is reaching its capacity for human and industrial waste, while simultaneously being drained for agriculture and municipal use.
Here are some of the challenges the river faces.
By Jake Johnson
As a growing number of states move to pass laws that would criminalize pipeline protests and hit demonstrators with years in prison, an audio recording obtained by The Intercept showed a representative of a powerful oil and gas lobbying group bragging about the industry's success in crafting anti-protest legislation behind closed doors.
Reposted with permission from our media associate Common Dreams.

DESIREE MARTIN / AFP / Getty Images
Wildfires raging on Gran Canaria, the second most populous of Spain's Canary Islands, have forced around 9,000 people to evacuate.