This website uses cookies to ensure you get the best experience while browsing it. By clicking 'Got It' you're accepting these terms.
25 Ways Vegans Get Protein
Aug. 26, 2014 11:17AM EST
Food
If you've been vegan for any length of time, there's a pretty good chance that someone's asked you the ubiquitous question, "How do you get enough protein?" It's a common misconception that you need animal products to get enough protein into your diet. In fact, many plant foods are loaded with protein, and if you incorporate 2-3 protein sources into each meal, chances are your protein levels will be a-OK.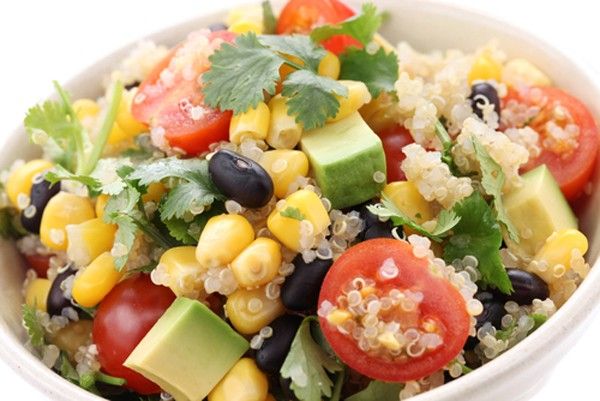 Photo credit: Shutterstock
Need proof that vegans aren't hurting for protein? Just take a look at the recent popularity of veganism among bodybuilders. When you're doing heavy weight training like bodybuilders do, you need to take in a lot more protein than the average recommendations. If it was that hard to get enough protein on a vegan diet, chances are we wouldn't see so many bodybuilders talking about the benefits of a vegan diet.
The amount of protein you need in your diet depends a lot on your body weight and what activities you do. Americans in general eat far more protein than we need each day. The recommended daily allowances for protein is .8 grams per kilogram of body weight. So, if you weigh 140 pounds, you'd need 51 grams of protein per day (140 pounds = 63.5 kg, and 63.5 X .8 = 50.8).
Like I mentioned above, you just need a couple of protein sources at each meal, and you're golden. Depending on the protein sources you choose, you can even have just one source at a meal, if it's high in protein. What I don't want to do is confuse this idea with protein combining, a common practice that is totally unnecessary.
The Myth of Protein Combining
You can probably track the idea of protein combining back to the book Diet for a Small Planet. The idea is that plant foods don't contain "complete" proteins, and you need to combine certain plant foods at each meal to make sure you're getting enough complete proteins.
Proteins contain amino acids, which are necessary for good health. There are nine amino acids that our bodies need to function, and animal products contain all nine. However, most plant-based protein sources are missing one or two amino acids, and different ones are missing different amino acids.
What makes a good myth is a kernel of truth, right? It's true that you need to eat a variety of proteins to make sure you're getting all of the amino acids your body needs, but it's not as hard as protein combining methods make it seem. You don't need all nine at the same meal, and it's even OK if you don't get them all every single day. If you stick to a variety of protein sources, like the ones below, you'll be golden. Hey, maybe you'll even try your hand at bodybuilding.
25 Vegan Protein Sources
There are plenty of vegan protein sources, and if you make sure to eat a variety of these throughout the week, you won't need to worry about getting enough protein.
I understand that not everyone is going to eat all 25 of these. This list is a jumping off point to give you some options to get going. Beans, whole grains, and even fruits and veggies contain protein, so if your favorite foods aren't on this list, I suggest using a resource like the U.S.Department of Agriculture Nutrition Database to check out their protein contents.
Tempeh: 41 g per cup

Lentils: 18 g per cup

Plain soymilk: 11 g per cup

Edamame: 20 g per cup

Seitan: 19 g per 3 ounces

Tofu: 20 g per 1/2 cup

Peas: 9 g per cup

Brown rice: 5 g per cup

White rice: 4 g per cup

Cooked broccoli: 4 g per cup

Sunflower seeds: 6 g per 1/4 cup

Quinoa: 9 g per cup

Cooked spinach: 5 g per cup

Avocado: 4 g per cup

Whole grain bread: 7 g in 2 slices

Black beans: 15 g per cup

Cashews: 5 g per 1/4 cup

Cooked semolina pasta: 8 g per cup

Chia seeds: 5 g per 2 tablespoons

Flax seeds: 4 g per 2 tablespoons

Bulgur: 5.5 g per cup

Peanut butter: 8 g per 2 tablespoons

Sunflower seed butter: 5.5 g per 2 tablespoons

Baked red potato:  3 g per cup

Barley: 3.5 g per cup
Of course, this isn't an exhaustive list, and I'd love to hear from you guys. What plant-based foods do you rely on for protein?
YOU ALSO MIGHT LIKE
Move Over, Quinoa, a New Superfood Grain Is in Town
EcoWatch Daily Newsletter
Ryan Hagerty / USFWS
It's become a familiar story with the Trump administration: Scientists write a report that shows the administration's policies will cause environmental damage, then the administration buries the report and fires the scientists.
A coalition of some of the largest environmental groups in the country joined forces to file a lawsuit in federal court challenging the Trump administration's maneuver to weaken the Endangered Species Act.
beyond foto / Getty Images
By Kimberly Holland
Children who eat a lot of gluten in their earliest years may have an increased risk of developing celiac disease and gluten intolerance, according to a new study published in JAMATrusted Source.
Joe Raedle / Getty Images
By Jake Johnson
Calling the global climate crisis both the greatest threat facing the U.S. and the greatest opportunity for transformative change, Sen. Bernie Sanders unveiled today a comprehensive Green New Deal proposal that would transition the U.S. economy to 100 percent renewable energy and create 20 million well-paying union jobs over a decade.
The Parties to CITES agreed to list giraffes on Appendix II of the Convention on International Trade in Endangered Species (CITES) today at the World Wildlife Conference or CoP18 in Geneva. Such protections will ensure that all giraffe parts trade were legally acquired and not sourced from the poached giraffes trade and will require countries to make non-detriment findings before allowing giraffe exports. The listing will also enable the collection of international trade data for giraffes that might justify greater protections at both CITES and other venues in the future.

The WHO stressed that more research is needed on the potential health risks of microplastic ingestion. luchschen / iStock / Getty Images Plus
The UN's health agency on Thursday said that microplastics contained in drinking water posed a "low" risk at their current levels.
However, the World Health Organization (WHO) — in its first report on the potential health risks of microplastic ingestion — also stressed more research was needed to reassure consumers.
Brazil's right-wing President Jair Bolsonaro is giving President Trump a run for his money in the alternative facts department.
Washington Gov. Jay Inslee, who made solving the climate crisis the center of his presidential campaign, is dropping out of the 2020 Democratic primary race.