This website uses cookies to ensure you get the best experience while browsing it. By clicking 'Got It' you're accepting these terms.
25 Vegan Sources of Calcium
Aug. 01, 2014 12:59PM EST
Food
When folks find out you don't eat dairy, after they tell you they'd die without cheese they often will ask how you get enough calcium in your diet without milk products. The dairy industry has done a great job marketing milk as the best way to build healthy bones, but you can actually get calcium from all sorts of plant-based sources, and they're often better for your bones than dairy products!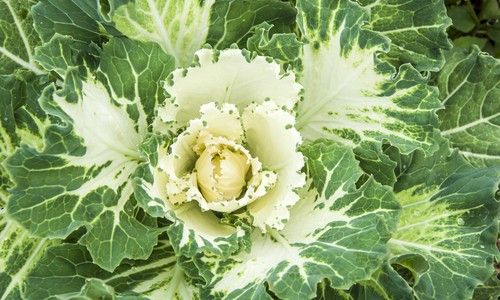 One cup of collard greens contains more than 350 mg of calcium. Photo courtesy of Shutterstock
We need between 1000 and 1200 milligrams of calcium per day for healthy bones, and it's not just vegans who need to plan carefully to get enough calcium each day. Over 75 percent of Americans are deficient in calcium, so plenty of omnivores aren't getting enough, either. No matter what your diet, you just need to make sure to include two or three servings of calcium-rich foods and/or calcium-fortified foods in each meal, and you'll be able to hit that target for bone health.
Unlike milk, plant-based calcium sources contain vitamins C and K and the minerals potassium and magnesium, which are all important for bone health. Next time someone asks you where you get your calcium, you can tell them it comes from some of the 25 vegan sources below.
25 Vegan Sources for Calcium
1. Kale (1 cup contains 180 mg)
2. Collard greens (1 cup contains more than 350 mg)
3. Blackstrap molasses (2 tablespoons contains 400 mg)
4. Tempeh (1 cup contains 215 mg)
5. Turnip greens (1 cup contains 250 mg)
6. Fortified non-dairy milk (1 cup contains 200-300 mg)
7. Hemp milk (1 cup contains 460 mg)
8. Fortified orange juice (1 cup contains 300 mg)
9. Tahini (2 tablespoons contains 130 mg)
10. Almond butter (2 tablespoons contains 85 mg)
11. Great northern beans (1 cup contains 120 mg)
12. Soybeans (1 cup contains 175 mg)
13. Broccoli (1 cup contains 95 mg)
14. Raw fennel (1 medium bulb contains 115 mg)
15. Blackberries (1 cup contains 40 mg)
16. Black currants (1 cup contains 62 mg)
17. Oranges (1 orange contains between 50 and 60 mg)
18. Dried apricots (1/2 cup contains 35 mg)
19. Figs (1/2 cup contains 120 mg)
20. Dates (1/2 cup contains 35 mg)
21. Artichoke (1 medium artichoke contains 55 mg)
22. Roasted sesame seeds (1 oz contains 35 mg)
23. Adzuki beans (1 cup contains 65 mg)
24. Navy beans (1 cup contains 125 mg)
25. Amaranth (1 cup contains 275 mg)
EcoWatch Daily Newsletter
The Parties to CITES agreed to list giraffes on Appendix II of the Convention on International Trade in Endangered Species (CITES) today at the World Wildlife Conference or CoP18 in Geneva. Such protections will ensure that all giraffe parts trade were legally acquired and not sourced from the poached giraffes trade and will require countries to make non-detriment findings before allowing giraffe exports. The listing will also enable the collection of international trade data for giraffes that might justify greater protections at both CITES and other venues in the future.

The WHO stressed that more research is needed on the potential health risks of microplastic ingestion. luchschen / iStock / Getty Images Plus
The UN's health agency on Thursday said that microplastics contained in drinking water posed a "low" risk at their current levels.
However, the World Health Organization (WHO) — in its first report on the potential health risks of microplastic ingestion — also stressed more research was needed to reassure consumers.
Brazil's right-wing President Jair Bolsonaro is giving President Trump a run for his money in the alternative facts department.
Washington Gov. Jay Inslee, who made solving the climate crisis the center of his presidential campaign, is dropping out of the 2020 Democratic primary race.
Earthjustice
In April 2018, Afro-Colombian activist Francia Márquez won the prestigious Goldman Environmental Prize, thanks to her work to retake her community's ancestral territories from illegal gold mining. However, her international recognition comes at a very risky price.
By Stuart Braun
A year after activist Greta Thunberg first stood in the rain outside the Swedish parliament with her now iconic "Skolstrejk för klimatet" — school strike for the climate — placard, the movement she spawned has set the tone for environmental protest action around the world.
Bruno Vincent / Staff / Getty Images
Toy maker Hasbro wants to play in the eco-packaging game. The board game giant will ditch its plastic packaging by 2022. The move means that games like Monopoly, Scrabble and Operation will no longer have shrink wrap, window sheets, plastic bags or elastic bands, as the Associated Press reported.
Vaping impaired the circulatory systems of people in a new study. bulentumut / iStock / Getty Images Plus