This website uses cookies to ensure you get the best experience while browsing it. By clicking 'Got It' you're accepting these terms.


The best of EcoWatch, right in your inbox. Sign up for our email newsletter!
25% of Fish Sold at Markets Contain Plastic or Man-Made Debris
Sep. 30, 2015 11:47AM EST
Roughly a quarter of the fish sampled from fish markets in California and Indonesia contained man-made debris—plastic or fibrous material—in their guts, according to a study from the University of California, Davis and Hasanuddin University in Indonesia.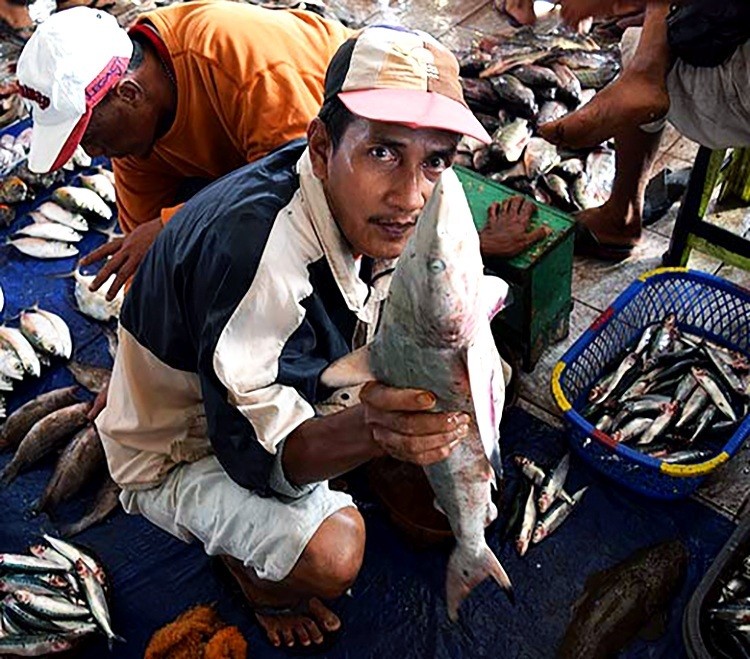 UC Davis researchers found plastic and fibrous debris in 25 percent of the fish sold in Indonesian and California markets. Photo credit: Dale Trockel
The study, published last week in the journal Scientific Reports, is one of the first to directly link plastic and man-made debris to the fish on consumers' dinner plates.
"It's interesting that there isn't a big difference in the amount of debris in the fish from each location, but in the type—plastic or fiber," said lead author Chelsea Rochman, a David H. Smith postdoctoral fellow in the Aquatic Health Program at the UC Davis School of Veterinary Medicine. "We think the type of debris in the fish is driven by differences in local waste management."
"Waiter, There's Some Plastic in My Fish"
The researchers sampled 76 fish from markets in Makassar, Indonesia and 64 from Half Moon Bay and Princeton in California. All of the fragments recovered from fish in Indonesia were plastic. In contrast, 80 percent of the debris found in California fish was fibers, whereas not a single strand of fiber was found in Indonesian fish.
Indonesia has little in the way of landfills, waste collection or recycling and large amounts of plastic are tossed onto the beaches and into the ocean. The problem is made worse by a lack of purified drinking water that forces its residents to drink bottled water.
"Indonesia has some of the highest marine life richness and biodiversity on Earth and its coastal regions—mangroves, coral reefs and their beaches—are just awash in debris," said co-author Susan Williams, a professor with the UC Davis Bodega Marine Laboratory who has worked on projects in Indonesia for the past several years. "You have the best and the worst situation right in front of you in Indonesia."
Meanwhile, the U.S. has highly advanced systems for collecting and recycling plastics. However, most Californians wash their clothing in washing machines, the water from which empties into more than 200 wastewater treatment plants offshore California. The authors theorize that fibers remaining in sewage effluent from washing machines were ingested by fish sampled in the state.
"To mitigate the issue in each location, it helps to think about local sources and differences in waste management strategies," Rochman said.
It Takes Guts
The scientists emphasize that the plastic and fibers are found in the fishes' guts. That means humans are likely to ingest the debris only if the fish is eaten whole, as it is in Indonesia or such as with sardines and anchovies, rather than filleted. However, researchers are still studying whether chemicals in plastic can transfer into the meat.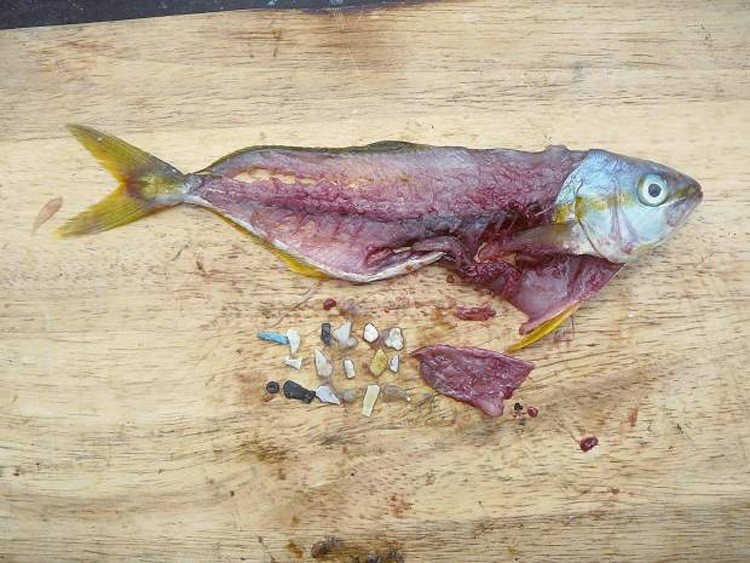 The study was funded by a UC Davis Outreach and International Program SEED Grant, the National Science Foundation's Graduate K-12 and IGERT programs and the National Institute of Environmental Health Sciences' Superfund Research Program.
YOU MIGHT ALSO LIKE
America's Deadly Love Affair With Bottled Water Has to End
Banning Microbeads Offers Simple Solution to Protect Our Oceans
More People Have Died This Year from Selfies Than Sharks
EcoWatch Daily Newsletter
A metal fence marked with the U.S. Border Patrol sign prevents people to get close to the barbed/concertina wire covering the U.S./Mexico border fence, in Nogales, Arizona, on Feb. 9. ARIANA DREHSLER / AFP / Getty Images
D'Bone Collector Museum head Darrell Blatchley shows plastic found inside the stomach of a Cuvier's beaked whale in the Philippines this weekend. - / AFP / Getty Images
Yet another whale has died after ingesting plastic bags. A young male Cuvier's beaked whale was found washed up in Mabini, Compostela Valley in the Philippines Friday, CNN reported. When scientists from the D' Bone Collector Museum in Davao investigated the dead whale, they found it had died of "dehydration and starvation" after swallowing plastic bags―40 kilograms (approximately 88 pounds) worth of them!
Pexels
By Jeff Turrentine
"Be careful what you wish for; you just might get it." This is something that everybody has to learn at some point. Lately, the lesson has hit home for a group of American automakers.
Art direction: Georgie Johnson. Illustrations: Freya Morgan
By Joe Sandler Clarke
"Don't expect us to continue buying European products," Malaysia's former plantations minister Mah Siew Keong told reporters in January last year. His comments came just after he had accused the EU of "practising a form of crop apartheid."

A few months later Luhut Pandjaitan, an Indonesian government minister close to President Joko 'Jokowi' Widodo, warned his country would retaliate if it was "cornered" by the EU.
Torres and his parents walk along the Rio Grande. Luis Torres / Earthjustice
By Luis Torres
For some people who live along the U.S.-Mexico border, President Trump's attempt to declare a national emergency and extend the border wall is worse than a wasteful, unconstitutional stunt. It's an attack on their way of life that threatens to desecrate their loved ones' graves.
Flooding caused by last week's bomb cyclone storm has broken records in 17 places across the state of Nebraska, CNN reported Sunday. Around nine million people in 14 states along the Mississippi and Missouri Rivers were under a flood watch, CNN meteorologist Karen Maginnis said.
A car destroyed by Cyclone Idai in Beira, Mozambique. ADRIEN BARBIER / AFP / Getty Images
At least 150 people have died in a cyclone that devastated parts of Mozambique, Zimbabwe and Malawi over the weekend, The Associated Press reported Sunday. Cyclone Idai has affected more than 1.5 million people since it hit Mozambique's port city of Beira late Thursday, then traveled west to Zimbabwe and Malawi. Hundreds are still missing and tens of thousands are without access to roads or telephones.
"I think this is the biggest natural disaster Mozambique has ever faced. Everything is destroyed. Our priority now is to save human lives," Mozambique's Environment Minister Celso Correia said, as AFP reported.