This website uses cookies to ensure you get the best experience while browsing it. By clicking 'Got It' you're accepting these terms.
25% of Fish Sold at Markets Contain Plastic or Man-Made Debris
Sep. 30, 2015 11:47AM EST
Roughly a quarter of the fish sampled from fish markets in California and Indonesia contained man-made debris—plastic or fibrous material—in their guts, according to a study from the University of California, Davis and Hasanuddin University in Indonesia.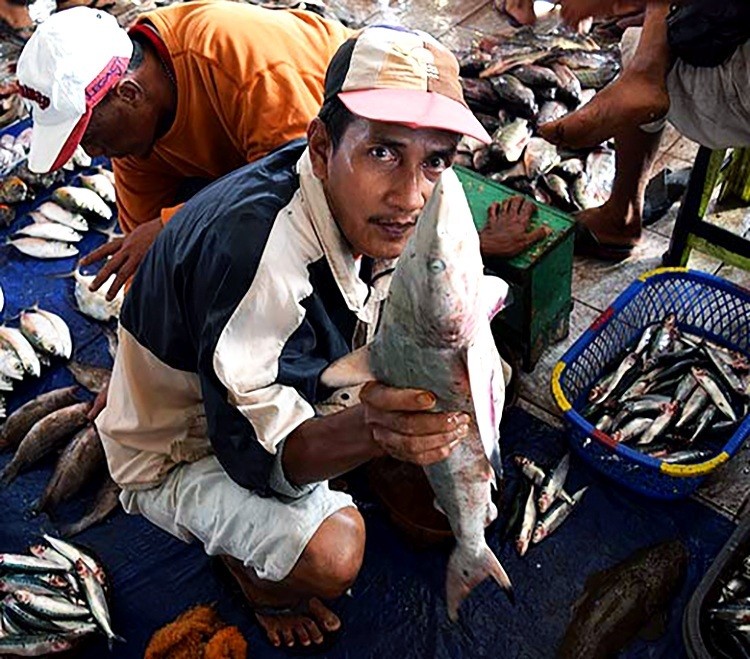 UC Davis researchers found plastic and fibrous debris in 25 percent of the fish sold in Indonesian and California markets. Photo credit: Dale Trockel
The study, published last week in the journal Scientific Reports, is one of the first to directly link plastic and man-made debris to the fish on consumers' dinner plates.
"It's interesting that there isn't a big difference in the amount of debris in the fish from each location, but in the type—plastic or fiber," said lead author Chelsea Rochman, a David H. Smith postdoctoral fellow in the Aquatic Health Program at the UC Davis School of Veterinary Medicine. "We think the type of debris in the fish is driven by differences in local waste management."
"Waiter, There's Some Plastic in My Fish"
The researchers sampled 76 fish from markets in Makassar, Indonesia and 64 from Half Moon Bay and Princeton in California. All of the fragments recovered from fish in Indonesia were plastic. In contrast, 80 percent of the debris found in California fish was fibers, whereas not a single strand of fiber was found in Indonesian fish.
Indonesia has little in the way of landfills, waste collection or recycling and large amounts of plastic are tossed onto the beaches and into the ocean. The problem is made worse by a lack of purified drinking water that forces its residents to drink bottled water.
"Indonesia has some of the highest marine life richness and biodiversity on Earth and its coastal regions—mangroves, coral reefs and their beaches—are just awash in debris," said co-author Susan Williams, a professor with the UC Davis Bodega Marine Laboratory who has worked on projects in Indonesia for the past several years. "You have the best and the worst situation right in front of you in Indonesia."
Meanwhile, the U.S. has highly advanced systems for collecting and recycling plastics. However, most Californians wash their clothing in washing machines, the water from which empties into more than 200 wastewater treatment plants offshore California. The authors theorize that fibers remaining in sewage effluent from washing machines were ingested by fish sampled in the state.
"To mitigate the issue in each location, it helps to think about local sources and differences in waste management strategies," Rochman said.
It Takes Guts
The scientists emphasize that the plastic and fibers are found in the fishes' guts. That means humans are likely to ingest the debris only if the fish is eaten whole, as it is in Indonesia or such as with sardines and anchovies, rather than filleted. However, researchers are still studying whether chemicals in plastic can transfer into the meat.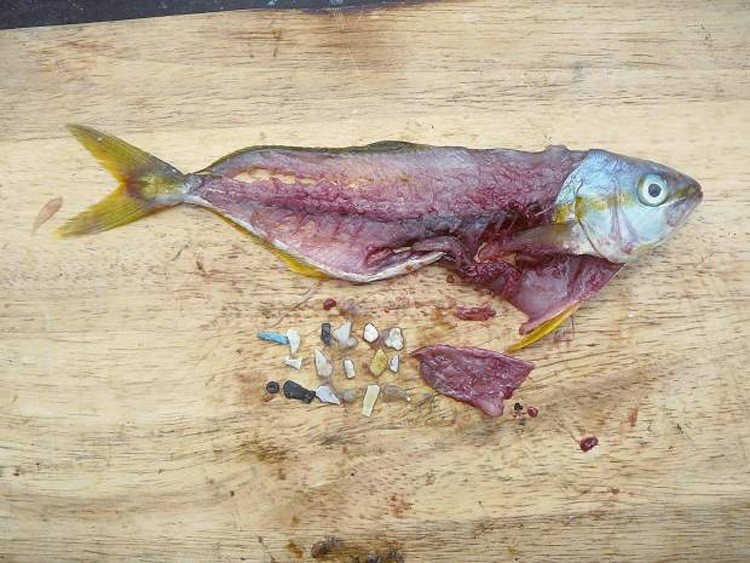 The study was funded by a UC Davis Outreach and International Program SEED Grant, the National Science Foundation's Graduate K-12 and IGERT programs and the National Institute of Environmental Health Sciences' Superfund Research Program.
YOU MIGHT ALSO LIKE
America's Deadly Love Affair With Bottled Water Has to End
Banning Microbeads Offers Simple Solution to Protect Our Oceans
More People Have Died This Year from Selfies Than Sharks
AleksandarNakic / Getty Images
By Kate Murphy
No matter the time of year, there's always a point in each season when my skin decides to cause me issues. While these skin issues can vary, I find the most common issues to be dryness, acne and redness.

David Woodfall / The Image Bank / Getty Images
By Sam Nickerson
The U.S. Environmental Protection Agency (EPA) in April 2018 proposed relaxing standards related to how it assesses the effects of exposure to low levels of toxic chemicals on public health.
Now, correspondence obtained by the LA Times revealed just how deeply involved industry lobbyists and a controversial, industry-funded toxicologist were in drafting the federal agency's proposal to scrap its current, protective approach to regulating toxin exposure.
Steve Irwin poses with a three foot long alligator at the San Francisco Zoo on June 26, 2002. Justin Sullivan / Getty Images
February 22 is the birthday of conservationist and beloved TV personality "Crocodile Hunter" Steve Irwin, who would have been 57 years old today.
Irwin's life was tragically cut short when the barb from a stingray went through his chest while he was filming in 2006, but his legacy of loving and protecting wildlife lives on, most recently in a Google Doodle today honoring his birthday.
Left: Youtube / Screenshot, Right: alle12 / Getty Images
By Dan Nosowitz
That video showed the extrusion of a bubblegum-pink substance oozing into a coiled pile, something between Play-Doh, sausage and soft-serve strawberry ice cream. Branded "pink slime"—the name came from an email sent by a USDA microbiologist in 2002—this stuff was actually beef, destined for supermarkets and fast-food burgers.
Climate activist Greta Thunberg addresses the European Commission on Feb. 21 in Brussels, Belgium. Sylvain Lefevre / Getty Images
By Julia Conley
Sixteen-year-old climate action leader Greta Thunberg stood alongside European Commission President Jean-Claude Juncker Thursday in Brussels as he indicated—after weeks of climate strikes around the world inspired by the Swedish teenager—that the European Union has heard the demands of young people and pledged a quarter of $1 trillion budget over the next seven years to address the crisis of a rapidly heating planet.

In the financial period beginning in 2021, Juncker said, the EU will devote a quarter of its budget to solving the crisis.