This website uses cookies to ensure you get the best experience while browsing it. By clicking 'Got It' you're accepting these terms.
Most people know that fermented foods build great gut health, but a growing body of research shows they also build strong immunity, brain health, heart health and more. As a result, there are more reasons than ever to eat more fermented foods. Check out my blogs 9 Reasons to Love Sauerkraut and The Surprising Foods that Alleviate Anxiety to discover several reasons.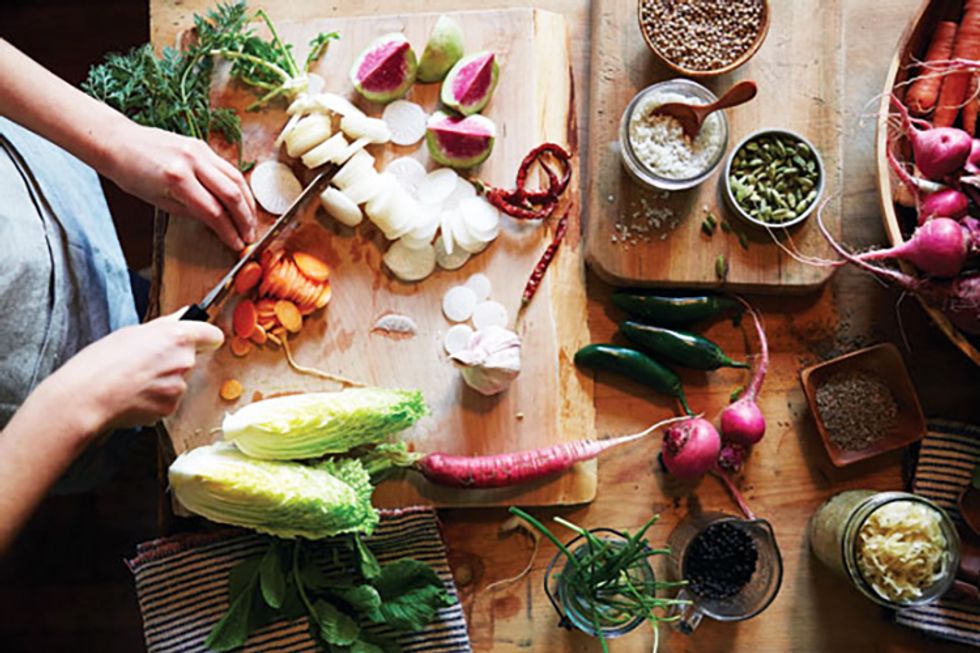 But, if you're like many people you may not know how to get more fermented foods into your diet, outside of yogurt with fruit or sauerkraut on your favorite hot dog.
Here are 25 of my favorite ways to get more fermented foods into your diet:
Using Yogurt or Kefir
1. Smoothies: Blend some yogurt or kefir (a fermented dairy or fruit juice beverage) with a handful or two of fruit for a delicious smoothie.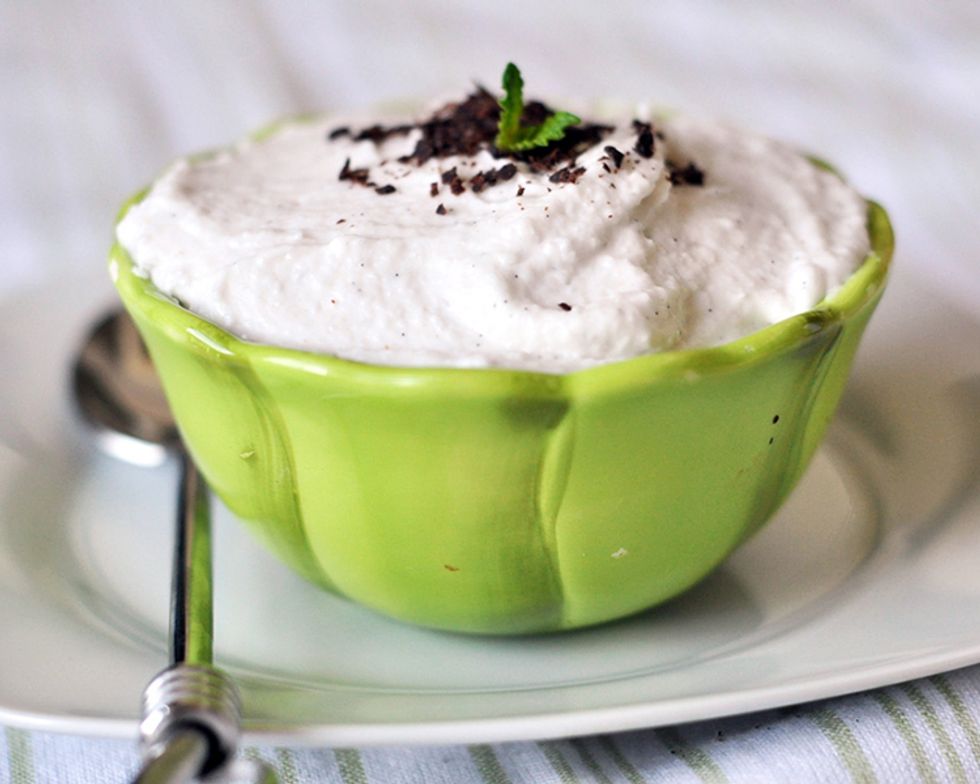 2. Frozen Yogurt: After making a fruit smoothie, pour it into popsicle molds for a frozen yogurt treat.
3. Yogurt Cheese: Pour yogurt into a cheesecloth-lined sieve and let it sit for at least a few hours for a soft yogurt cheese—simply add your favorite herbs for an unbeatable fresh cheese. Like all of the yogurt-based suggestions, these approaches work for vegan yogurt as well.
4. Yogurt Salad Dressing: Blend some yogurt with lemon juice or vinegar and some herbs and sea salt for a creamy salad dressing.
5. Save Yogurt to Make More: Save a few tablespoons of yogurt or the whey from yogurt-making as the starter culture to make even more.
6. Breakfast Cereal: Add a dollop or two of yogurt or kefir to your favorite breakfast cereal or oatmeal in place of milk.
Using Sauerkraut, Pickled Vegetables or Kimchi
7. Over Brown Rice or Quinoa for a Quick Meal: Simply adding sauerkraut or other fermented vegetable dish to cooked grains (after the grains have cooked) makes a quick, nutritious and delicious meal. Check out my blog "Make Your Own Probiotic-Rich Sauerkraut."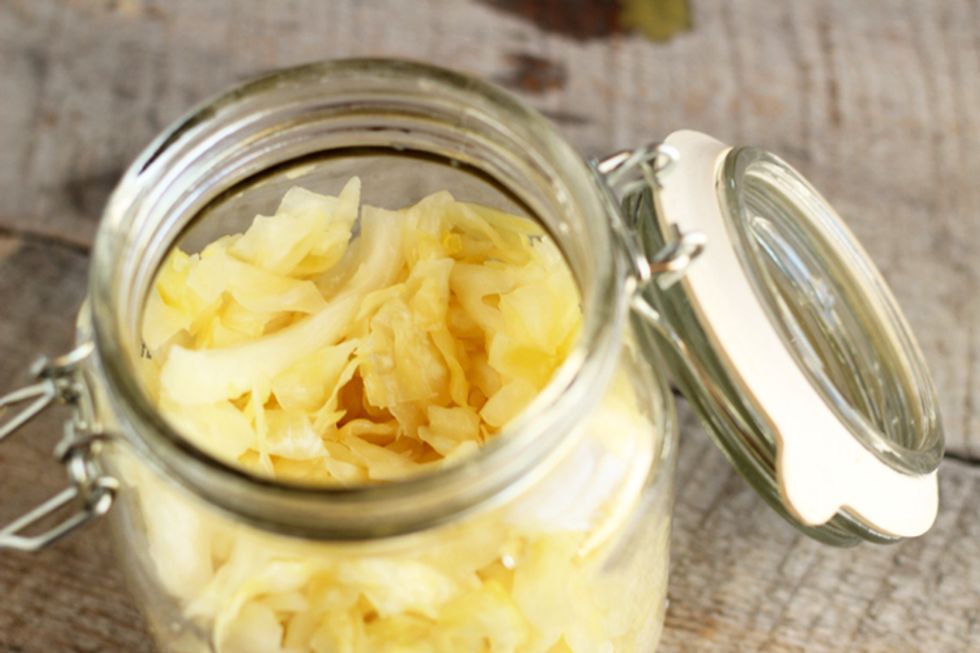 8. Over Salad: I threw some sauerkraut on top of a homemade Caesar salad and it was delicious. You can add fermented veggies to almost any salad for a quick probiotic boost.
9. On Noodles: Tossing brown rice or other whole grain noodles with kimchi or pickled veggies makes mealtime a cinch.
10. Sandwiches: Adding pickled turnip, fermented onions, kimchi or sauerkraut to your favorite sandwich gives it a flavor and nutritional boost.
11. and 12. On Burgers and Hot Dogs: This one is fairly self-explanatory.
13. Lettuce Cups: Place freshly-grated vegetables, bean sprouts and fermented veggies or kimchi in a large leaf of lettuce and wrap it up for a simple snack or meal.
14. Salad Rolls: Soak rice paper wraps in hot water, pat dry and wrap them up with fermented and fresh veggies and kimchi.
15. Tacos: Top your favorite tacos with fermented vegetables like carrots or onions for a flavor boost.
16. Salad Dressing: Blend sauerkraut or kimchi with some two parts oil and one part vinegar for a quick and easy salad dressing.
17. Condiments: Add pickled vegetables or kimchi as a condiment to almost any meal.
18. Guacamole: I mix an El Salvadoran fermented salsa known as Curtido with mashed avocado for a simple and amazingly delicious guacamole in minutes.
19. Salsa and Chips: Mix fresh salsa ingredients: chopped tomatoes, onion, garlic, lemon juice and minced chilies with the contents of one probiotic capsule and let sit for at least a few hours but preferably overnight. Then serve your fermented salsa with chips for a great snack.
20. Hummus: Blend sauerkraut (or sauerkraut juice) and chickpeas with a little extra virgin olive oil for a quick and probiotic-rich hummus. The sauerkraut and sauerkraut juice adds flavor and replaces salt in this recipe.
Using Other Fermented Foods
21. Fermented Juice: Empty the contents of a probiotic capsule into your favorite fruit or vegetable juice, cover and leave at room temperature overnight or for a day. Not only will you get the probiotics found in the capsule, but the beneficial microbes will proliferate and actually reduce the amount of natural sugars present in the juice.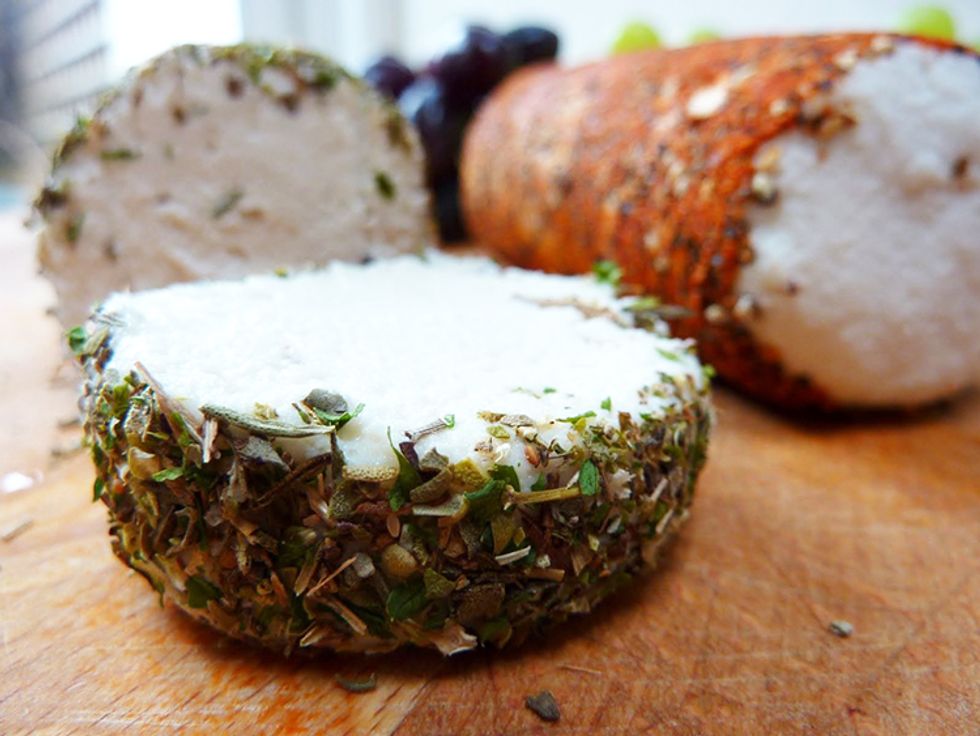 22. Choose Kombucha over Soda: Skip the sugar-laden soft drink and instead enjoy a naturally-sparkling kombucha (a probiotic-rich beverage).
23. Cultured Cream: Soak raw, unsalted nuts like cashews, pine nuts or macadamias in enough water to cover and the contents of one probiotic capsule. Let sit for eight hours or overnight. Blend. Use over fruit in place of cream. Use only as much of the soak water as needed for a thick vegan sour cream.
24. Vegan Cheese: Follow the instructions under 23 but use only enough water to cover the nuts and allow them to ferment with the probiotic powder for at least 24 hours or longer for a sharper cheese flavor. Blend until smooth and creamy for a quick and probiotic-rich soft cheese.
25. Vegan Pudding or Cheesecake: Follow the instructions for vegan cheese but add some fruit and sweetener (if you wish), along with a couple tablespoons of a thickening agent like ground chia or flax seeds. For a cheesecake, crumble some graham crackers or cookies with a small amount of coconut oil and press into a small cheesecake mold. Pour the fruit-cashew mixture over the crust. Refrigerate until firm, et voila! Enjoy a simple, raw, probiotic-rich pudding or cheesecake.
YOU MIGHT ALSO LIKE
9 Steps to Detox Your Body and How it Can Help You Lose Weight
8 Health Benefits From Drinking Kombucha Tea
6 Powerful Ways to Improve Mental Health
13 Vegan Chia Seed Recipes Guaranteed to Superfood Your Diet
EcoWatch Daily Newsletter
A new report spotlights a U.N. estimate that at least 275 million people rely on healthy coral reefs. A sea turtle near the Heron Island in the Great Barrier Reef is seen above. THE OCEAN AGENCY / XL CATLIN SEAVIEW SURVEY
In a new report about how the world's coral reefs face "the combined threats of climate change, pollution, and overfishing" — endangering the future of marine biodiversity — a London-based nonprofit calls for greater global efforts to end the climate crisis and ensure the survival of these vital underwater ecosystems.
Half of the extracted resources used were sand, clay, gravel and cement, seen above, for building, along with the other minerals that produce fertilizer. Cavan Images / Cavan / Getty Images
The world is using up more and more resources and global recycling is falling. That's the grim takeaway from a new report by the Circle Economy think tank, which found that the world used up more than 110 billion tons, or 100.6 billion metric tons, of natural resources, as Agence France-Presse (AFP) reported.
By Gero Rueter
Heating with coal, oil and natural gas accounts for around a quarter of global greenhouse gas emissions. But that's something we can change, says Wolfgang Feist, founder of the Passive House Institute in the western German city of Darmstadt.

By George Citroner
Recent research finds that official government figures may be underestimating drug deaths by half.
Researchers estimate that 142,000 people died due to drug use in 2016.
Drug use decreases life expectancy after age 15 by 1.4 years for men and by just under 1 year for women, on average.
Government records may be severely underreporting how many Americans die from drug use, according to a new study by researchers from the University of Pennsylvania and Georgetown University.
Water coolers in front of shut-off water fountains at Center School in Stow, MA on Sept. 4, 2019 after elevated levels of PFAS were found in the water. David L. Ryan / The Boston Globe via Getty Images
In a new nationwide assessment of drinking water systems, the Environmental Working Group found that toxic fluorinated chemicals known as PFAS are far more prevalent than previously thought.