This website uses cookies to ensure you get the best experience while browsing it. By clicking 'Got It' you're accepting these terms.

America's biggest brands are choosing solar, not only for the environmental benefits but also for the boost it can bring to their bottom lines.
The report revealed that the amount of solar installed by America's top companies has nearly tripled since the first edition was released.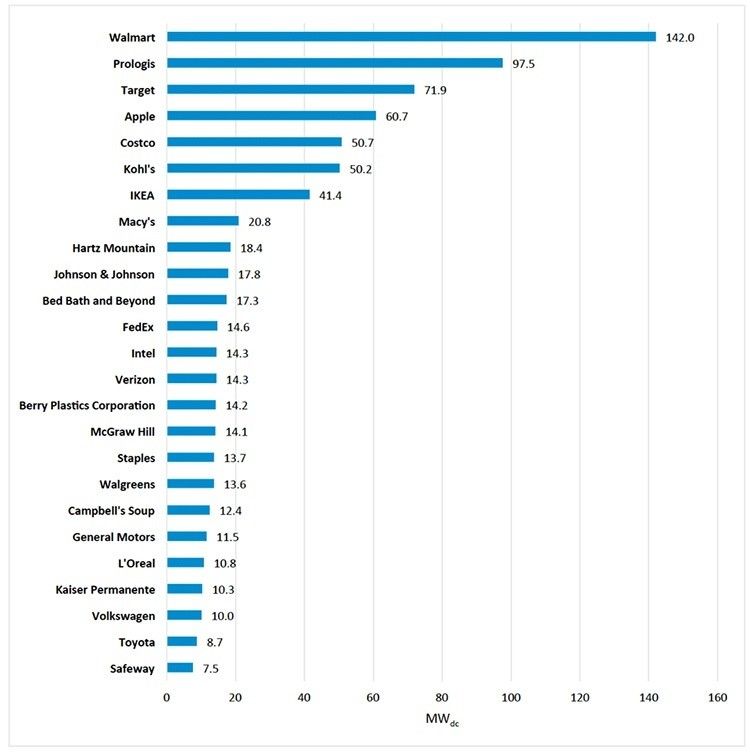 The top 25 companies in SEIA's Solar Means Business Report installed more than 1,278 individual systems this year. Photo Credit: SEIA
Walmart is once again America's commercial solar leader for the third year in a row with nearly 142 megawatts (MW) installed at 348 installations across its locations.
1. #ActOnClimate
The release of SEIA's new rankings of the top corporate solar users in America coincides with commitments made by Walmart and 80 other U.S. companies to the American Business Act on Climate Pledge.
By signing the pledge, these companies provided new and ongoing plans for reducing, avoiding and mitigating greenhouse gas (GHG) levels in their operations. The pledge was also a showing of strong support to leaders from around the world who are meeting in Paris this week to solidify broader commitments from countries that are working to address climate change.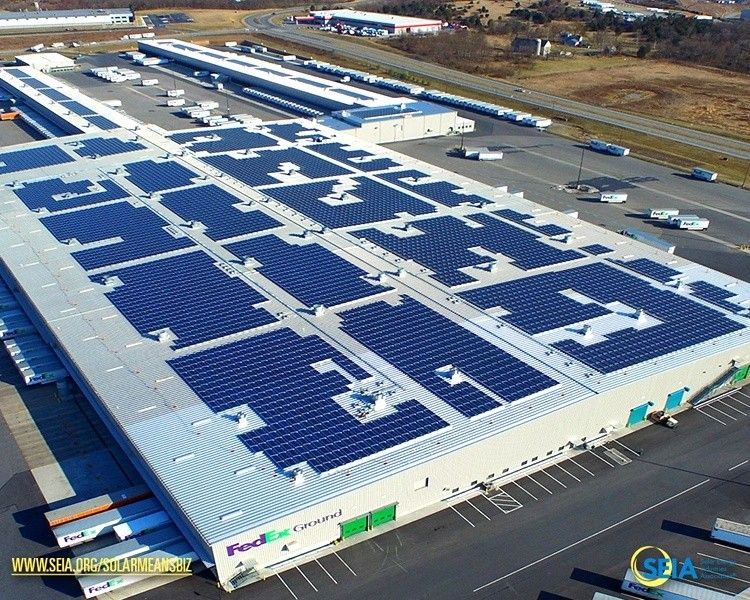 These companies are influential and successful brands that have operations in all 50 states, employ more than nine million people, represent more than $3 trillion in annual revenue and have a combined market capitalization of more than $5 trillion.
Deploying more clean energy is a significant way these companies are reducing their emissions and building more sustainable businesses.
In 2014, 26 percent of Walmart's electricity was generated from renewable sources. In fact, Walmart pledged to double the number of on-site solar energy projects at its U.S. stores, Sam's Clubs and distribution centers by 2020, compared with its 2013 baseline.
2. #SolarMeansBiz
Choosing to go solar is a surefire way for companies to take action on climate, but it's also a smart business decision.
For commercial users, average electricity rates have increased more than 20 percent in 10 years, moving from eight cents per kilowatt-hour (kWh) to more than 10 cents per kWh.
This report shows that companies are taking advantage of this cost savings by increasingly adopting solar or adding to their existing systems to power their operations.
While the report does not provide a complete dataset of corporate solar systems in the U.S., the companies sampled installed 1,686 systems totaling 907 MW, generating enough electricity to power more than 158,000 homes.
This represents a 59 percent increase over the findings of last year's report.
Commercial solar prices are the lowest they have ever been and are continuing to fall, making solar a cost-effective decision that pays in both dividends for the environment and the bottom line.
YOU MIGHT ALSO LIKE
Art Installation Lights Up Eiffel Tower on Eve of Paris Climate Talks
Brad Pitt's Nonprofit Delivers LEED Platinum Homes to Fort Peck Reservation
100% Renewable-Powered World 'Technically Feasible and Economically Viable' by 2030
Morocco's Giant Solar Plant to Bring Energy to 1 Million People
EcoWatch Daily Newsletter
Lara Hata / iStock / Getty Images
By SaVanna Shoemaker, MS, RDN, LD
Rice is a staple in many people's diets. It's filling, inexpensive, and a great mild-tasting addition to flavorful dishes.
An image of the trans-alaskan oil pipeline that carries oil from the northern part of Alaska all the way to valdez. This shot is right near the arctic national wildlife refuge. kyletperry / iStock / Getty Images Plus
The Trump administration has initialized the final steps to open up nearly 1.6 million acres of the protected Alaskan National Wildlife Refuge to allow oil and gas drilling.
Kaboompics / Pexels
Tensions between lawmakers and several large manufacturing companies came to a head on Capitol Hill this week during a hearing on toxic fluorochemicals in U.S. drinking water.
A male african lion plays with his 4 month old cub at Big Marsh in Serengeti National Park, Tanzania. Nick Garbutt / Barcroft Media / Getty Images
A Florida man has been allowed to import a Tanzanian lion's skin, skull, claws and teeth, a first since the animal was listed as threatened under the Endangered Species Act, according to US Fish and Wildlife Service records uncovered by the Center for Biological Diversity through the Freedom of Information Act.
A fracked natural gas well in northwest Louisiana has been burning for two weeks after suffering a blowout. A state official said the fire will likely burn for the next month before the flames can be brought under control by drilling a relief well.
The universe is expanding much quicker than previously thought, according to researchers in Germany, leading scientists to suggest it may be more than 2 billion years younger than past estimates.