This website uses cookies to ensure you get the best experience while browsing it. By clicking 'Got It' you're accepting these terms.
245 Boston University Faculty Urge Divestment From Fossil Fuels
Sep. 10, 2014 08:39AM EST
Climate
Boston University faculty members met yesterday afternoon with university president Robert Brown, personally delivering a letter signed by 245 faculty members urging the university to dump fossil fuels from its investment portfolio.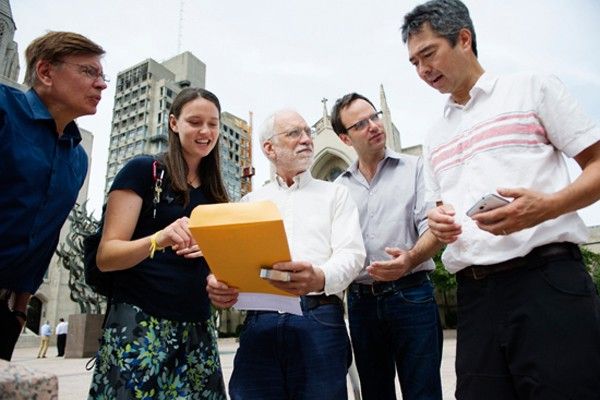 It is the largest group of university faculty so far to back such a measure], with signers from almost all schools and departments. The delegation also included members of student group DivestBU, which has been pushing for divestment for two years.
The letter, addressed to the president and the university's trustees, said:
The climate change crisis is threatening life on Earth, and demands immediate and transformative actions by individuals, governments, businesses and institutions. ... Because it is unlikely that fossil fuel interests (the major source of this crisis) will stop of their own accord their unrelenting drive to burn these fuels at current rates, we must find strategies to induce them to stop. ... We recognize that the transition to a post fossil fuel society will be complex, but we must begin to take meaningful action to promote a rapid phasing out of fossil fuel use.
The letter pointed out that BU has a precedent for divestment, having taking such an action twice before: when it disinvested from companies enabling genocide in Darfur and partially from apartheid South Africa. It also pointed out that BU has embraced sustainability and energy efficiency programs.
It also mentioned a practically reason to divest, saying "Since the true costs of carbon dioxide emissions are currently not taken into account in determining fossil fuel companies' stock prices, investing in them is becoming increasingly risky ('stranded assets' and the 'carbon bubble')." Being good professors, the letter was copiously footnoted.
The faculty/student group met with president Brown for about half an hour after he personally accepted their letter. The group was encouraged by the discussion.
"We are very pleased to hear that President Brown shares with the faculty a deep concern over the threat of climate change," said biology professor/DivestBU steering  committee member Ed Loechler. "He also concurs that climate change will be the most important investment issue for the university in the next few years and will thus encourage the institution to engage in open dialogue on this matter."
The faculty group hopes to grow its numbers, encouraging  other BU faculty to join.
The campus movement to push colleges and universities to divest from fossil fuels is growing, as this large number of supporters at BU indicates. In April, 93 faculty members at Harvard University sent an open letter to president Drew Faust, but received a much less encouraging response when he said they would not consider it. That triggered a student "day of action" which included blockading his office. But in May, the Stanford University board of trustees voted to dump coal investments from its endowment portfolio, following a large-scale campaign by student organization Fossil Free Stanford.
YOU MIGHT ALSO LIKE
University of Dayton Becomes First U.S. Catholic College to Divest From Fossil Fuels
Stanford Student Movement Inspires University's .7 Billion Divestment From Coal
93 Members of Harvard Faculty Call on University to Divest From Fossil Fuels
EcoWatch Daily Newsletter
By Simon Evans
During the three months of July, August and September, renewables generated an estimated total of 29.5 terawatt hours (TWh), compared with just 29.1TWh from fossil fuels, the analysis shows.
A demonstrator waves an Ecuadorian flag during protests against the end of subsidies to gasoline and diesel on Oct. 9 in Quito, Ecuador. Jorge Ivan Castaneira Jaramillo / Getty Images
Protesters block the road outside Mansion House in London during an XR climate change protest. Gareth Fuller / PA Images via Getty Images
Protestors marched outside the Prudential Center in Newark, New Jersey on Monday, August 26, during the MTV Video and Music Awards to bring attention to the water crisis currently gripping the city. Karla Ann Cote / NurPhoto / Getty Images
By Will Sarni
It is far too easy to view scarcity and poor quality of water as issues solely affecting emerging economies. While the images of women and children fetching water in Africa and a lack of access to water in India are deeply disturbing, this is not the complete picture.
Pexels
Mice exposed to nicotine-containing e-cigarette vapor developed lung cancer within a year.
More research is needed to know what this means for people who vape.
Other research has shown that vaping can cause damage to lung tissue.
A new study found that long-term exposure to nicotine-containing e-cigarette vapor increases the risk of cancer in mice.
Demonstrators with The Animal Welfare Institute hold a rally to save the vaquita, the world's smallest and most endangered porpoise, outside the Mexican Embassy in DC on July 5, 2018. SAUL LOEB / AFP / Getty Images
Six months: That's how much time Mexico now has to report on its progress to save the critically endangered vaquita porpoise (Phocoena sinus) from extinction.
Pexels
It may seem innocuous to flush a Q-tip down the toilet, but those bits of plastic have been washing up on beaches and pose a threat to the birds, turtles and marine life that call those beaches home. The scourge of plastic "nurdles," as they are called, has pushed Scotland to implement a complete ban on the sale and manufacture of plastic-stemmed cotton swabs, as the BBC reported.
Air conditioners, like these in a residential and restaurant area of Singapore city, could put a massive strain on electricity grids during more intense heatwaves. Taro Hama @ e-kamakura / Moment / Getty Images
By Tim Radford
Scientists in the U.S. have added a new dimension to the growing hazard of extreme heat. As global average temperatures rise, so do the frequency, duration and intensity of heatwaves.