This website uses cookies to ensure you get the best experience while browsing it. By clicking 'Got It' you're accepting these terms.
245 Boston University Faculty Urge Divestment From Fossil Fuels
Sep. 10, 2014 08:39AM EST
Climate
Boston University faculty members met yesterday afternoon with university president Robert Brown, personally delivering a letter signed by 245 faculty members urging the university to dump fossil fuels from its investment portfolio.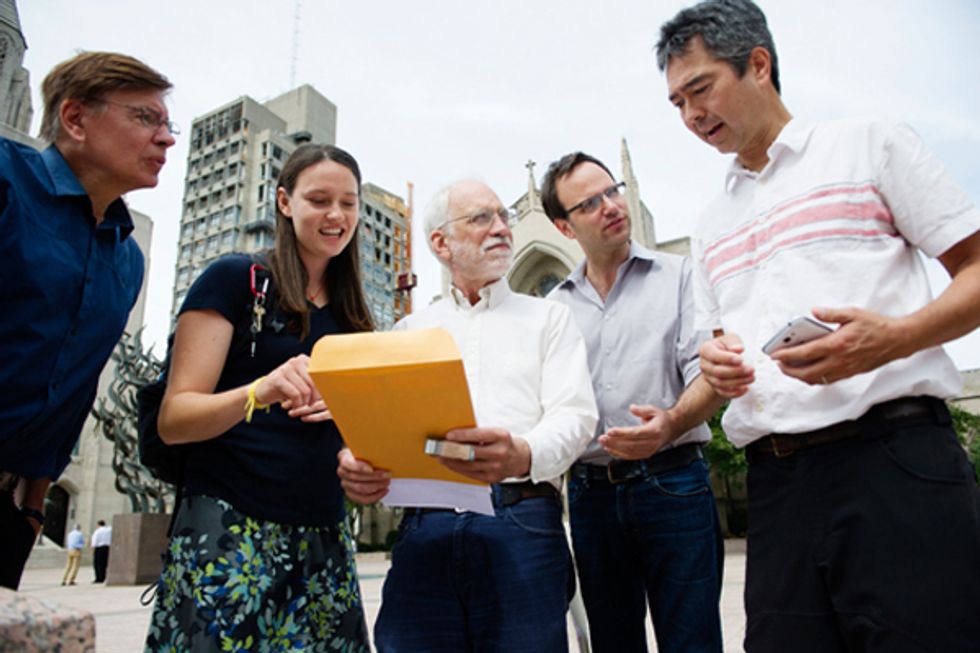 It is the largest group of university faculty so far to back such a measure], with signers from almost all schools and departments. The delegation also included members of student group DivestBU, which has been pushing for divestment for two years.
The letter, addressed to the president and the university's trustees, said:
The climate change crisis is threatening life on Earth, and demands immediate and transformative actions by individuals, governments, businesses and institutions. ... Because it is unlikely that fossil fuel interests (the major source of this crisis) will stop of their own accord their unrelenting drive to burn these fuels at current rates, we must find strategies to induce them to stop. ... We recognize that the transition to a post fossil fuel society will be complex, but we must begin to take meaningful action to promote a rapid phasing out of fossil fuel use.
The letter pointed out that BU has a precedent for divestment, having taking such an action twice before: when it disinvested from companies enabling genocide in Darfur and partially from apartheid South Africa. It also pointed out that BU has embraced sustainability and energy efficiency programs.
It also mentioned a practically reason to divest, saying "Since the true costs of carbon dioxide emissions are currently not taken into account in determining fossil fuel companies' stock prices, investing in them is becoming increasingly risky ('stranded assets' and the 'carbon bubble')." Being good professors, the letter was copiously footnoted.
The faculty/student group met with president Brown for about half an hour after he personally accepted their letter. The group was encouraged by the discussion.
"We are very pleased to hear that President Brown shares with the faculty a deep concern over the threat of climate change," said biology professor/DivestBU steering  committee member Ed Loechler. "He also concurs that climate change will be the most important investment issue for the university in the next few years and will thus encourage the institution to engage in open dialogue on this matter."
The faculty group hopes to grow its numbers, encouraging  other BU faculty to join.
The campus movement to push colleges and universities to divest from fossil fuels is growing, as this large number of supporters at BU indicates. In April, 93 faculty members at Harvard University sent an open letter to president Drew Faust, but received a much less encouraging response when he said they would not consider it. That triggered a student "day of action" which included blockading his office. But in May, the Stanford University board of trustees voted to dump coal investments from its endowment portfolio, following a large-scale campaign by student organization Fossil Free Stanford.
YOU MIGHT ALSO LIKE
University of Dayton Becomes First U.S. Catholic College to Divest From Fossil Fuels
Stanford Student Movement Inspires University's .7 Billion Divestment From Coal
93 Members of Harvard Faculty Call on University to Divest From Fossil Fuels
EcoWatch Daily Newsletter
European Commission President Ursula von der Leyen delivers a press statement on the European Green Deal at the EU headquarters in Brussels, Belgium on Dec. 11, 2019. Xinhua / Zheng Huansong via Getty Images
The European Commission introduced a plan to overhaul the bloc's economy to more sustainable, climate-conscious policies and infrastructure, with the goal of being carbon-neutral by 2050, according to CNBC.
Young activists shout slogans on stage after Greta Thunberg (not in the picture) took part in the plenary session during the COP25 Climate Conference on Dec. 11 in Madrid, Spain. Pablo Blazquez Dominguez / Getty Images
By Andrea Germanos
Young activists took over and occupied the main stage at the COP25 climate conference in Madrid, Spain Wednesday and demanded world leaders commit to far more ambitious action to address the ecological emergency.
A NASA image showing the ozone hole at its maximum extent for 2015. NASA Goddard Space Flight Center
The Montreal Protocol, a 1987 international treaty prohibiting the production of chlorofluorocarbons (CFCs) to save the ozone layer, was the first successful multilateral agreement to successfully slow the rate of global warming, according to new research. Now, experts argue that similar measures may lend hope to the climate crisis.
Police in Wales are in the midst of an unusual investigation: the sudden death of more than 200 starlings.
Donald Trump Jr. killed an argali sheep like this one on a hunting trip in Mongolia. powerofforever/ iStock / Getty Images Plus
During a hunting trip in Mongolia this August, Donald Trump Jr. shot and killed an endangered argali sheep, and received a permit only after the fact.