24 Videos That Turn the Tide on Climate Change
Oct. 19, 2015 11:12AM EST
Climate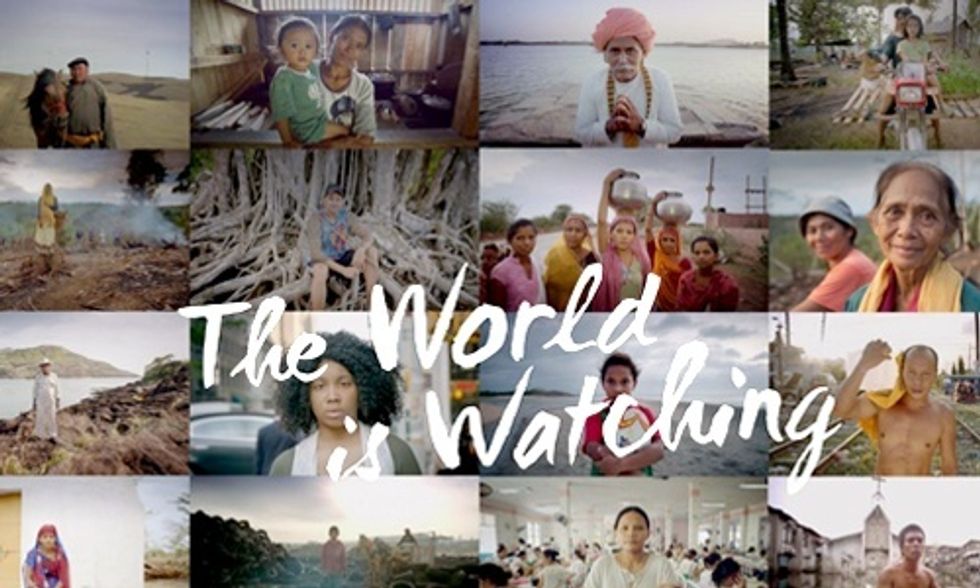 Global demand for climate action is reaching a tipping point. Here's a look back at how we got there.
As the UN climate talks in Paris grow closer, the volume of the media conversation about this historic event is steadily rising from a low murmur into nearly a scream. And unlike in the build-up to past climate talks, this time, the world is watching every development closely. But this story starts long before this month, or even before the latest round of negotiations began.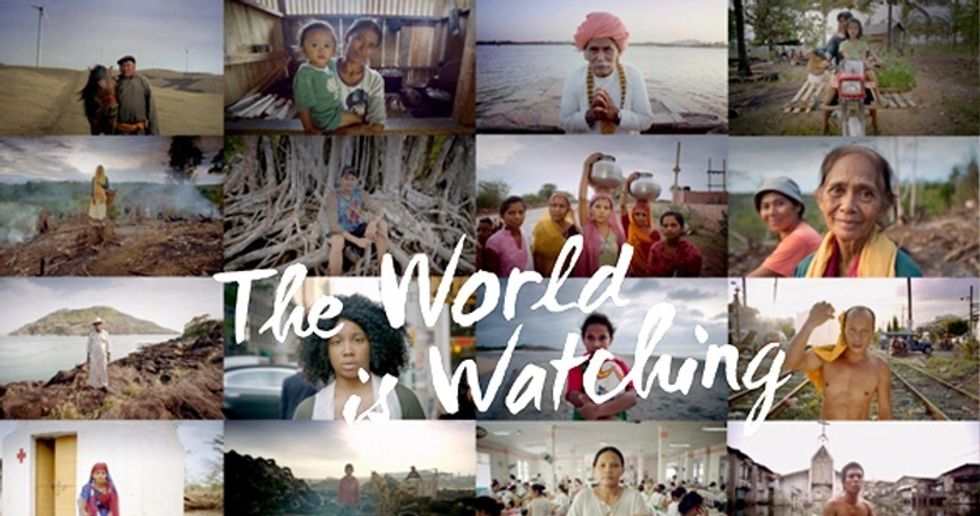 It starts about five years ago, as the climate movement was just getting back on its feet after a series of significant setbacks. With the breakdown of UN talks in Copenhagen still fresh in the memory and even the most committed supporters searching for reasons for hope, activists fought to keep the world's attention on the urgency of solving climate change. But they did keep fighting and as events like Superstorm Sandy and Typhoon Haiyan led many to accept the reality of this crisis, the conversation turned to extreme weather, the costs of carbon pollution, and finally, our many reasons for hope that we will solve this crisis, together.
At every step of the way, Climate Reality's signature broadcast, 24 Hours of Reality, was there to tell the story and rally the world to face the challenge in front of us. This year, 2015, marks the fifth 24 Hours of Reality. On Nov. 13 - 14, former U.S. Vice President Al Gore, artists and influencers, and millions across the planet will join together for a global day of action and music to celebrate our progress over these past five years and—with the Paris climate talks on the horizon—send a clear message to world leaders: Take climate action now. But first, let's take a look at how we got to where we are—and why this year, the entire world is watching 24 Hours of Reality.
1. 24 Hours of Reality: The Beginning
Before the world could face up to the challenge of climate change, we had to remove any sense of doubt in contemporary culture and reveal the deniers trying to spread it. So Vice President Al Gore, Climate Reality and people from every time zone around the world came together to shine a spotlight on the truth—and the tricks that Big Polluters use to prevent climate action.
2. Climate 101 with Bill Nye the Science Guy
Who better to educate the world on climate science than Bill Nye the Science Guy? Class is in session—and in a few short minutes he gave us enough information to know that yes, humans are causing climate change, and yes, we'll solve it
3. Doubt
So why don't people believe the facts, even when explained by seasoned science educators like Mr. Nye? Doubt exposed the playbook Big Polluters use to instill uncertainty in the face of overwhelming evidence, conveniently borrowed from Big Tobacco.
4. Reality, TX:
The Lone Star state was experiencing climate change in an extreme way in 2011. Extreme drought. Wildfires. (Almost sounds like what the Golden State is seeing today, doesn't it?)
5. Highlight: Al Gore at 24 Hours of Reality
The founder and chairman of The Climate Reality Project, Al Gore, shares the signature presentation made famous in An Inconvenient Truth and busts common climate denial myths. The message was clear: climate change is messing with our planet, and unless we act, it's only going to get worse.
6. 24 Hours of Reality: The Dirty Weather Report
More dangerous storms and devastating droughts happening more often as we dump more and more carbon pollution into the atmosphere. Is the weather trying to tell us something? 24 Hours of Reality: The Dirty Weather Report lays out the link between dirty energy and dirty weather—and how people are embracing solutions.
7. Hurricane Sandy: A New Reality
When Superstorm Sandy hit the U.S. East Coast in 2012, it was a wake-up call for many Americans who had believed climate change was a problem for others to deal with. First, we learn what made Sandy so devastating, then we meet some of the people impacted.
8. Hurricane Sandy: The Truth
Who would have seen the devastation of Superstorm Sandy coming? Seven years earlier, An Inconvenient Truth showed how susceptible New York City was to the rising sea.
9. Kids Can See It. Why Can't We?
"I'm not a scientist." Well, neither are these kids. You don't need to be a scientist to see the reality of climate change. So why don't adults get it?
10. Symphony of Science
Talk about rhythm! Take a break, turn up the volume, and jam out to the sounds of Climate Reality. This catchy number could have us all singing a new tune about climate science..
11. The Cost of Carbon
If seeing the impact of climate change didn't convince you to take action, 2013's 24 Hours of Reality: The Cost of Carbon hit you where it really hurt: your wallet. The Cost of Carbon counts the ways extreme weather and climate change is costing all of us, threatening our livelihoods, decimating our infrastructure, and harming our health.
12. The Human Impact of Climate Change: Personal Stories from the U.S. and Mexico
In 2013, 24 Hours of Reality: The Cost Of Carbon traveled across six continents and the poles, identifying the specific costs people everywhere are paying for carbon pollution. In the North America segment, we witness the human cost of carbon from Hurricane Sandy, wildfires, floods and drought. We visit Staten Island one year after Sandy to hear from homeowners who survived the storm to find there was no home to come back to. In Manitou Springs, we hear how raging wildfires were just a prelude to devastating floods. In Durango, Mexico, farmers tell of land lost to drought and a community dying.
13. The Human Impact of Climate Change: Personal Stories from Somalia, Ghana and Kenya
Next up, in the Africa segment, we see how Somali refugees affected by drought and famine were forced to flee to Kenya just to survive. In Ghana, rising sea levels are driving residents of coastal villages further and further inland. And in Kenya, a lake that once provided fisherman with their livelihoods is rapidly drying up, driving political instability.
Visit our YouTube channel to see videos bearing witness to the cost of carbon in Asia, South America, Europe and Australia.
14. The Guitar of Reality with Jack Johnson
To spread awareness, singer-songwriter Jack Johnson creates an instrument of change: a guitar created from beetlekill pine—wood from trees eaten alive by bark beetles, which are thriving in the warmer weather brought on by climate change.
15. The Way Forward
While Big Polluters count their profits from fossil fuels, the rest of us count the costs to our planet. So how do we flip the tables? The Way Forward shows the road to a fair solution to climate change and a sustainable future for our planet.
16. Good News
For years, we've gotten used to hearing bad news about extreme weather and other climate impacts. With renewable energy and other proven, practical solutions getting more affordable and accessible by the day, it's time to share the good news (and it is really good).
17. The Next Generation Asks World Leaders at the UN "Why Not Act on Climate Change?"
Young people today see what climate change is doing to the planet—and see how little our leaders are doing to address it. And they have some questions.
18. Town Hall with Mark Ruffalo
"Do you ever feel like releasing the Hulk on climate change deniers?" Learn more about actor and activist Mark Ruffalo's approach to climate activism and his commitment to living a green lifestyle—even when he's not on the big screen.
19. Field Report: Interfaith Power and Light
"What's faith got to do with it?" When it comes to solving climate change, when we have faith, we have hope. And it's inspiring to see Interfaith Power and Light helping houses of worship and congregations of all denominations install solar PV systems and reduce waste as a means of protecting Creation.
20. Man on the Street with Ian Somerhalder
Ahead of the UN Climate Summit in September 2014, actor and advocate Ian Somerhalder dedicates a day to raising awareness, engaging people on the streets of New York City in candid discussions about climate change, going green, and why they have hope for our future.
21. 24 Seconds of Reality with Tyler Oakley: China Invests in Clean Energy
This will give you #ClimateHope: YouTube superstar Tyler Oakley shines a light on China's huge investments in renewables, showing how a country that fueled its remarkable growth with coal has started to turn a corner toward a greener future.
22. Al Gore One-on-One with General Russel Honoré
Retired U.S. Army Lieutenant General Russel Honoré led the charge to restore order to New Orleans in the wake of Hurricane Katrina. Today, he's started a new wave of urban activism that stands up against polluters on behalf of some of Louisiana's poorest communities
23. The UN is Convening Nations
That brings us to the biggest reason for hope, one that rings true even more today: this year, the UN is convening 195 nations to solve the climate crisis. Vice President Gore explains how we can ensure all countries work together for climate action.
24. 24 Hours of Reality: The World is Watching
A strong agreement is in our grasp, but only if our leaders act. 24 Hours of Reality is bringing the world together to make sure they do. It's the day we change "can" to "will" and truly turn the tide on climate change.
If you'd like to make a difference in the greatest challenge of our lifetimes, simply speak up and demand a strong agreement in Paris. Then make sure to tune in on Nov. 13 - 14 for 24 Hours of Reality: The World Is Watching.
With millions speaking together to demand a strong agreement, world leaders will have to listen and act.
YOU MIGHT ALSO LIKE
Larry David as Bernie Sanders on Saturday Night Live: 'We Need a Revolution'
Bill McKibben Gets Arrested Exposing Exxon's 'Unparalleled Evil'
Interactive Map Shows 414 U.S. Cities Already Locked Into Catastrophic Sea Level Rise
EcoWatch Daily Newsletter
Related Articles from EcoWatch