24 States Sue Obama Over Clean Power Plan
Twenty four states and a coal company filed lawsuits yesterday over President Obama's Clean Power Plan, which was formally published Friday. "The Clean Power Plan, which requires states to reduce carbon dioxide emissions from power plants 32 percent by 2030, is intended to help slow climate change resulting from the burning of fossil fuels," explains InsideClimate News. "The plan has been the target of legal challenges and legislative campaigns since it was proposed in 2014 and finalized in August."
The two dozen states and Murray Energy have accused the U.S. Environmental Protection Agency (EPA) of "going far beyond the authority Congress granted to it," according to The Hill. They are calling on the Court of Appeals for the District of Columbia Circuit to overturn the rule, and they are asking the court to "immediately stop its implementation" while the lawsuit plays out."
West Virginia Attorney General Patrick Morrisey, who is leading the charge, called it "the single most onerous and illegal regulations that we've seen coming out of DC in a long time." He added, "the EPA cannot do what it intends to do legally."
Morrisey is joined by attorneys general from Texas, Alabama, Arkansas, Colorado, Florida, Georgia, Indiana, Kansas, Kentucky, Louisiana, Michigan, Missouri, Montana, Nebraska, New Jersey, Ohio, South Carolina, South Dakota, Utah, Wisconsin, Wyoming, Arizona and North Carolina.
The EPA maintains that its rule is legal. "The Clean Power Plan has strong scientific and legal foundations, provides states with broad flexibilities to design and implement plans, and is clearly within EPA's authority under the Clean Air Act," U.S. EPA Administrator Gina McCarthy said in a statement.
Fifteen other states, including Washington, DC, say they plan to intervene on behalf of the EPA, arguing that the rules are not only legal, they are necessary. "Significant reductions in these emissions must occur to prevent increases in the frequency, magnitude and scale of the adverse impacts of climate change," wrote New York Attorney General Eric Schneiderman in a letter to the EPA in August.
Though the rule's opponents cry foul, "officials in practically every state have been doing some amount of work [to comply with the standards]," Kyle Danish, a partner at Van Ness Feldman law firm, told InsideClimate News. Danish is helping the industry comply with the regulations and says, "many states have been taking a number of steps to start putting together compliance plans."
Think Progress writes:
The arguments will likely come down to debates over whether the EPA has overstepped its jurisdiction by allowing flexible state plans to include "outside the fence" measures such as efficiency and renewable energy, and whether another section of the Clean Air Act, which governs mercury emissions from power plants, renders the EPA unable to also regulate carbon.
Michael Myers, assistant attorney general of New York, disputed both those claims. The mercury or carbon argument "doesn't make any sense," Myers told ThinkProgress. "The contention that Congress intended the EPA to pick one of those, not both of them, is not an argument that is going to prevail in court."
Environmental groups, including Earthjustice, Natural Resource Defense Council, Sierra Club and Environmental Defense Fund have also vowed to intervene on behalf of the EPA.
"Its opponents are on the wrong side of the law and the wrong side of history," Howard Fox, an attorney with Earthjustice, told Think Progress.
Mary Anne Hitt, director of the Sierra Club's Beyond Coal campaign, said in a statement:
Time and again, we've seen Big Polluters and their allies attack the lifesaving protections that let our loved ones breathe easier and keep our clean energy economy thriving, and this challenge to the Clean Power Plan is no different. The Clean Power Plan will help us move toward a new era of clean, affordable energy that protects the health of our communities, grows our economy and signals to the rest of the world that the U.S. is serious about combating the climate crisis ahead of international negotiations in Paris later this year. It's a huge step in taking action against climate disruption by pulling together state-level carbon pollution reduction plans and holding polluters accountable for doing their fair share.
They can throw everything and the kitchen sink at this standard, but the Clean Power Plan's push to cut dangerous carbon pollution from power plants for the first time ever is based on a law passed by Congress and upheld by the Supreme Court, and it has the overwhelming support of the American people.
Many have noted that it's no surprise that most of the opponents come from coal-heavy states and that all but three of those states (Kentucky, Missouri and North Carolina) have Republican attorneys general.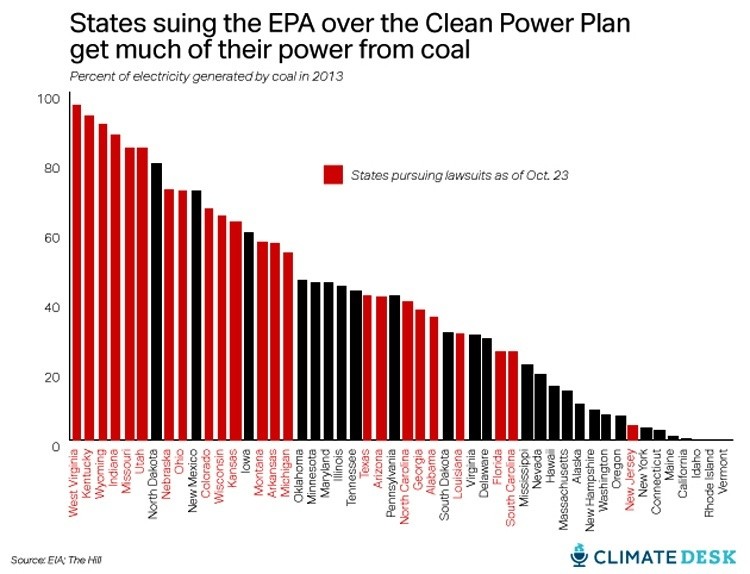 Rhea Suh at the Natural Resources Defense Council says, "Big Coal and its political allies" are "not going to get away with it — the stakes are too high for that."
She writes:
We just finished the hottest summer since global record-keeping began in 1880, with world land and sea temperatures 1.53 degrees Fahrenheit above the 20th-century average. Last year was the hottest year ever recorded. And 19 of the hottest years on record have all occurred in the past two decades.
Small wonder that seven in 10 Americans understand the planet is warming. No surprise, either, that the pool of doubters who dismiss the definitive science on the issue has reached a shallow 16 percent of the population— the lowest in modern time. Those are the findings of a poll taken in September by the University of Michigan and Muhlenberg College, another sign the tide is turning toward real action on climate change.
Joanne Spalding, chief climate counsel for Sierra Club, told Think Progress: "We are confident that the Clean Power Plan is on legally sound footing. EPA does have the authority. The law says so and the Supreme Court has said so, twice. The matter, I believe, should be put to rest."
YOU MIGHT ALSO LIKE
Mexico Braces for Hurricane Patricia: 'Strongest Storm Ever Measured'
Why Bill Gates' Position on Divesting From Fossil Fuels Is Wrong
Donald Trump Blames Intern for Tweet Insulting Monsanto, Ben Carson and Iowa Republicans
Laurie Woolever
By James O'Hare
There are 20 million people in the world facing famine in South Sudan, Somalia, Nigeria and Yemen. In developed nations, too, people go hungry. Venezuela, for instance, is enduring food insecurity on a national level as a result of economic crisis and political corruption. In the U.S., the land of supposed excess, 12.7 percent of households were food insecure in 2015, meaning they didn't know where their next meal would come from.
Keep reading...
Show less
Melwater, Greenland ice sheet. Diane Tuft
Artists are taking the climate crisis into frame and the results are emotional, beautiful and stirring.
So you've seen the best climate change cartoons and shared them with your friends. You've showed your family the infographics on climate change and health, infographics on how the grid works and infographics about clean, renewable energy. You've even forwarded these official National Oceanic and Atmospheric Administration graphs that explain the 10 clear indicators of climate change to your colleagues at the office.
Keep reading...
Show less
May. 27, 2017 01:11PM EST
As the Trump administration moves full speed ahead on boosting the oil and fossil fuel industry, opposition to increased pipeline construction is cropping up in different communities around the country.
Keep reading...
Show less
May. 27, 2017 01:02PM EST
Minke whale stranding near Havergate Island in Suffolk. MCGA.
By Simon Evans
Last Saturday, two dead whales washed up on the coast of Suffolk, in eastern England, and a third was spotted floating at sea.
What happened next illustrates how news can spread and evolve into misinformation, when reported by journalists rushing to publish before confirming basic facts or sourcing their own quotes.
Keep reading...
Show less
May. 27, 2017 01:22PM EST
By Monica Amarelo and Paul Pestano
Sun safety is a crucial part of any outdoor activity for kids, and sunscreen can help protect children's skin from harmful ultraviolet rays. Kids often get sunburned when they're outside unprotected for longer than expected. Parents need to plan ahead and keep sun protection handy in their cars or bags.
Keep reading...
Show less
May. 27, 2017 01:02PM EST
By Joe McCarthy
A lot of people take part in community clean-up efforts—spending a Saturday morning picking up litter in a park, mowing an overgrown field or painting a fence.
Keep reading...
Show less
May. 26, 2017 03:22PM EST
Rink Glacier in western Greenland, with a meltwater lake visible center. NASA/OIB
Scientists have had their eyes on Greenland as its iconic glaciers have begun disappearing due to a warming climate. But, what they didn't expect to see was a whole new type of melting.
Keep reading...
Show less
May. 26, 2017 03:40PM EST
A coalition of conservation groups and others announced Thursday that a historic number of comments and petitions of support have been submitted to the U.S. Department of the Interior in support of Bears Ears National Monument. Despite the entirely inadequate 15-day comment period ending on May 26, more than 685,000 comments in support of Bears Ears National Monument have been collected.
Keep reading...
Show less


Get EcoWatch in your inbox