24 Hours of Reality: 24 Reasons for Hope
Aug. 29, 2014 01:16PM EST
Climate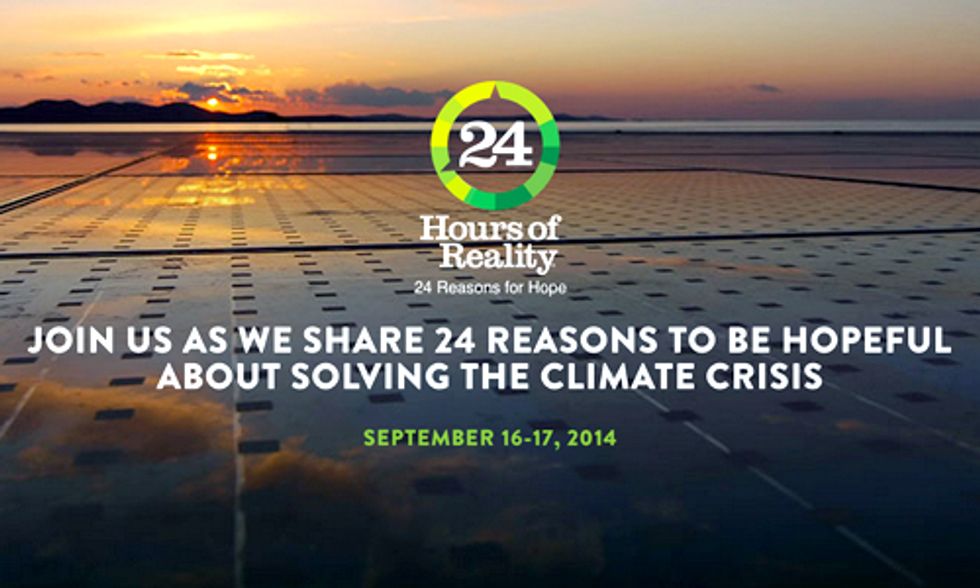 Be a part of the solution and tune into The Climate Reality Project's 24 Hours of Reality: 24 Reasons for Hope broadcasted live from Brooklyn, New York on Sept. 16 - 17, starting at Noon. This year's event celebrates innovation and progress in fighting climate change around the world.
24 Hours of Reality: 24 Reasons for Hope airs one week prior to the U.N. Climate Summit and People's Climate March in New York City, and will provide the solutions to climate change that are available today. Each hour will focus on a specific milestone in the fight against climate change with former U.S. Vice President and Climate Reality Project Chairman and Founder Al Gore sharing a new reason to be hopeful and invite viewers worldwide to join in the effort to help end the climate crisis.
"Carbon pollution is already having a profound impact on our climate, but the good news is that we have all the tools we need to overcome this challenge," said Gore.
"It's time our leaders stop asking 'What do we do?' and instead ask 'How can we accelerate the shift to a sustainable future powered by cheap, clean renewable energy, with sustainable agriculture and forestry.' This year's 24 Hours of Reality will signal a transition in the global conversation on climate change where we highlight the solutions at hand and empower individuals to take simple actions to aid this global fight."
In addition to Al Gore and Climate Reality Project President and CEO Ken Berlin, a variety of international celebrities, musicians, advocates and other special guests will join the broadcast, including: filmmaker Vanessa Black, singer-songwriter Colbie Caillat, activist Rodne Galicha, environmentalist Wanjira Mathai, singer-songwriter Jason Mraz, entreprenuer Patrick Ngowi, founder of the Barefoot College Bunker Roy, actor and activist Mark Ruffalo, actor and model Ian Somerhalder, Johan van der Berg and Daniela Velasco.
"24 Reasons for Hope will ask each of us to dedicate a day to make a difference," said Berlin. "Climate change is big and complex, but that means there are hundreds of ways to contribute. Whether it's a parent organizing a renewable energy fair at school, or a young professional pledging to become a Climate Reality Leader, or a student working to elect a clean energy candidate, we all have different ways and different days to contribute."
YOU ALSO MIGHT LIKE
'Irreversible' Damage to Planet From Climate Change Says Leaked IPCC Report
Bill McKibben on Democracy Now!: Obama's Nonbinding Climate Deal, IPCC Report, People's Climate March
Leonardo DiCaprio Narrates Climate Change Films Urging Shift From Fossil Fuels to Renewables
EcoWatch Daily Newsletter