24 Anti-Fracking Activists Arrested in Washington at First-Ever FERC Sit-In Protest
Jul. 14, 2014 10:04AM EST
Energy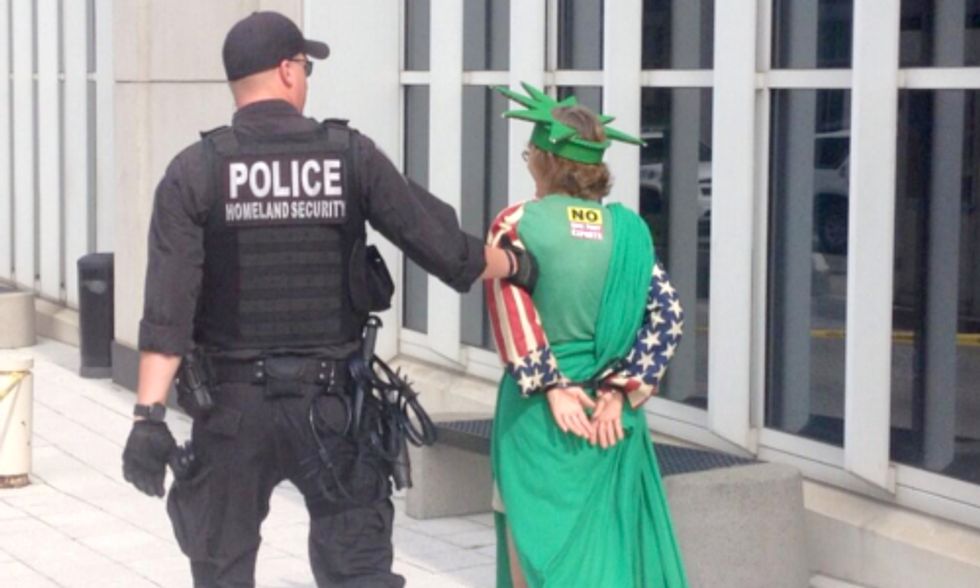 Editor's note: This post was updated at 1 p.m.
Twenty-four anti-fracking activists were arrested Monday morning in Washington D.C. in protest of proposed liquefied natural gas (LNG) export terminals in the U.S., according to environmental groups tweeting from the scene.
The protest centered on Cove Point, an export terminal that could be constructed in Maryland, about 50 miles from the White House.
The "Stop Cove Point" protest marked the first-ever sit in at the Federal Energy Regulatory Commission.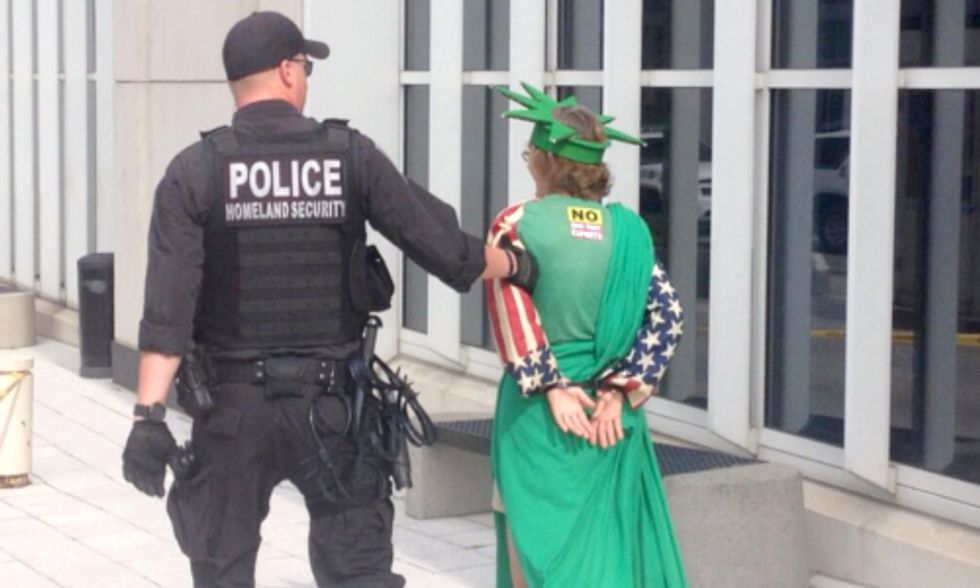 The protest was in response to the gas industry's applications to FERC to build as many as 14 LNG export terminals, two already approved. The sit-in came just one day after more than 1,000 people rallied from the U.S. Capitol to the doorstep of FERC. Environmental groups say FERC dismissed evidence about the harmful impact of fracking and pipeline infrastructure on nearby homes and overall climate change. A decision on Cove Point—the first proposal on the East Coast—could come as soon as this August.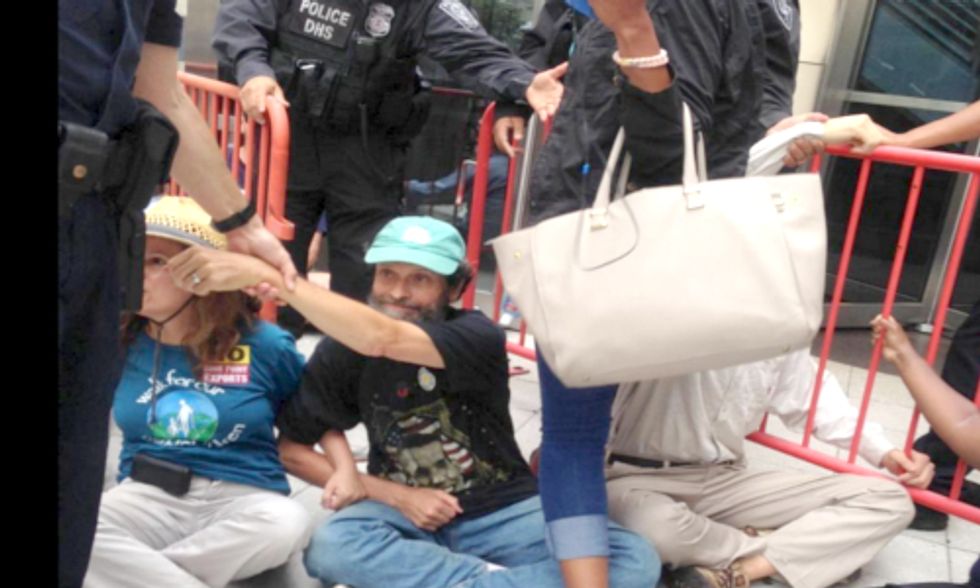 Virginia-based energy giant Dominion Resources wants to build a massive $3.8 billion LNG facility in Lusby, MD that would pipe fracked gas from the Marcellus shale to southern Maryland, liquefy it and export it to be burned in Japan and India. FERC's conditional approval of the facility, which came back in September, would allow the facility to export up 0.77 billion cubic feet of natural gas a day.
The comment period for the project ended in June, with more than 150,000 comments in opposition.
The protest and rally both called on FERC and President Barack Obama to take a look at the evidence and put a halt to Cove Point. The difference between the two was a group of activists on Monday willing to go to jail for their beliefs.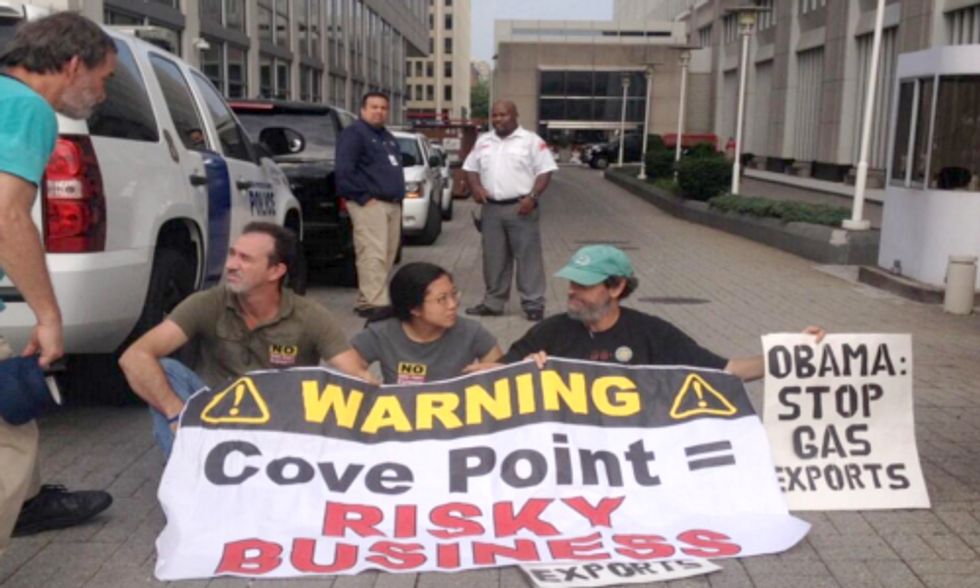 "With LNG exports, the only things Americans get are terrifying new health and safety threats, worsening climate instability, and higher heating bills, all so that the gas industry can make bigger profits from fracking us," Dr. Sandra Steingraber, a New York-based biologist, author and science advisor to Americans Against Fracking, said in a statement.

More than 40 national, state and community-based groups endorsed Sunday's rally. Organizing groups included Berks Gas Truth, Catskill Citizens for Safe Energy, the Chesapeake Climate Action Network, the Delaware Riverkeeper Network, Energy Action Coalition, Environmental Action, Earthworks, Food & Water Watch, Greenpeace, Public Citizen, the Sierra Club, Waterkeepers Chesapeake and 350.org.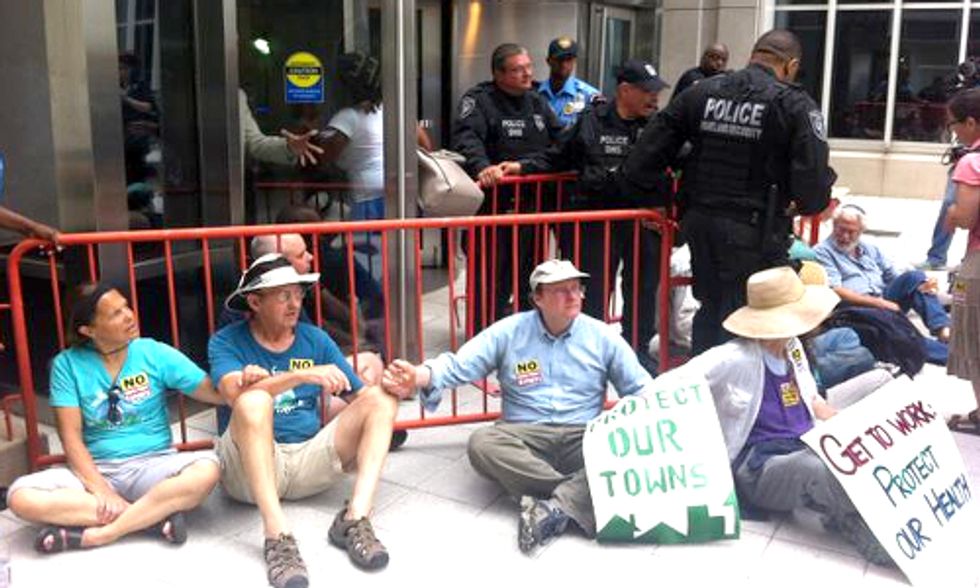 "Any project that makes climate change significantly worse has no place on a livable planet, from Cove Point to Keystone XL," Rev. Lennox Yearwood, Jr., CEO of the Hip Hop Caucus, said at Sunday's rally.
"No matter what FERC decides in the near-term, the people will triumph in the long-term. We'll keep fighting until wind turbines and solar panels crisscross our coastlines, and LNG facilities like Cove Point are defunct monuments to a dinosaur industry."
EcoWatch Daily Newsletter