This website uses cookies to ensure you get the best experience while browsing it. By clicking 'Got It' you're accepting these terms.
230,000+ Americans Tell Google to Quit Funding ALEC
Dec. 06, 2013 11:47AM EST
Climate
Today, 230,000 members and supporters of the Sierra Club, Forecast the Facts, SumOfUs, RootsAction and the Center for Media and Democracy urged Google to end its alliance with the American Legislative Exchange Council (ALEC).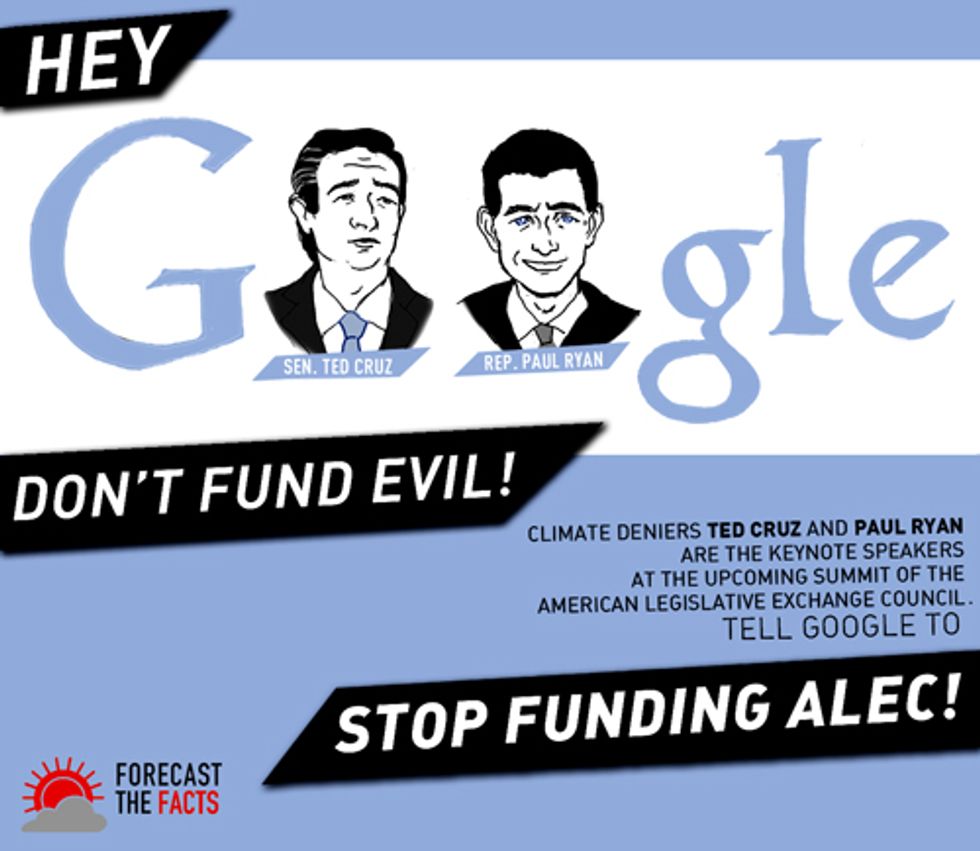 This week represents the first time ALEC's annual States and Nation Policy Summit in Washington, D.C. has Google as a corporate member. The tech giant is bucking the trend by joining the right-wing think tank as other companies like GE, Kraft and McDonald's are cutting ties and pulling support from ALEC due to the group's reckless policies.
While having a stated commitment to move toward 100 percent renewable energy to combat climate pollution, Google recently joined ALEC as the group continued its climate denial and attacks on efforts to make renewable energy more affordable and accessible to millions of Americans. Along with Google, ALEC also receives backing from dirty energy giants like Koch Industries, BP, Peabody Energy and ExxonMobil. 
"Google should Google ALEC's agenda. Funding right-wing extremists at ALEC is a guaranteed way for Google to undermine its own admirable clean energy goals," said Michael Brune, executive director of the Sierra Club. "It's like building a new house only to set it on fire after defunding the fire department."
"For a company celebrated for its leadership in imagination and innovation, Google is showing a remarkable lack of foresight," Brune continued. "Tens of thousands of Americans are taking note, and its time Google did the right thing by leaving ALEC behind."
The "Don't Fund Evil" campaign, launched by Forecast the Facts in July, has called out Google for the company's financial support of climate deniers including Sen. Inhofe (R-OK), the Competitive Enterprise Institute, Heritage Action and now ALEC.
"Google's support for ALEC is part of a disturbing embrace of the climate denial machine by a company that professes to fight global warming," said Brad Johnson, campaign manager of Forecast the Facts. "It may be time to pronounce Google's famous 'Don't Be Evil' motto dead." 
Google's continued support of ALEC comes as the group plans to attack the first-ever protections from carbon pollution emitted from new power plants. In addition, new reports indicate ALEC is plotting to push legislation that would financially penalize homeowners who install their own solar panels.
"If Google thinks the public won't notice or care about its political funding practices, it hasn't read the thousands of outraged comments I've read from our members," said David Swanson, campaign coordinator for RootsAction.
The Sierra Club's SierraRise community, Forecast the Facts, SumOfUs, RootsAction and the Center for Media and Democracy delivered to Google representatives more than 230,000 petition signatures collected from Americans across the country urging Google to abide by its motto of "Don't Be Evil" by standing by its clean energy commitments and stand up to ALEC's polluter-backed attacks on climate action.
"In ALEC, Google is now funding a group that promotes an anti-worker, anti-environment and anti-consumer agenda," said Nick Surgey, director of research at the Center for Media and Democracy. "At ALEC's conference this week, it is going to debate new 'model' bills to limit the power of the EPA, make it more difficult for public employees to collectively bargain and a bill that opposes consumer friendly country of origin labeling laws. What on earth is Google doing funding this organization?"
Visit EcoWatch's ENERGY page for more related news on this topic.

EcoWatch Daily Newsletter
chuchart duangdaw / Moment / Getty Images
By Tim Radford
The year is less than four weeks old, but scientists already know that carbon dioxide emissions will continue to head upwards — as they have every year since measurements began — leading to a continuation of the Earth's rising heat.
Lucy Lambriex / DigitalVision / Getty Images
By Katey Davidson
Each year, an estimated 600 million people worldwide experience a foodborne illness.
While there are many causes, a major and preventable one is cross-contamination.
picture alliance / dpa / F. Rumpenhorst
By Arthur Sullivan
When was the last time you traveled by plane? Various researchers say as little as between 5 and 10 percent of the global population fly in a given year.
A Starbucks barista prepares a drink at a Starbucks Coffee Shop location in New York. Ramin Talaie / Corbis via Getty Images
By Cathy Cassata
Are you getting your fill of Starbucks' new Almondmilk Honey Flat White, Oatmilk Honey Latte, and Coconutmilk Latte, but wondering just how healthy they are?
By Sharon Kelly
Back in April last year, the Trump administration's Environmental Protection Agency decided it was "not necessary" to update the rules for toxic waste from oil and gas wells. Torrents of wastewater flow daily from the nation's 1.5 million active oil and gas wells and the agency's own research has warned it may pose risks to the country's drinking water supplies.