This website uses cookies to ensure you get the best experience while browsing it. By clicking 'Got It' you're accepting these terms.
2015 Hottest Year Ever Recorded ... Until 2016, UN Weather Agency Reports
Nov. 25, 2015 11:19AM EST
Climate
The World Meteorological Organization (WMO) announced today that 2015 is likely to top the charts as the hottest year in modern observations, with 2011-15 the hottest five-year period on record.
With two full months still to add in, the global average surface temperature for January to October in 2015 was 0.73C above the 1961-1990 average. This already puts it a long way above 2014, in which average global temperature reached 0.57C above the 1961-1990 average.
This year's record is down to a combination of rising greenhouse gases and a boost from the strong El Niño underway in the Pacific, says the WMO.
Today's announcement is timed to coincide with the gathering of world leaders on Monday to begin talks in Paris aimed at striking a deal to reduce global emissions.
'Significant' Milestone
To put today's news another way, global temperature in 2015 is likely to pass the "symbolic and significant" threshold of 1C above preindustrial levels, says the WMO.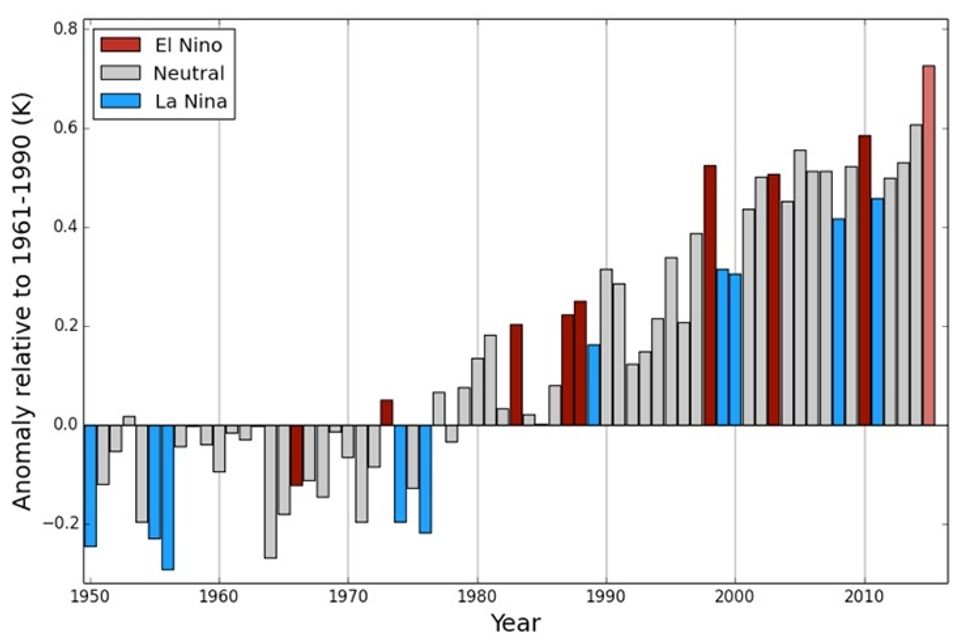 This follows the recent announcement from the Met Office that temperature in the HadCrut4 dataset—one of three global datasets the WMO uses—is expected to pass the 1C mark in 2015. Dr. Ed Hawkins from the University of Reading said today:
"Roughly 1.0 degrees Celsius of this warming or around 95 percent, is due to human activity. Natural cycles in the climate system, including El Nino, solar activity and natural variations in weather, are likely to be responsible for the remainder of the warming."
Earlier this month, the WMO said greenhouse gases in the atmosphere had reached a new high, with spring concentrations in the northern hemisphere exceeding 400 ppm.
Global Impacts
Global ocean heat content in the top 700 meters and 2,000 meters reached record high levels in the first nine months of 2015, says the WMO. Global average sea level in the first half of the year was the highest since the start of the satellite record in 1993.

Most places on land, but not all, experienced warmer than average temperatures between January to October in 2015. But Hawkins doesn't expect a record for Britain in 2015:
"While 2015 will not break 2014's record as the hottest year in the UK, we know that over longer timescales Britain is warming up 20 percent faster than the global average. Land areas warm faster than the oceans, which means that many regions on land worldwide and where most people live, passed the one-degree threshold years ago and are continuing to heat up faster than the global average."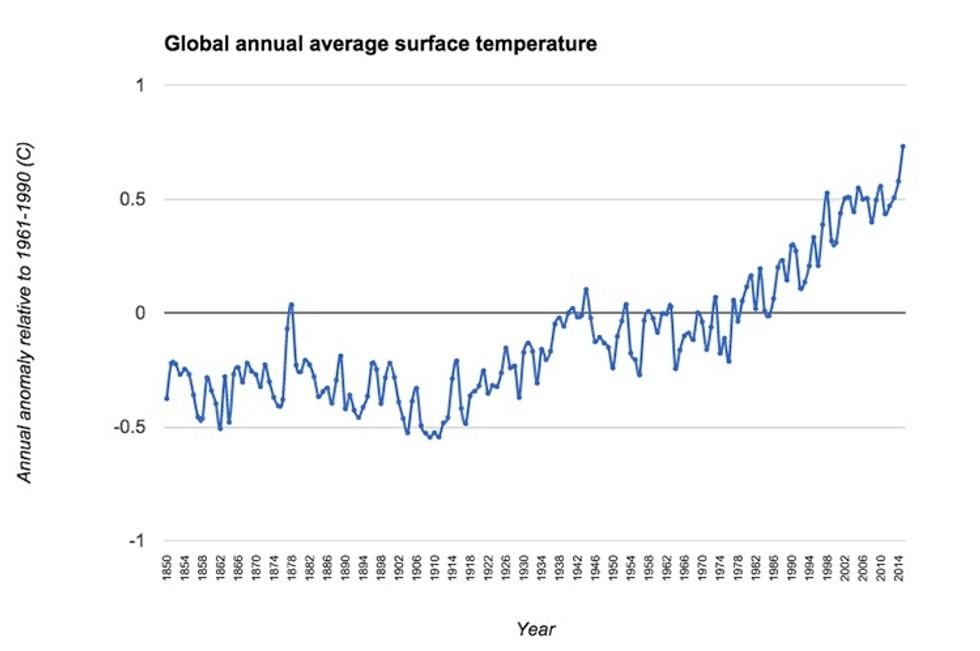 The high temperatures in 2015 fueled many extreme weather events, today's report notes. Heatwaves affected Europe, North Africa and the Middle East in the spring and summer of 2015 and many places experienced unusual rainfall patterns. The WMO's secretary-general Michel Jarraud said in a press release today:
"The state of the global climate in 2015 will make history as for a number of reasons … 2015 is likely to be the hottest on record, with ocean surface temperatures at the highest level since measurements began. It is probable that the 1C Celsius threshold will be crossed … This is all bad news for the planet."
The WMO compiled a five-year average to give more context on the state of the climate than a single year. Today's report notes that the five-year period between 2011-2015 was the hottest on record, averaging 0.57C above the 1961-1990 baseline. And with El Niño normally peaking over the new year period, the full effect on global temperature is likely to continue into 2016, says the WMO.
Outside Margin of Error
Last year, the difference between 2014 and 2013 global temperature was less than the degree of certainty with which scientists can make measurements like this, which is to within about 0.1C. That led the WMO to describe 2014 as "nominally" the warmest year on record, with the caveat that it couldn't be absolutely certain which of the very hot recent years was the hottest.
This year, the picture is much clearer. The difference between the best estimate for this year and last year is 0.16C, considerably greater than the 0.1C margin of error.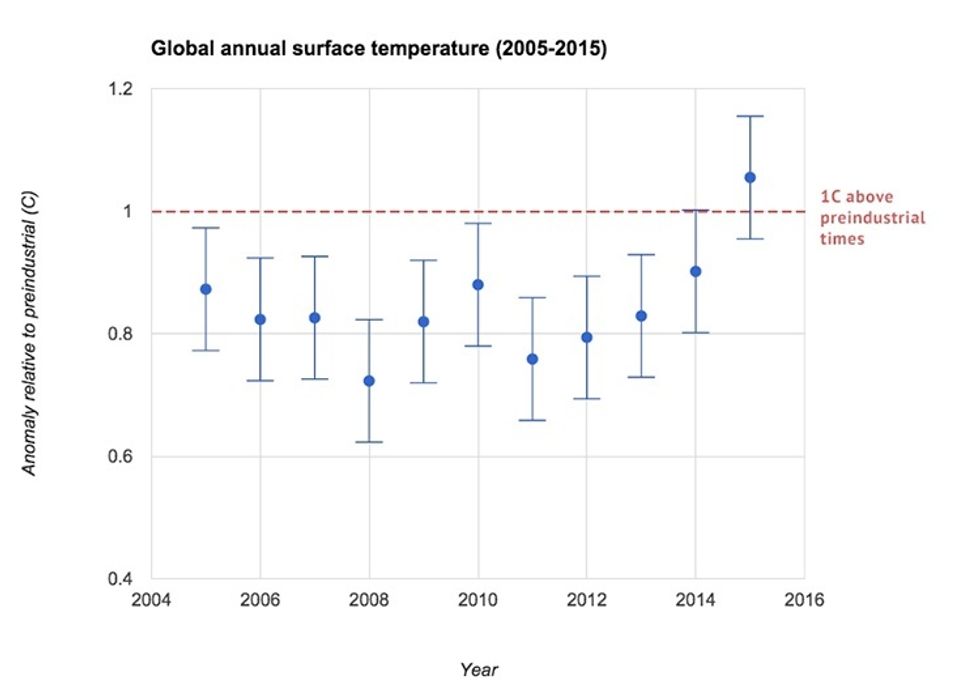 While this escapes some of last year's communication challenges around confirming which was the warmest year, it's still more instructive to look at the long term picture, says Professor Tim Osborne from the University of East Anglia. He tells Carbon Brief:
"Of course, individual yearly records are of interest for a range of reasons, but not really of interest for demonstrating the long-term warming.  Every year for a century could be 0.05 C warmer than the preceding one. With uncertainty of +/-0.10 degC, then none would be outside the confidence interval of the preceding one, yet after 100 years we'd have 5C of warming."
The Paris summit beginning next week will round off an exceptional year, says David Reay, professor of Carbon Management at the University of Edinburgh. He says:
"Climate records have been broken with such frequency in recent years that it is easy to overlook what a significant year 2015 has been. The history books will tell its tale of threshold-busting carbon dioxide levels and extreme temperatures. Whether the final chapter for 2015 will include a more positive footnote is now all down to Paris."
And ahead of doors opening in Paris on Monday, Jarraud had a clear message for negotiators:
"Greenhouse gas emissions, which are causing climate change, can be controlled. We have the knowledge and the tools to act. We have a choice. Future generations will not."
YOU MIGHT ALSO LIKE
Viral Spoken Word Artist Prince Ea Releases Powerful New Video 'Man vs. Earth'
NASA Carbon Map Shows Which Countries are Polluting the World
Greenland's Rapidly Melting Glaciers 'Will Result in Rising Sea Levels for Decades to Come'
Michael Mann: This GOP Presidential Candidate 'Understands Less About Science Than the Average Kindergartner'
EcoWatch Daily Newsletter
A harbour seal on an ice floe in Glacier Bay, Alaska. A new study shows that the climate crisis has warmed waters, changing ecosystems and crippling sea ice growth. Janette Hill / robertharding / Getty Images Plus
Doctors report that only 1 in 4 children are getting the recommended 60 minutes of physical activity per day. Ronnie Kaufman / DigitalVision / Getty Images
By Dan Gray
Pediatricians are being urged to start writing "exercise prescriptions" for the children they see in their office.
A First Nations protester walks in front of a train blockade in Tyendinaga, near Belleville, Ontario, Canada on Feb. 21, 2020. LARS HAGBERG / AFP via Getty Images
An indigenous rail blockade that snarled train travel in Canada for more than two weeks came to an end Monday when police moved in to clear protesters acting in solidarity with another indigenous community in British Columbia (B.C.), which is fighting to keep a natural gas pipeline off its land.
A rainbow snake, a rare reptile spotted in a Florida county for the first time in more than 50 years, seen here on July 5, 2013.
Kevin Enge / FWC Fish and Wildlife Research Institute / Flickr
A Florida hiker recently stumbled across a slithering surprise — a rare snake that hadn't been spotted in the area for more than 50 years.
We need our government to do everything it can to stop PFAS contamination and exposure from wreaking havoc in communities across the country. LuAnn Hun /
Unsplash
By Genna Reed
The EPA announced last week that it is issuing a preliminary regulatory determination for public comment to set an enforceable drinking water standard to two of the most common and well-studied PFAS, PFOA and PFOS.
This decision is based on three criteria:
PFOA and PFOS have an adverse effect on public health
PFOA and PFOS occur in drinking water often enough and at levels of public health concern;
regulation of PFOA and PFOS is a meaningful opportunity for reducing the health risk to those served by public water systems.