2015: A Banner Year for Solar Energy
This year will go down as a banner year for solar energy. We expect new solar installations to reach a record-breaking 7.4 gigawatts (GW) by year's end. And yet, the 2015 record is already looking like a distant memory compared to what is to come.
America's solar boom is far from busting. In fact, solar will more than triple in size from just more than 24 GW of total capacity to nearly 100 GW by 2020. By that point, there will be enough solar installed to power 20 million American homes.
The more rapid growth is projected because solar companies have received and will continue to receive reliable and supportive federal policies. These allow them to mature, employ hundreds of thousands of American workers and pump billions of dollars in new investments into the American economy along the way.
New Solar Era
Sustained growth for one of America's newest and most cutting-edge industries was solidified last week when Congress passed a bipartisan spending bill. This seemingly routine legislation is historic because it brings the solar industry to the forefront of the conversation about American energy.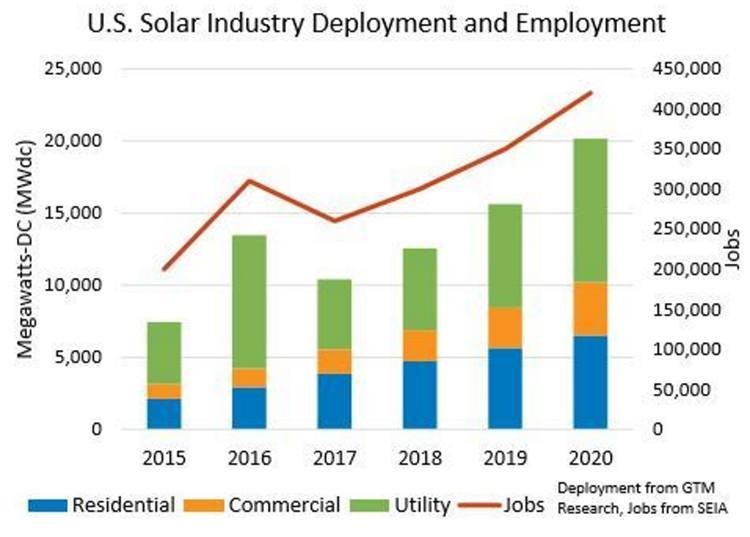 Instead of the solar investment tax credit (ITC) dropping down to 10 percent for commercial users and zero for residential users at the end of 2016, Congress took action that will help solar drive America toward its clean energy future.
The bill included modifications to the tax code that extended both the residential and commercial sections of the ITC. Specifically, there is a long-term extension for both residential and commercial solar users with a gradual phase down over the next five years, as well as a permanent 10 percent tax credit for commercial users.
ITC Extension and Phase Down Schedule
2022 and beyond: permanent 10 percent for commercial credit
For the first time, the legislation also allows for users to claim the credit when construction of their projects begins as long as the projects are placed in service by Dec. 31, 2023.
The Industry Took Action With ITC
This powerful victory would not have been possible without the industry calling on Congress to stand with solar and the American people.
At SEIA's urging, Americans sent nearly 35,000 letters and made countless phone calls to their representatives in Congress, and industry leaders published nearly 100 columns and letters in community newspapers throughout the country.
The solar industry now has a seat at the table with the nation's major electricity producers and it will continue to power more and more of America for years to come.
YOU MIGHT ALSO LIKE
Wind Power in U.S. Hits New Milestone: Enough Energy to Power 19 Million Homes
World's First Off-Grid EcoCapsule Runs Entirely on Renewable Energy
Mark Ruffalo: The Renewable Energy Race Is On
3 Communities Transition Away From Fossil Fuels to Run on 100% Renewables